The 8 Best To-Do List Apps to Keep You From Going Insane (2019)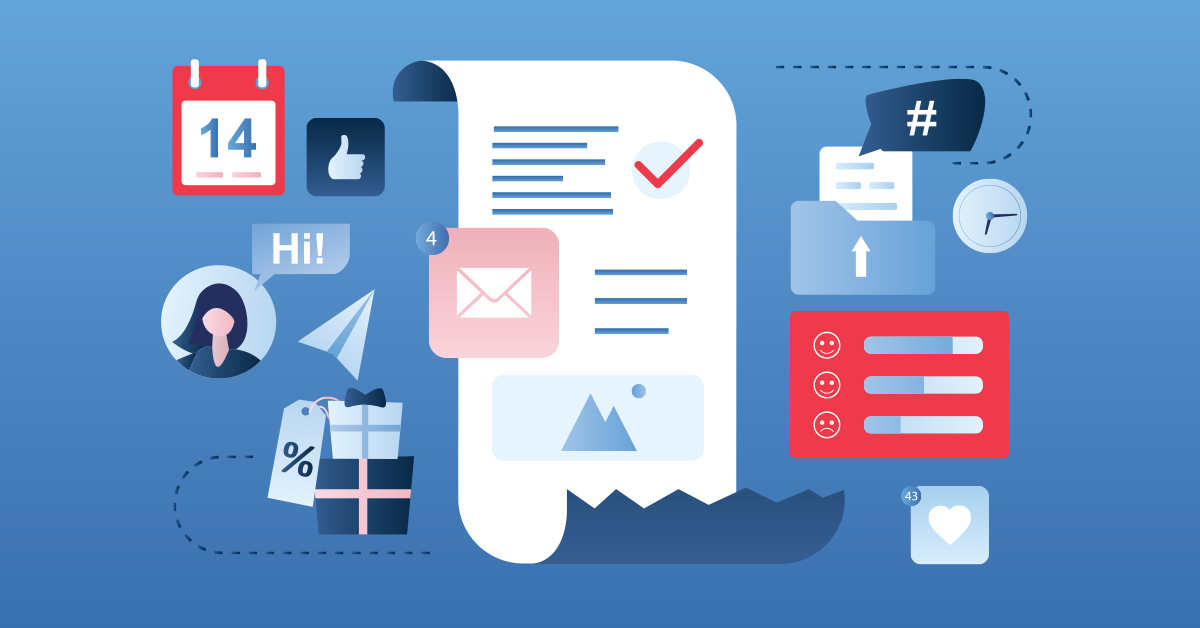 To-do list apps are literally life-changing. You're about to get your life together (LOL, keep dreaming).
But, you can't rely on your phone's built-in checklist or reminder app. Some are basic organizers that are a waste of time and money. However, the best to-do list apps are better than having a personal assistant.
Let's get to it!
What Makes a Great To-Do List App?
After testing dozens of apps, we noticed a few criteria set the best to-do list apps apart from the wastes of time.
Mind-Numbing UX:

If you can't add and categorize a task in a single click while drinking coffee, you're wasting too much effort. Ease of use is first and foremost for us.

Flex Organization:

Tags, lists, categories, urgency, colors, due dates, whatever. The best organizers are an international buffet of options.

Reminder Strength:

The best apps have multiple reminder formats, including text, alarm, and even email. You won't have any excuses to miss deadlines anymore.

Clean Interface:

Get out of the way, we're trying to get things done. 

Cross-Platform:

If an app doesn't sync between mobile and desktop, we didn't even consider it.
OK, now that you know the criteria, let's get to the apps themselves. Here's a brief summary of each:
The To-Do List Apps We Cover Are:
Trello:

The best checklist app for work. Unrivaled functionality, visual workflow control, and FREE.

EverNote:

The best to-do list app for personal use. Incredible life-tracking functions and powerful features.

Wunderlist:

The best to-do list app for iPhone and one of our guilty pleasures at the office. Insanely easy to use and you can create lists to share with friends and family (like chores).

ToDoIst:

This is productivity gamified. Get karma for completing your own tasks that you can spend on…nothing. But it's still fun!

Microsoft To-Do:

It's cloud-based and integrates with Word, Excel, and Powerpoint. We use it daily in the office.

TickTick:

Amazing cross-platform abilities and a built-in Pomodoro timer for enhanced productivity.

Habitica:

Another gamified app. This one creates a character for you that levels up whenever you complete a certain number of tasks. Super fun!

Google Tasks:

Super basic, but it's great for simple tasks and so easy your grandma can use it (after she asks for your help). 
#1) Trello – Best FREE To-Do List App
Trello is a fun, flexible checklist app, workflow, and collaborative productivity tool all-in-one that helps teams kick butt and get more done.
If your company isn't using Trello, you're doing something wrong. It will change literally everything related to projects.
The workflow editor is visual and extremely intuitive. It lets you keep track of everything in neat little color-coded cards that you can share among teams and easily move along throughout a workflow.
Just click on the card in a list:
Then drag it over to the next list.
Creating checklists within cards is super easy. Just click on a card and you'll see this: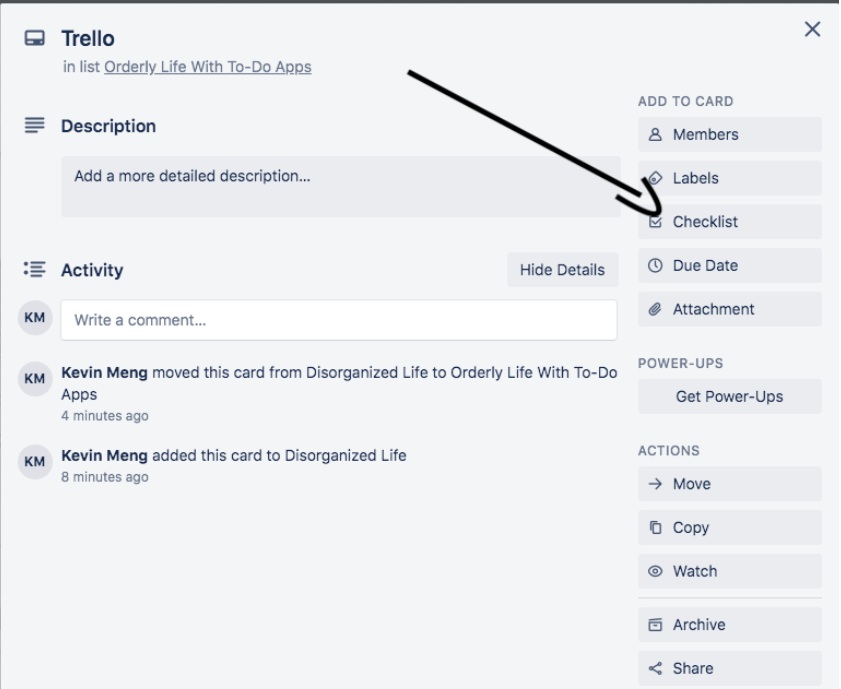 Click Checklist and you'll be prompted to add items:
Add as many as you need.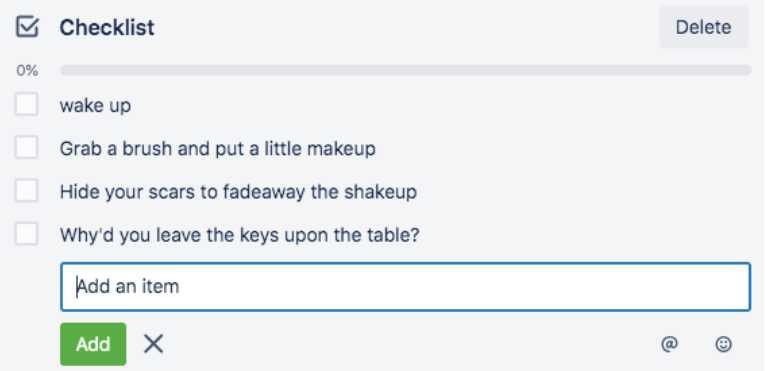 Doesn't get much easier than that. Now, you can easily keep track of any workflow process collaboratively.
And it's 100% FREE…unless you need business upgrades.
Key Features
Intuitive visual editor

Easy checklists

Free for basic services

Tags, labels, categories

Progress meter

Data filtering

Email reminders
Pros
Simple and intuitive
FREE
100% visual editor
Tons of features for work
Share lists and cards with unlimited users
Email notifications
Cons
You can only upload 10MB of files on the free plan
A bit overkill if you only need a calendar app or organizer
Price:
Basic – Free | Gold – $5/mo | Business – $9.99/mo
#2) Evernote – The Ultimate Personal To-Do List App
One of  the best note-taking app for students, busy professionals, and anyone that is on the verge of going insane from data overload, is Evernote.
Evernote is our go-to app around the office for meeting notes, saving websites (a neat feature), sharing notes and checklists with teams, brainstorming, and storing records.
Unlike most apps here, Evernote has multimedia functionality. Instead of just taking a boring old note, you can upload an image, make a voice recording, or even make videos.
The Note Clipper is a godsend for the worker ants at our office and a must for any high school or college student. It lets you clip any text from Safari or Chrome and put it right into your app.
The premade note templates are a nice touch too:
By the way, creating checklists in a note is also super easy:
Just click that button and start adding boxes!
Key Features
Easy-to-use notebooks

Web Clipper for taking text from the web and saving it in the app

Save websites in notes

Add audio files and video

Unlimited storage and synching (kind of)

Free basic plan is good enough for personal use
Pros
The best personal note-taking app of all time
The Web Clipper makes studying and researching easier than ever
Super simple notebook feature for organizing notes
One-click checklists
Cons
Not great for collaboration
Two-device limit on free plan
Price:
Basic – Free | Premium – $7.99/mo | Business – $14.99/mo
#3) Wunderlist – The Best To-Do List App for iPhone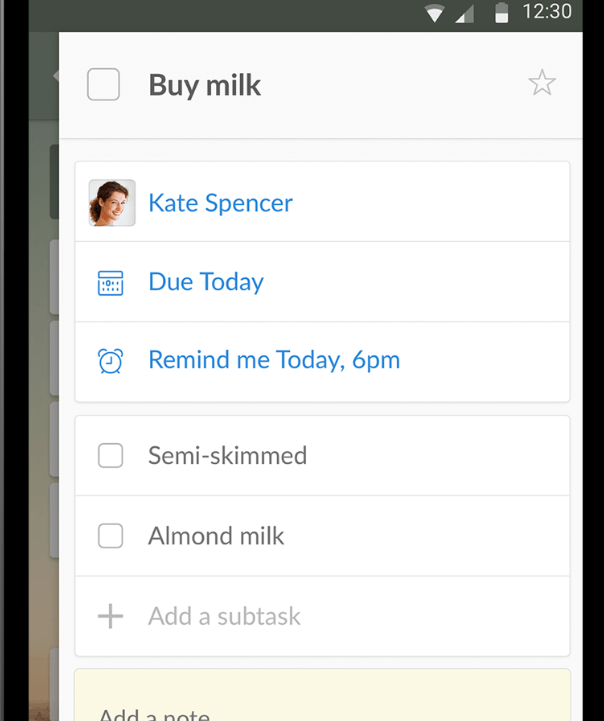 Wunderlist is another productivity/checklist app that killed it in our testing.
For one, it's cleaner than a germaphobe's hand (or at least how clean they think their hands are) and makes creating and sharing to-do lists as easy as pressing a button and then pressing that button again.
Creating checklists or to-do tasks doesn't get simpler. You can organize them into lists, check em' off, and even put them into folders.
We love how easy it is to share your lists with anyone. We use the lists to keep track of who's turn it is to buy coffee. It's great for group projects or household chores too. If anyone steps out of line, call them out!
It's so easy to check off tasks without ruining the simple, clean UX. Check out how clean the homepage is:
Key Features
Categorize lists

Create subtasks in a single press

Simple, clean interface

Add comments for easy collaboration

Easily import things from the web

Tags to link similar tasks

Access from multiple devices
Pros
Extremely easy
Great UX
Easy and fun collaboration
Commenting
Tags, lists, folders
Free plan is good enough for personal use
Cons
Not many features
No built-in time tracking
Price:
Basic – Free | Pro – $4.99/mo | Business – $4.99/mo PER USER
#4) Microsoft To-Do – Easy and Integrates with 365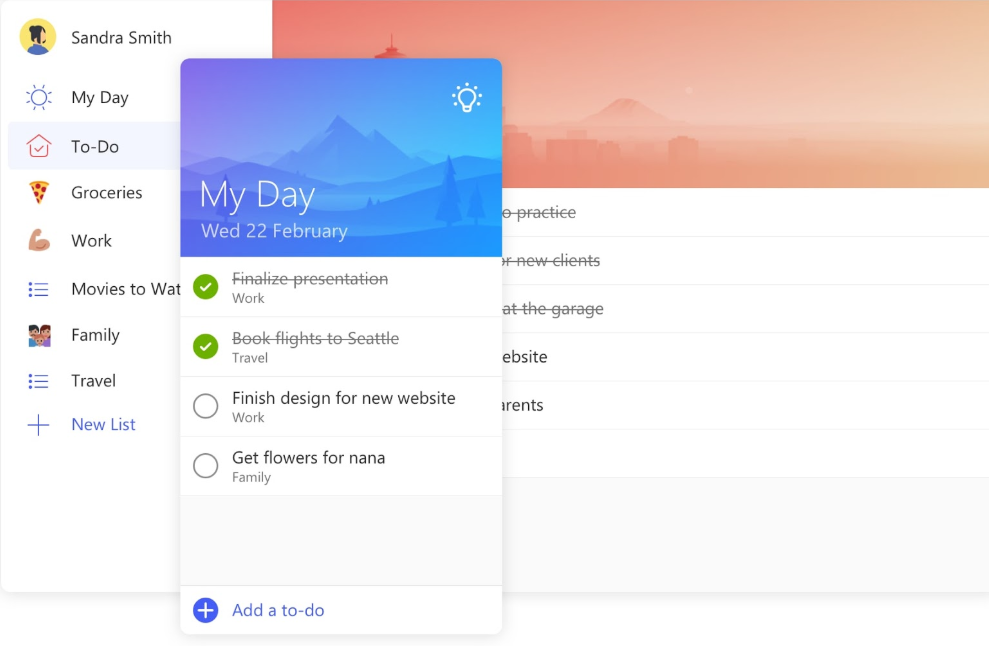 Since pretty much everyone uses Microsoft Office 365, Microsoft To-Do is another checklist app you should check out.
The My Day feature is amazing. You know how you might have a ton of tasks to do over the next few weeks or months? The My Day feature consolidates everything due "today" into one checklist automatically, so you don't have to do any extra work.
It's cloud-based, integrates with 365, and you've probably already got an account if you use Microsoft products. All of the basics of a productivity app are there: lists, categories, colors, prioritization, notes, and reminders.
For people who need constant reminding about every little thing or else they'll screw it up, the Reminders feature is clean and easy. Check it out:
Oh, and it's 100% free!
Key Features
Easy to set up reminders

To-Do autosuggestions

My Day feature automatically plans your day for you

Syncs across devices

Cloud-based

Integrate with 365
Pros
Easy
Familiar interface
Cloud-based
FREE
Cons
Limited features
Not many collaborative options
Price:
FREE!
#5) Todoist – The Best To-Do List App for Android
Todoist combines two of the most important features of checklist apps: fun and functionality. It taps into your subconscious brain to motivate you into going from overwhelmed to "ah, finally on top of things." You won't have any choice but to stay productive!
Oh, and it's free for the basic version and SUPER CHEAP for upgrades.
It has skyrocketed in popularity over the last few years due to its fun "gamified" task completion system that motivates you to get as much done as possible. Hard to argue with some of its customers.
Every time you complete a task, use an advanced feature, or meet productivity goals, Todoist increases your "Todoist Karma," which is basically cool colors and graphs.
Aside from all the standard features of a to-do list application (organization and prioritization, subtasks, dependencies, alarms, colors, labels, etc.), Todoist has a powerful AI called "Smart Schedule" that suggests dates and times for new tasks based on your current schedule. YES! More features and brain bandwidth saved!
By the way, it's compatible with just about everything, so Todoist is anywhere you are.
Key Features
Todoist Karma "gamifies" productivity and motivates you to get things done

Smart Schedule automatically suggests times for new tasks

Compatible with Amazon, Microsoft, Google, and other products

All standard organizational features and more

Priority levels

Email notification and SMS reminders
Pros
Motivates you to stay productive
AI saves time
Cross-platform and software compatibility
SMS reminders
Free plan works well and Business plan is only $5
Cons
No time tracking
Lacking advanced features
Library of templates is good but far from complete
Pricing:
Basic – Free | Premium – $3/mo | Business – $5/mo
#6) TickTick
TickTick is a simple, clean productivity app that makes our list for two simple reasons: it has a built-in Pomodoro timer and voice commands!
It's got all of the basic features of any other app, so no need to cover that. The only thing of note is that the easy drag-and-drop functionality is great for beginners and non-techy people.
TickTick helps you stay super productive with its native time-tracking function and built-in Pomodoro timer. In case you aren't aware, the Pomodoro Technique is a super productivity hack where you work for 25 minutes, take a mental rest for 5-10 minutes, then get back to it!
And the timer is highly customizable. You can set different "pomo goals," adjust break times, and even adjust your pomo duration.
NOTE: Pomodoros should be a maximum of 40 minutes, and breaks should be a maximum of 10 minutes. Any longer will usually break your rhythm. Keeping a steady 25 minute work/5 minute rest rhythm is super motivating and productive, according to research.
That brings us to the next feature: voice commands. This is one of the few apps that lets you add new tasks via voice command. "Siri, remind me to make my 5th cup of coffee at 11:30 AM."
Key Features
Uber productive Pomodoro timer built-in

Voice commands

Clean calendar view

All standard productivity features

Clean, simple UX
Pros
Pomodoro
Voice commands
Easy to use
Cons
Not as many features as other apps
Limited collaboration and compatibility
Free version is lacking
Pricing:
Basic – Free | Premium – $27.99/year
#7) Habitica – The Most Fun App of the Bunch
Habitica is by far the most fun and exciting app in the bunch and perfect for anyone that loves wasting time playing mindless games but finally wants to start being productive.
Think about how much time you've wasted on games like Candy Crush. Wouldn't it be great if those same principles were integrated into your productivity app?
Habitica turns mind-numbing game principles on their heads and hooks you into being more productive. How? It gives you a character who levels up whenever you get things done and takes damage when you slack. You wouldn't want to hurt your character, would you? Stop procrastinating!
And what other app lets you earn points that you can spend in the real world on snacks? You can even join up with your friends and fight evil anti-productivity bosses together. 
Just be careful, if you slack, your friends will take damage. Friendships have ended over Habitica.
Of course, the downside to Habitica is that it's mostly just the games that make it worth it. The features are mostly second-rate. It's fine for fun and motivation with basic tasks, but that's it.
Key Features
Fun characters to emotionally attach you to tasks

Combines gaming with productivity

Play with your friends and family in groups

Earn rewards to buy snacks or character upgrades
Pros
Motivating and fun
Offline rewards
Fun collaboration
Cons
Limited functionality
Expensive group plans
Pricing:
Basic – Free | Group Plan – $9 + $3 per member
Bonus Mention – Google Tasks – Quick, Easy, Integrates With Gmail
Google Tasks isn't just a Gmail afterthought anymore. Now, it's a full-fledged app of its own complete with a mobile app, powerful features, and a certain touch of familiarity that feels like a warm, Googly home. 
Personally, half of us use our email inbox as an ad-hoc to-do list anyway, so the fact that Google Tasks lets you drag and drop emails and turn them into to-do list items makes life way easier without adding any scary, new things to our lives.
You can do all of the basics of checklist apps—create lists, assign dates and times, add notes, and add subtasks—and the app is lightning-fast and lightweight.
It's pretty basic and doesn't let you do much else, but that's fine if all you need to do is create basic lists and you're always in your Gmail inbox.
NOTE: It's accessible directly from Google Calendar, making planning your day even easier.
Key Features
Gmail integration

Drag-and-drop editor

Create to-do lists from emails

Clean UI
Pros
Intuitive, Google familiarity
Lightning-fast and easy
Turn emails into checklists via drag-n-drop
Cons
Lacking features
Basic to-do lists only
Pricing:
FREE!
Let us know which of these is the best To-Do list apps. Also, if you download Soda PDF you can create PDF archives of your lists and check out your progress over time.