The Best 3D Printers of 2019 (According to Your Needs)
A brand new, fully functional 3D printer is way more affordable than you might think. Trust us… we've tried a ton. We've broken down the best 3D printers of 2019 according to price, use, functionality, and the cool points you'll get when you show it off to your neighbors.
Before You Buy: What Do You Need it For?
Are you a hobbyist? Office professional? Tinkerer? Designer?
You absolutely HAVE TO get a printer that fits your needs or you could press the wrong button and warp space-time (it was EARTH ALL ALONG!!!).
Don't worry, it's all pretty basic and a minimal threat to humanity:
Basic Consumer Use (Home): If you just want to print toys, use your printer in a classroom, or show it off to friends without actually using it, you need something that's cheap, easy to set up, and doesn't require much TLC. Don't worry, we've got a PERFECT one for you toward the bottom of our list.
Designers or Architects: 3D printers can create exceedingly detailed models. If you're going to be making models of structures, you need to pay special attention to compatible materials, build volume, and print quality.
Artists: Starving artists (why are you buying one of these?) should prize print color capabilities.
School: Want to spark the imaginations of future generations? Some 3D printers come with the safety and durability necessary to handle waves of curious young children.
OK, now that you know what details to pay attention to, let's get to the best 3D printers we tested.
Note: Our top spot is not a basic consumer model. If you're looking for a cheaper, entry-level model, #2 is what you're looking for.
The Best 3D Printers of 2019
#1 – The Best All-Around 3D Printer: Dremel DigiLab 3D45
Synopsis: Powerful. Easy to setup and use. Great all-around features.
We tested a ton of different printers, and picking the top spot was not nearly as easy as it normally is.
Still, the Dremel DigiLab 3D45 nabbed the top spot for a few key reasons:
Powerful yet simple (the perfect office or classroom workhorse)
Good quality for the price (still a hefty investment though)
Packed with features, yet simple software
Quiet (trust us, this matters A LOT)
It produced a ton of high-quality, accurate prints for us. It even prints via USB and Wifi.
What we really love is the closed-frame design. That basically means there's a lid and front door, so you (or students!) won't get burned. The closed door has another major perk: peace and quiet!
All in all, it's a simple, powerful model for makers, engineers, and educators. It is a little pricier, though, so you might want the next entry on the list if you're on a budget.
Pros
Quality
Simplicity
Loaded with features
Quiet and safe
Cons
Price
We had some issue with the touch screen
#2 – The Best Affordable Home 3D Printer – FlashForge Creator Pro 2019
Synopsis: Prints like a high-end model. Affordable price. Very reliable.
The FlashForge Creator Pro 2019 is a budget model per se, but it's half the price of our pick in the top spot and a great place to start for basic consumer use. If you're on a bit of a budget but still want a near-professional level 3D printer, this is it.
It's got the same build quality and reliability as models at twice the price and delivers consistent quality on prints (we were stunned by the accuracy).
But our jaws dropped when it arrived at the office TOTALLY ASSEMBLED. Talk about easy setup!
The Bottom Line: No setup + good price + great quality = amazing entry-level 3D printer.
Pros
Affordable
Great quality
Pre-assembled
#3 – The Best 3D Printer for the Classroom – Zortrax M200
Synopsis: A safe, reliable workhorse with great quality and large build size.
Zortrax is a fun company from Poland that's making waves in the industry, and their Zortrax M200 is built like a tank (solid aluminum). That makes it perfect for a classroom full of curious students (preferably high schoolers).
A few other features make it a solid pick for schools:
Large Build Volume: 200 x 200 x 185 build size is great for school projects.
Materials: Works with ABS and PLA.
Software: The user-friendly software will be an instant hit with students and should bring enthusiasm to lessons!
Bonus: The automated platform-leveling system makes calibrating a breeze for students.
Pros
Great software
Large build volume
Durable
Cons
Might not be safe for younger students
#4 – The Best for Professionals – The Ultimaker 2+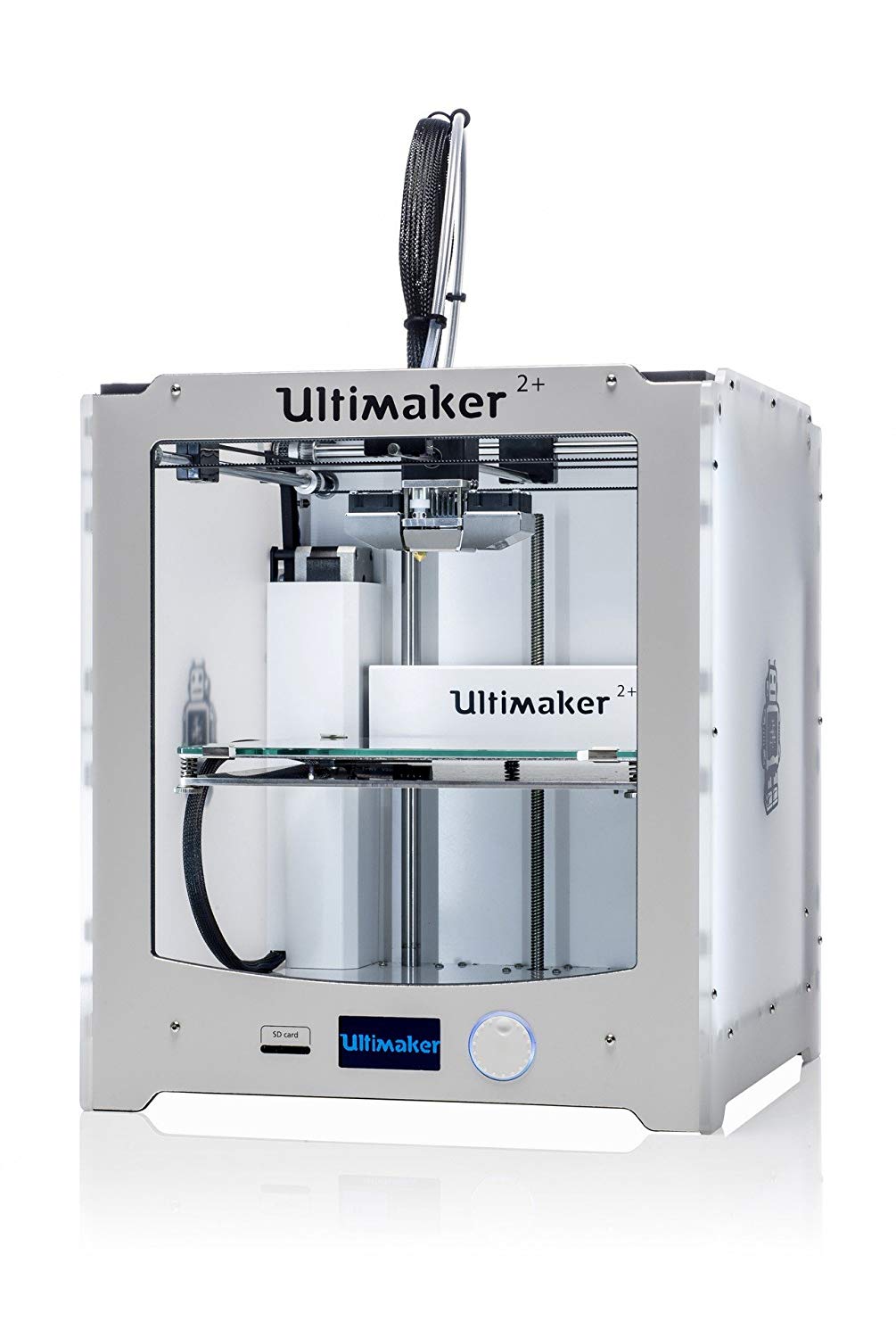 Synopsis: Amazing quality. High-end design. Open-source hardware and software.
The Ultimaker 2+ is top of the line in every way imaginable (including price).
A few key features make it THE CHOICE for pros:
Software: The expert mode offers unrivaled detail in its settings. However, the default settings produce great quality too.
Print Accuracy and Quality: Unrivaled. We can't think of any adjective to do it justice. WOW.
Materials: It supports a wide range of materials, making it ideal for everything from prototypes to highly customized tools.
Build Volume: 223 x 223 x 205.
The feature that really puts it over the top, however, is the global, open-source community. You can work with a community of like-minded tinkerers to inspire and drive each other to make improvements! All of the awesome high-quality add-ons enrich the Ultimaker experience, making it unlike any other model in this price range.
Pros
Incredible quality
Wide range of materials
Large build volume
Great software
Open-source community
BONUS FOR BEGINNERS
#5 – The Best Budget 3D Printer – XYZprinting Da Vinci Mini
Synopsis: Super cheap. Super simple.
If you're just trying to break into 3D printing and don't have much money to throw around (or just don't want to), the Da Vinci Mini is the 3D printer for you.
It's a legit budget model at a literal fraction of the price of other models on this list. The interface is the simplest of all that we tried, and it produces decent quality prints.
If you're just trying to impress friends, it fits snugly on a desk or in any office.
NOTE: The design is a bit wonky. We found it hard to get the objects out. But hey, it's basically free so don't expect much.
Pros
Cheaper than cheap
Decent quality
Super easy
Cons
Unreliable
Extremely tiny
While PDFs aren't exactly the main draw when thinking of the best 3D printers. Using Soda PDF you can easily keep track of all your blueprint options. Feel free to download the app now.