The 6 Best Accounting Softwares of 2020 (SMBs, Freelancers, Free, and more!)
Welcome to our best accounting softwares review of 2020.
We tested 20 different bookkeeping programs over the last 6 months, and even polled independent contractors and clients to get their opinions on staying in the black.
Only these 7 lived to tell the tale. And we've broken down each based on your personal situation – freelancer, small business, large business, etc.
Here are the winners…..
Overview of the Best Accounting Software of 2020
The winners of our tests include some familiar names for small to medium-sized businesses as well as some exciting (And cheap) newcomers.
Here's a list before we get into a more detailed breakdown:
Intuit-Quickbooks – the best overall accounting software
Freshbooks – the best accounting software for freelancers
Wave – the best FREE accounting software
Xero – the best agile accounting software
GoDaddy – the best for eCommerce sellers
Kashoo – the best bookkeeping program for global business
The Best Bookkeeping Softwares Reviews
#1) The Best Overall: Intuit QuickBooks
Price: Small Business: $8 – $45/mo | Self-Employed: $4-$10
Best Features
Unrivaled depth
Unbeatable price-to-value
Built specifically for small businesses
Advanced reporting
By far the most popular desktop accounting software
QuickBooks is the most popular accounting software on Earth, and has been for years. It is the 800-pound gorilla, elephant, and giraffe in the room that we need to get out of the way first.
You get all of the small business accounting essentials – tracking expenses and income, creating invoices and estimates, tax tracking, and reporting – but that's just the first layer of the cake.
This is the only software that lets your small business track mileage, estimate project profitability, and manage inventory all from one program. So that means your business can handle all of its basic accounting, plan for the future, minimize costs, AND manage inventory all for a fraction of the price of a single hour with an accountant.
And if it means anything to you, this is the program that we've used the longest in our office.
Our favorite feature has to be the simple user interface and UX. The functionality is super advanced, but using it never will be. Even someone with basic tech knowledge can create, send, and manage invoices.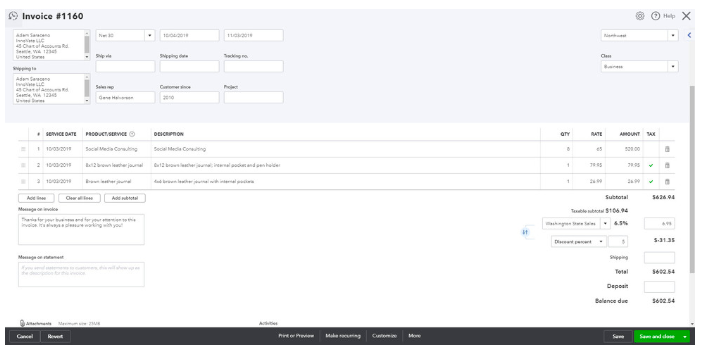 #2) The Best for Freelancers: Freshbooks
Price: $15 – $50
Best Features
Unlimited invoices
Accept payments
Built for the self-employed
Integrations with PayPal
Awesome UX
Self-employed pro on the go that just needs basic bookkeeping to keep Uncle Sam happy?
Busy freelancer managing dozens of high-octane clients around the world that needs advanced features for themselves and their team?
Freshbooks is an all-in-one accounting software specifically tailored for busy freelancers and other self-employed entrepreneurs.
Here's why…
First, you can send unlimited invoices and estimates (Godsends for freelancers). Check out how awesome the dash looks…
Second, you can schedule late fees (Lord knows you'll need this). Third, it makes tax time a breeze by basically automating your taxes.
And lastly, it's one of the only accounting programs that lets you accept payments. Yes, that's true. Freelancers can accept payments with Freshbooks (Credit card AND ACH).
So for one low subscription, you get a payment processor, accounting software, and time tracker all-in-one. And we haven't touched the advanced features yet.
#3) The Best Free Account Software for Small Businesses: Wave
Price: Free
Best Features
You can't beat free
Simple and seamless
Intuitive dash
eCom integrations
What if you had an accountant to prepare your business for tax time FOR FREE.
And this accountant would connect your bank accounts, sync your expenses, balance your books, and send all of your invoices all pro bono.
That's Wave! The best free accounting software.
This is the only software out there that gives you full small business functionality for absolute 0.
We love the simplicity of the dashboard:
And it's bananas how easy it is to track expenses.
It doesn't have as many features as some of the other services (at least not for free), but that's fine. If you're looking for free software, you probably don't need any of those bells and whistles.
A few other features you get for free are:
PayPal and Etsy integration
Unlimited bank and credit card connection
256-bit encryption. They take security seriously
Fast setup with no training required
Exportable accounting reports
If you're a freelancer or small business on a budget, Wave is what you're after.
#4) The Most Agile Accounting Software: Xero
Price: $9 – $60/mo
Best Features
Integrations galore
Intuitive function
Xero was in the cloud before it was cool, and their web-based accounting software still has a few major advantages over the dinosaurs who started on desktop (Like Quickbooks).
Xero has more integrations with other web apps than any other software we tested. It's like the Borg from Star Trek. You will be integrated. Resistance is futile.
It has plenty of payment integrations like PayPal and Stripe. But it also connects to hundreds of other apps across different functions like:
Payroll
Inventory
Invoicing
CRM
Time tracking
Workflow
If you're a big business that needs agility and flexibility, and you want to integrate CRM and other functions into your software, Xero is the best choice hands down.
And don't worry if it seems too futuristic. It's simple and intuitive to send invoices. Just select New from the dashboard:
Then fill in your details, and you're good to go.
NOTE: Xero offers a basic plan but it's severely limited. If you're a small business, you'll need at least the Growing plan which starts at $30/mo.
#5) The Best for Online Sellers: GoDaddy
You probably already know this domain and hosting giant, but their accounting software is probably even better than their core business. And it's insanely cheap.
The features are more basic than the other services on this list, but you still get all of the features you'd need like invoice creation, time tracking, and expenses.
GoDaddy bookkeeping is super convenient for online sellers with its Amazon Seller Central integration. This makes it seamless to track all of your profit and expenses for your Amazon store.
And at only $4.99 per month, it's so cheap it barely matters.
BONUS: Best for Global Business – Kashoo
Price: $16.65/mo paid annually
Beat Features
Multi-currency support
Simplified analytics
Kashoo is a breath of fresh air from other services on the list.
First, they only have one pricing plan, so no need to waste time stressing over which plan comes with what and what costs what.
One price covers all.
A few things we love about the software….
It's got a common sense, easy-to-follow dash with everything clearly visible (and nice colors!). And reporting is also simple and straightforward.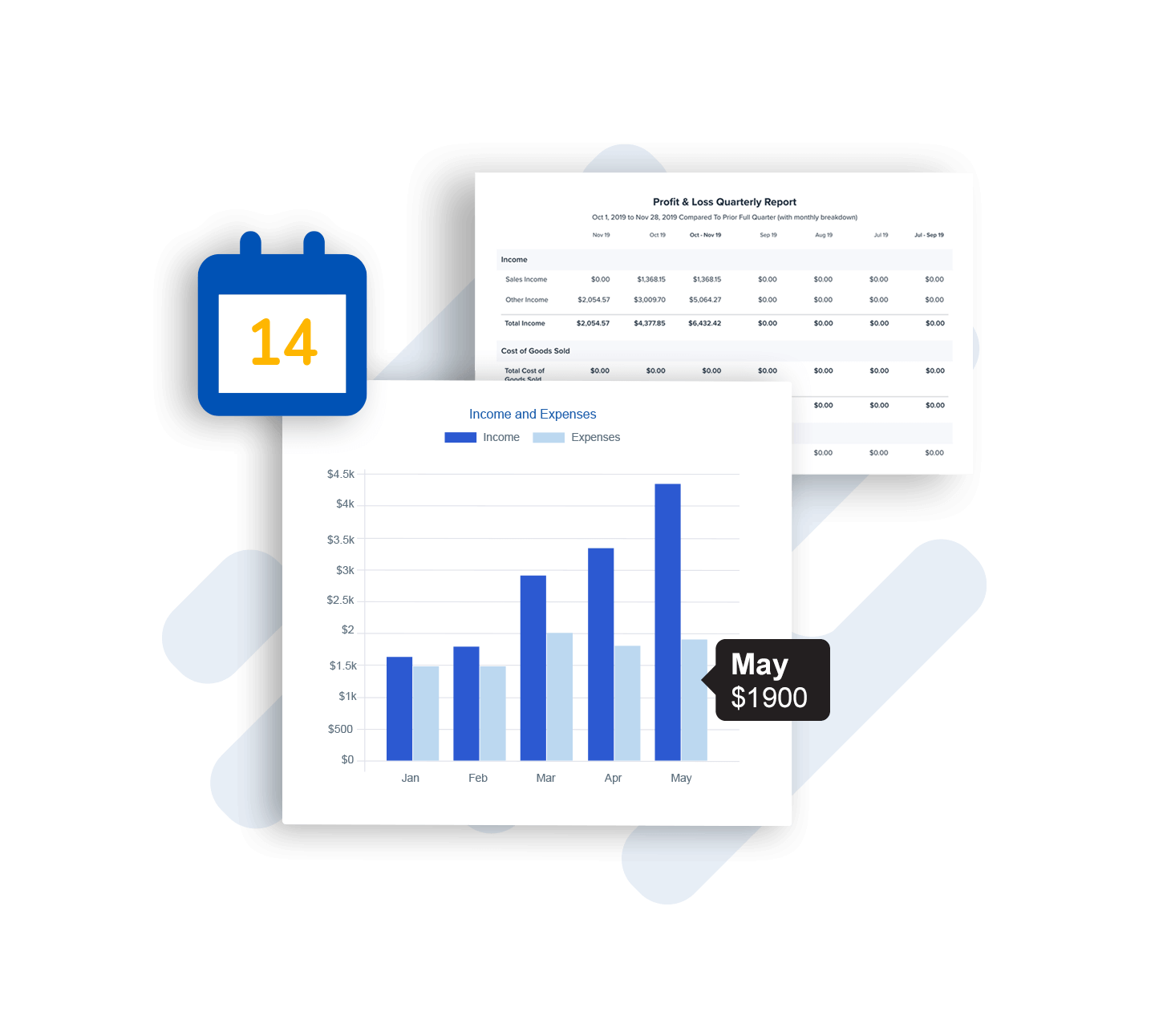 But the most unique feature is its multi-currency support, perfect for anyone doing business internationally.
Once you enable multi-currency, a dropdown menu appears in your invoices:
Now you can choose from pretty much any world currency and the program instantly converts for you.
Plus it lets you accept payments from major carriers like Visa for a competitive rate of 2.9% plus 0.30 cents transaction fee.
Not too shabby!
F.A.Q.
Q: What is the most widely used accounting software
A: Quickbooks is by far the most widely used, but maybe not the best for your needs.
Q: What is the best accounting software for home?
A: If you're a freelancer that works from home, then it's definitely Freshbooks. It's tailored specifically for freelancers.
Q: What is the best accounting software for accountants
A: Either Quickbooks or Xero.
Q: What is the easiest accounting software?
A: In our opinion, it's either Freshbooks or Xero.
Q: Is there a free accounting software?
A: Yes, Xero's free plan is plenty for most small businesses.
Soda PDF and Accounting
It's easy to see how Soda PDF can take your accounting game to the next level.
Think about the power of taking all of your invoices, expense sheets, reports, and estimates, and turning them into shareable, markupable PDFs.
Now, you'd be able to note anywhere mistakes were made, highlight where you went over budget and leave a note on how to fix it next quarter, and underline any key areas to focus on in the next year.
Then, you'd be able to secure everything with a password and share it among your entire team – so they stop going over budget!.
Try out Soda PDF now for free, and turn any of the best accounting software of 2020 into the ultimate budgeting and productivity tool for your business in the new year.