The Best File Sharing Services of 2019 (Tested and Proven!)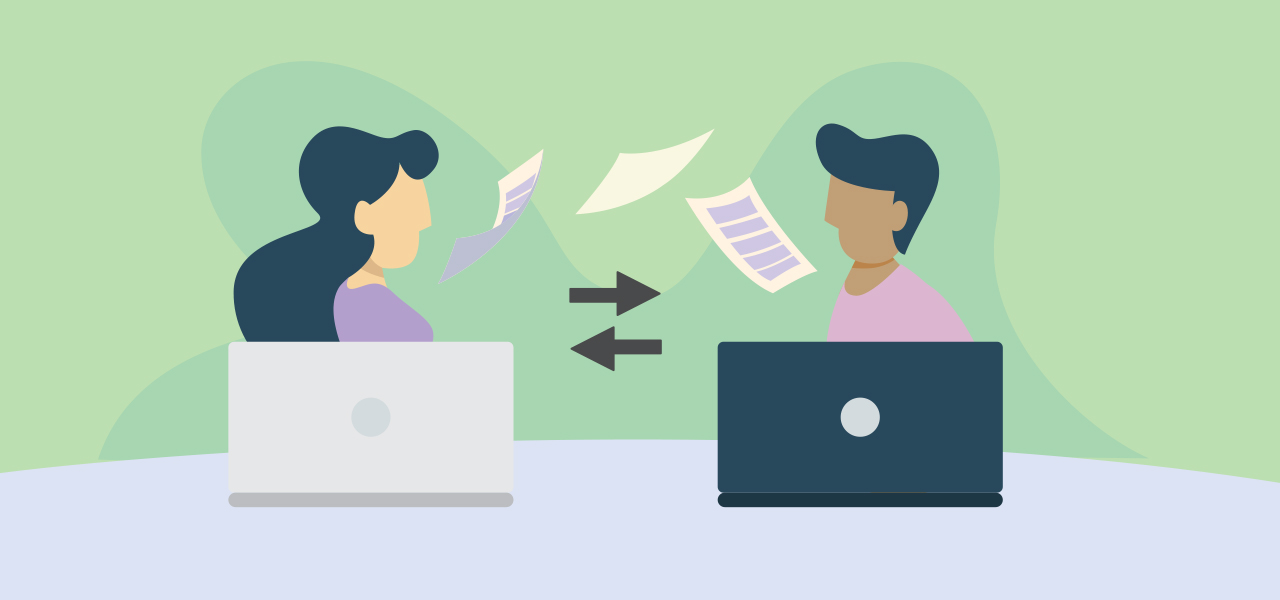 We've tested dozens of platforms for speed, security, and a bunch of other neat features and ranked them here so you don't have to keep running long distances with floppy disks. We wanted to find the best file sharing services out there. Our #1 selection is easy, free, and fast (hint: It rhymes with Snoogle Snive).
Sharing massive documents is a pain (actually, if you had Soda PDF, it wouldn't be). You can't email them, you can't send them via messenger, and sending them the old fashioned way is the 8th deadly sin.
The cool thing about these file transferring services is that they're actually fully-blown team collaboration platforms. We tried sharing documents of variable sizes and recorded the results, then we put everything to a vote based speed, security, ease of use, price, and other secret sauce we won't let you in on for safety's sake.
OK, let's get to the best file sharing services:
The Best File Sharing Services:
#1 – Google Drive
We bet it was impossible to figure out our Snoogle Snive riddle, right guys (guys…?)?
Google Drive is the king of file-sharing services. It's easy, free, fast, comprehensive, and backed up by Google. What could be better?
Everything is automatically synced to any device connected to your account and sharing files is as easy as typing someone's email address or sending them a link to your project.
Google Drive also comes with these unrivaled features:
OCR text recognition
Image recognition
Ability undo changes in the past 30 days
Easily stores videos and music too
A cool bonus for Google Drive is that you and your whole team probably already have accounts if you use Gmail, so there's no sign-up necessary. That was one of the biggest pains for our runner up.
Speaking of that…
#2 – DropBox
DropBox is the most comprehensive, secure, and powerful file sharing tool for businesses of all sizes, but especially for small to medium-sized ones.
The only problem is it costs money (not much though). The sign-up process also annoyed us, but we were spoiled by Google Drive/Docs.
Everything is stored offsite on extremely secure servers and accessible on any device you have connected to your account. That makes it really easy for teams to create a doc on desktop and instantly have access to it on their smartphones without having to transfer ANYTHING.
DropBox Business is a step up from that, with awesome collaboration features such as:
Unlimited recovery
User activity audits
Detailed sharing permissions
User groups
Integration with Office 365
DropBox Business may be the best file-sharing app for businesses, even if it's a bit of a hassle to set up.
#3 – Apple iCloud
If you subscribe to the Gospel of Mac, the first file-sharing tool to consider should be Apple iCloud (though it works great on PC too). It's so simple that with a just a few clicks all your files will be backed up and organized in an instant.
If you use an Apple product already, you won't have to jump through hoops like downloading apps, learning to use a new service, or rearranging files. iCloud organizes everything as it is on your Mac, separating photos, videos, and documents and providing dedicated files for the work you've done on apps—and it does it all automatically.
Apple's daily backups keep you up to date without a thought, and awesome security features like seamless data restoration and the "Find my iPhone" feature help prevent data loss and theft better than most other file-sharing services.
If you have a Mac or iOS device, you'll love:
Automatic file organization
Daily backups
Family Sharing feature
Find My iPhone loss-prevention
.99 per month for 50GB
#4 – Box
Box is the file-sharing app for businesses. It's used by over 50k companies around the world for sharing files, collaborating in real time, and staying caught up with regulations and compliance.
Box does so much more than just store files. You might say companies that opt for this service really think outside the… well, you get it. Create, share, and store in real-time while managing workflows and engaging your team and clients no matter where you are. We're talking instant creation, communication, and execution all in one place.
Box also gives your clients peace of mind with customer-managed encryption and comprehensive activity logs. Plus, Box keeps you compliant with regulatory policies everywhere you do business (a HUGE perk, because who has time for that?).
Box provides your business with:
Real-time collaboration
Workflow automation
Permissions and data protection
Offline syncing
Regulatory compliance
#5 – OneDrive
OneDrive is the Microsoft equivalent of Apple's iCloud. While the storage and navigational aspects of this service aren't quite as easy to use as Apple's, there are a bunch more features you can access if you decide to pay for a premium version. These include offline access, file restoration, and Microsoft Office.
We must say that we're a bit disappointed that you have to pay for a premium plan to get some of the services you get on iCloud with every plan (including the free one), but having Office on the cloud makes doing business and sharing files so easy that it's worth the price.
A Premium OneDrive subscription gives you:
Up to 6 TB of storage
Password-protected link sharing
Offline access
Microsoft Office on all devices
Ransomware protection
#6 – FileCloud
FileCloud is a serious file-sharing program for businesses interested in more than just sending links and taking notes on the cloud. For just 10 bucks a month you get 1 TB of storage and unlimited external accounts (get ready to grow), plus an extra 100 GB for each additional user.
FileCloud isn't just ready for large amounts of data, it was built for it. FileCloud built its own internal search engine that you can use to easily find files within your cloud, and you can customize your cloud with your own domain and features. Imagine trading Google docs with a client opposed to sending them to your dedicated professional domain. In terms of professionalism and the "wow" factor, FileCloud wins.
File cloud has literally HUNDREDS of features, but these are our favorites:
Hosting in a region of your choice
Collaboration folders
Office and Outlook integration
Dedicated search engine
Analytics
#7 – Egnyte
Another option for businesses, Egnyte has some of the best solutions for a super-low price. At just $8 per month (per employee), you get 5TB of storage with a max file transfer size of 10GB.
Huge transfers and iron-clad security are what businesses aiming to grow need in order to show their clients they're not just a mom and pop operation. But what we really love about Egnyte is its massive library of available integrations.
If you're a B2B company, your clients probably have their own management apps and file-sharing services. With Egnyte, you can integrate with them instantly and never have to worry about formatting or security issues while jumping from app to app. Egnyte integrates with Slack, Google, Office, Trello, and many more.
Other features of Egnyte include:
Public and Private links
Sub-level folder permissions
Offline access
Desktop Sync
Hundreds of integrations
#8 – Hightail
Hightail is the completely revamped version of YouSendIt, and the makeover has made it one of the best services for users who need to share gargantuan files. While other file-sharing services set low limits on the size of sharable files, Hightail hooks you up with unlimited storage and the ability to share up to 25GB files for just $12 a month.
Hightail was made for sending large files (their other plans allow for 100GB files), so it doesn't have all the advanced features of other services. But, you can still track files and recipients, collaborate, and manage workflows from within the app.
If you're embarrassed about your plus-sized files, don't worry. Big files need love too, and Hightail is ready to give them the home they deserve.
Hightail's unique features include:
Unlimited storage
Huge file-sharing size limits
Management and collaboration tools
Recipient tracking
Notifications
#9 – ShareFile
ShareFile may not have the most creative name of all the companies on this list, but sometimes simplicity and straightforwardness are what you really need—and that's what ShareFile delivers.
For just $10 a month, you get unlimited storage, unlimited external users, lightning-fast syncing, and two-step verification. If you want to pay more, you can access a bunch of other features, but to be honest, most users will only need the standard package.
$10 a month. Unlimited storage. It couldn't get any easier!
ShareFile gives you:
Unlimited storage
Mobile apps
Two-step verification
Auto-sync
Unlimited external users/clients
#10 – SugarSync
SugarSync may not be as sweet as our other picks for the best file-sharing services of 2019, but it has a good mix of standard and advanced features at a reasonable price.
SugarSync is for those who like to tinker, as it allows you to dig into your files and decide which ones sync with which devices. This may be annoying to some, but when organization is key, it can save a lot of hassle (you may not want the office to see all your files when they pop up on the projector. You know the ones we're talking about…).
SugarSync also allows you to collaborate easily on desktop or on its mobile app, and it has a great restoration feature that comes with the standard package.
Get SugarSync and enjoy these sweet features:
Online collaboration
Data restoration
Gmail integration
Automatic uploads and syncing
Multi-device support
STOP trying to email big files or do business over Facebook messenger. Secure all your files and share them from anywhere on the globe with one of the best file-sharing services.
Since quite a few of these systems integrate directly into Soda PDF, you can save your files directly into the virtual drive. Save time and try out the app.