Quarantine Cooking: The Best Food Recipe Sites & Channels
What else is there to say? 
These are the best food recipe sites and channels to keep you fed during lockdown. 
From budget to fancy, fast to full-day simmers, vegetarian to veal parmigiana with a side of sausage—you'll find everything you could possibly want. And most of the ingredients are available right around the corner!
Eat up!
The Best Food Recipe Sites (From Real Eaters)
Here are the best sites for putting together your next great cookbook:
#1)

Serious Eats

– The Ultimate Food Recipe/Cooking Site
There are two types of food recipe sites in this world: Serious Eats and the rest.
#2 on this list is more popular for sure, but no other site offers the same quality of life-changing, mouthwatering food worship you get from Serious Eats.
Plus they have:
Recipe Collections: Turn every week into a theme. It's the perfect way to keep yourself busy, and it's great for couples too.
Eating Out Guides: Life will be back to normal soon. When it returns, Serious Eats has complete guides to eating out in most major American cities!
Cultural Info: Want to learn the history food as you cook your roasted tomato puttanesca with beer bread? Yeah, it's here.
Buying Guides: Real buying guides written by real food professionals. Not blatantly fabricated reviews with intent to sell. Real, impartial food critiques. It's a breath of fresh air.
Like we said: There's Serious Eats and then everyone else.
#2)

Allrecipes.com – The Most Popular Food Recipe Site
25 MILLION unique visitors per month.
UNIQUE visitors…
That's like if you combined the populations of New York and Missouri and they all visited one recipe site.
Allrecipes is the most popular food recipe directory on the web.
The site is an onslaught of recipes, and you can even customize your homepage to reflect your taste. Not into meat? You'll get new, easy vegetarian options every day without any carnivorous recipes cluttering your view.
Everything is laid out in neat categories, and they have tons of easy beginner recipes to get your feet wet. That way, you aren't overwhelmed with the Mount Everest of food recipes right off the bat. As soon as you finish one, you'll be motivated to tackle another!
#3) Food52 – Join the World's Best Recipe Community
Food52 isn't just a well-designed, tour-de-force in aesthetically pleasing recipes…
It's a food recipe site with a thriving community of stuck-at-home Martha Stewart wannabes all submitting food photos and trying to one-up each other!
Just kidding.
Food52 has awesome, stylish recipes that are perfect for modern living. But it goes one step further.
The community has contests, a helpful hotline that actually helps you make your recipes, and a product design team that you can join. Seriously, you can join the team and help design the next line of Food52 products!
NOTE: Food52 tries its best to ensure that all ingredients are available at local markets, so it should be easy to make everything on their site!
#4)

Smitten Kitchen – Meals That Anyone Can Cook
Smitten Kitchen is a site dedicated to simple, essential recipes made with simple, accessible ingredients.
They've created a recipe collection full of meals ANYONE can cook.
Simple Bolognese, easy yogurt flatbread, schmaltzy cabbage (what the hell is that?), banana bread—it's all here and it's all as simple to make as possible.
Definitely a great place to get started and hone your #StayAtHome food skills.
#5)

Minimalist Baker – Simple, Fast Baking in 30 Minutes or Less
The name says it all.
Minimalist Baker offers easy, affordable baking recipes for anyone from Anne Landers to people like us.
Here's their mantra: 10 ingredients or less, 1 bowl, 30 minutes.
This is a site for people who don't have fancy ingredients, much to work with, or time to spare.
Think of it like MacGuyer, only instead of blowing up the bad guy's HQ with a stick of gum and a copy of Sergeant Peppers' Lonely Hearts Club Band he's decided to bake Moroccan-spice roasted carrots with dill sauce.
#6) Budget Bytes – Recipes Starting at $1
Budget lifestylers don't have to eat ramen every night anymore!
BEHOLD! Budget Bytes, a lifesaver for students, broke millennials, and anyone else dreading the bill at Whole Foods every week.
This is a massive directory of cheap recipes, how-to's, budget eating guides, and meal prep tutorials.
And it's all super cheap.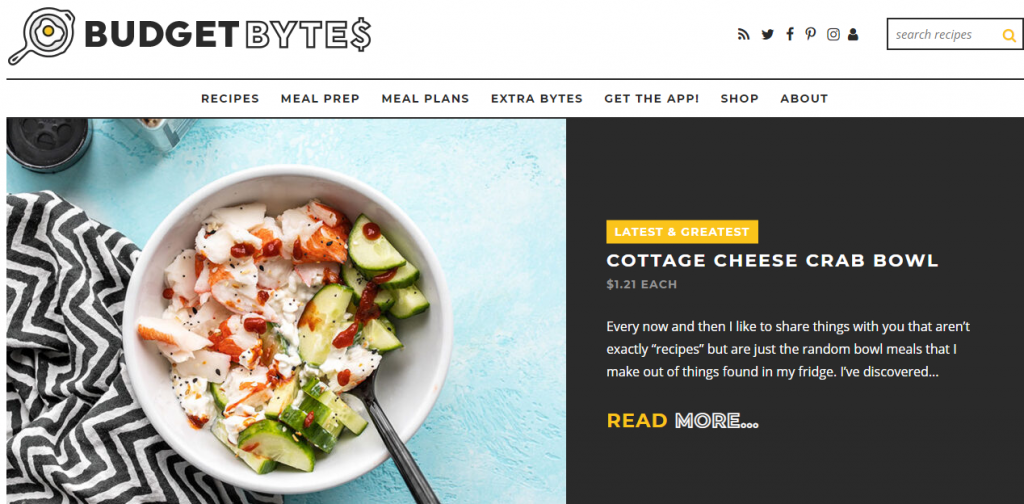 Focaccia for $1? Broccoli and cheddar chicken salad for $5? Louisiana red beans and rice for less than $10?
Where has this been all your life? That's a rhetorical question, it's been in the same place since 2009.
#7) SkinnyTaste.com – Traditional Recipes Made Skinny
Skinnytaste.com is the result of one mom's journey to get fit while still eating her family's delicious recipes.
The idea is BRILLIANT!
Take the same recipes you always loved as a child, and make them as skinny as possible. That way, you get as close to the same taste as possible while still losing weight.
Basically, you take the same ingredients for each recipe and make them skinnier or find the skinniest alternative.
Boom! You've got a killer meal that triggers all those childhood emotions, all while trimming those love handles!
Our Favorite Recipe: BBQ chicken foil packets. Remember how you felt the first time you saw Titanic? Now marinate that in tangy BBQ, stick it in foil with veggies, and grill it. This is chicken that tugs on your heartstrings.
#8)

Food.com – It Has Food in the Name
Really hard to argue with a site that has "food" in the name.
Welcome to Food.com, a beautiful yet simple dedication to the animals and plants that go into our mouths.
Food.com is awesome because of the sheer number of recipes available across every cuisine imaginable.
Pancakes, ice cream, General Tso's chicken, cornbread cake, lemon piccata, Japanese soba—the recipe list is like the UN General Assembly, but it tastes way better.
Oh, and Food.com also has cocktail recipes. Because, what else is there to do during quarantine?
The Best Food Recipe YouTube Channels
Want a video explanation of the best food recipes instead? Read on then!
#1) Tasty (Buzzfeed) – The Channel That Changed the Game
Tasty is the channel that revolutionized the video recipe game with its overhead angle and simplified structure.
They used to be famous for the crazy, over-the-top "epic meal time" recipes. But now, they are focused on simpler tutorials for delicious meals, sometimes with ingredients you have in the pantry right now
On top of that, they do gadget reviews to help you get the best equipment for your kitchen.
#2) Jamie Oliver – Come on, it's Jamie Oliver
Beautiful tutorials, delicious recipes, Jamie Oliver's soothing voice—come on, what's not to like?
Jamie isn't just a great cook (and celebrity chef). He's also hysterical, so it'll be non-stop laughs while you're cooking.
What's better than making a speedy quiche while Jamie squeals and makes funny faces? Nothing.
#3) Food Wishes – Simple Meals/Delicious Delivery
Food Wishes is an awesome food recipe channel with stunning visuals and simplified, sleek production.
The food is the star of the channel, not the personality.
Food is placed in a bowl and the tutorials walk you step by step through how to make it, finishing with a delicious product in a steel bowl ready to be eaten.
We love how it's easy it to follow, down to Earth, and full of recipes that people actually want to eat. Not things like "roast duck with chamomile and Honduran iguana blood" but Pop-Eyes/Chick-Fil-A hybrid chicken sandwich!
Imagine digging a BBQ pit for tacos one day then feasting on Mexican tacos the next. Then, meeting a Thai food master, and after that, clicking on a video of high-class Japanese wagyu beef.
Welcome to Mark Wiens Food Travel, the most epic food-from-around-the-world-style channel on YouTube.
There aren't really tutorials, but it's definitely a great place for inspiration. At the very least, it's tons of fun to watch.
It's like watching the Travel Channel, only without the annoying commercials.
Bonus Mention
One last food recipe suggestion before we go to lunch…
#5)

Tummy Good – Simple Asian Food
Cheap, delicious, ready to go in minutes—Tummy Good is an IG channel-turned YouTube channel to watch out for in the future.
We stumbled upon this delicious bibimbap recipe a few weeks ago, and have been hooked ever since.
The production quality is outstanding, and the recipes are all super easy to make. Just follow along as this master-of-her-craft assaults your senses. The IG channel has plenty of content to get your hands on, but the YouTube channel is still a work in progress.
Keep your eyes peeled!
Frequently Asked Questions
Q: Which Food Site Has the Best Recipes?
A: If we had to choose just one, it would be serious eats. But you can't go wrong with any of the sites on this list.
Q: What is a Delish Website?
A: Some delish websites are Serious Eats, Allrecipes.com, Budget Bytes, and Skinnytaste.com.
Q: What Are the Most Popular Meals?
A: The most popular meals in the world are probably the foods you find in all restaurants. Pizza, burgers, chicken and rice—the usuals!
Q: What is the Most Popular Food in the World?
A: According to a worldwide survey, 84% of people responded they liked Italian food—more than any other country!
Soda PDF and Food Recipes: A Match Made in Heaven
OK, so what does all of this delicious food have to do with Soda PDF?
Everything! After all, the PDF was made for quarantine recipes.
How about capturing the recipe in PDF form? Want to add some notes or a reminder to your PDF recipe? How about compressing the PDF so you can share the recipe with your friends, and asking the cooking inclined people in your network to leave comments?
What about combining all of the pages together to make a digital recipe book to share with coworkers?
The possibilities are limitless. You can keep all of your favorite recipes in one secure place like a swipe file and share it with everyone at any time! You can even access all the recipes on your phone so you can cook at a friend or relative's house!
Get a taste for Soda PDF today with a FREE download. Our easy-to-use, powerful PDF tools are available online or via desktop. Try our offline application, or use our online features directly within your web browser!