Best Free Recording Software Programs (2021 Update)
Looking for the best free recording software on the market in 2021? We've spent countless hours testing over 20 different programs to bring you our 5 favorites.
Myth: Setting up a home studio to make awesome music or podcasts is difficult and expensive, and most of the free audio recording programs on the market suck.
Fact: There are plenty of great pieces of audio recording software out there that will let you lay down some killer tracks totally FREE.
PSST! Can you keep a secret? Soda PDF is having an EARLY BLACK FRIDAY SALE: Get our powerful document management software at the lowest price of the year!
Whether you want to be the next indie DJ who gains fame recording beats in your basement (RIP Skrillex) or just want to start your own podcast detailing the dumbest person you've met over the past week (yes, that's a real podcast), you can use these 5 free recording software programs to make tracks that people will actually listen to…and it's totally free.
The Two Best Free Recording Software Studios
#1) Garageband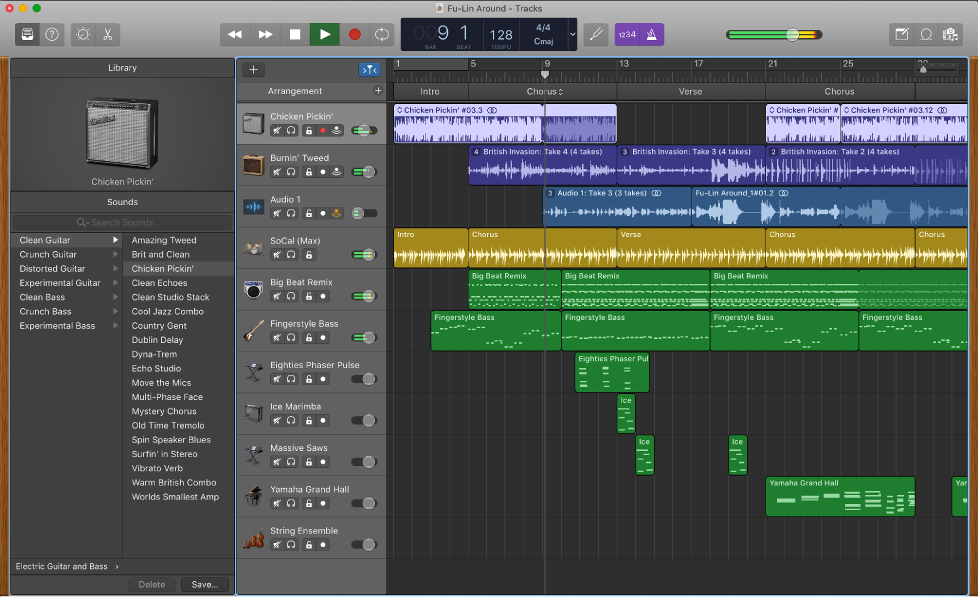 For: Mac
Since its release in 2004, GarageBand has arguably become the most popular DAW. Smooth, intuitive, and more powerful than you'd expect from a free piece of software, it is the perfect centerpiece for any budget home studio.
If you're familiar with Apple (who isn't?), you know they are really good at making things look pretty while still maintaining high functionality. GarageBand is no different. Even if you're a complete novice who doesn't know what DAW stands for, you can easily start recording multi-layered tracks like Young Guru in no time. Tracks are color-coded and almost everything else you need is done via a drag-and-drop process.
Where it really appeals to beginners (other than ease of use) is its awesome catalogue of virtual instruments. Whereas most free software offers built-in instruments that sound like bargain bin guitars bought at a tag sale, GarageBand's instruments are studio-quality.
The mix of versatility, ability, and aesthetics puts Apple's DAW at the #1 spot on this list.
Pros
Pros
Intuitive drag and drop process
Streamlined recording
High-quality virtual instruments
Cons
Cons
Only for Mac/Apple
Lack of editing various parameters
#2) Audacity
For: Windows, Mac, Linux
"Wait, Soda PDF! Audacity is the most popular free audio recording software in the world. How can it be #2?"
Let's set the record straight on Audacity before we get to the details.
It's a great piece of free recording software, but this list is aimed at beginners. And one thing you'll notice about it as soon as you fire it up is that it's anything but easy to operate. That being said, once you get the hang of it, it's awesome. But GarageBand is just so easy we had to rank it #1. Is that OK with you?
Loaded with effects, high sound quality, tons of plugins, and comprehensive editing features, it's amazing we had the audacity to rank this audio editor #2 (see what we did there?).
The thing is that, even with recent upgrades, it still looks a bit ancient, and as a beginner, you probably won't use 80% of the features that clutter the nav bar. It's a bit cumbersome to operate and you won't be able to record tracks quickly right from the get-go.
Once you get the hang of it, however, you can record just about anything you want. If you have the supporting hardware to handle it, you can produce real studio-quality sound. What we loved the most were the built-in effects like equalizer, pitch, delay, reverb, and fade in/out. It's perfect for podcasters or music producers and highly recommended if you've got time to tinker.
Pros
Pros
Great sound quality
Tons of effects
Range of helpful plugins
Comprehensive editing
Cons
Cons
Cluttered menu
Not as intuitive as GarageBand
The Rest
#3) Hya-Wave: The Extreme Budget Option
For: Your web browser
Are you a poor college student just trying to share some tracks on social media? What about a solo artist looking for the easiest free recording software you can find?
Behold the future of DAWs: Hya-Wave.
This browser-based site allows you to record, copy, paste, cut, and crop your audio as well as apply effects and share directly to your social media accounts. And it's all done from the cloud.
It doesn't support multi-tracking and doesn't really offer all that much aside from the basics, but it's extremely easy to use and available right from the browser so you don't have to download any big programs.
Pros
Pros
Extremely easy to use
Available from your browser
Makes decent quality basic recordings
Cons
Cons
Very limited
No multi-tracking
#4) Pro Tools First: Limited Access to the Industry Standard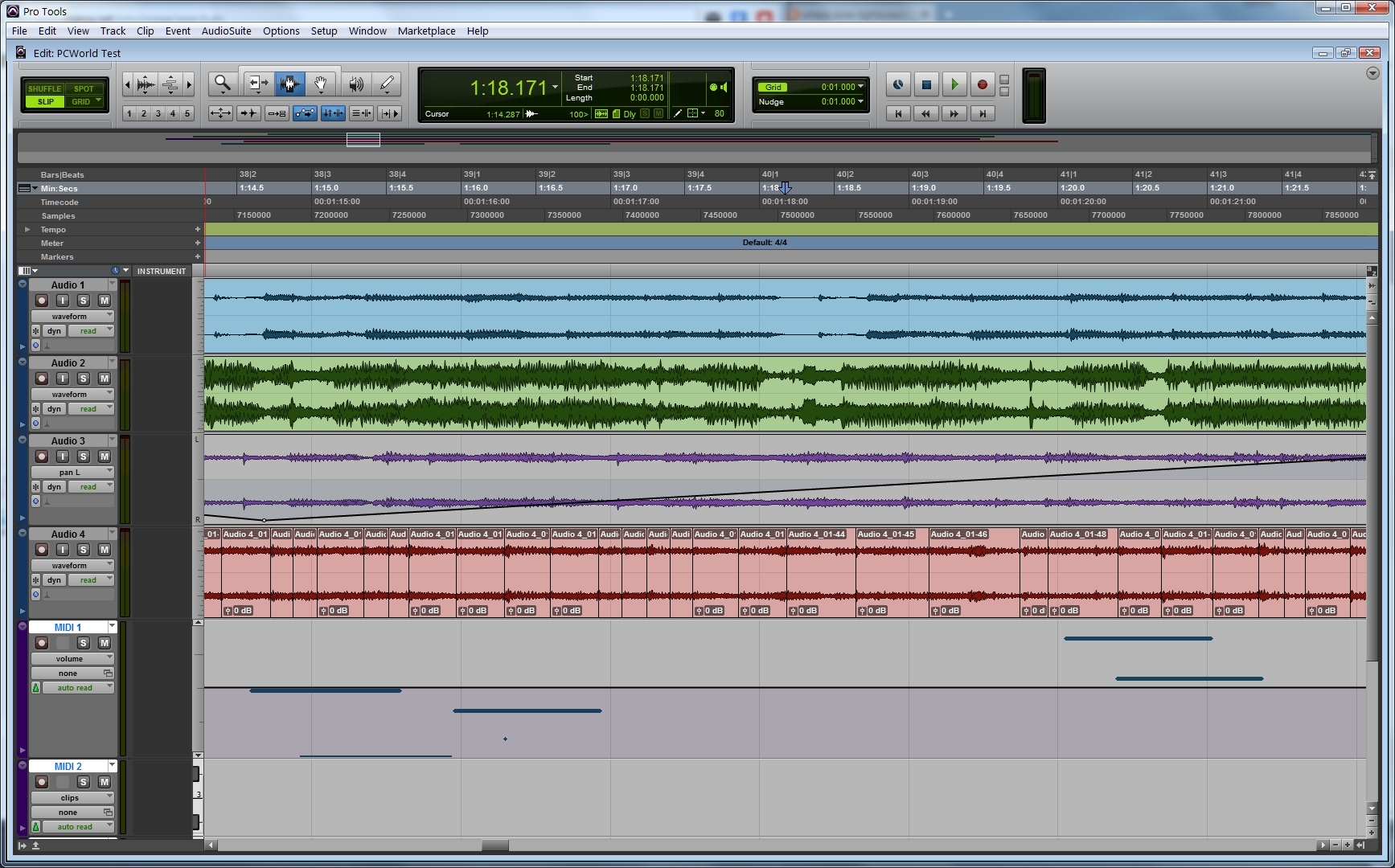 For: Everything
Pro Tools is the ultimate mixing tool. If you want to turn your bedroom into Muscle Shoals, Pro Tools is the software that helps to turn music into magic.
But it's not cheap. Good thing there's Pro Tools First, the free limited access version of the industry's top recording program.
It's perfect for singers, songwriters, and musicians just starting out on a limited budget and who want to get their feet wet before diving into the best free recording software they've ever owned. You are limited to:
16 instruments
16 audio tracks
4 inputs
1GB of space (in the cloud)
It's hard to say "limited" since 16 instruments are enough to fill a Great Depression-era big band stage, but with only 1GB of space to save projects, you are limited in what you can create. Still, it's a great option to get started before making a bigger investment (save.your.tips.from.your.bartending.job).
Pros
Pros
It's Pro Tools
16 instruments/audio tracks
Cons
Cons
#5) Ardour: Not Pretty But Highly Functional
For: Linux (mainly), Windows, Mac
Older versions of this free and open source DAW were Linux-only and crashed so often that it rendered it nearly unusable. Things are a bit different now. The increased functionality and new availability for Windows and Mac (along with the native VST support that comes with it!) have catapulted Ardour onto our list.
It's not as pretty or as intuitive as others on the list, but the functionality is definitely there, especially if you are a Linux nut.
The UI has been modernized (it's still kind of ugly, though), but what is really appealing are some of the specs that make it great for recording music. It works with any audio engine (JACK, ALSA, ASIO, or Core Audio), has awesome ripple edits (isn't it nice to see things just fall into place?), and comes with top-of-the-line MIDI editing capabilities.
It's totally free, but you can pay to have access to support and other upgrades.
Pros
Pros
Available for all audio engines
Great MIDI capabilities
Ripple editing
Cons
Cons
Interface is not so good
Not as powerful as other software
If you're just starting out, then why pay when there are some great pieces of free recording software out there?
Use Soda PDF to write, edit, and share the lyrics for the new tune you're about to record! See, we can throw PDF software into any post.