Soda PDF Presents: The Best GIF Creators (Windows, Mac, Online, FREE)
Welcome to the best "Best GIF Creators" guide in the history of the world wide interweb. Because, you know, sometimes an emoji just isn't enough to fully express yourself.
Creating fun, engaging GIFs that make your friends and coworkers jealous is WAY easier than you think it is. In this guide, we'll walk you through the best GIF makers for Windows, Mac, and your browser.
Hope you're ready to have fun….
How To Make a GIF Online
Creating GIFs is extremely easy. If this is your first time delving into the wild world of GIF creation, just follow these three steps:
Choose your video: Most creators let you paste a link from an external source like YouTube or upload a file from your computer.
Edit: Now you can trim, add fun media, caption, or adjust the size, duration of images, or even color filter (If you're using the right tools). It's 2019, a basic GIF isn't going to cut it anymore.
Save and share: That's it. You're done. Just download your GIF or share it on social media or friends via a link and you'll be internet famous. The cool thing is that a lot of online GIF tools save your creation into a library so others can view/use it. You're one step closer to going viral!
Part 1: The Best FREE GIF Creators for Mac & Windows
#1) The Best Free GIF Maker for Mac
GIF Brewery by Gfycat
GIF Brewery from Gfycat is far and away the best free GIF creating experience.
It must be if it's partnered with Gfycat, right?
Why bother searching around and taking a chance on some random animator when you can just use the official GIF maker of the most popular site out there?
GIF Brewery empowers you to create hysterical GIFs using existing video on your computer or even linking to another video online easily. So you can even use it to make GIFs from YouTube videos.
But what makes it the best FREE tool on the web?
You can record your screen and create fun GIFs in real time just like you're using your smartphone. Then you can edit, crop, or even apply one of dozens of Gfycat's famous filters.
Not any good at this .gif files thing? Don't worry. GIF Brewery is super easy. Just choose Create .gif from the welcome screen:
Then, select how you want to create your GIF:
Once you have choosen the video file, just adjust the hands to which section you want in your GIF and click Create:
It's that easy!
TIP: Frame count and frame delay are two critical elements for any .gif file. GIF Brewery AUTOMATICALLY optimizes these for you when you click the Calculate Frame Count & Delay button. Pretty awesome aye!
#2) Best for Mac & Windows – Photoscape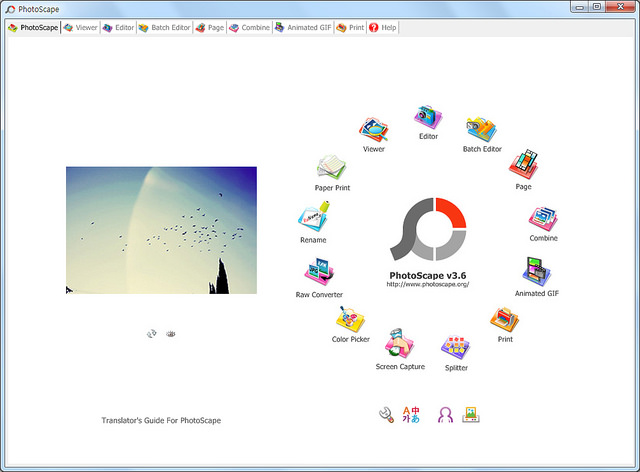 Photoscape is our choice for the top free GIF maker of 2020 for Mac AND Windows.
It's one of the best free video and photo editing software available, and the animated GIF feature is as easy as it gets online.
Don't be fooled by the pre-Google interface, Photoscape is awesome.
Just choose the photos you want to GIF-together (Is this a word?) and you're good to go. The cool thing about Photoscape is it's really easy for you to adjust the display time.
So if you want one image to flicker on screen longer, just click the image and adjust the time.
Photoscape is good for two reasons:
Simplicity: The interface is outdated and annoying, but the program is super powerful and intuitive to use. Anyone can create fun GIFs in just a few clicks with no experience.
Everything else besides GIFs: Photoscape is an AWESOME photo editor that lets you edit, split, crop, merge, touch up, and basically everything else you can imagine. All 100% free.
#3) The Best for Windows – SS Suite GIF Animator
Just load your images into the GIF animator and click create.
It's that easy.
SS Suite works on all 32 and 64-bit Windows software, and is the best creator for making movies and slideshows. Once they're done, you can instantly share them with friends and family.
Don't you love how clean the interface is?
This is also the only program on the list that's eco-friendly. It requires way less energy to run! Of course, the downside is that it's not as powerful as the other GIF animators on the list.
PaRt 2: The Best Free Online GIF Creators
Online GIF creators work directly from your browser and are the fastest, easiest way to make GIFs from YouTube, Vimeo, and other sites.
They don't have all of the features of downloadable applications, but they're plenty for creating GIFs that get the job done.
Here are our favorites:
#1) The Best Free Online GIF Creator – Giphy
Giphy's GIF creation tool creates GIFs in a single click. Just copy, paste, and create. You're done.
No other tool rivals the simplicity and functionality, especially not for FREE. Once you choose a video, you can easily adjust the duration and start time using the slider bar.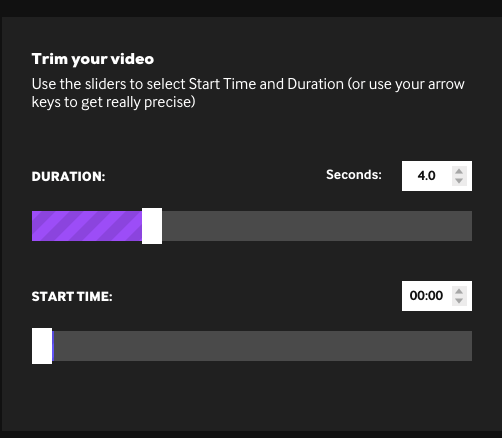 Now, it's time to "decorate"!
Giphy is one of the only tools online that lets you add stickers, captions, and filters to your GIFs, all 100% free (With no annoying up-sells!).
If you want to keep it simple, just enter a caption and let the tool do the rest.
And once you're done, you can instantly share it to all your friends on social media.
Giphy is definitely the best GIF creator out there, but it's not the only one. See if any of these pique your interest.
#2) The Most Features – GifMaker.Me
It's not easy to use, but man is it GifMaker.me powerful. No other browser-based tool comes close to the customization options.
If you're a professional GIF maker (How do we get this job?), this tool is for you.
You can adjust the start time, end time, height, and width as well as the frames per second.
And you can take virtually any video format – mp4, flv, mov, avi, mpeg, webm, 3gp, etc – and convert to GIF too.
Now for the downside: You can't just copy/paste a link and convert. GifMaker.me only lets you upload videos. That's why Giphy took the top spot.
#3) The Fastest Original GIF Option – And Then I Was Like….
And then I was like…. Is the most unique (And basic) option on our list. But that's actually its advantage as a GIF creator.
If you want to create a quick GIF of yourself in real-time, it's the fastest, easiest option. Just click record, and it takes a 3-second video then converts it to a shareable gif. And all without ANY registration!
It doesn't do much, but if you just want to take a quick video of yourself and share with friends, it's way faster than going through the registration hoops of the other tools.
BONUS – Filmora GIF Creator from Wondershare
Wondershare throws its name in the hat in our bonus feature, Filmora GIF (And meme!) maker.
It doesn't do much different than Giphy, but since it's fast, easy, and comes connected with the Wondershare suite of tools (And library of knowledge), we decided to add it into our list.
Just upload your file or paste a link, and you're brought to the editing screen.
There are plenty of options, just not as many as Giphy.
If you want a fun tool for making GIFs and memes, you've found it. You'll have a fully shareable GIF in a few clicks flat.
Frequently Asked Questions
Q: What is the best free GIF maker?
A: Giphy is the best free GIF maker online. No other tool is as intuitive and powerful. And it requires no download – you only need to register with Facebook.
Q: How do I make an animated GIF my desktop background on Mac?
A: To make an animated GIF of your desktop background on Mac, you need an app that allows you to set a GIF as your wallpaper. A popular one is GIFPaper.
Q: What is the best GIF maker app?
A: The best app for download on desktop is GIF Brewery. The best GIF maker app for iPhone is GIF X for iOS.
Q: How do you download a GIF?
A: Almost all GIF creators allow you to download the GIFs you create.
The Best PDF Modifier (Desktop & Online)
Now that we have our GIF creators covered, its time to think about your documents. You know, those important files you've been avoiding while you were busy making GIFs.
For anyone who has ever tried to modify a published PDF, well let's just say we understand why you're distracting yourself with GIF making.
But did you know that there's a software you can download for FREE to edit, create and convert PDFs to and from Microsoft Office files like Word to PDF, Image to PDF, and a whole lot more?
Introducing Soda PDF, the all-in-one editing tool for your document needs. Try one of our PDF features online or download our desktop app for FREE! Get a taste for Soda PDF today, and see how our software can help you make the most of your documents!