The 5 Best Mobile Scanning Apps for Business
Looking for the best mobile scanning apps on the market so you can go paperless? Awesome. This is going to be one of the best business decisions you've ever made. You'll save money, decrease overhead expenses, and make every receipt, form, business card, and contract instantly accessible from one central database. Welcome to the future!
But not all scanning apps are created equal.
We've scanned thousands of documents using mobile scanning apps over the past few years and put together this list of our 5 favorites.
It really all comes down to what you need. Don't throw away money on apps that aren't suited to your business. Read through and find the one that fits you to a T.
#1) Google Drive – The Best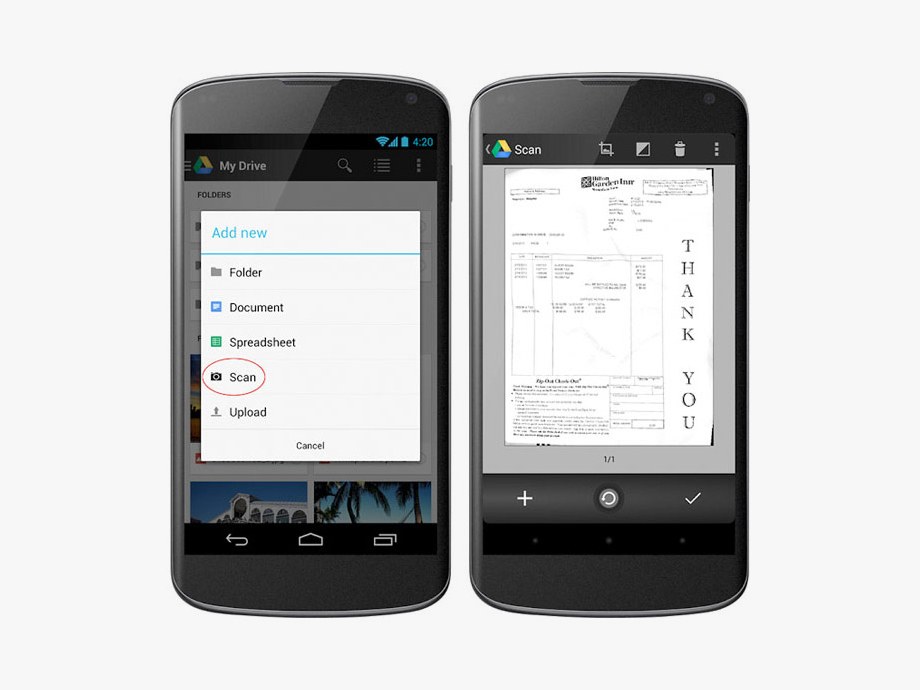 The best scanner app is most likely already on your phone. And you're probably very familiar with it. What could be better than that?
Google Drive comes with optical character recognition (OCR) technology so you can easily convert paper documents into malleable digital docs. The best part about it is that you're probably already using Google Drive to store, edit, and share documents among your office (you're using Google Drive, right?).
Just open Google Drive, tap "Add New" and then tap "Scan". Now your digital docs are neatly stored on a central drive that's backed by Google security. Did we mention that this app was free?
After using our fair share of scanning apps for all purposes, this one takes the top spot comfortably.
Pros
Pros
Integrated optical character recognition (OCR) technology
Works with Google Drive
Free to use
Cons
Cons
#2) Adobe Scan
Adobe scan is an impressive app with high-level functionality that will cover all of your business needs easily. The only drawbacks are that it requires an account to set up and you have to pay to unleash its full potential (more on that in a bit). First, let's cover what we like.
Right off the bat, Adobe's powerful OCR is pretty impressive. It's able to quickly and accurately recognize text and convert it into a digital document. Just point your camera at anything (those receipts for dinner that were a "business expense"), take a snapshot, and see for yourself. What catapulted it to #2 on our list, though, is the photo-scanning ability.
It won't make you look like Ansel Adams, but the ability to upload a photo, and then crop and edit it with ease really struck a chord with us.
The biggest drawback is you can't edit documents without a Creative Cloud Subscription. If you're already using Adobe cloud services, this app should be at the top of your list. If not, you've got to pay $9.99 for it (well worth it for any business owner).
Pros
Pros
Powerful OCR integration
Ability to scan and edit images
High-level functionality
Cons
Cons
Requires an account to set up
Can't edit documents without a Creative Cloud subscription
#3) Microsoft Office Lens
Hard to argue with anything that has the Microsoft name behind it. Fast, simple, and with high-powered OCR features of its own, Office Lens lets you scan business cards, documents, photos, and even whiteboards.
Aside from its high-level capabilities, the biggest draw is the fact that it's directly connected to the Microsoft ecosystem. This came in handy big time for a lot of us here. It was uber convenient for us to take snapshots of docs, photos, or whiteboards, and seamlessly integrate them into Word, Outlook, or PowerPoint.
It's another totally free mobile scanner that's perfect for business.
Pros
Pros
Simple to use
High-powered OCR
Directly connected to the Microsoft ecosystem
Free!
Cons
Cons
#4) Evernote Scannable for iPhone
Ever have a meeting where you take notes and want to share them with your coworkers who were sleeping in the back? Now you can with ease. Scannable lets you take notes and upload them to your Evernote account, and it will automatically ask you if you wish to share them with others who attended the meeting (as long as Scannable has access to your calendar).
The scanner is fast and powerful, and the app comes with a quick tutorial to help you get the hang of it. It's exceptionally good at helping you scan business cards. It's a really smart scanner app in that it saves your preferences and suggests them to you each time you create a similar scan (for example, saving business cards to a contacts list). You don't actually need to connect it to Evernote to get high-level functionality (a feature we love!).
Pros
Pros
Evernote integration
Ability to take notes and share them with others
Tutorial included
Saves your scanning preferences
Cons
Cons
#5) Shoeboxed
Shoeboxed can be summed up by this one quote from a well-known online outlet: "Shoeboxed makes it stupid simple to scan receipts".
The Shoeboxed app lets you organize receipts (the IRS even accepts receipt images), track expenses, track miles, export contacts to CRM or email marketing tools, and a lot of other neat business perks.
It's perfect for businesses dealing with tons of receipts and that wish to organize them into neat, human-verified groups. The database you create is easily searchable and available anytime and anywhere. Hard to argue with that!
Pros
Pros
Easy to use
Great for organizing business documents
Searchable database
Saves your scanning preferences
Cons
Cons
There really is no "best mobile scanner app". However, a few have stuck out from the rest over our years in business. Anyone of these best mobile scanner apps for business will help you be more productive, save money, and maintain a high level of security. It all comes down to what you need.
By the way, while we're on the topic of OCR, Soda PDF has powerful OCR recognition software that lets you easily scan documents and make fully editable PDFs. If you're looking for PDFs for business, give it a try for FREE today.