The 7 Best Alternatives to Photoshop
Don't have the time, money, or editing skills for the mainline photo editors? Good news: you don't need them to create stellar touch-ups, celeb couple face mashups, or stunning travel photos. These apps are all contenders for the best Photoshop alternative. 
These 7 Photoshop alternatives are simple, affordable (some are FREE), convenient, and PERFECT for basic photo editing.
The Best Photoshop Alternative – GIMP (FREE!)
Summary: Hands-down our favorite Photoshop alternative. Open-source, FREE, cross-platform, tons of plug-ins, and relatively easy to pick up.
GIMP is our favorite image editor. It comes with everything you need to have complete control of your website, brand, and social media images all for FREE. You get:
Layers
Masks
Endless advanced filters
Detailed color adjustments
Plus, you get a ton of awesome plugins that extend the functionality of GIMP pre-installed. GIMP is open-source, meaning the dedicated community of GIMP-a-holics is constantly helping companies like us by adding cool new features.
It's definitely not the simplest one to grasp, but it hits right in the sweet spot between professional-grade software and simplicity. It's advanced enough to let you do ANYTHING you want (e.g. keep your old travel photos but remove your ex), but not too complicated that you need to attend a TED talk just to figure it out.
The drawback is that the extensive catalog of user-created tools makes extending its functionality a bit confusing. But, chances are, you won't use any of the plugins unless you already know what you're doing.
Pros
Tons of tools
User-created plugins
The best plugins are pre-installed
FREE

Cons
Plugins are a bit hard to figure out
The Runner Up – PicMonkey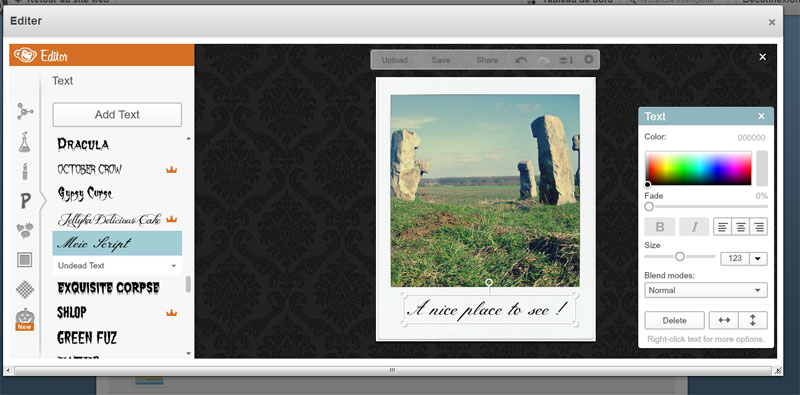 Summary: Simple. Intuitive. Free. The best way to quickly edit photos for social media.
PicMonkey is just as good at creating a college scrapbook to upload to Facebook as it is at touching up wedding photos. And it's all done through a simple, intuitive interface. Just drag, drop, and play around with the built-in tools and voila!
It's the best tool for quickly creating stunning photos, covers, ads, and basically anything else you need online.
The built-in tools are actually way better than you'd expect from a free tool. Add some extra "zhuzh"—in the company's own words—to a portrait, put text in an image, or add designer-curated frames to your photos in a single click—the world is your oyster.
Pros
Free
Super easy
Intuitive
More tools than most other free software
Easy-to-use scrapbook templates (we love this)

Cons
Tools aren't as high-quality as paid versions but they do the trick
The Best of the Rest
The rest definitely qualify for best Photoshop alternative, but are more specialized.
InPixio Photo Editor
Easy to use is the mantra driving InPixio Photo Editor. You can immediately get professional looking edits done, without having to lose all sorts of time learning.
Don't rely on the same boring filters in Instagram that everyone else is using, you can browse from over 100 filters and effects to give your pics the perfect luster.
Once you've finished editing your piece of art it's only a few clicks to get it posted to all your social medias. Let the likes come in.
Also including features like a fantastic cropping tool and the ability to add borders, you can rely on InPixio as the best Photoshop alternative for quick tasks.
Canva
Canva gives you instant access to over a million photos, graphics, and fonts. Most are free, but the best ones cost a nominal fee.
It lets you design anything and publish anywhere in the simplest way possible: drag and drop. We've used it recently to create business cards, a birthday card, and party invitations, but you can use it for just about anything.
You get instant access to icons for social media, stock photos, templates for flyers and brochures, design types like infographics, logos, flyers.
The image editor also lets you add text, graphs, and other design elements.
Photo Pos Pro
Another free powerhouse, Photo Pos Pro (PPP), tried to give users the best of both worlds with its novice and advanced view modes.
As you become more familiar with the tool, you can work your way up to advanced mode and start really ramping up your photo editing game.
PPP comes with a bunch of tools you'll find familiar—layers, masks, healing brushes—and you can even import images directly from a camera.
The layout and design are super intuitive, so you won't have any issues getting used to the software, unlike most editing tools.
TIP: Photo Pos Pro Lite is a much simpler version of PPP and still comes with enough editing features to handle all of your basic image editing needs. If you aren't a whiz with editing software, it's a great alternative.
Paint.net
Simplicity is Paint.net's core strength. It's easy to just fire it up, use auto filters, and even manage multiple photos easily using the tab feature.
It was originally intended to be an MS Paint alternative, so you know simplicity has been the idea from the get-go.
It isn't packed with as many features as PPP or GIMP, but that's the point. Its simplicity leads to its next best feature: 2X CAFFEINE SPEED.
All of the editing features are there. You can adjust hue, brightness, contrast, curves, and saturation. You can even use the simple text editor and a cool zoom function.
Easy-to-use features, intuitive, fast—Paint.net is probably the best place to start as a newbie when it comes to photo editing.
Honorable Mention – Photoshop Express (this is kind of cheating!)
OK, we know it's borderline cheating, but we'd be remiss not to mention the express version of the photo editing evil empire.
Photoshop Express lightweight version is totally free and works right from your browser. It might be the simplest tool on the list, actually.
The best things about it are:
It's really similar to Photoshop's full version, so you'll have no problems adjusting.
And
B) It packs all of Photoshop's best features into a simple interface.
Sliders make it easy to dynamically adjust factors like contrast, exposure, and balance. And, there are even auto adjustments if you're really feeling lazy… we mean… rushed.
The simplicity means there are no plugins, layers, or brush tools, but that's part of the appeal, isn't it? It's a great, lightweight photo editor that does the basics for free.
Warning: You CAN'T crop or resize pictures with Photoshop Express, so don't waste your time if that's what you want.
In the end, the best Photoshop alternative comes down to your needs, goals, skill level, and budget. There are plenty to choose from, but GIMP is without a doubt the best for professional work and PicMonkey is a close runner up (but better for lighter workloads). You can't go wrong with any, so start editing and stop reading!
Once you've used the best Photoshop alternative to fix up your images, you can go ahead and embed them into a PDF. Using Soda PDF you can secure any photos you work with. Download it now and try it out.