The Best Tablets To Buy in 2020
The 5 tablets you're about to discover are the absolute best tablets of 2020. We ranked them based on price, value, performance, screen space, and user experience for your convenience.
You're just a few clicks away from the best values on the market. What are you waiting for? Scroll down & read on!
The Best Tablets Overview
If you're one of those TLDR (too long, didn't read) people, then here's the skinny for you:
Best Overall – Apple iPad Pro
Best Value – Apple iPad Air
Best Cheap Tablet – Amazon Fire HD 10
Best for Kids – Amazon Fire HD 8 Kids Edition
The Best Drawing Tablet – XP-PEN Artist12
But if you want to know exactly why we've decided to rate certain tablets the way we did (and you're looking forward to those pleasurable long reads), then read on friend!
#1 – The Best Tablet of 2019/2020 – Apple iPad Pro
Screen: 11 or 12.9-inch
CPU: A12X Bionic
Storage: 64GB
It's the most advanced iPad ever! That's saying enough.
Apple's iPad Pro has the most advanced display on the planet (12.9 inch), giving you more space to create, work, draw, and answer emails outside of work hours!
This is the only tablet that felt like watching real life on a screen.
It's not cheap, but it is by far the best tablet on the market.
It can be whatever you want it to be – TV, laptop, workstation, canvas – so it's perfect for creatives, professionals, kids, and people who just want to binge Netflix on a super-fast tablet (Apple's A12X Bionic processor ran circles around Windows).
Pros
The best screen on the market by far
Lightning fast
13-hour battery
Perfect for watching, drawing, working, and playing
#2 – The Best Tablet for the Money – Apple iPad Air
Screen: 10.5 inch
CPU: 12A
Storage: 64GB
The iPad Air isn't the best tablet, but it's definitely the best value tablet.
Its performance is comparable to the Pro version (12A processor), just at half the price.
You don't get the same screen space or speed, but you do get True Tone, which makes the screen automatically adjust to the lighting around you to give you the best reading experience and protect your eyes.
It's light enough to take anywhere, fast enough to run multiple apps easily, and powerful enough to construct a 3D model.
If you're looking for good performance and portability but don't need all the bells and whistles, this tablet is perfect. And it'll save you about $500!
The only downside was that the battery wasn't as good as advertised. Apple claims 10 hours, but it only lasted about 6 while video streaming (what else are you supposed to do with a tablet, anyway?)
Pros
Super lightweight
High-performance processor
True Tone
Augmented reality
Cons
Battery is good but not great
10.5-inch screen is large but not perfect
#3 – The Best Budget Tablet – Amazon HD Fire 10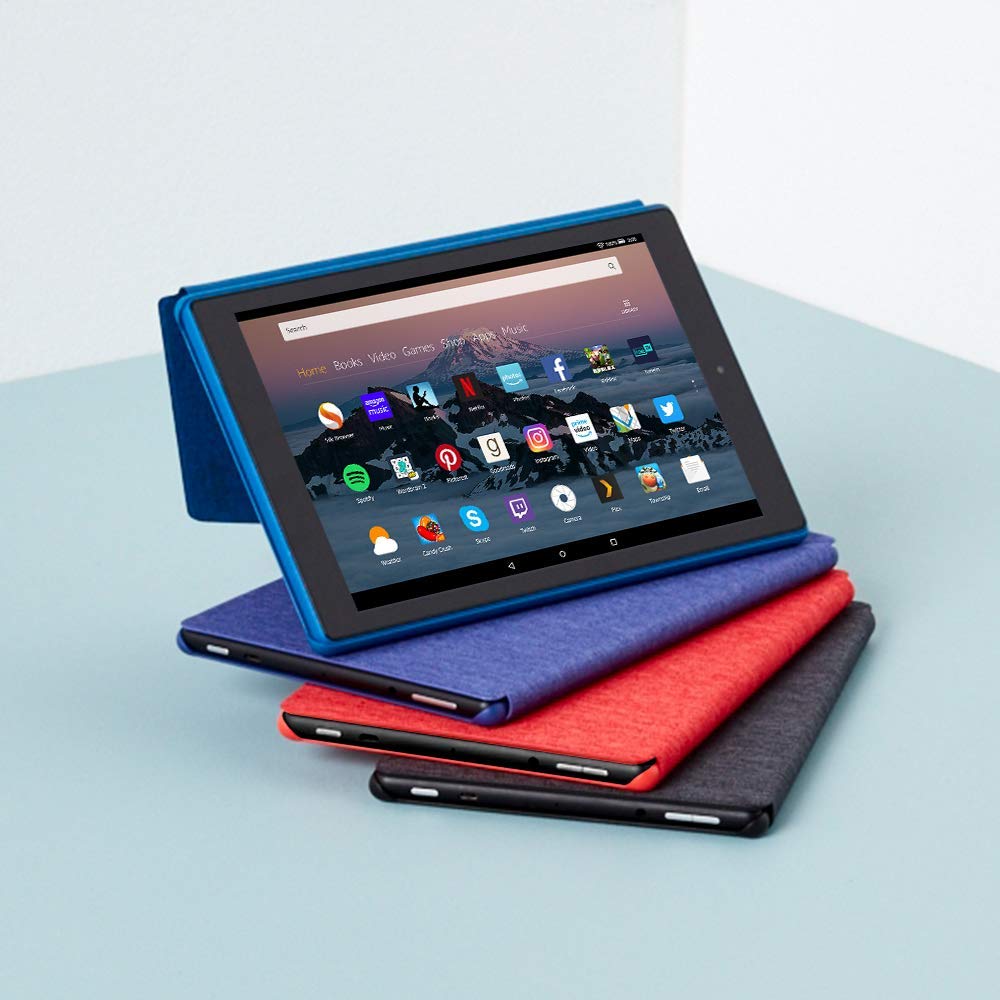 Screen: 10 inch
CPU: Dual 1.8/1.4 GHz
Storage: Starting from 32 GB; up to 64 GB
Soda PDF: "Alexa, show us the best cheap tablet of 2020."
Alexa: "Looking for the best cheap tablet of 2020. I found one result: The Amazon HD Fire 10. Its brilliant display, 30% speed upgrade, and 10-hour battery life make it the best buy under $200."
Joking aside, Amazon's latest HD fire only costs $150 and performs like a $500 tablet. The screen space is a bit limited, but it's one of the best 10-inch tablets we tested.
Check out some of these specs:
1920 x 1200 Display: Everyone loved the video quality. Sure, we couldn't see the beads of sweat, but it was pretty dang good.
Dual Quad-Core: The HD Fire runs a 1.8 GHz and 1.4 GHz simultaneously and has 2x the ram of the previous generation. Any and all speed concerns can be thrown out the window. We ran games, apps, and Netflix simultaneously with 0 issues.
Up to 64GB: The HD Fire comes with 32GB of storage, but you can upgrade to 64GB if you absolutely have to store dozens of movies for a flight.
Pros
Great price
Fast
Solid display for the price point
Battery for days
Cons
The screen isn't as detailed as Apple's
32GB might not be enough for many people
Performance doesn't match high-end models
#4 – The Best Tablet for Kids – The Amazon Fire HD 8 Kids Edition
Screen: 8 inch
CPU: 1.3 GHz
Storage: Starting from 32 GB (expandable via card)
The three things that matter most when buying a kid's tablet: battery life, parental controls, and protection.
Maybe we're wrong, but who cares about aesthetics when the tablet's going to spend its entire life in a protective case covered in ketchup and crumbs?
Hence, the Amazon Fire HD 8 Kids Edition.
Your kids won't be able to break the Kid-Proof case, and it comes with a full year of FreeTime Unlimited (Over 20,000 apps, games, and books).
The battery life is EPIC, and it comes with a 2-year worry-free warranty, so if somehow you've birthed a super-human baby with inhuman strength, Amazon will replace it (and notify the government).
Don't worry about inappropriate content, Amazon's parental controls are the most advanced on the market. It's got everything from bed-time curfews to web-safe browsing and age filters. No worries here.
Of course, the performance, screen, and design aren't super impressive, but that's not what matters to your kids, right?
Pros
Advanced parental controls
Indestructible case
2-year warranty
FreeTime Unlimited for 1 year
10-hour battery so kids can entertain themselves
Cons
Not slow, but the performance isn't on the HD Fire 10 level
Small screen (but it's for small humans)
#5 – The Best Drawing Tablet (For Creatives) – XP-PEN Artist12 
Screen: 11.6 inch
CPU: Runs on a computer
Storage: N/A
Are you a creative-type looking for vibrant colors, vivid images, and life-like detail?
If so then the XP-Pen Artist12 is THE tablet for you. Best of all, this tablet costs less than $200. The XP-Pen was so flexible it felt like freehand drawing but so powerful it felt like working on a laptop.
It's also perfect for photo editing, video editing, animation, and 3D sculpting.
It's got everything you could possibly want in a drawing tablet, and a few things you probably didn't even know existed.
Battery-less Stylus
Non-slip grip stylus with eraser
178-degree display
Anti-reflective coating to reduce glare
It's compatible with more creative software than most other tablets:
Photoshop
Illustrator
MediBang
Clip Studio
CDR
Painter
And that's just the beginning.
The only downside is that it has to be connected to a computer to work. It's compatible with Windows and Mac OS 10.10 or later.
Pros
Exquisite detail brings your imagination to life
Huge display
Immortal stylus
Feels like drawing freehand
Frequently Asked Questions
Q: What are the best tablets on the market?
A: The best tablets on the market, in terms of quality, are Apple's new iPads: The iPad PRO and the iPad Air.
Q: What new tablets are coming out in 2020?
A: All of the major brands are coming out with new tablets. Samsung, Asus, Huawei, Amazon – you name it.
Q: What is the best cheap tablet?
A: The Amazon Fire HD 10 is awesome and only costs about $149.
Q: What should I look for when buying a tablet?
A: It depends on your needs, but the most important factors are storage, display detail, and performance.
Which PDF Editor Should I Use On My Tablet?
Good question. There's so many PDF editing tools out on the market nowadays that we should have maybe done a review on those.
Only we don't need to because there's only one PDF editor anyone will ever need. Its name? Soda PDF.
With Soda PDF, modify documents your way. Whether you're looking to edit, create, convert, merge, or split your PDF files, Soda PDF is available when you need to make quick changes with easy-to-use tools.
Soda PDF is available online or on desktop, either through our application or one of our many online services. Plus, we're integrated with cloud storage services, so you can easily access your files and modify them whenever you need, no matter where you may be.
Get a taste for our powerful software today by using one of our online services, or get our desktop application with a FREE download!