The Best Video Editing Software (For Every Category)
Welcome to our revamp of the best video editing software for small businesses. A LOT has changed.
Some paid options have become obsolete and a 100% free video editor has smashed through to provide amazing features for absolutely nothing.
After testing more than a dozen video editors, we've narrowed down our top picks to these lucky 5 and arranged them into easy-to-understand categories. Here you'll find the best:
Free video editor
Paid program
For Mac
For Linux
Cheap alternative to our top pick
Making amazing videos is way easier than you think, even if you've never cut a clip before. Let's get to it!
The Best Video Editing Software of 2020
#1) Adobe Premiere Pro – The #1 Video Editing Software Ever
Overview: Industry-leading software with unrivaled features. The #1 choice for TV,  film, and the web. Seamlessly edit any footage from any source even if you're a total beginner. Even features stunning 8k and virtual reality. It's like having a movie studio on your computer.
Pros
Pros
Unrivaled features
Stunning 8k
Adobe sensei guides you through editing
Built-in features to accelerate workflow
Cons
Cons
Price
Steep learning curve IF you want all features
Adobe Premiere Pro is the leading name in photo video editing, and the program of choice for films, TV stations, and online businesses. This is the program all the big names are using.
Adobe is the be all end all alpha dog of the industry, so if you want the absolute best quality end product, there's no other choice.
The best part is that built-in shortcuts for reframing, color editing, and audio make editing a breeze even if you're a total beginner. You'll feel like you're editing Avatar while working. That's only half joking…
What you'll love
Work smarter not harder: Auto Reframe, Lumetri Color, Essential Sound, and VR 180 take all of the guesswork and tediousness out of editing, making it way easier to make clean, crisp, stunning video without all the typical hard work.
Built for business: Adobe's Business Plan isn't cheap, but it gives you access to tons of cloud-based apps and features that accelerate business and earn more profit.
It's alive: Adobe's machine learning automatically detects cuts in your footage and suggests adding edits, eliminating many of those super tedious edits that movie makers hate. The end is near…
Of course, it's not perfect. Here's what our team and you probably won't like:
Price: Adobe Premiere costs a premier price. It's worth every penny but not cheap.
Learning curve: The built-in shortcuts make it super easy to use but if you want to unlock absolutely everything, it will take a while to learn. It's perfect for ongoing videos, but not one-off projects.
#2) Lightworks – The Best Free Video Editing Software
Overview: Lightworks is for any business who wants to create professional-quality videos for $0 (for a limited time). Not only does it contain features normally only found in paid programs, it's highly customizable, meaning there's something for every business. You won't get a movie-theater-quality video, but it's fine for growing businesses on a budget.
Pros
Pros
Free
Professional-grade features
Tons of effects for $0
Any business can use it
Cons
Cons
Not as many features as Adobe or other paid tools
Ugly interface
Lightworks is an award-winning, non-linear video editing software packed with pro features normally only found in paid tools.
It's the perfect tool for budget customers looking to create great videos, and who are willing to invest time (and patience) into learning a complicated piece of software.
4k, SD, HD_don't worry, it handles everything. Imagine, in a week from now, your business posts a 4k promo vid on Facebook with cutting edge graphics and pro-grade editing. Then, when everyone asks how much you paid, you just laugh and pretend it cost $500.
What you'll love
Perfect for YouTube videos: Sign up for a free trial and start pumping videos out. 
Lightning fast: The entire program is optimized for speed, so you'll finish projects in a fraction of the time.
Super-zoomed in editing: The trimmer is the best in the biz. Easy to use and never buggy. If you want the easiest editing experience, we highly recommend Lightworks.
#3) Final Cut Pro X – The Best Video Editing Software for Mac
Overview: Pro-level software with a super simple interface you'd expect from the world's leading tech company. Final Cut Pro X feels as intuitive as an iPhone but it's powerful enough to produce movie-quality videos. If you're a Mac user, it's a no brainer. You'll see 20%+ bumps in speed. It feels a bit like a more powerful iMovie
Pros
Pros
Made for Mac
Stunning video quality
The best usability
Great UX
Cons
Cons
Non-traditional timeline editing
No stabilization for 360-degree video
Not a fan of the library/project/event structure
Final Cut Pro is a perfect program for professionals and pro-level amateurs looking for something as easy to use as iMovie but powerful enough to create movie-level videos. 
MacOS users will save hundreds of dollars in the long run and see boosts of up to 20% (up to 35% for newers Macs). So you get faster performance and a familiar interface, all for way less. If you're into Macs and don't need the absolute best program, Final Cut is the best choice.
The best feature has to be the usability. It's timeline is very similar to iMovie, so you'll feel right at home. The smoothe dark theme is super easy on the eyes, and the drag and drop editor is as intuitive s 
#4) Shotcut – the Best Video Editor for Linux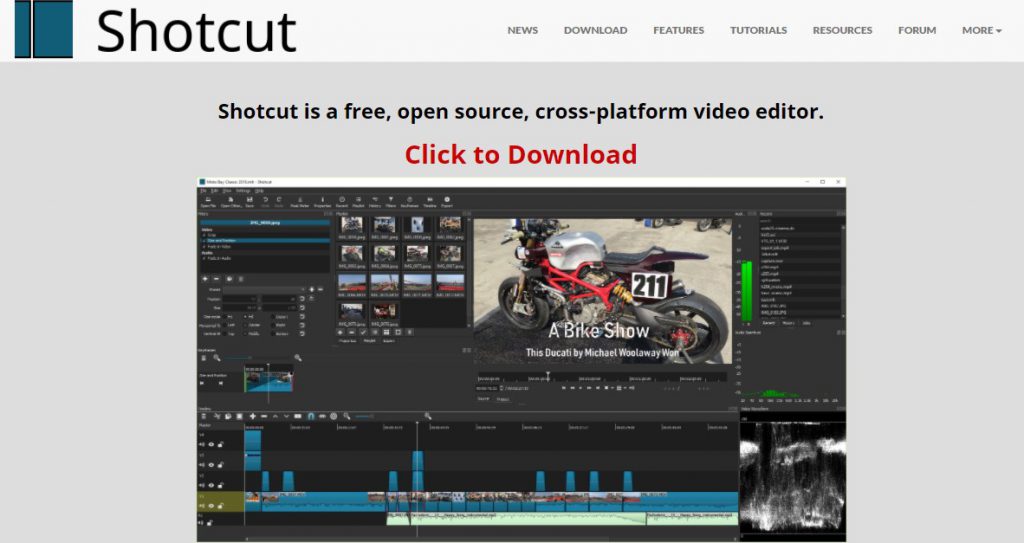 Overview: Shotcut is a totally free, open-source video editor for Linux powerful enough to create great quality videos for nothing.
Pros
Pros
Easy importation
Open-source
Free for life
Cons
Cons
Difficult interface
Limited functionality
Shotcut is a lot better than your typical free program, and unlike pretty much every other one on the market, it's actually free for life rather than "freemium" or free trial.
And since it's open-source, it's always improving. So if some super smart video editor decides to extend the functionality, like adding effects or improving transitions, you benefit without doing anything.
Shotcut definitely isn't as good as any of the paid tools, but it's perfectly fine for basic projects or even more if you've got the chops.
And even though it's free, it's got a ton of video and audio editing filters to customize your video. Basically, you get an easy editor fully capable of making a decent video for free with a ton of cool add ons pouring in over time.
#5) Adobe Premiere Elements – A Cheap Alternative to Adobe Premiere
Overview: Adobe Premiere Elements is a budget version of Premiere Pro that comes with a lot of the same features but not the huge price tag.
Pros
Pros
Adobe's leading features
High-level editing
Tons of effects
Familiar interface
Low price tag
Cons
Cons
Limited features compared to Premiere
As a bonus mention, we want to let you know that Adobe Premiere Pro is available at a discount if you want to sacrifice some of the features.
Adobe Premiere Elements is the beginner-friendly version and costs far less. If you're willing to sacrifice editing features, filters, and power, be our guest.
It's worth a look if you're on a budget or don't need movie-quality production capacity.
Closing Thoughts
Adobe Premiere Pro is by far the best name in the business, but there are tons of great video editing options. If we had to say whether or not to get a free tool or a paid tool, we'd definitely recommend spending the money on a paid one…especially if you're a business. Most free tools will have major limitations, especially if you're producing videos at scale.
Looking for the best PDF software to edit your documents with? Look no further than Soda PDF! Try our Desktop app with a FREE download, or get a taste for our powerful PDF tools by trying them through our web application.