How to Make a Tutorial Video | Without Spending Money on Software
It's undeniable that video content is an excellent way to convey information to your users. When considering if making media is worth the effort, many are pushed away out of concern for how much it will cost. While there is a need for human effort, it's not hard to learn how to make a tutorial video without spending money on software.
Most tutorial videos include a person doing a voice over. If you don't have one, there are many budget-friendly USB microphones available. You don't need the world's best mic to make a tutorial video, most microphones you can get will be good enough for the task at hand.
Once you've got your microphone all you'll need is a quiet location. The more fabric in that room, the better the sound will be controlled. Once you've found a suitable location, it's time to worry about how to make a tutorial video without spending money on software.
1) Write your script
Every video will have a series of key points you're trying to make. Heading into a recording session, it's easy to fall into the trap of "knowing what you want to say".
Many hours have been lost by trying to make up a script on the spot. Typically, you stumble through takes, figuring out what you want to say as you go. With each take, you get a little bit further into the subject matter, but you'll likely make many mistakes along the way.
While you can fix many things in editing, it often takes a lot longer to fix it post-editing. The most time efficient way to make a video is to write out a script beforehand. You'll have a chance to review all your ideas and when the time comes, you can focus on your delivery.
2) Create a Storyboard
When considering how to make a tutorial video, you need to think about what visuals will accompany your script. This is where a storyboard comes into play.  A storyboard is a map of what a person will see for each part of your script.
You can do this in any Microsoft office app, or even using a pen and paper.
Separate your page or document into 2 columns.

In the first column, you'll add your script.

We advise breaking your script up into smaller pieces reflecting each part of your video.

In the other column, across from each section of the script, you'll describe what the user will see in the video.
You can see a sample of what this will look like below:
Creating a storyboard will help you identify what you will need to create this video. Most tutorial videos are a combination of image cards and screencasts. Preparing everything you need before you start will help you avoid delays when you get to editing.
3) Record your Audio
You will need a specialized software to record your audio. Since we promised to show you how to make a tutorial video without spending money on software, we wanted to introduce you to Audacity. Audacity is a free software that lets you capture audio, while providing a complete set of audio editing tools.
Using Audacity is extremely simple. Once installed, launch the application.
Click over here and choose your microphone.
Click here to record.
Once you've got your audio recorded, you may want to edit it. Click here to learn more about how you can use Audacity to modify your recording.
Once you are ready it's time to export your audio.
Click File.
Choose Export.

Pick the format you want to use.

We recommend MP3 or WAV.
You are that much closer to knowing how to make a tutorial video.
4) Create your Screencasts
Since you have your storyboard, you'll know how many screencasts you'll need to capture. For this task, we recommend using OBS, another free application. While this app can be used for many reasons, it's easy to set it up to capture your screen.
If you need a webcam for the job, check out our list of the best webcams in 2018.
Create a "Scene" for your capture settings by clicking on the +
In this scene, you'll need to add a "Source". A source in OBS is what appears in your video. You can create a source that captures one of your screens.
Click the + under Sources.
Choose Display Capture.
Give this source a name.

Click OK.
Choose the monitor you want to use.

Click OK.
You can now adjust the display of your monitor. Then you are ready to record this crucial piece when thinking of how to make a tutorial video.
Expand the screencast so that it fills out the video screen.

You can use the red border of the source window to rearrange it.

Click Start Recording.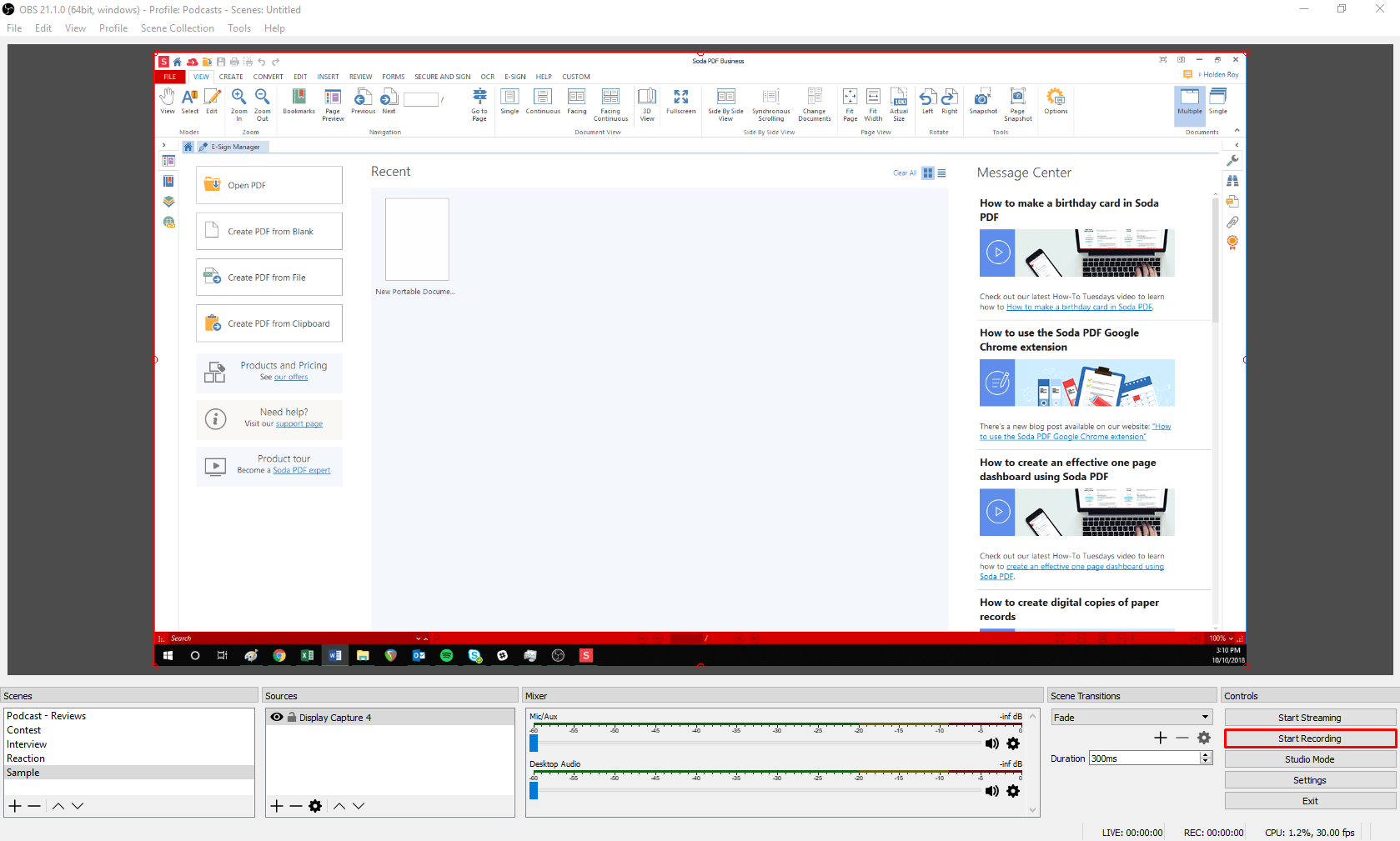 Once you have gotten the content you need, click Stop Recording.
Repeat this process creating each section's screencast.
5) Edit your Video
There are a few free video editors out there. We recommend using VSDC Free Video Editor.  This will be the last tool you'll need when learning how to make a video tutorial. We'll cover the basics on how you can use this app to finish your video.
For other options, consult our list of the best video editing software.
Click on Blank Project.
The project settings window will open.
Add a project name.

Set the Resolution to Full HD 1920 X 1080 pixels (16:9).

Feel free to add any other information.

Click Finish to continue.
You'll see the video editor open.
Navigate through your computer to the audio file you created earlier.

Drag and drop the file into the center of the editor.

The audio file will appear in the "timeline" area.
You'll now start adding the different elements to the editor. Once you add each item, you'll need to trim it to fit.
Hold down your left mouse button at the end image layer.

Drag your cursor until it's at the appropriate length.
At any time, you can click the Preview option to watch the in-progress video, helping you find the right time stamps.
Once you add a video file to the editor you will need to trim it. Trimming a video file is a bit different than an image.
Right click on the video.

Choose Cutting and Splitting.
A window will now open.
Click play at the bottom until you get to the actual start of the video.

Then choose Add Marker at the top.

A little red flag will appear.

Head to the end of the video and find the end.

Click Add Marker
When you are ready, hit Apply Changes…
Click OK in the popup.
The video will now split into pieces.
Right-click on the video pieces you want to remove

Hit Delete.
Slide the piece that's left to the appropriate place in the timeline.

Repeat this process until each element has been added to the editor.
6) Create the Video
When you are finished placing everything, it's time to export the project to video.
Click Export Project at the top.
By choosing Change Name you can update the name and pick the save

location.

Make sure the file type is MPEG4 Profiles.
Choose High Quality.
Click Export Project
Choose PC.
Then pick the Export project
You can ignore the popup warning you that you are missing a premium feature. This feature impacts how fast your video renders. It will take longer when using the free version.
Click Continue.
Congratulations! Your video is now being created.  You can see its progress at the top.
Now that you know how to make a tutorial video, you should try your hand at creating your own custom PDFs. Download Soda PDF now and get your free trial!