How To Send Digital Thank You Letters
Thank you letters: have you ever received one yourself?
If you're fortunate enough to have gone the extra mile for someone in need, been a role model or advisor for an individual's personal growth, or simply showed up and gave your support on their special day, you know how special receiving one of these letters can be.
Thank you letters are a great way to show your appreciation for the many people who have supported you throughout your life.
Whether it's to say thanks to your high school teachers on your graduation day, or to thank all of your friends and family who showed up on your wedding day, thank you letters are a nice way of reminding people how much their little acts of kindness means to you.
Furthermore, thank you letters aren't just for weddings or new eras. Rather, the thank you letter is an important aspect for your career too. In short, the thank you letter's purpose is to show how much a person's time meant to you.
The letter acts as a sort of time capsule of sorts, which is why these kinds of letters can go a long way in helping you establish and maintain long-lasting relationships, both personal or professional.
And there's no better way to make long-lasting impression than with a digital thank you letter that is signed, sealed and delivered electronically.
And with that, here's how to create and send digital thank you letters using the portable document format.
But first….
Thank You Letters: A Brief History
How did thank you letters come to be?  Well, technically speaking, they have been around since the days of Ancient Egypt or Rome. And the power and importance of thank you letters has greatly evolved since then.
In short, thank you letters were used by Roman soldiers to show their gratitude for being promoted within the army. In Egypt, thank you letters were not just written for the living, they also served as a means to honor the dead.
From there, the thank you letter practice was born and began to be utilized across the globe as a way of showing gratitude and an observance of value, whether in regards the recipient or the writer.
Giving thanks and showing your appreciation to those who help you through life will go a long way in terms of providing you with future opportunities or new relationships that will shape your life for the better.
If you're not sending out these kinds of letters, why not? The adage of "treat those how you want to be treated" comes to mind when thinking of how powerful those two little words (Thank You) can be.
Put yourself in the shoes of your recipient: how would they feel opening and reading a personalized thank you card? Chances are, they will remember you for it and feel grateful for your act of kindness and gratitude. Your relationship, whether friendly or business-like, will likely grow tenfold, too.
Basically, thank you letters have (and always will) hold a great importance in your personal or professional life. Still don't believe me? You will once you've heard my story.
Don't worry, you can send me a thank you letter after.
The Importance of Thank You Letters
Personally, I've learned firsthand how powerful thank you letters are. And coming to that realization cost me more than you'll ever know.
Years ago, I was applying for a writing job where I was, quite frankly, overconfident and feeling like I had the job already in the bag.
After all, my resume checked all of the boxes they were looking for in terms of my work history, skills and interests. I applied to the job, wrote a sterling cover letter touting why I wanted to work at this company and why I was the ideal fit for the role, and sure enough I had an interview scheduled within a two-week period.
At the interview, everything went swimmingly. No awkward pauses, no nervousness in my voice. Just great discussion all around that made the interactions with three complete strangers feel comfortable and casual.
I got the tour of the entire building, shared some laughs, shook some hands and left their headquarters with my head held high and my confidence soaring. I was sure that I had landed the job.
And so, I went home and waited. And waited. And waited.
Three weeks went by without a word from the company. I waited a few more days, still radio silence. That is, until a month since my interview, I reached out to the company's hiring manager to inquire about the job.
They said that I was a great candidate, they enjoyed meeting me, they loved hearing about my writing experiences. But when she let me know that they had gone with another candidate, my heart sank.
If this was all great and dandy and I seemed like a great fit, why didn't they offer me the job? What had I done wrong?
The problem was that I was too arrogant. I was thinking that I would walk in and wow them with my charm, quick wit, and spoken words. I had given them a reason to want to meet with me (the cover letter), but after that, my resume just became one of many that the company was sorting through.
Once I left their building and then gone days without saying a word of thanks, I had become a distant memory in their minds.
That is when I knew I should have looked up the emails of the hiring manager, as well as the other two interviewers, those who took an hour out of their busy work schedules to sit down with me, and written a thank you letter.
And I tell you why: the next interview I attended, the conversation went great and felt similar in vibe to the previous interview. I got the tour and the sense that they liked what they saw in me, and when I left their building, I didn't sit and rest on my laurels. I took immediate steps to ensure they would remember me as someone who was a grateful person and not an expectant one.
I took out my phone and immediately began writing the all-important post-interview step: a simple thank you letter.
I emailed the interviewers within an hour after our meeting. I wrote each of them a personalized email, thanking them for their time, for the opportunity to meet them in person, and reminding them of how excited I would be to join their organization based on the skills I could provide to their business.
In the end, they told me that while they certainly had other candidates who were perhaps more qualified for the job, they were offering the position to me because of my outstanding professionalism.
The moral of this story? Don't ever forget to your appreciation for other people's time. It will get you farther than you think.
You'll be harder to forget that way and others will remember you for the thoughtful and personalized thank you letter you sent them.
And with that, here's how can you create your own digital thank you letter:
How To Create Your Own Thank You Letter
I recommend using a PDF software to create your thank you letters.
Why Soda PDF? The reason being is that the PDF, otherwise known as the portable document format, is easily transferable as well as highly secure. And there's no better software solution out there than Soda PDF, which is packed with easy-to-use tools to help you achieve any and all of your document needs in seconds.
The information within your PDF cannot be modified (unless, of course, your recipient also has Soda PDF). PDFs are in fact perfect for reading and are the professional choice for creating complete documents. Don't believe me? Think about government or health forms or perhaps rulebooks or guidelines. They're all PDFs for a reason.
So once you've downloaded and installed Soda PDF's desktop application or opened Soda PDF Online from your web browser, the first step is to:
Create a PDF from blank
Once you've opened Soda PDF, you'll have the option to create your PDF thank you card from the following:
I recommend Create PDF from Blank. This gives you the freedom to truly start with a blank canvas. But the best part about Soda PDF? It offers several solutions, namely the fact that if you've already downloaded a PDF template, you can open that instead. Or do you have a certain image you want to use as your background? Well, then Create PDF from Clipboard.
Once you've opened your PDF, whether new or from an existing file, the fun begins!
Add Your Personalized Text
Start writing out that thank you letter. Click on the EDIT tab, then select Type Text to start writing out your words of gratitude and appreciation to your recipient.
You can adjust the font, layout, and styling of your text all within Soda PDF: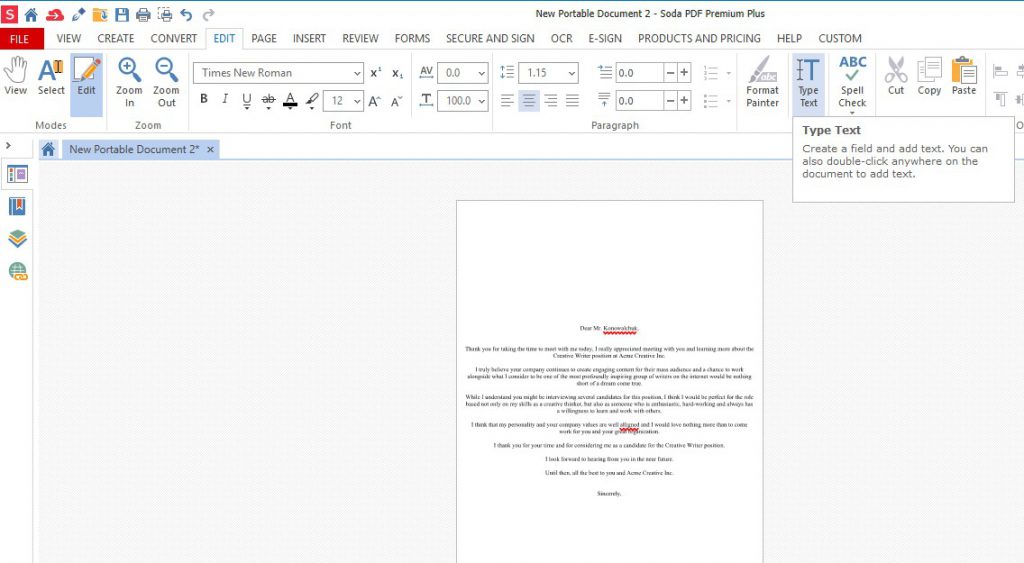 Now that we've got our words down on paper, it's time to add some flair to this letter!
Sign Your Thank You Letter
Want to add your legally binding electronic signature to your PDF? Soda PDF allows you to do so, plus you have the option to draw your signature or use an electronic one:
Plus, Soda PDF includes a Pencil Draw feature, allowing you to add your John Handcock onto your thank you letter as if it were a physical piece of paper:
No matter how you wish to add your signature to your thank you letter, this type of penmanship won't go unnoticed and adds even more of a professional flair to your letter of gratitude.
Insert Elements
Another way to stand out from the competition (for job purposes) or to show how much you appreciate the people in your life? Add some creative flair to your PDF!
Soda PDF allows you to insert elements or images directly into your PDF. Take for example a free use thank you letter image I found. I simply clicked on the INSERT tab and from there clicked Insert to add my image to my thank you letter to Mr. Konowalchuk:
Which would then look something like this:
In this case, selecting Background gave me the option to add this element behind my words, which to me, looked even more professional and a lot more sincere on appearance alone:
But ultimately, each thank you letter is unique and completely your own.
It's just nice to know that Soda PDF allows users to get creative in how they format not only their thank you letters, but any and all of their PDFs!
How To Send Digital Thank You Letters
Soda PDF makes sending those newly created and personalized thank you letters a breeze.
From the application, click on FILE. You'll then see a few options. Click on SEND and the following window will appear:
As you can see, you can send your thank you letter to Evernote or via Email. Since we're trying to land that job we've been coveting for months, choosing email will have the PDF automatically be attached to your default email address.
Soda PDF will then open up a new email with the attachment so that you can easily start sending your thank you letter out to your recipients right away!
No matter what thank you letter you're trying to put together, Soda PDF makes it easy for you to customize the content, whether for your personal or professional gratitude.
By avoiding printing and digitizing your thank you letters, you're doing your part to help save trees and better our environment. For that, Mother Nature and all those at Soda PDF sincerely thank you!
Use Soda PDF: You Can Thank Us Later
Now that you've seen how easy it is to create stunning thank you letters with PDFs, you're encouraged to get a taste for Soda PDF for all your document needs.
Whether you're looking to edit, create, convert, merge, split, or compress your PDFs, our software solution can help you modify your files in seconds.
Plus, Soda PDF is available online and via desktop. Try our PDF tools with a FREE download of our desktop application, or get started by using our online PDF tools directly within your web browser!