How To Epub To PDF
By now you've surely seen the latest digital trend that is sweeping the nation.
No, we're not talking about smart watches or the latest smart phone. We're talking about what you're reading on your tablet or mobile device.
That's right, we're referring to the portable, readable file format known as electronic publications. And yes, while these files might be nothing new, they're certainly growing in popularity as readers move away from printed books for their reading pleasures. Call them EPUBs for short.
Similar to the PDF, or Portable Document Format for long, the EPUB is an electronic publication that stores and maintains its data in such a way to be easily read and accessed by readers, as well as ensuring that the format is portable and sharable across devices.
But unlike the PDF, EPUBs can't be edited or modified, which can be a problem for students or professionals who need to annotate these written works, just be sure to not share or re-publish these modified EPUBs, since after all it is illegal to remove the DRM from EPUB files.
If only there was a way (or a handy PDF modifier) that could easily convert an EPUB into a PDF file…
EPUBs & PDFs: A Tale of Two Formats (H2)
What's the difference between EPUB & PDF files, anyways? Furthermore, what is a PDF?
Basically, the distinction between these two formats boils down to the way in which you, the intended reader, want to view the content. The choice is yours, and the formats are built in such a way as to appeal to your needs.
For example: EPUBs, when opened in a tablet or e-reader device like Kindle or Nook, will automatically be formatted to the size of your screen.
Open up a PDF file on the other hand and you'll notice this type of format doesn't automatically reformat itself and therefore you will need to adjust the file size manually through zooming in on the document.
This doesn't mean that the PDF file isn't easily as readable, but rather this menial format limitation is, in a sense, what gave birth to the EPUB file. That and the fact that most readers are now consuming their literature or news via their mobile devices.
Now that we know the difference between these two formats, let's discuss why converting an EPUB file into a PDF is not only possible, but incredibly helpful for making the most of your documents.
How-To Convert EPUBs Into PDFs with Soda PDF
Remember that PDF modifier we were pining for? Well, luckily for our readers, Soda PDF indeed exists and our software is certainly up to the task of converting any EPUB file into a PDF for you!
If you ever wished you could highlight or annotate certain passages of text within your e-books, you've come to the right place.  Here's a helpful guide to using Soda PDF's desktop application to convert your EPUB into a PDF file:
Step 1: Create PDF from File
OK, technically the first step would be to get a FREE download of Soda PDF's desktop app (see below for details). But let's assume you've immediately searched, downloaded and installed our software onto your computer after reading that last paragraph.
Click on "Create PDF from File" and then search your computer for the EPUB file you're looking to convert.
Plus, Soda PDF even allows for users to specify the EPUB file type, making their search even easier.
In this example, we used Sir Arthur Conan Doyle's classic novel The Adventures of Sherlock Holmes. You can find a bunch of FREE, downloadable public domain e-books at Project Gutenberg similar to this one.
Once selected, Soda PDF will automatically begin to open (or convert) your EPUB file into a PDF file.
Next, be sure to click on the Properties icon (found on the toolbar at the far right of the program) to open the Page Preview pane.
This is a great way to ensure that all pages were successfully converted without any issues.
The next step is to begin reading, of course!
Step 2: Use 3D View
Turn Soda PDF into a 3D viewer, perfect for reading your e-book like, well, an e-book!
Drag either the top or bottom of the page to turn over and continue reading. Soda PDF makes your e-book look and feel like an actual book is in your hands—without the risk of getting a paper cut!
Change the way you interact with your book to however you'd like using the easy-to-use tools found under the View tab.
And there you have it. That's how you EPUB to PDF using Soda PDF.
But wait, there's more!
Step 3: Annotate Your PDF File Using the Review Tab
Let's be honest: you didn't just come here to easily convert your e-book into a PDF for nothing. You want to annotate, and that's perfectly fine. Just be sure to not share, or publish, this new file as that would be considered copyright infringement.
Using the Review tab in Soda PDF, you'll find a plethora of easy-to-use features that will allow you to highlight, draw and modify your e-book like you never thought you could!
Highlight Text
From the Review tab, click on the Highlight icon to start highlighting important sentences. Clicking on the arrow will bring up an array of colors for you to choose from:
Here's what a highlighted sentence or two will look like:
Sure makes studying for that mid-term a whole lot easier, no?
Sticker Note 
Highlighting text is good, but being able to add a note to explain why you highlighted a portion of the text is even better.
Once again, under the Review tab, click on Add Sticker Note icon. You will then be able to add a note anywhere on the document, like so: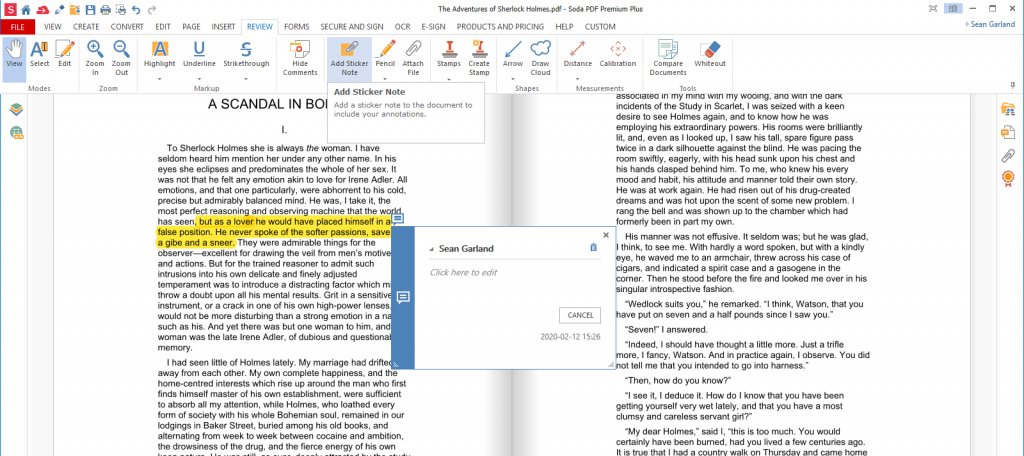 Adding sticker notes throughout your annotations will help you remember or recall important mentions within the author's text:
These sticker notes will be especially helpful for when you're trying to piece together your essay and need relevant examples to solidify your arguments.
Whiteout Tool
Want to remove text from the document? No problem. Using the Whiteout icon, highlight the sentence you want Soda PDF to remove. The software will highlight the whiteout in pink like so:
Then click on Whiteout and voila:
You've successfully whited out that last sentence from the paragraph! This is a great tool for focusing your studies to just the important information on any page.
Hide Comments
Want to hide your annotations from view? No problem!
Simply click on the Hide Comments icon and your comments will be hidden from other reader's view:
Reviewing. It's all elementary my dear readers. These are simply just a taste of the reviewing tools available at one's disposal, so be sure to get a FREE download of Soda PDF's desktop version to discover all of our easy-to-use features!
Convert Annotated PDF into an E-Book
Once you've reviewed and commented on your e-book, be sure to save the file as a PDF.
Simply click on Save As and choose your folder destination and your file will now be a portable document format. It's important to save your document in this format in order to convert the modified file back into an EPUB.
Unfortunately, Soda PDF isn't able to convert your annotated PDF into a EPUB file, but our friends at Zamzar can help.
Upload your newly saved PDF file into Zamzar and select the EPUB file from their Convert To drop down menu.
Agree to their terms and then click Convert Now. In a few minutes, your annotated EPUB file will be ready for download.
So, as you can see, when it comes to converting EPUBs to PDFs, there is nothing more rewarding than an obvious fact: use Soda PDF to modify files your way!
What Else Can Soda PDF Do?
Soda PDF can not only help you modify your e-books, but our software is also perfect for editing, creating, converting, merging and splitting your files.
No matter how complex your document needs may be, Soda PDF provides solutions. Get a taste for our software with a FREE download of our desktop application, or try one of our many online tools today!