How to Make the Most of Your Film Script
So, you've written a few (OK, several) drafts of your screenplay and think you've finally got something good.
You're ready to start sending out the script to your cast and crew members and are preparing to move from pre-production to film production. You give what you think is the final draft to the film director, and that's when things start to unravel.
The director wants to make changes, but your script has already been printed! He scribbles all of his illegible handwriting all over your printed pages for immediate revisions as you start trying to decode his chicken scratch.
So now you have to send out a dreaded email to the entire cast and crew to explain how that script you sent isn't the final version after all! Or maybe you've got to re-work some of your plot based on a new (or now unobtainable) location! Plus, you're not even sure if your acts make sense anymore, let alone your protagonist's character arc!

Surely, there must be an easier way to manage all of these sudden, but expected, changes to your script?

CUT TO:
Why Soda PDF is perfect for screenwriters
With so many scriptwriting apps available, it can be difficult to choose one for writing your script. Some offer advanced features, or have more tools than others, but these programs can be costly and could leave the writer feeling lighter in his or her wallet.
Sure, you could find a free version somewhere, or perhaps you even stumble upon the Microsoft Office screenplay template and call it a day. And while these programs are great for helping you to sit down and write, they're not as helpful when it comes to making the most out of your film script.
Well, that's where a program as dynamic as Soda PDF can help. Whether you're working on a new script or touching up one from months ago, here's a few features that highlight why Soda PDF is perfect for helping you master not only your script, but your craft!
Access and modify your script, wherever & whenever!
With Soda PDF Anywhere, you can access your files whenever, wherever you may be!  Save your script to the cloud for storage and then open the file with Soda PDF to start editing, reading, converting, annotating, or whatever you need to do!
Now, your script will typically be in a file type other than PDF. That's OK, because with Soda PDF you can convert just about any file type into a readable, editable PDF!
Best of all, whether from Soda PDF's desktop app or a mobile device, you can open your files anytime you'd like! Transform or combine as many as you'd like into polished PDFs! It's a perfect tool for any scriptwriter, whenever and wherever inspiration strikes!
Merge previous script versions into one document!

Trying to make changes to an already published script? No worries, Soda PDF allows you to import a PDF file and save it as another file type of your choosing, which frees up the file to be edited and manipulated however you see fit!
Do you have multiple versions of your script? Want to merge them together to see what pages stick most? With Soda PDF, you can merge several documents into one PDF!
With Soda PDF, you can avoid the copy/paste and re-formatting headaches that you might have caused yourself (or your cast) in the past. Our Merge tool has you and your scripts covered!
How to Merge in Soda PDF
Here's a guide to merging documents in Soda PDF:
Simply launch the Soda PDF program and open a file, like so:

Choose the version of the script you want to work off of. For the purpose of this blog, we'll use a current, work-in-progress script aptly titled:

Once you've opened your main file, click on the Create tab, then on the Merge Files icon.

Our Merge tool will open, allowing you to add files like previous script versions to your main file, like so:

Click on Add Opened File to add your original document. Choose the pages range you want to merge.

Then click MERGE at the top:


In seconds, you'll have successfully merged your scripts together:

Et voila! You've successfully combined different versions of your script, or multiple scripts that you didn't think would ever fit together, into one screenplay!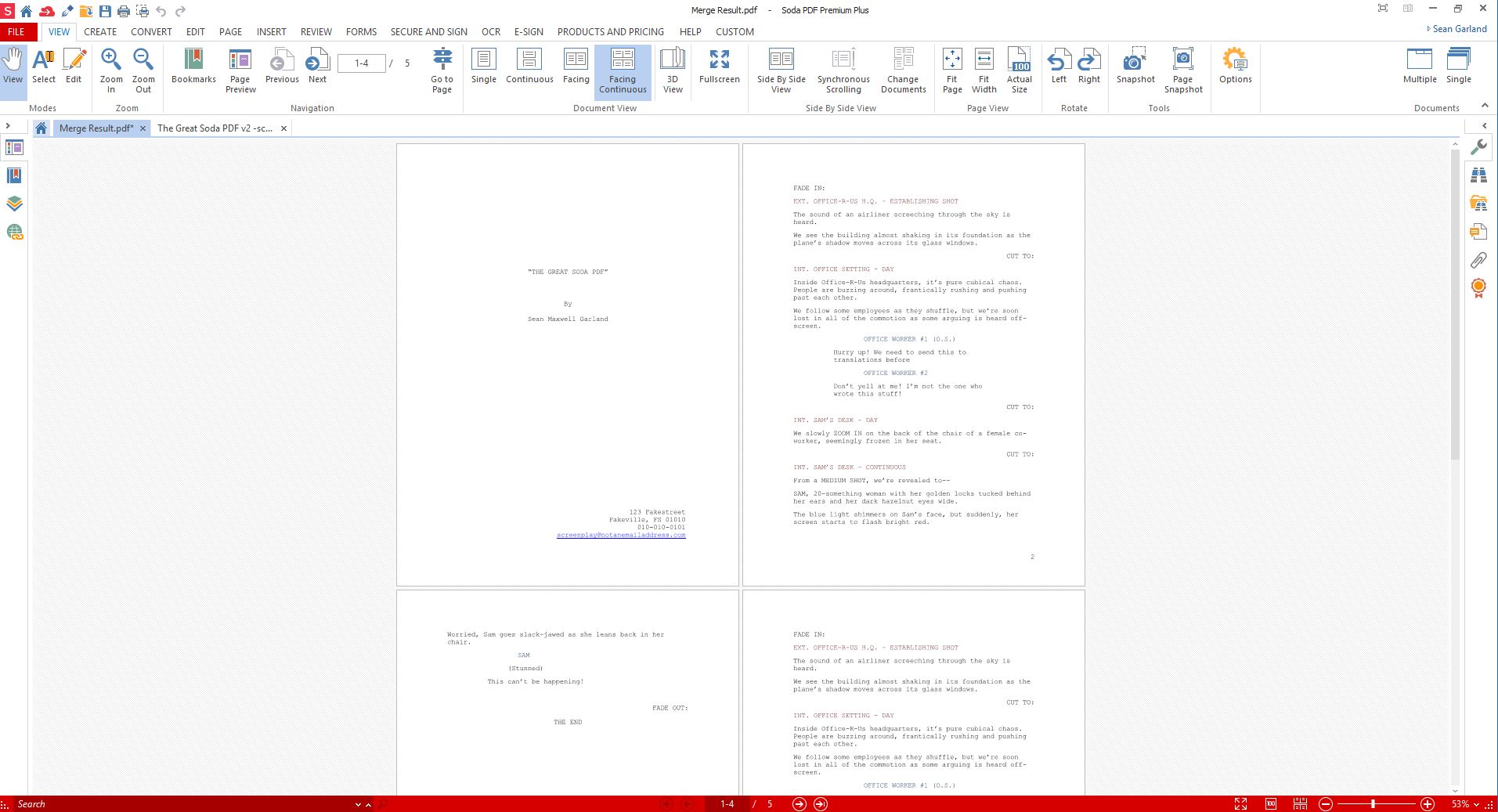 Plus, your merged files will be titled MergedResults, allowing you to be able to differentiate between your scripts and files. Makes life for a scriptwriter that much easier, doesn't it?
Our merge tool also allows for you to not only merge scripts, but pictures or excel files or any other type of document! Want to include a character breakdown within the script? Now you can, thanks to Soda PDF Merge!
How to annotate your script with Soda
With Soda PDF, you can add notes and highlight text within your document, even if it has already been published as a PDF!
For anyone who thought that once a PDF is published that you can't make any additional changes to the document without going back to the original, unpublished version is wrong!
You can do far more than just alter the text. With our Review functionality, users can highlight text, add comments or sticker notes, draw on their documents with a pencil, or even add stamps to their work!
Here's how a scriptwriter like you, reviewing another writer's work or perhaps your own, can make their revisions or suggestions known:
For example, I was able to highlight the title and add an arrow followed by adding my very own chicken scratch directly to the script itself! Printers and highlighters are a thing of the past thanks to Soda PDF!
Don't forget: Soda PDF allows you to import any document, export and save your script as any file type! Don't be discouraged by a published PDF, get Soda and write on!
You'll never look at your script the same way again!

Soda PDF allows users the option of reading in 3D! Our unique page-flipping technology provides our users with the possibility of reading their document, or in this case film script, like a book.
Imagine what paperless script read-through would look like for your entire cast and crew! They could follow along on any of their devices and not have to worry about getting a paper cut or feeling guilty about having their script get crumpled and wasting precious trees!
Plus, as the scriptwriter, going over your acts with the director (or perhaps you're the director as well) and breaking down scenes has never been easier on the eyes!
Go through every aspect of your scenes with this viewer and make notes or change the text as you (or the director) decides! Now, that's what I call efficiency!
Are you working with another screenwriter on a film? Is this writer constantly renaming files and causing you confusion? No problem, because Soda PDF's Side By Side View allows for you to open two documents and look at each of them separately!
You'll avoid confusion and be able to add notes to whichever script you'd like! By using that familiar Review functionality, leave notes within the script for others (or yourself) to follow: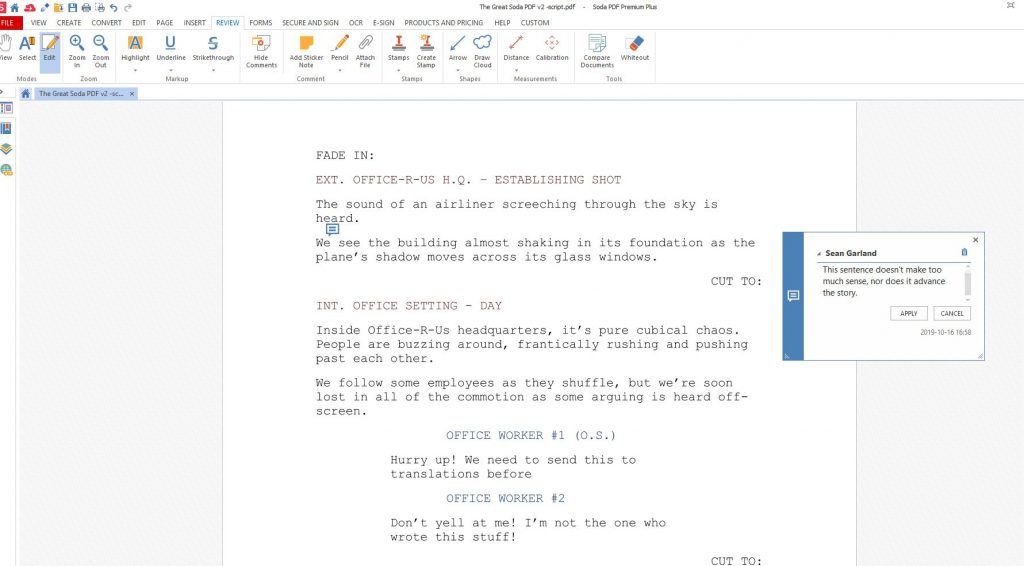 Comments aren't the only thing Soda PDF allows you to add. Revisions are a necessity when it comes to making your writing stronger, so here's a few other ways to make the most out of your script.
Need to secure your script? Soda can help!
Worried about hackers stealing your work as you send them off to various production companies? Or perhaps you just want to be safe and secure your script with a password?
Once again, Soda PDF can help! With our Secure and Sign functionality, you can add a password encryption to your script, thus ensuring that the only reader will be the one who knows your password!
Having a password to protect your intellectual property is now more important than ever, so be sure to use this feature for your scripts going forward!
The Secure and Sign functionality also works well if and when you're trying to send portions of your scripts to individual crews or cast members.
Perhaps because you're about to kill off a character or you just want to ensure each production crew is on a need-to-know basis! It's up to you to decide, sign and secure!
Considering Soda PDF Premium? Try Our Trial Version!

While most of these features we just went over are included in Soda PDF Premium version, you can still try out our FREE trial version to see how Soda PDF can help take your scriptwriting to new heights!
We're sure after getting a glimpse of our software's potential, you'll find Soda PDF to be just what you and your indie film crew have been waiting for! Try it out and see for yourself!