Free Photo Editor – Top 9 Free Photo Editing Software (For Mac and Windows) 2021 Update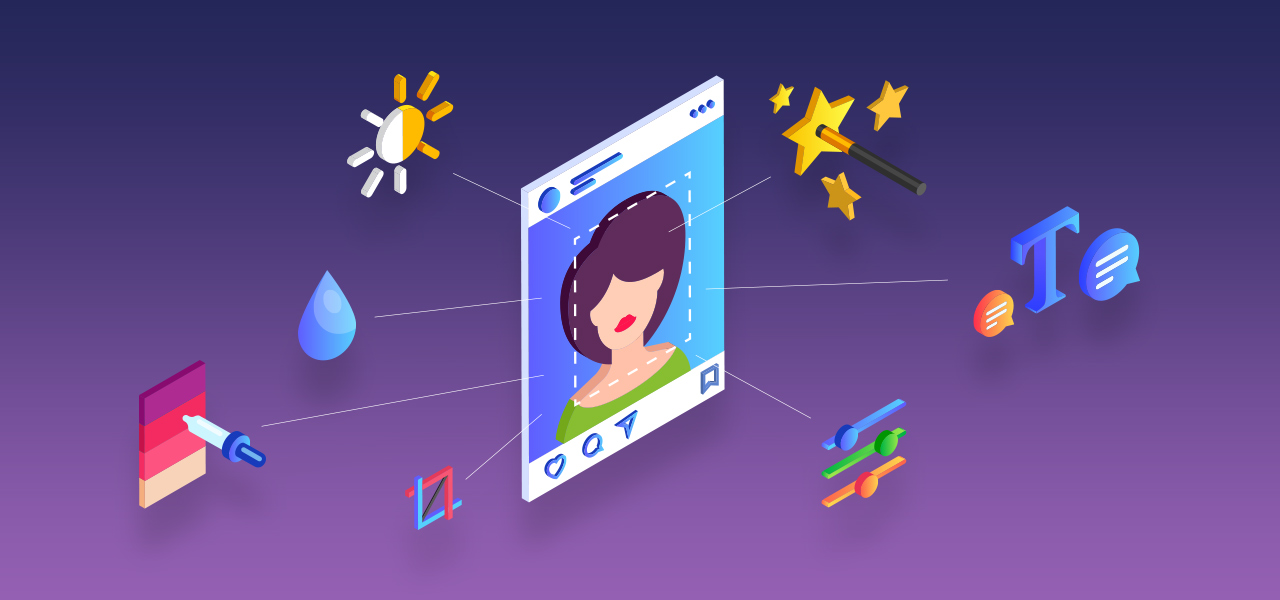 We're breaking down the best free photo editors again just because you loved the last one so much. A lot has changed, so make sure to check out all the entries. YOU DON'T NEED PHOTOSHOP TO MAKE AMAZING PHOTOS FOR SOCIAL MEDIA OR YOUR BUSINESS. 
Each of these photo editing software lets you create stunning images in just a few clicks. This time, we've got 8 + 1 bonus one!
PSST! Can you keep a secret? Soda PDF is having an EARLY BLACK FRIDAY SALE: Get our powerful document management software at the lowest price of the year!
Image is everything in 2021. Did you know that 68% of adults edit their selfies before posting them? Yeah, we're scared too. Whether for personal use or for business, if you aren't producing mesmerizing images, you aren't going to get attention.
The good news is, there are tons of FREE photo editors online. Sure, if you're a big business doing things at scale, invest in Photoshop. If you just need basic editing, try one of these 8.
If you need a simple, easy-to-use, and user-friendly photo editing software, be sure to use InPixio Photo Editor, the new #1 and best overall photo editing software of 2021!
NOTE: Each of these photo editing programs has different capabilities and varying degrees of difficulty. If you're a newbie, read carefully and find one that's easy to use.
The Best Online Photo Editors 2021
#1 – InPixio – We Have a New Winner for 2021!
Inpixio is a foolproof, no-frills photo editor that makes photos POP with minimal effort and requires absolutely 0 technical knowledge or editing skill.
All of the features are available in the FREE version, and there are none of those annoying ads reminding you to upgrade, so UI is on point.
Check out how clean the photo editing page looks:
Adjusting the temperature, hue, exposure, and other facets of your photos is as simple as dragging the bar. You can ignore tone curves if you want, it's not super important (for basic editing)
Another awesome feature is the "before and after" view that lets you see changes to your photos. That way, you can bask in the amazing editing skills you just showed off.
The tool isn't very powerful, but it's perfect for uploading enhanced photos to social media or showing off travel photos to friends on Instagram (which is obviously why you would want a tool like this).
InPixio Photo Clip is also a trusted free tool to add text to photos.
Pros
Pros
Easy
Decently powerful for a simple editor
Before and after feature
Connects to Facebook
Cons
Cons
None. Seriously, we absolutely LOVE this software!
#2) Fotor – The revolutionary photo editor
Fotor is our runner-up for best free photo editor of 2021. The previous title-holder has been knocked out, and the challenger now reigns supreme.
Fotor has tons of features that you usually find in high-priced camera editing software, but it's insanely easy to use. And it's all from right in your browser.
It's so easy to enhance photos, it's almost comical. There are 13 different 1-tap options, so you can make all of the most common photo enhancements with next to no human effort. This is basically iRobot in reality (humanity is useless with Fotor).
If you aren't a photo editing pro and just want to make great images, then Fotor is the best editor to start with.
That's why we nudged it up to the top spot over the previous champion (coming next). We figured most people looking for a free photo editing app weren't pros, so we went with the most convenient option.
Just because it's convenient doesn't mean it isn't capable of creating amazing photos though….
That being said, Fotor doesn't have nearly as many features as the other photo editing software listed, so if you want to make serious photo enhancements, go with the true #1 photo editor for 2021 – InPixio.

Pros
Pros
High-powered and easy to use
1-tap enhancements are stupidly easy
Looks great and feels intuitive
Cons
Cons
Ads are annoying
Not as powerful as more complex software
#3) Gimp – Oh, How the Mighty Have Fallen
Gimp hangs its head in shame as it comes to grips with the harsh reality of being #3 (Now you know the other half lives, Gimp).
Gimp is the most popular free photo editor online by far. It's not even close. And if you squint your eyes really hard, you could swear you were using Photoshop or some other super expensive editor.
Look at how many editing options you get…
Unlike most other programs on the list, Gimp is more than a photo editing program. It's an "image manipulation program."
This is the most sophisticated image editor online. It's used by more scientists, graphic designers, illustrators, and wannabe Instagram models than any other.
Check out how awesome it is:
Photo manipulation:

Retouching, editing, restoring—the only limit is your imagination.

Graphic design:

Create icons, graphic design elements, and images.

Original artwork:

Artists love how Gimp lets them create truly unique art.
Gimp also has a huge advantage over competitors: it's constantly evolving. Thousands of people in the Gimp ecosystem are constantly extending its functionality by introducing new and exciting capabilities every day. 
There's nothing gimpy about Gimp. The only reason it's not #1 is that it's a bit tough to get the hang of for non-techy people, whereas the true #1 photo editor for 2021 InPixio is by far the easiest photo editing software availble today.
Pros
Pros
Unrivaled features
It's basically Photoshop but FREE
Great UX
Always evolving
Cons
Cons
Hard to get used to (but worth taking the time to learn)
#4) BeFunky – Fun is its Middle Name
BeFunky makes the list just because we personally love it so much. It's also an awesome online and mobile image editor.
They say it's the best online photo editor ever. We disagree, but we love the spunky attitude it has!
It's fun, easy, and pretty comprehensive, so there's nothing not to like. It also has one thing you can't get anywhere else: their world-famous CARTOONIZER!
YES!
Here's what we like about BeFunky:
The Fun:

Fun is their middle name. Their editor has the Cartoonizer, oil painting, and pop art effects plus extra flair you can add to your photos like hats, hand-drawn graphics, beards, jewelry, and photo frames.

It's Simple:

BeFunky is basically Photoshop for everyday people. You don't need any technical or graphic design experience to use it. That's good for us….

It's Powerful:

BeFunky is one of the most powerful online and mobile phone editors out there. We use it to create stunning, professional-quality photos regularly. There's really nothing you can't do.
So simple, yet so powerful. So powerful, yet so FUNKY.
Download the app, and start having fun making stupid photos of you and your friends as cartoons.
Pros
Pros
Unique features like the cartoonizer
Powerful and simple
Fun!
Cons
Cons
Not as many features as Gimp
#5) Photoshop Express – Your Photoshop Fix. Just FREE.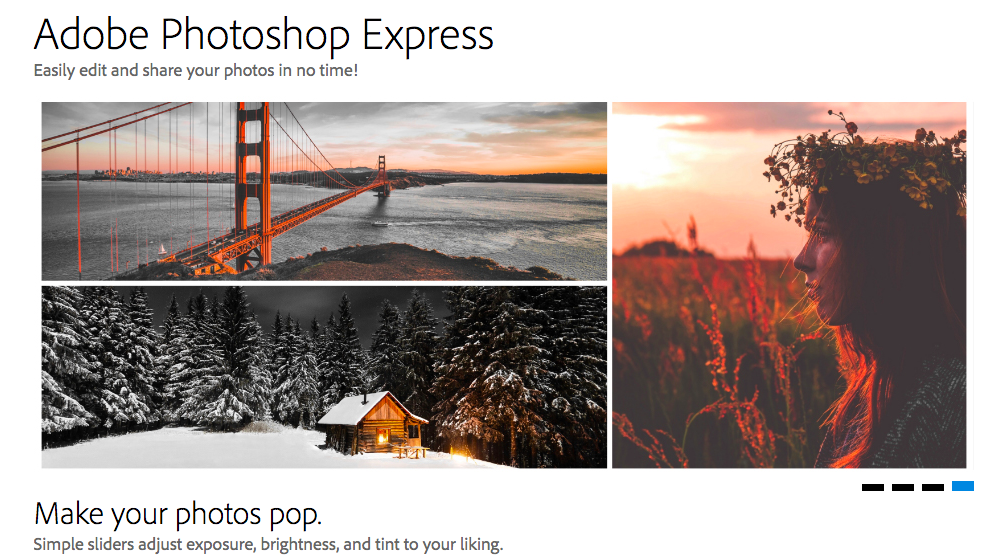 Photoshop Express has almost all of the photo enhancement capabilities of Photoshop without the massive price tag.
All of this creativity at your fingertips makes it easy and fun to touch up photos on your laptop, tablet, or phone. It's time to FLAUNT your images all over social media.
Also, we hate to say it, but we loved how it felt like we were using Photoshop. It almost felt scandalous.
Some of our favorite features are:
Crop
Straighten
Rotate
Raw photo support
Remove red eye
Blemish removal
Clarity, contrast, shadow control
45 different effects
15 borders and frames
It also supports collages so you can upload all those travel photos to Facebook instantly.
Of course, the downside is that it doesn't have all of the amazing features of Photoshop pro.
It's not as comprehensive as Gimp, and it's not as convenient as Fotor. And, it's definitely not as fun as BeFunky, so it gets the #4 slot. It's great for quick photo touch ups/enhancements and it's got great UX. Plus, it'll feel like the real Photoshop if that's something you're after.
Pros
Pros
Instantly upload photos to social media
One-touch enhancements on laptop, tablet, phone
Feels like Photoshop
Cons
Cons
Not as comprehensive as GIMP or convenient as Fotor
#6) Canva – By Far the Easiest
If you're in a pinch and need to upload a few photos fast, Canva Photo Editor is the photo editing app for you.
We were amazed at how easy it was. You can edit right from the browser! Upload your image, play around with the filters, and download your photo. It's really that easy.
Look at the simplicity of the editor:
Canva has enough features to make great photos:
Filters

Brightness/Color adjustment

Crop

Resize 

Rotate

Flip
That's it though. This is a bare-bones photo editor, so don't expect much. The good thing is, you can use it on a Mac or PC.
If you need to make fast changes like cropping or resizing or just want to add a filter, definitely use Canva. For anything else, choose a different editor.
Pros
Pros
By far the easiest photo editor
Basic image editing without the hassle
Cons
Cons
When we say basic, we mean basic. You really can't do much else besides crop, resize, or rotate aside from adding filters
#7) Paint.net – Better than MS Paint!</h3
Paint.net started as a university project mentored by Microsoft.
Well, the student has become the master. It's totally FREE but comes with features normally found in expensive photo editing programs (Layers creates insanely rich photos at 0 cost).
Paint.net is the only entry on our list managed by a thriving community of paint-aholics and is extendable via fun plugins that allow you to:
Make objects 3D
Remove dust
Create checkerboards
…yeah, you can really create a checkerboard!
Just look at all of the available extensions. There's really nothing you can't do.
The simple, intuitive user interface makes enhancing images easy, and if you're used to playing around with MS Paint, you'll feel right at home:
The drawback to all of this? The learning curve is STEEP. If you've got the time to commit, have at it!
Pros
Pros 
Layers function rivals expensive editors
Unlimited features
Fun plugins and helpful community
Familiar interface
Cons
Cons
Option overload
Too complex for newbies
Takes a long time to make edits
#8) Pixlr
Pixlr is fun because it comes in two versions: Editor and Express. The main version comes with a super simple interface and tons of awesome features, but if you just want to play around with your photos, add effects, or change the size, Pixlr Express is a free online photo editor with 1-click manipulation. You'll be in and out with a brand spanking new Ansel Adams in minutes.
Express lets you:
Add effects –

You can even add coffee stains!

Manipulate saturation

Adjust the hue

Rotate

Invert
That's just a quick sampling. Check out how many options there are for touching up this stock photo:
Our favorite feature is the "Grabber for Firefox" extension. Next time you're browsing and see an image you want, right-click and instantly add it to Pixlr for editing.
Also, Pixlr lets you create collages and instantly share photos with friends via email, Instagram, and Facebook. That's the point after all, right? Pixlr was basically made for social media. It's even got a Facebook Profile image template to let you create amazing photos for your FB profile:
Pros
Pros
Clean interface
Integrates with social media for easy sharing
One-click manipulations
Collages
Cons
Cons
Not as many features as others
Annoying ads to upgrade
#9) Ashampoo Photo Optimizer – Bonus Editor – A Great Bulk Editor
No idea where the name comes from and we don't want to know.
But Ashampoo is pretty cool photo editing software with a SICK feature for businesses and narcissists on social media: bulk photo editing. We'll get to that in a second, but first some features:
Auto-detects dull colors for correction
Instantly corrects poor lighting
Auto-optimizes white exposure
WARNING: It only works for Windows.
If you've got a ton of photos to edit, you can throw em' all into the optimizer and choose to rotate or mirror at the same time. You can't edit colors all at once, though. That's a shame.
But, when you combine bulk edits and auto-corrections, Ashampoo is a great free photo editor, especially for businesses in a hurry.
Check it out!
Pros
Pros
Auto-correction 
Half a dozen sliders for optimizing photos
Batch editing options
Clean interface
Cons
Cons
Not as many features as others
No bulk color options
Auto-optimizer is great but sometimes misses basic things. Needs improvement.
That does it for the best free online photo editors. There's no reason to spend money when professional-grade photos come free. The best photo editor really comes down to your needs and skill level. Let us know which one you chose and if we missed anything important!
If you just need basic photo touch-ups, Soda PDF can handle that on all of your documents. If you need to look like a supermodel, consider an alternative!