Best Free SEO Tools (2021 Update)
Looking for the best FREE search engine optimization (SEO) tools? We've got you covered!
After our 2019 review, we're due for a 2021 update! After all, if you're an SEO expert or someone who is in need of free tools to improve site performance and reach, you know that content always needs to be updated and optimized.
So without further ado, here's our list of the best FREE SEO tools for 2021:
#5 – Ahrefs
Ahrefs has been an SEO standard since, well, SEO! Ahrefs is one of the go-to SEO tools that most people and SEO experts use.
What's most useful about Ahrefs is their Free Keyword Generator, a tool that allows you to type in a keyword you're most interested in researching and get results that will help your content rank higher and drive more traffic.
By including the keywords that Ahrefs generates, your content will be more search engine optimized with on-point suggestions based on what users are searching for regarding these topics.
For example, let's say we're interested in the keyword 'PDF':
Simply type in the keyword and get related content that matches the phrase. Looking at the example above, we can see what other keywords people are searching for in relation to PDFs.
You can filter by the volume of searches and see the keyword density; essentially, the strength of these keywords is based on all searches on each engine.
Here's what an example of the optimized content would look like thanks to Ahref's keyword suggestions:
Soda PDF: Edit PDF documents with our easy-to-use PDF Editor
Looking to edit PDF documents? Try the best PDF Editor on the market: Soda PDF!
Soda PDF has all the tools you need to combine PDF documents as well as convert to or from PDF; PDF to Word, PDF to JPG, and much more!
Best of all, Soda PDF is available via our Desktop or Online applications. Edit PDF documents using our desktop application or work from any device with a web browser and internet connection. Get started today for FREE!
#4 – Whatagraph
Whatagraph, like Ahrefs, offers a trial version of their SEO solution. But instead of having to fork over $7 immediately, you can try their tools for free just by signing up.
What we like best about Whatagraph is the fact that they provide pre-built templates for you, that is, if you're not already SEO savvy.
Their SEO Overview is clean, clear, and easy to follow and understand. You can see all of the results of your efforts from this dashboard, which allows you to quickly deduce whether or not your SEO efforts are contributing to your site goal(s).
If you're looking for an easy way to provide reports about traffic and how to optimize your pages, we highly suggest checking out Whatagraph.
#3 – SEMRUSH
If Ahrefs is considered one of the SEO industry leaders, then SEMRUSH must then be considered one of the pioneers of the search optimization game.
What we like most about SEMRUSH is that their keyword research is much like Whatagraph's SEO Overview in the sense that it's easy to understand, whether you understand SEO or not.
SEMRUSH will help you make smarter keyword choices for your content because they also provide you with related phrases, not just other keywords, that you'll want to include. Create a free account and get a taste for their SEO keyword research today!
#2 – SEOquake: Google Chrome Extension
Our second SEO tool is actually a toolbox! With SEOquake, you'll have all the SEO tools you need to create reports, build stronger link exchange opportunities, and even export all of the auditing data you'll need in just a few clicks!
Best of all, SEOquake is a Google Chrome Extension, meaning that while you are surfing your competitor sites or sites you want to link to or from, you can easily gather all of this information by simply clicking on the extension.
For example, here's a quick audit of Soda PDF, a document management software solution that allows users to quickly modify any PDF to their needs.
You can get all of the site information with one simple click. You can then see how popular search engines like Alexa (seriously, she's a searcher!), Google, and Bing rank this web page.  SEOquake allows you to quickly determine whether or not a site you're looking to link to is worthy or not.
Try SEOquake today, install the Google Chrome extension to get started.
#1 – Ubersuggest
Finally, and last but certainly not least, we have Ubersuggest.
Seems like all good worthwhile things are uber these days, whether you're looking to take a cab or get good eats delivered right to your door.
But when it comes to Ubersuggest, it's like ordering digestable keywords and getting from A website to Z best SEO content faster than ever!
What sets Ubersuggest apart from the rest of these SEO tools is the fact that they, well, make probably the smartest SEO suggestions.
Identifying keywords is one thing, getting specific content ideas from these keywords is entirely another! Ubersuggest really does everything it can to help you stay on top of these everchanging SEO trends. Use their content ideas to build new, engaging, and optimized blog posts to drive even more convertible traffic to your website.
Now that you have all of the SEO tools you need to increase your site's ranking and traffic, what about your documents?
Use Soda PDF's easy-to-use tools to manage documents with ease!
Much like all of these SEO tools, Soda PDF is a fully-featured document management solution that helps you quickly modify PDF documents to your needs.
Whether it's an invoice, a portfolio of creative assets, a resume, a cookbook, a presentation, or form that needs filling, Soda PDF has all the tools you need to get your work done fast and with ease.
Create PDFs from any file format. Edit PDF documents by changing the text, inserting images and adding clickable links. Merge various files such as MS Office (Word, Excel, PowerPoint) into one single PDF document. Create fillable PDF forms with radio buttons, text fields and even add stamps or digital signatures to PDFs with ease.
Plus, Soda PDF provides advanced features such as OCR (Optical Character Recognition) that allows you to turn any scanned file or image into an editable PDF document. You can also add your electronic signature and send PDFs for signatures by setting the signing order and adding signers' emails using our E-Sign tool.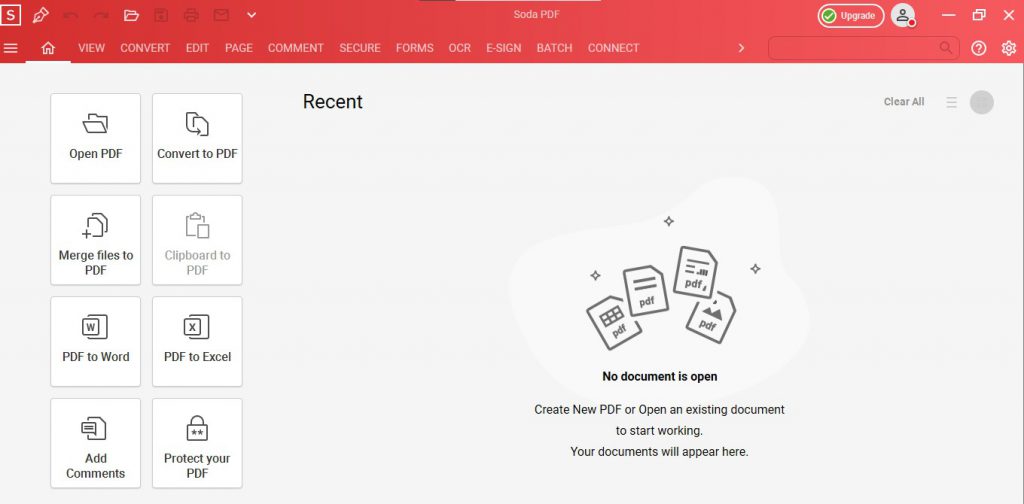 No matter what your document goals may be, Soda PDF can help you get there. Work with our PDF tools directly from your web browser using Soda PDF Online (MAC) or download our Desktop (Windows) application for FREE! Create an account and enjoy 7-day access to our entire suite of powerful PDF tools.
Soda PDF: Push. Documents. Forward.
Review
Blog Name
Best Free SEO Tools (2021 Update)
Description
Free SEO tools for 2021. Learn how to win the SEO game with these free SEO tools. Plus, learn more about Soda PDF's easy-to-use PDF tools.
Author
Publisher Name
Publisher Logo