A Freelancer's Guide to Invoicing & Getting Paid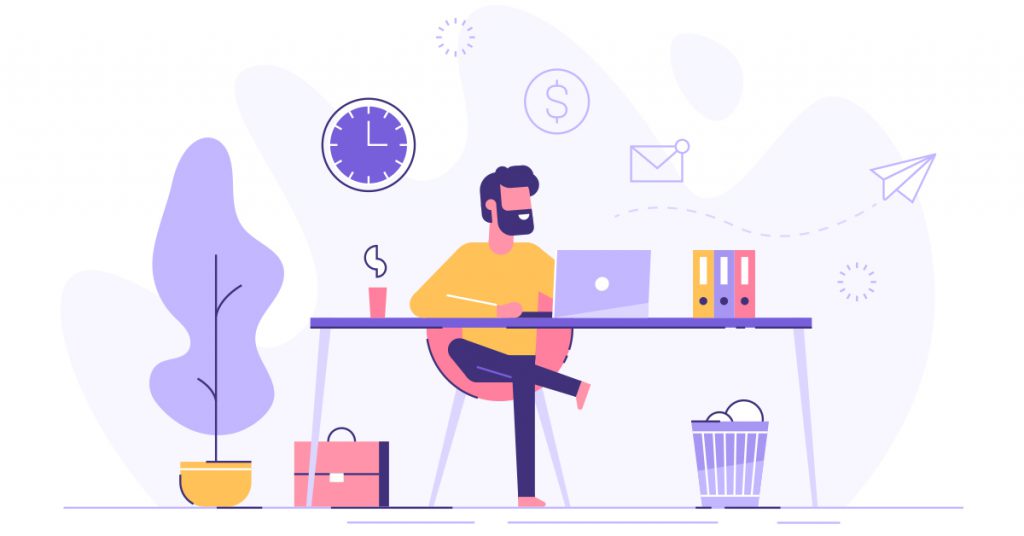 Are you a freelancer who needs help when it comes to going about how and when to get compensated for your work?

Welcome freelancers to our ultimate guide for invoicing and getting paid.

Are you working for charity? Didn't think so. With that said, let's get you PAID!
We've put together a simple guide to help freelancers stay compliant with the law AND get paid on time. Including:
What to include in your invoice so you never screw up and always get paid on time
A sample invoice to follow every time
The best invoicing software for freelancers
Tips for freelance invoicing to get paid faster and make life easier
Sound cool? That's because IT IS!
1. What Should Freelancers Include on Their Invoice?
There's an issue that most freelancers don't understand when it comes to invoicing: The person who pays you is usually NOT the person you work with.
As a company that works with freelancers, we run into this problem over and over. The freelancer or contractor assumes we know everything (Believe it or not, we don't). In reality, the person making the payment likely has never spoken to the recipient before.
That's why including the right information is CRUCIAL if you want your money. You do want your money, right?
Don't worry, this may vary from time to time, but it's normally a VERY standard practice.
Here's what each invoice should include:
Your name and contact info: Always include your full name (Or business name), business/personal address, phone number, and email.
The client's info: Include your client's business name and address as well.
A unique invoice number: This can be as simple as "Invoice #001", but we recommend keeping a detailed number system using the client's business name. EX: If you're invoicing Soda PDF, use a system like SP001 (Give us a discount!).
Issue date/due date: Include issue date and the date/time period the invoice is due. This could be:

On receipt
15 days
30 days

Line item descriptions: Each line should have a clear description of the services rendered ("Copywriting", "Consulting", "Accounting") along with a clear price.
How to pay: Tell them exactly where/how to send your money. Check, bank wire, online payment, etc. We'll cover more of this in section 3 – you'll definitely want to check that out. It's the BIGGEST MISTAKE new freelancers make.
Next you'll want to come up with a template to ensure that you're sending out your invoices in a timely manner. The quicker you send your invoice, the faster you can get compensated for your work.
2. A Freelance Invoice Template
This simple template covers all the bases:
Your info
Their info
Date and invoice number
Who's responsible for working with you (This is optional)
Detailed description
Price
Payment details and terms
Address
OK, now you know what to include in your freelancing invoices and have a template to follow.
Let's get on to how to actually invoice a company as an individual. Let's get you paid!
DID YOU KNOW? E-invoices can save companies between $4-$8 per invoice compared to paper invoices, according to a paper published by the Federal Reserve Bank of Minneapolis?
3. The Best Invoicing Software for Freelancers
There are tons of invoicing software for freelancers out there, but most are honestly overkill.
You shouldn't waste money on something with more features than you need. As an individual, you won't have the same demands as a massive company. Why buy a tour bus if you're going on a road trip alone?
Actually…that doesn't sound like a bad idea.
Here are the best invoicing software for freelancers.
PayPal – Free & Convenient
PayPal is the easiest, most convenient invoice software for freelancers out there, and it's not even close.
It either automates or close to automates all of the nitty gritty details that make invoicing as an individual so tedious. It even automatically creates the invoice number and date for you!
Plus it only takes one click to add your company logo.
And since most companies use PayPal as their default online payment processor, it's the best invoicing platform for online workers. Chances are you'll get paid faster if all a company has to do is click a button!
Here's what to do:
Go to

PayPal.com
Hover over Tools (Pictured below)
Select Invoicing
Select Create Invoice (Pictured below)
Add your information
Click Send
That's it, you've sent your first freelance invoice!
Doesn't get any easier to create and track invoices than PayPal!
Freshbooks is a small business accounting software that also works great for freelancers.
It has a few advantages over PayPal:
More features: More ways to accept payments, payment tracking, categories, full dashboard.
Looks nicer: Freshbooks just looks awesome. It's so aesthetically pleasing!
More professional: Invoices sent via Freshbooks look amazing. Clients will be WOWED.
The downside is it costs $10/mo for up to 50 billable clients. If you want the best software out there  and are willing to pay, go with Freshbooks.
Check out how cool the tracking dashboard is!
So if you're looking for an alternative to PayPal, this could be it!
Honeybook
Honeybook is the best freelancing software around for creatives, and gives you some amazing features to take your brand to the next level.
Check out some of these killer features:
Send branded invoices in just a few clicks
Set up automations
Receive payments
Create proposals and contracts
Project tracking
In that way, it's basically like your entire freelance business management system in one tool.
Of course, all this invoicing awesomeness comes at a price. It starts at $34/month billed annually. Not cheap!
4. Tips for Invoicing So You Get Paid Faster!
In a world where the average invoice is paid for 18 days after its due date, you've got to stay on top of your freelance invoices to stay afloat.
We've been on both sides of the coin, and noticed a few tips that help everyone get paid on time or as close to it as possible.
If you just jump into working as a freelancer without a plan for how to get paid, you will struggle. Follow these tips and you'll be fine. The choice is yours.
Do Everything Online
Is this 1919? No, it's 2019. So don't accept payments like it's 1919. Fair?
Get yourself one of our recommended software and handle everything – from your invoicing and payments to tracking and management – online.
Create a Firm and Clear Agreement With Each Client
The best way to get paid on time is to set clear expectations from day 1, and cruel and unusual punishments for breaking the agreement (We cover that next). This is where a contract comes in handy.
Make sure you agree in the beginning on:
How you'll be paid
When payment is due
What happens if they don't pay
Freelancers chase invoices like dogs chase the mail truck (Does this still happen?). Don't be one of these people!
Late Fees. You'll Learn To Love Them.

If they don't pay up, there will be repercussions. We recommend a flat fee, since it's easier to justify. $50 MINIMUM for late payments.
Create a Simple System
We've spoken to and worked with a lot of freelancers over the years, and most have a simple system they follow to maximize efficiency.
This could be anything from sending all of your invoices one day at the end of each month to creating an invoice for each piece of work done and saving it in a folder so it's out of your mind.
Most online invoice processors have ways to track who has paid and who still owes. Use those too.
Be Friendly With Late Payments
The Freelancers Union conducted a survey that found 71% of freelancers struggled with at least one non-paying client. It happens!
We know we just said to charge late fees, but you should still be kind/friendly when personally following up on a late invoice. Let the numbers be the bad cop. You be the good cop.
Don't demand payment or get angry (Even though you're boiling inside). Chances are the client has made an honest mistake. People are more apt to respond to friendly nudges than angry demands.
DO NOT MAKE IT DIFFICULT FOR CLIENTS TO PAY (The biggest mistake)
As a business that works with freelancers from time to time, we HATE when they make it hard for us to send money. We want to pay you! Let us!
Some freelancers ask us to send checks. Some don't put the correct payment details. Others forget the details altogether!
Put all of your bank details in a neat section either at the top or the bottom and say how you want to be paid, as this is the best way to ensure payment. Even better is just giving your PayPal address or payment app details (Venmo, anyone?).
You could be paid as quickly as the same day by many of your clients instead of waiting days or weeks. Just make it as easy as possible.
Frequently Asked Questions

Q: What should a freelancer put on an invoice?
A: The essentials are name, business info, client info, description of services, payment terms, and amount due.
Q: How do you send invoices?
A: You absolutely should use invoicing software like PayPal, Freshbooks, or Honeybook. They make life so much easier for everyone. What used to take hours will now take 5 minutes.
Q: How do you number invoices?
A: You should have a unique number for each invoice, including initials for each client. For example, AMAZING CLIENT should be invoiced as AC001, 002, 003, etc.
Invoicing and getting paid is one of the biggest challenges of being a freelancer, but if you know what you're doing it can actually be easy. The only issue now is chasing down your money from aloof clients! That's all part of the job these days.
Just make sure to put your name, let the client know how to pay you, and choose the right invoicing software. The rest is just waiting for the money to hit your account.
If you're looking for an invoicing software that can help you create a template and keep track of your invoices, including E-sign capabilities for faster signings, then look no further than Soda PDF Premium!
Download a FREE version of Soda PDF today and see how our software is perfect for freelancers, students, professionals and just about anybody who deals with documents!