How to Make Your Documents GDPR Compliant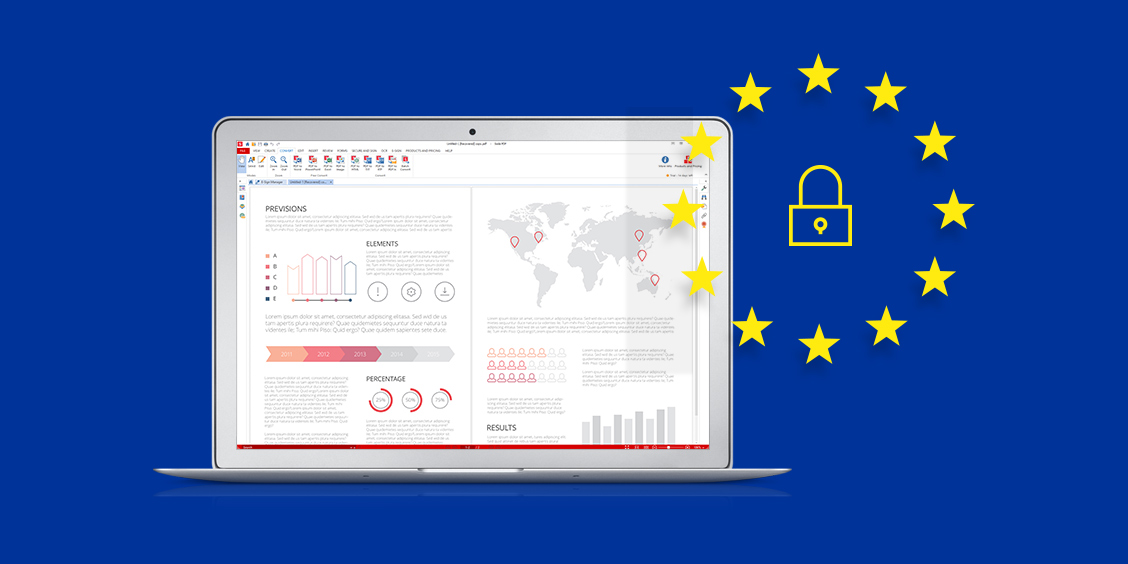 As of May 25th, 2018, the European Union implemented While most people have been focusing on websites and various online systems, any personal details found in documents stored offline is also affected by the new regulations. We knew you'd benefit from learning how to make your documents GDPR compliant.
While PDFs are known for being a secure file type, most workflows have traditionally used multiple file formats, most commonly Microsoft Office applications. Any data stored in your Excel Worksheets or that client identifier in your Microsoft Word based report is likely sitting there, ready to be accessed by anyone. Under the new regulations, these files require the same level of scrutiny as the rest of your organizations' processes.
GDPR regulations extend beyond the digital realm into a paper documentation you have stored in your filing cabinets. We're huge believers in the power of a paperless office, and GDPR presents a huge incentive to head in that direction. Using an app like Soda PDF, you can take any document and make it GDPR compliant in a few easy steps.
The steps below will explain to you how to make your documents GDPR compliant.
Step 1 – Turn risky files into a secure PDF
When thinking of how to make your documents GDPR compliant, the safest format to use when storing data is PDF. Nearly any file that can be printed can be easily converted into a PDF.
When you install Soda PDF it comes with a virtual printer. This is the engine used when converting files. There are a few ways you can create PDFs out of other file types, for brevity's sake, we'll cover one below.
Open Soda PDF.

In the Create Tab, choose From Any File.
A Browse window will open.

Choose the file you'd like to convert.
Your file will open in Soda PDF as a PDF ready for you to edit. If you want to create PDFs from many files at once, check out our post on how to batch create PDFs. Once your file is a PDF, you're ready for step 2.
Step 2 – Use OCR to unlock data stored in images
As we mentioned earlier GDPR regulations extend to paper records. The best way to deal with these is to create digital copies of your PDFs. Click here to learn more about creating a PDF from a scanner. When thinking of how to make your documents GDPR compliant, remember that any visible mention of data counts. 
Once you've opened your new PDF, you'll notice each page is an image (all images are surrounded by a red border). However, this image contains user data you need to delete. Using Soda PDF's OCR engine, you can unlock the text in any image and then edit it.
Select your image while in Edit Mode.
Open the OCR
Choose Auto.
You will now be able to access the text found in that image.
Click on the text you want to remove while in Edit Mode.

Select the text.

Hit the Delete key on your keyboard.
You can proceed to remove the text image by image. We'll cover a more efficient way of removing all date in the next step.
Step 3 – Scrub your file to delete personal information
A big part of the GDPR laws is that a user can request to have their data deleted from your systems. This means that any mention of this user must be removed from your databases, including any files you have stored offline. Using Soda PDF's redaction tool, you can easily remove any record of the data you need to erase.
We have already covered redaction in detail, but we'll give you a simple version below.  This is another key step in how to make your documents GDPR compliant.
Open the Secure and Sign
Choose Search and Redact.
Enter the user's information you want to delete.

Click the magnifying glass or click the Enter button. 
You'll see a list indicating each time that piece of data appears in your document.
Check all the boxes, you can click the option at the top to select them all.

Click Create.
Each entry will be marked for redaction. When you proceed, the data will be permanently removed from the document.
Click APPLY.
You'll see a quick warning to make sure you want to proceed.
Click OK.
The selected term will be completely removed from our document.
We've now covered how you can eliminate data from your file. Not every user will make this request of you. Sometimes knowing that you make sure their data is stored securely is enough. The last section will cover ways to secure your PDF.
Step 4 – Security features to go that extra mile
The best approach when dealing with GDPR is better safe than sorry. Using Soda PDF, you can easily add a password to lock your files. This is a crucial step when considering how to make your documents GDPR compliant.
Open the Secure and Sign
Choose Password Security.
Check the box next to Require a Password Upon Document Viewing.

Enter your password and confirm it.

Click APPLY.
Now anyone opening this file will need the password. Even with a password protected PDF you can go one step further to keep data secure.  With Soda PDF you can go as far as to prevent anyone from copying and pasting data from your document.
In the Secure and Sign tab, choose Secure Permissions.
Check the box next to Require a Password to …

Enter a password and confirm it.

The password will allow you to change the permission settings or modify the document.

Under Changes Allowed you can restrict the changes that others can make to the document.
You can prevent printing by changing Printing Allowed to None.
If you uncheck the box next to Enable copying of text, images and other content, you will prevent users from extracting any information from your PDF.
Once you are ready click APPLY.
You can choose the degree of security that you want to apply to your documents that best matches your workflow.
We encourage you to download and install Soda PDF and make your files safe.