Awesome Graphic Design Software to Create Stunning Templates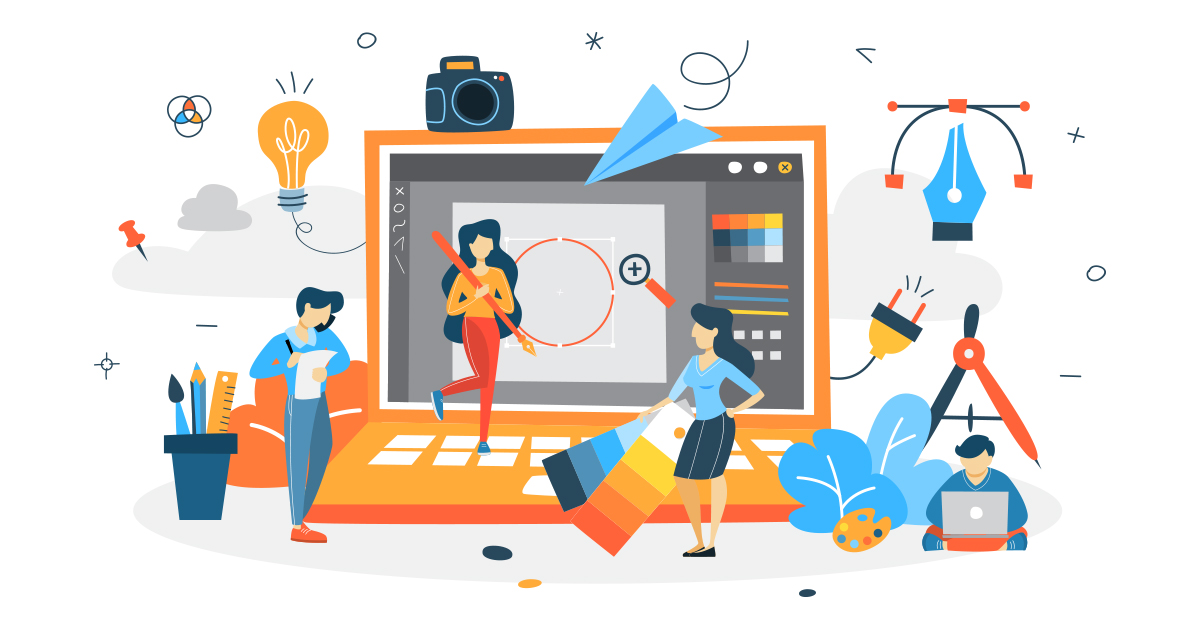 How do you stand out from everyone else in the digital age? With most of the same tools at everyone's disposal, you need to outsmart your competition to rise above it.
Are you trying to nail the killer presentation for a top-end client, but just can't seem to find the right graphic design software to get you there?
Using outdated, low-level tech just leaves your project looking like it's been put together by a teenager. We've saved you the embarrassment and reviewed the most awesome graphic design software. Using them you can create your own stunning templates!
Best Overall – Adobe Illustrator
Ah, Adobe.
Every graphic designer knows the grandfather of em' all (if you don't, maybe it's time to reevaluate your career choices), and Adobe Illustrator has been among the top graphic design software for years. It's our favorite software that we reviewed, and for good reason.
Illustrator is the perfect choice for the perfectionist in all of us – you know, that little voice in your head that keeps nagging you to do the best job possible. Don't lie, we know you've heard it.
Illustrator creates pixel-perfect designs, leaving sharp segments and clear lines in its wake – this software is so crisp we felt like we could reach out and touch what it had created.
The Snap to Pixel capability is NEXT-LEVEL AWESOME. It allows users to align artwork on exact pixel boundaries automatically – the ideal feature for those bleary eyed 12-hour marathon days where you're likely to make a mistake.
Illustrator doesn't skimp on variety either – there's over 90 million (million!) images, graphics, videos, and templates to choose from.
The ability to share creations with integrated Adobe Creative Cloud makes Illustrator the only choice for teams – we guarantee you'll only hate your coworkers 50% of the time!
The Runner Up – Canva
Maybe you're the type of person that likes to stick it to the man but still wants to create picturesque presentations. If so, congratulations you counter-culture rogue – we've got the perfect graphic design software for you!
Canva may not have the name brand power of Adobe, but make no mistake about it – this software is an absolute BEAST!
Canva is simple yet powerful – it gets the job done quickly and easily while not sacrificing quality. It is perfect for both rookie designers and multi-year veterans – even a member of our team that's never even seen a computer before was able to create captivating content within minutes. You don't worry about your experience level.
Canva's drag and drop editor makes it insanely easy to use, and there's an absurd collection (over a million choices!) of images, fonts, and templates for you to choose from – you can even create custom templates of your own, complete with company logo (It's all about the brand, right?).
Canva is a cloud-based platform – perfect for teams working remotely or if you're just an introvert that prefers not to leave the house. Best of all? Canva is absolutely FREE for you to try!
The Rest of the Pack
GIMP
No, we're not talking about the guy from Pulp Fiction. GIMP is a FREE, open-source software that can give even the most powerful technology a run for its money. Did we mention the software is free?
Don't be fooled by the lack of price tag.  GIMP can do everything the most high-level graphic design software can do, and even a little bit more.
GIMP is loaded with quality features that easily make it the best free alternative to more popular pay-to-use software. Noise reduction, image enhancement tools, customizable brushes, and color adjustment tools are just some of our favorites.
Users can create mind-blowing works of art from even the most simple photo – an old picture of Grandma can be a relevant piece of content if you try hard enough, and who doesn't love a sweet old lady?
Because of its open-source technology, GIMP supports third-party plugins and is hugely customizable. GIMP benefits from a highly active community of developers that are constantly creating new ways to make your life easier.
Despite being free, it's got every editing feature you need and is ready to roll out of the digital box with no training required.
Pixlr
The highly capable love-child of Pixar and Tumblr is a another completely free to use graphic design software that we were enamored with. (NOTE: Neither Pixar nor Tumblr were involved with the development of this product, we just thought the name sounded cool.)
Pixlr is somewhat of a cult sensation – it's got a highly loyal group of fans and over 500 million users, so it's definitely doing something right.
Even though it's free, Pixlr can handle any sort of task – it's perfect for freelancers but is completely capable of commercial use too. Pixlr is a web-based app, but can be used on literally any OS or platform. Seriously – if you're still running Windows 98 you can probably boot this bad boy up and see results.
All you need to run Pixlr is the Flash plug-in, and its native mobile apps are extremely lightweight – you'll never find yourself frantically deleting embarrassing photos to free up space on your device.
Pixlr is fully loaded with all of the sophisticated photo-editing features you'd expect from an expensive graphic design software. It also comes with over two million filters, overlays, and effects.
Best of all? Quick fix tools make it incredibly easy to quickly touch-up images and edit on the go – we were able to easily come up with a polished piece of content while simultaneously sitting in aggravating traffic (but we don't encourage editing and driving!).
Which graphic design software should you use?
The most important thing to realize is that there's no magic bullet when it comes to your graphic design software. You need to choose software based on your specific goals. Evil, faceless corporations may need one thing while freelancers will be looking for something entirely different. Whatever the case may be, we promise you can't go wrong with any of the options listed here!
For more complicated tasks we recommend Illustrator or Gimp. For simpler tasks, Canva or Pixlr will be your best option.
Shameless plug time! Once you've used your graphic design software, you can secure those images as a PDF. Soda PDF comes equipped with everything you need, feel free to try it out.