How To Edit PDF on MAC (Using Soda PDF Online)
Are you a MAC user in need of a simple yet effective way of editing your PDF documents?
If so, we humbly suggest using Soda PDF Online, the easy-to-use PDF software that's packed with all the powerful tools you need to manage your documents with ease.
Best of all, MAC users can easily access Soda PDF from any web browser and no download is required! Simply click here to open Soda PDF Online and follow these simple steps to edit your PDF documents to your needs in just a few clicks:
STEP 1: CREATE AN ACCOUNT OR SIGN IN
In order to use Soda PDF Online, an account is required. Already have a Soda PDF account? Click on the Profile icon in the top right of the application and SIGN IN.
New to Soda PDF Online? Click CREATE ACCOUNT instead. The following window will appear:
Choose to sign in with a third-party account such as Facebook, Google, or Microsoft. Or, simply enter your email address to get started.
When you create a Soda PDF account, you'll automatically activate a FREE 7-day trial to our entire suite of PDF tools & services, which includes access to our Edit feature.
But before we can edit a PDF (and after we've signed in or created an account, of course), we'll need to open a document first!
STEP 2: UPLOAD YOUR PDF DOCUMENT
After signing in or creating your free account, be sure to click on Open from the main screen:
Next, be sure to search your MAC computer for the file location of the PDF document you're looking to edit. Once you've clicked on the document and selected Open, the following window will appear:
Your document will load in just a few seconds. Next, click on the EDIT feature from the main toolbar at the top of the application to start editing this document.
STEP 3: CLICK ON THE EDIT FEATURE
Once you've clicked on the EDIT feature, the following Edit tools will appear:

These are all the easy-to-use tools you need to modify your document fast and with ease. You can type or edit text, insert images, add links to pages within your PDF, to an external website, or to a JavaScript. Plus, you can even add or remove page marks such as headers, footers, page numbers and watermarks too!
Wondering how each of these tools work? Here's how to use each tool to edit your PDF document in just a few clicks:
STEP 4: EDIT YOUR PDF DOCUMENT
Here's an explanation of each of our easy-to-use Edit tools:
Type Text
Use the TYPE TEXT tool to add new lines of text to a pre-existing PDF document:
Simply click on the Type Text tool then click anywhere on your document to add your new lines of text. Notice that a mini-toolbar will appear just above your document but below the main toolbar.
You can select the font, change the sizing of the text, and even select the color for your new text.
Want to edit the text that's already there? No problem! Simply click on the line of text and a blue border will appear around the text field you chose. This lets you know that you're editing this specific element of your PDF document and you can even adjust the size of the element by clicking and dragging the corners of this text box.
Insert Image
Want to add a visual to your PDF document? Simply click on the Insert Image tool to add any picture file to your PDF document.
Click on Insert Image and then search your MAC computer for the image file you wish to include. Once you've selected the image click on Open and then Soda PDF Online will automatically load the image to size:
Is the image too big? No problem! Much like with the text box, you can easily resize your newly added image by clicking on the image itself and then dragging the corner of your image to resize it: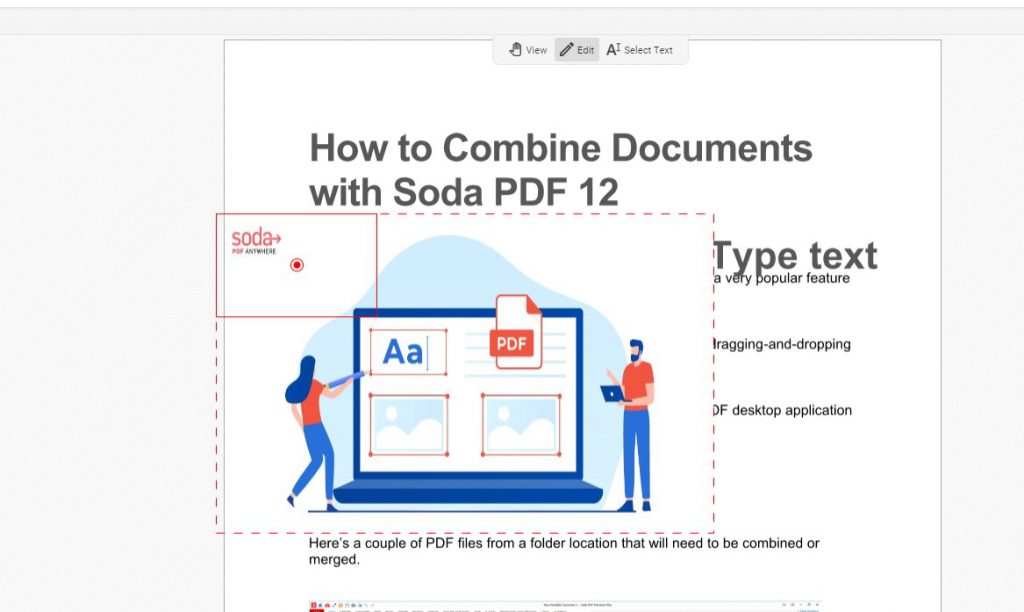 Your image will then be resized to the red box shown in the, well, image above. You can then drag and drop the image element to any area of your PDF document too.
Link
To add a Link to your PDF document, click on the Link tool. Your cursor will then change in appearance and be similar to a highlighting tool.
Simply click and drag over the element of your PDF you wish to add a link to. For example, the title of your document:
You will then be prompted with the following screen. You will need to Add Action for your link, meaning what or where will this link lead to when your reader clicks on it:
As you can see, you can link to a web page or go to a page within your PDF document. You can even link to a JavaScript.
To add a Web Link, simply click on Open Web Page. The following screen will appear:
Type in the website URL you want your link to lead to. Then click on OK.
Your link will be added to the list of actions. You can then add more actions for this link and then adjust the order in which they trigger too.
Add or Remove Page Marks
Looking to quickly add page numbers to your PDF document? Or perhaps you want to add a watermark to your document instead?
Here's how to Add Page Marks to your PDF. Click on the Add Page Marks tool:

As you can see, you can then select the specific page mark tool you wish to include in your PDF document: Page Number, Watermark, Header and Footer.
Selecting Watermark, for example, will lead to the following screen:
You can customize your Watermark to your specific needs. Type the text you wish to appear (where it shows WATERMARK) and adjust the font, size, and color of your watermark's appearance as well as the location and position. Apply the watermark to all pages, a range of pages, or a subset of your document.
Once your Watermark has been customized, simply click APPLY. The following ribbon will appear at the bottom of the Soda PDF Online application letting you know that the Watermark has been successfully applied:
Want to remove page marks instead? No problem! Simply click on the Remove Page Marks tool:
Choose the page mark you wish to remove, whether it be a Header and Footer, Page Number, or the Watermark we most recently added to this PDF document example.
The following window will appear for Remove Watermark: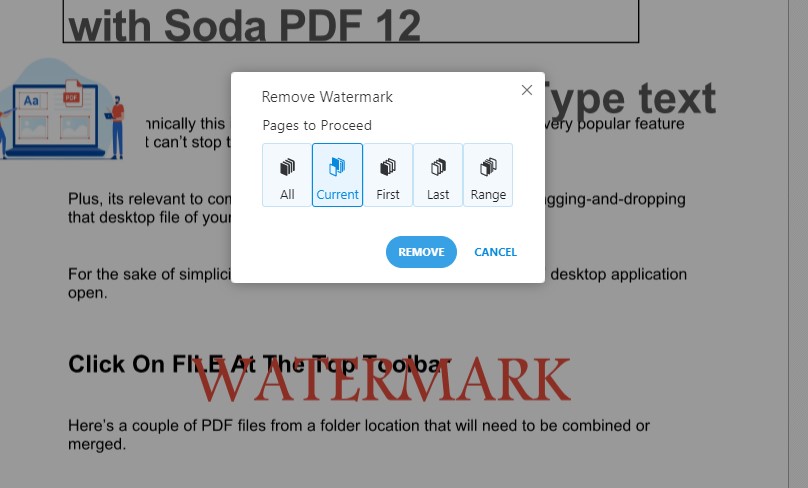 Select the pages that you want to apply this watermark deletion to by choosing All, Current, First, Last or a Range of pages within your PDF document.
Click on REMOVE to have the Watermark deleted from your pages. The same familiar green ribbon will appear at the bottom of the Soda PDF Online application letting you know that the watermark has been successfully removed:
And that's how easy it is to edit PDF documents on a MAC using Soda PDF Online! All you needed to do was create an account or sign in to get access to our editing features.
Now that you've created an account, don't forget to sample the rest of our powerful productivity tools to manage any and all of your document tasks with ease.
Use Soda PDF Online for all your document needs
Want to create, convert, merge, split, secure, or even add your electronic signature to PDF documents? With Soda PDF Online, you can accomplish these document goals fast and with ease!
Soda PDF Online has all the tools MAC users need to push their documents forward from any device with internet access. Simply open a document or create one from blank and use our features from the main toolbar to edit, manage pages, add comments, view, convert to or from the PDF document format, secure files with password encryption or by setting file permissions, create fillable PDF forms, and much more!
Be sure to try all of our productivity tools and see why Soda PDF Online is the perfect choice for MAC users who are looking to not only edit their PDF documents but turn them into works of art!
Review
Blog Name
How To Edit PDF on MAC (Using Soda PDF Online)
Description
Edit PDF on MAC fast & with ease. Use Soda PDF Online's easy-to-use editing tools to modify any PDF document to your needs. Add text, images, links & more!
Author
Publisher Name
Publisher Logo