How to Write a Resignation Letter (Using Soda PDF)
Did you recently find a new job and need help writing a professional resignation letter?
In this article, we'll show you what you'll need to include in your resignation letter, why they're important, and how you can easily create a resignation letter using Soda PDF.
First, we recommend downloading Soda PDF Desktop, a free PDF software application that you'll be using to draft your resignation letter.
But first, why should you need to write a resignation letter?
Resignation letters keep the professional lines of communication open
Sure, you could easily write a short, curt, and downright spiteful resignation letter (we've seen the memes), but what good will that serve you in the long term?
A resignation letter is your opportunity to tell your (former) employer how much you've learned and grown during your time at the company while detailing your reasons for leaving.
Resignation letters are really your way of keeping the door open, so long as you format them in such a way that doesn't burn any bridges. And we highly recommend you do, because that new job you're going to might not work out for a number of reasons.
Having a good, solid working relationship with previous employers can do you no harm. If you resign in a respectful and courteous fashion, your chances of working for the company again in the future–or even getting your old job back if it doesn't work out at the new place–will remain intact.
You'll be helping your soon-to-be former HR department
We get it, sometimes you decide to leave your current employer because they promised you a promotion but it never came to fruition.
And while this may be a tempting reason to write a curt letter letting them know exactly how you felt, your letter will also be helping HR–who may even in turn help you down the road again, too.
Since you'll be handing in your resignation letter and leaving your post, you'll actually be harming your former company through that action alone. Remember, the hiring process is a long and grueling one. HR representatives will have to create an open position post, sift through countless resumes, schedule phone & in-person interviews, and then negotiate salary. The whole process can take months.
It's for this reason that again we cannot stress this enough: don't burn any bridges for the sake of doing so. Instead, leave in a professional manner with your head high and your work to speak for itself. In doing so you might just even leave a longer-lasting impression than if you were to be mean about it.
What should I include in my resignation letter?
In short, you'll want to include mentions of the projects you worked on during your time, thank the company for bringing you aboard however many months or years ago, and mention your reasons for resigning.
Something along the lines of:
Dear Company Y,
I would like to sincerely thank you for these past X years at Company Y. I learned so much in my role as Worker and I thank you for all the professional connections I've made here.
I regret to inform you that I will be leaving my position as Worker and therefore am providing you with my resignation letter. It was a tough decision to make, but I simply could not turn down the opportunity for career advancement at another company.
I am proud to be leaving behind fine work in which I provided This Piece and That Piece for your Company Goals. I believe I contributed to your company's success over these past X years.
Thank you for your time and understanding.
Sincerely,
Your Name
For a longer, more detailed answer, we recommend checking out this helpful article. And if you're looking for a real-life example of a resignation letter, look no further than the one of former Twitter CEO Jack Dorsey.
Again, notice the tone of these types of letters. It's not a "See you later, suckers!" moment.
Nope. In fact, it's optimistic and nostalgic, the kinds of feelings and emotions you want to leave behind at any former company.
Now that we've covered all the basics, here's how to create a professional-looking resignation letter using Soda PDF:
Create a new PDF from Blank
To get started, either click on the settings tab in the top left of the application or use the CTRL+N hotkey.
In seconds, a new blank PDF document will have been created.
PRO TIP: Already have a resignation letter typed up but in a file format other than PDF? Use our PDF Converter tool to quickly convert to the portable document format instead! Select Convert to PDF from the main menu, or simply drag-and-drop or open any file in Soda PDF to automatically convert to PDF!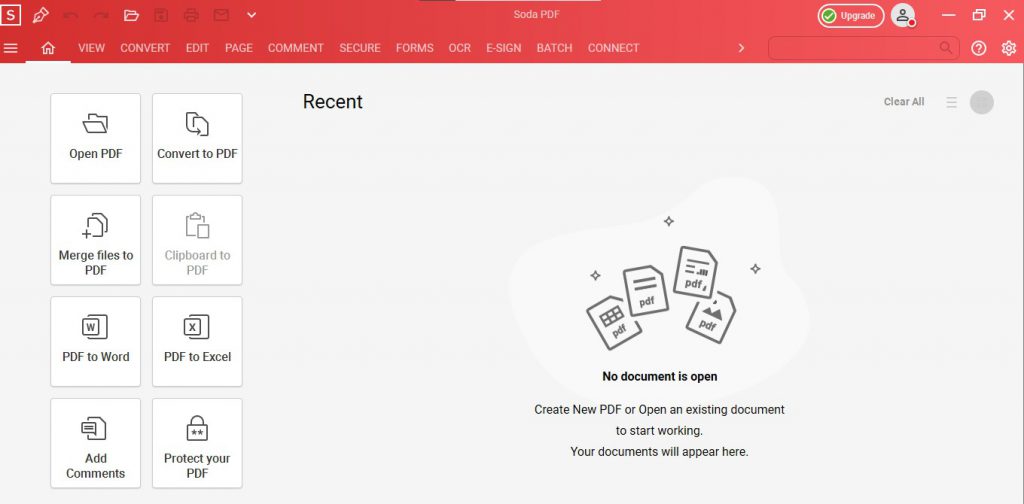 Type Text: Write up that resignation letter!
Now that we have a brand new PDF document created, we'll want to add (or edit, if you converted Word to PDF for example) text to our document.
Simply click on the EDIT feature from the main toolbar, then select the Type Text tool. Click anywhere on the PDF document in which you'd like to add text.
Proceed with this Type Text process until you've added:
The company's address in the top left corner

The date in the top right corner

The heading "Letter of Resignation" in the middle

And the content of your letter.
Once all written up properly, your letter of resignation will look something like this:
Et voila! But before we send the letter, there's one more good piece of advice we'd like to share:
Add your electronic signature for a professional touch
One thing that most letters require is a signature sign-off. While you may want to print and sign the document by hand, Soda PDF also offers an electronic alternative that can save you time, money, and paper cuts.
Introducing our E-Sign tool which allows you to customize your signature and initials and even add additional signers to your PDF document all in just a few clicks!
To add your electronic signature to your PDF document, simply click on the E-SIGN feature from the main toolbar. The following window will appear:
Simply drag-and-drop your Signature from the E-Sign window onto the area of the document you wish for your electronic signature to appear (see above).
Once you've placed your signature field, click FINISH to add your electronic signature to your document:
The e-signature process will take just a second to complete. Your electronic signature will then appear on your PDF document in the area you've placed it and will look (somewhat) exactly to your hand-written John Handcock:
Although this letter shown above is just an example, you can see how professional the document looks. No matter what the content might entail, your letter of resignation looks professionally made and drawn up, plus it's kept to one page and just the essentials.
You can then also click on the Mail icon in the top banner of the Soda PDF Desktop application and send your Letter of Resignation directly to your recipients right from your email with the letter already attached:
And there you have it, Soda PDF can help you create professional documents in no time! Learn all the other ways our powerful PDF tools can help you increase your productivity from anywhere!
How Soda PDF helps you manage documents with ease
Whether you're looking to edit, create, convert, merge, split, secure, E-Sign PDFs or even scan and recognize text within image files (OCR), Soda PDF gives you the power to accomplish these document goals from anywhere.
Our powerful PDF tools can help you quickly draw up contracts, adjust invoices, prepare agreements, create stunning portfolios, revamp resumes, and much more!
Plus, after you download and install Soda PDF Desktop, you'll want to create a new Soda PDF account. Any new account unlocks a FREE 7-day trial, which includes full access to our entire suite of PDF tools for one week.
So no matter if you're writing a resignation letter or even a cover letter (or any type of documentation for that matter), Soda PDF has all the tools you need to quickly accomplish all your document tasks in one place.
Try our Desktop application today (Windows users) or work using Soda PDF Online (MAC users) which can be accessed from any device with an internet connection.
Get started today for FREE! Soda PDF: Simply. Powerful.
Review
Blog Name
How to Write a Resignation Letter (Using Soda PDF)
Description
Write a resignation letter using Soda PDF; the easy-to-use document management software. Use our tools to type text, convert to PDF & more!
Author
Publisher Name
Publisher Logo