Introducing inPixio Photo Clip 9 Pro: Photo Editor
Are you looking for an alternative to the overwhelming (and sometimes confusing) Photoshop that is simple and easy to use? Look no further than inPixio Photo Clip 9 Pro!

Have you never heard of inPixio before? Well, it's our absolute pleasure to introduce you to their inPixio Photo Clip 9 Pro software, arguably the best alternative (dare I say even rival) to Photoshop you'll ever find.
With inPixio, you can edit your photos with ease and turn them into literal works of art by completely altering what was once a simple photograph and letting your imagination and creativity run wild.
Here's the reasons why you should strongly consider using inPixio Photo Clip 9 Pro software, specifically their well-designed and picture-perfect Photo Editor.
inPixio Photo Editor At A Glance
The first thing you will be asking yourself when it comes to inPixio is this: why can't all photo editors be this easy?
With inPixio Photo Clip 9, you can not only make the most of your photos, but get the most out of them as well. Trust us when we say that a software with this much editing power has never felt so exhilarating to wield!
InPixio's user experience is clean and crystal clear for the user. For example, here's what the program looks like once you've opened up your Photo Editor: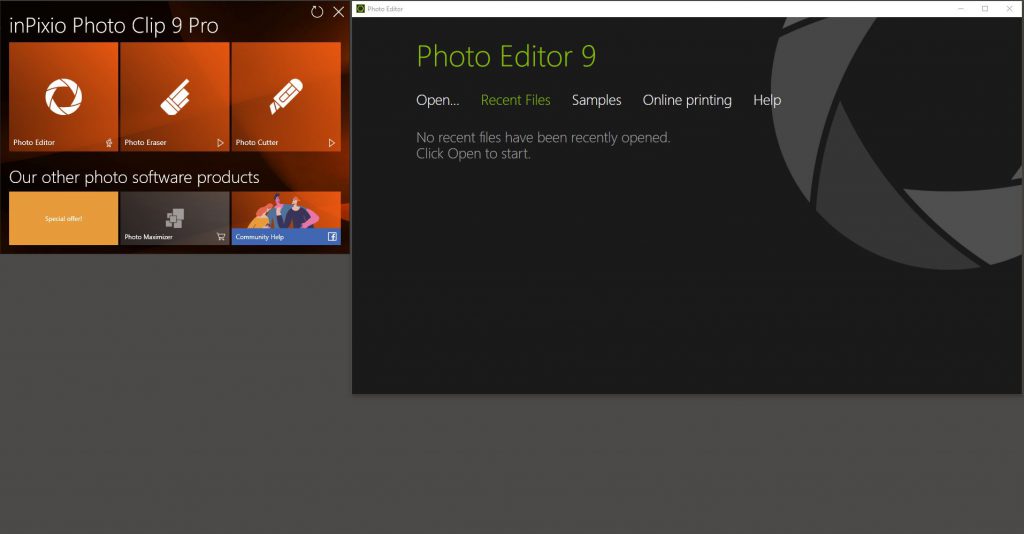 The image on the left is the inPixio launcher, in which I can choose to run Photo Editor 9 and later switch over to Photo Eraser 9, which we will be covering in a future blog.
I could also easily click and instantly contact the friendly inPixio Facebook Community for help or inspiration with a simple click directly from the launcher.

And if it's features you're after, inPixio's Photo Editor 9 provides a ton of options for customizing your image, including:
Crop
Presets
Adjustments
Selective retouching
Correction
Effects
Styles (LUTs)
Textures
Frames
Text
Ready to discover just how much fun you can have touching up your own photos or royalty free images as we dive further into inPixio's Photo Editor 9 software? Let's get started!
Opening An Image with inPixio

Once you launch the Photo Editor, you'll be given a choice of the following options:
Open
Recent Files
Samples
Online printing
Selecting Open will allow you to search your computer for the photo you want to start editing. Recent Files are exactly that: what photos you've most recently worked on.
InPixio also offers a great collection of stunning picture Samples, which you can toy around with for practice. And click on Online Printing if you want to make customized cards from your touched-up picture!
Here's an image that I found courtesy of The Public Domain Review, where you can browse through a plethora of works of art that have now become free to use, share, manipulate without any copyright restrictions.
I open the image with inPixio's Photo Editor and here's what I see:
The interface, at first glace, is very inviting and easy on the eyes. Having the features toolbar on the right and several options to browse through within each feature is enough to get my creative juices flowing!
The toolbar at the top allows you to easily switch between Single view, meaning you're only seeing the picture that you're editing, and the highly-recommended Before and After view:
As you can see from the screenshot above, by keeping two images side-by-side, whether vertical or horizontal, the editor is able to see the changes they're immediately making while also having the original, untouched image as a reference to how the image is being manipulated.

Now, that we've uploaded our picture, let's get editing!
Crop Feature
InPixio's Crop feature is not the fanciest feature, but inPixio has done extremely well to master the basics. After all, cropping a photo is quite basic in principal, however, this software makes cropping anything but ordinary.
Change the angle, sizing or flip and twist your image anyway you'd like and adjust the proportions to your heart's content.
Presets Feature
If you're in a rush, or just looking for a quick and professional-looking edit, then inPixio's Presets feature is just what you need.
With several preset modifications from Trendy to Retro, Environment to Cinema, depending on what kind of look or style you're trying to transform your picture into, inPixio can help! Here's what my picture looks like under the Cinema Preset titled "Matrix":
Have a certain style or filter that you want to always add to your pictures?
No problem, because inPixio also allows their users to create their own Preset which can easily be applied once customized to your liking across any image.
Pretty cool, right?
Adjustments & Tone Curves
InPixio's Adjustment feature allows the user to alter the image's Temperature, Hue, Brightness, Contract, Clarity, Shadows and much more.
By changing the image's Hue for example, and having the Before & After side-by-side view turned on, the user can see just how much adjustments they're making to their picture as they edit.
After making your adjustments, users can open up the Tone Curves panel within the Adjustments feature to either subdue or highlight the Red, Blue and Green pigments individually or as a cluster within your image.
Selective Retouching
With the Selective Retouching feature, users can choose between Linear Gradient, Radial Gradient or use a Paintbrush to highlight an area of their image with a radius and manipulate the Exposure, Brightness, Shadows and Highlights of their picture.
Think of Selective Retouching as your selective, specific and precise Adjustments and Tone Curves feature that doesn't affect the entirety of your image, simply an area of your choosing.
Correction
Tired of always being in pictures where the camera has given you red eyes? Or perhaps your image is lacking sharpness or looks "noisy" (meaning it needs to be smoothed out) or generally looks foggy.
InPixio's Correction features allow for users to use Red Eye Correction where the software will auto-detect those pesky red eyes and automatically adjust and if not you can still manually make those adjustments.
Here's an example of just how impressive their Red Eye Correction tool is:
In seconds, the red eyes are gone and my picture looks flawless to say the least!
Use the Sharpness tool to make those colors pop, the Noise Reduction to smooth your images and remove the grainy look and feel, as well as the Dehaze tool to remove any blurs or fog.
Effects
The Effects feature is where editing your pictures will really get interesting.
Use the Color Balance tool and color wheel to further adjust the Shadows, Midtones and Highlights of your picture. Add some style with the Creative Blur tool to keep a certain radius in focus while blurring the exterior.
Film Grain will add that cinematic style to your image, for example:
And use the Vignetting tool to make your backgrounds dark but to bring focus to a certain aspect of your image to the forefront, ideal for making stunning head-shots or portraits.
Styles
Change the color of your image with just one click of the mouse. Choose from Atmosphere, Black & White or a Vintage look and feel for your picture.
The choice is yours, and inPixio provides you with a ton of options to do so. Can't decide? Clicking the "I'm feeling lucky" icon will allow inPixio to choose and apply a random Style for you. Now that's what I call helpful!
Texture
Your creativity can really shine with inPixio's Texture feature. Add your creative flair by adding a filter or layer on top of your picture and adjust its Opacity to your liking.
Whether adding geometric shapes, a crumpled piece of paper or a spacey look, choose the Blend Mode that's right for you and make those Textures shine!
Frames
Looking to make a vintage Instagram post or a Save The Date mailer for an upcoming event? Using inPixio's Frames feature allows users to add a border around their image to make it look more polished.
Choose from an array of frame types, from Classic to Sport, Festive to Astrology. However you want to frame your image, inPixio can help!

Text
Finally, add text or stickers to your picture. We cannot recommend this feature enough for social media, because now you can become the graphic designer you've always wanted to be!
By adding text or stickers to your image, you can easily create makeshift certificates or awards or even send out fancy party invitations for your guests!
Change the color of your text using one of inPixio's pallets or select a color within your image for the text to match. Underline, bold or italicize your words or move them around your image, front or back or sideways, however you wish!
Curious to see what the final product looks like? Well, here it is:
Sweet Cherry indeed!
Save or Share Your Image
Once you've made all the edits you want, you can easily save your file to your computer or cloud storage device. Adjust the file size by scaling the quality of your image like so:
Plus, with inPixio, you can share your newly modified image to Facebook, Twitter or Flickr or send via email straight from the main drop-down menu in the left hand corner. Now that's what I call efficiency.
With inPixio, you can really let your creativity shine through your images. We promise you'll absolutely love this product (we know we do!) and its available for purchase here.
If You Like inPixio, You'll Love Soda PDF!
Another great product we can't suggest enough is none other than Soda PDF Anywhere. It's the perfect software for making the most of your documents, or even for creating beautiful photo collages with the pictures you've edited with inPixio.

Ever struggle with making edits to an already published PDF? Well, with Soda PDF you can! Edit your files, convert to and from PDF to over 300+ file types and much, much more!
Download a FREE sample version, or check out our pricing and see why Soda PDF is the perfect companion for your documents whether at home, in the office or on the go!