The many benefits of using Evernote

Evernote overview
You've heard people raving about how amazing Evernote is, but what exactly makes it so great? Is it really as good as it's hyped up to be?
It's up to you to decide whether or not it's the right tool for your specific needs, but here's a little overview of the features and functionality we think are quite useful.
Integration
One of the main pros of using Evernote is that it can be integrated with many applications. For example, if you've created a PDF file using Soda PDF, you can send your files to your preferred Evernote folder directly through the application. If you only want to send specific text instead of the entire file, you can simply highlight the text, right-click, and send it to Evernote. No hassle, no fuss.
Click here for more info on how to use Evernote within Soda PDF.
Synchronization
The Evernote app will automatically sync all your PDF files. It will also sync your notes and pictures so you can access everything on any device. You're even given the option to sync your items manually if you want to speed up the syncing process.
Collaboration
If you want to share your notes that include PDF files with others, you can do so directly through Evernote. There are many features that allow you to share with others, including copying and pasting your note's unique URL into any application, sending your note as-is to a fellow Evernote user, or emailing it.
Organization
Once you've sent a file to your account, it's extremely easy to locate it. Evernote has a powerful search engine that will allow you to find any file or image you've uploaded. Plus, you can step up your organization game by saving your files in a specific project notebook, which will make your life easier in the long run.
Using Evernote in Soda PDF
The first step to using Evernote in Soda PDF is to login. Once your account has synced with the application, you will be able to send snippets of text or entire files to your notes.
You will need to have a file open in Soda PDF before you can access Evernote.
Click on File.
Click on Send.
Pick the Send To Evernote.
Choose Sign In.
Enter your address or username.

Click on Continue.
Enter your password.

Click on Sign In.
Click on the dropdown to select a duration of time Soda PDF will remain linked with your Evernote account.

Click Authorize. (If you have previously authorized the account it will say Re-Authorize).
The next thing you will see is your PDF ready to be sent off to Evernote.
You can change the Title of your PDF.

You can add keywords / tags to the PDF.

You can select the Notebook that will receive it.
When you are ready, click Add Note.
Your file will now open in Evernote, in your web browser.
You aren't limited to sending entire files. You can select any portion of text, and add it to Evernote.
Enter Select Mode.

Hold down the mouse cursor and drag it over your preferred text.

Right-click on the highlighted portion.

Choose Send to Evernote.
You can now configure your text snippet.

Click on Add Note to send it.
You can also send images to Evernote.
Make sure you are in Edit Mode.

Right-click on the image.

Choose Send to Evernote.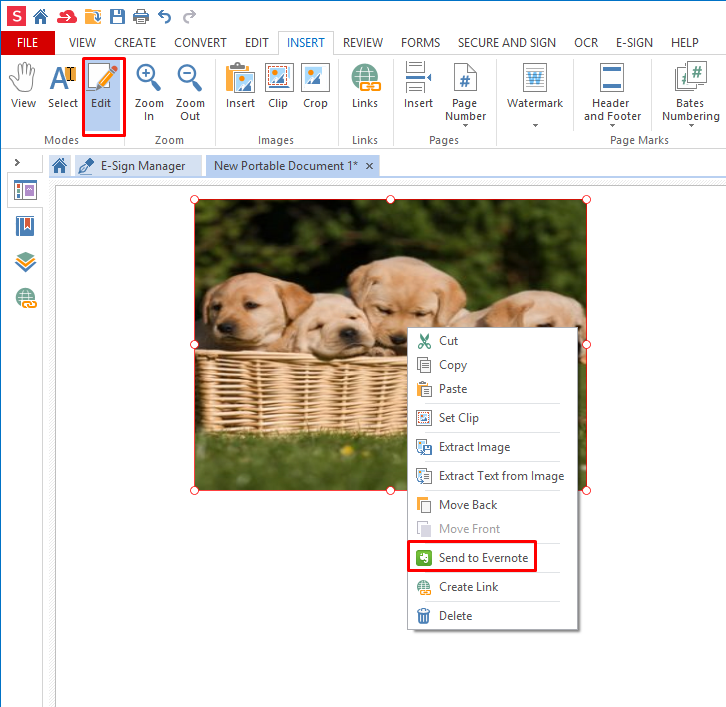 You will be brought to the same preparation screen where you can add the Title and Keywords.
 
Haven't tried Soda PDF yet?