Microsoft PowerPoint Alternatives to Create the Perfect Presentation
Death by Powerpoint. Mixed graphics, clunky text boxes, 400 slides of too much information – it's a terminal diagnosis.  
These 10 apps are the best Microsoft PowerPoint alternatives – they're convenient, simple, affordable (some are even free!), and will deliver the perfect finished product to close your deal and put you on a beach in Maui!
The BEST PowerPoint Alternative – Soda PDF 
Soda PDF Anywhere allows just that – access from literally anywhere at anytime. For that reason (among others), it's our favorite among the PowerPoint alternatives.
Don't be fooled by the PDF label, this program is a powerhouse that can deliver presentations of any size – something as simple as a college course final or as complex as a six-figure business proposal can be hammered home with Soda PDF.
Soda PDF allows you to convert 300+ file formats to PDF, save your document to the cloud, and access it from anywhere – even mobile! It's the perfect option for the busy professional that needs to have constant access to their presentation, no matter where they are. (Did we mention it's super secure?)
The PDF Viewer lets you view documents in 3D with its unique page flipping technology, you can even work on two documents side by side on the same screen – no more digging through confusing settings to lay your presentation out!
One last benefit, no matter what device you are using for your presentation, the content will always look exactly how you formatted it. 
The Best of the FREE Powerpoint Alternatives – Google Slides
Google continues to come up with innovative ways to make life easier for their users – Slides is completely FREE if you have a Google account, and at this point who doesn't have Gmail? Without a doubt, their Slides app is our choice for the best free PowerPoint alternative.
Much like Soda, Google Slides is available at any time on any platform with a web browser. Presentation progress is saved automatically in the cloud, so you never have to worry about your desktop taking a dive and destroying your progress.
There's literally HUNDREDS of different templates to choose from, and the entire interface is easy to navigate.
Our team LOVES the ability to work together in real time. Gone are the days of trying to get your eleventh-hour coworker to log on at the same time as you to get things done (also gone are the days of you plotting your revenge against their procrastination).
The graphics are a drawback, though. They're fairly standard, but not quite what we were looking for. But the ease of use and price tag (or lack thereof) more than make up for the shortcomings here.
The Best of the Best of the Rest
These are all viable options for PowerPoint alternatives, they just don't quite measure up to Soda and Slides in their execution.
Haiku Deck
Another cloud-based presentation app we loved, Haiku Deck can definitely be described in more than seventeen syllables!
Haiku Deck is largely viewed as a mobile alternative to PowerPoint, and if customization is your thing, this is the app for you – your presentation will stand out above the rest with 35 different templates and 35 MILLION (that's right) stock photos.
The most unique thing we loved about Haiku Deck? It's AI helper Zuru sounds like something that would plot the demise of humankind – instead it aids in your presentation building and rebuilds PowerPoint uploads.
Prezi
Much like it's predecessors, Prezi is cloud-based (noticing a trend here?) and is a major favorite among the students and teachers on our team.
Prezi is one of the easier apps to pick up and go with right from the beginning. Seriously – even the most technologically illiterate member of your team will be able to use it to the fullest.
Don't be fooled by its simplicity though – Prezi's advanced imaging tools were a favorite of ours, and we loved the ability to download it for offline use anytime.
Keynote
The Apple answer to PowerPoint alternatives, that follows the pattern of pretty much everything Apple churns out. It's simple, sleek and sophisticated.
Keynote is the Optimus Prime of alternatives – it's a true powerhouse. Our team loved the ability to create interactive charts, and the cinematic transitions from slide to slide. Your audience will feel like they're watching the latest Marvel flick.
Keynote isn't short on customized options either – you'll get to choose from more than 30 templates and 30 cinematic transitions to polish up your presentation.
Slidebean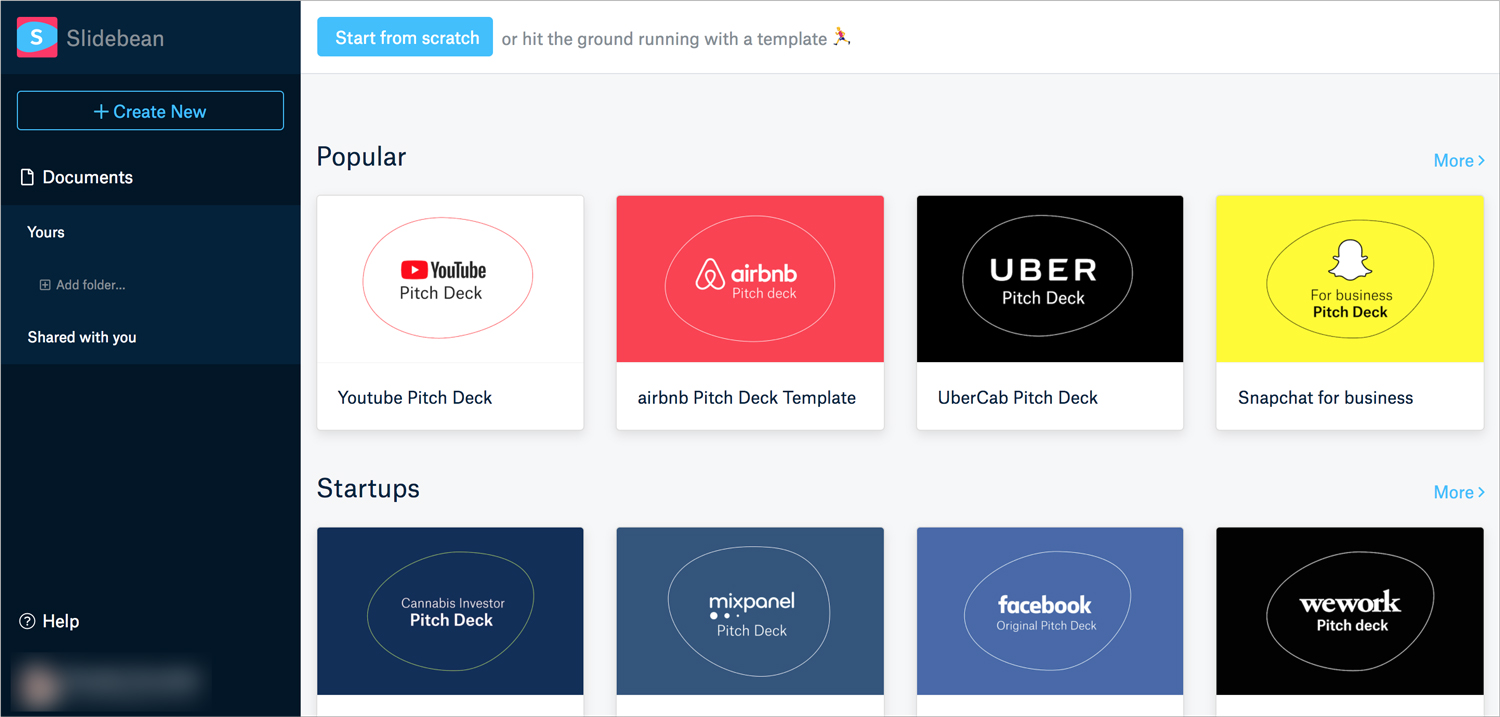 Maybe you're one of those professionals that is on the go 12-18 hours a day and claims that sleep is for the weak. If so, Slidebean is the perfect solution for you.
Slidebean takes the guesswork (and the work in general) out of designing slides. They've recreated pitch decks from successful startups and made them available to you. Feel free to customize as you see fit.
With access to thousands of flat icons and the ability to search and insert GIFs into your presentation, your audience will be in awe of your unmatched level of creativity. Maybe we're being a bit dramatic, but there's no doubt your presentation will shine.
Ludus
Ludus offers a cure to the dreadful Death by Powerpoint – its best feature is it's smart alignment tool. This innovative perk helps you place objects in the best place along a grid. This prevents your presentation from looking like an 8th grade science student assembled it.
Ludus is definitely one of the more artsy presentation options we looked at – it's perfect for creative professionals that need to put together a finished product quickly.
Any presentation can be exported as HTML files, so you'll be web-ready in no time.
Focusky
Hear us out here – we loved Focusky as an option on our PowerPoint alternatives list. 
The software creates beautiful HTML5-powered slides that seriously look like something out of an animated feature film. 3D animations and transition effects are going to leave a lasting impression on your audience without question.
There's narration recording and HUNDREDS of templates in multiple categories. Even the most creative mind will be able to bring their ideas to life.
The only downfall here? Focusky needs to be downloaded on the desktop, so you won't be able to take it on the go.
Genially
It's all about branding these days, right?
If you're looking to leave your mark (literally and figuratively) on your presentation, Genially is your best bet. This powerful alternative is fully loaded with branding capabilities for the most seasoned presentation vets.
Most of all, we loved how FUN this app was! Users can create entertaining and vibrant slides with tons of templates to choose from. Your finished product can easily be uploaded to social media platforms so your creativity can be shared with the world.
FlowVella
Short, sweet, and to the point – we loved how simple FlowVella was to use, and it's no-frills approach was a welcome option for those of us that need to build a professional looking presentation quickly.
You'll have to look elsewhere for fancy interactive options, but FlowVella makes it EXTREMELY simple to customize your presentation. You can resize and move objects around throughout your presentation.
The coolest thing about FlowVella that we didn't find anywhere else? The app provides analytics on your presentation. This lets you can see exactly how many views you've received – making it the perfect option for those of us tracking returns.
Choosing from this list of PowerPoint alternatives is really going to depend on what you're trying to accomplish. Soda is obviously the best, but you can't go wrong with Google Slides as a free alternative.
The one feature none of these apps have? They won't do the work for you, so stop reading and start creating!
You can download Soda PDF here: