The Top 11 Online Collaboration Tools – 2020 Update
Col-lab-o-ra-tion: The art of improving your internal communication to drastically increase employee performance and profits.
OK, maybe we embellished the definition there a bit, but there's no doubt that better collaborative productivity increases profits. Just ask:
The petrochemical company that generated

$5 million in savings

from creating knowledge sharing networks;

The company that saw its

profits increase 100%

through communication efforts that doubled employee engagement;

– The company whose analysis identified collaborative opportunities that could

reduce costs by $865,000

across its business units and reduced project manager's hours by over 3,000.
Never mind that half of all Millennials support social tools for workplace collaboration, or that 86% of executives cite lack of communication for project failure.
Collaboration is important—very important. Lucky for you, we've scoured the web and put the best online collaboration tools into one list.
1. Soda PDF
Sorry, we couldn't resist. Soda PDF is the revolutionary, reliable, and intuitive portable online collaboration tool that allows your teams to quickly create secure PDF documents, save them to the cloud, sign and send, and share them with the whole team.
It's perfect if you're a document-heavy company managing a remote team or a connected network of knowledge workers.
Functions such as:
Multi-step security

Fast and intuitive professional document creation in seconds

Customizable doc options

Side-by-side view mode for lightning-quick comparisons
Are what make this the perfect tool for the modern knowledge sharing company.
2. Slack
Slack is the communicative tool of communicative tools. It is to team collaboration what Google is to search engines: the be-all end-all.
With millions of users across the globe, Slack allows employees to send direct messages and files to independent users and allows entire teams to organize chats into specific channels for separate projects or general team banter (for example, a work-related chat and an "employees only" group for good-natured fun).
You can drag, drop, and share files with ease, though it's not a great solution for cloud storage.
3. Trello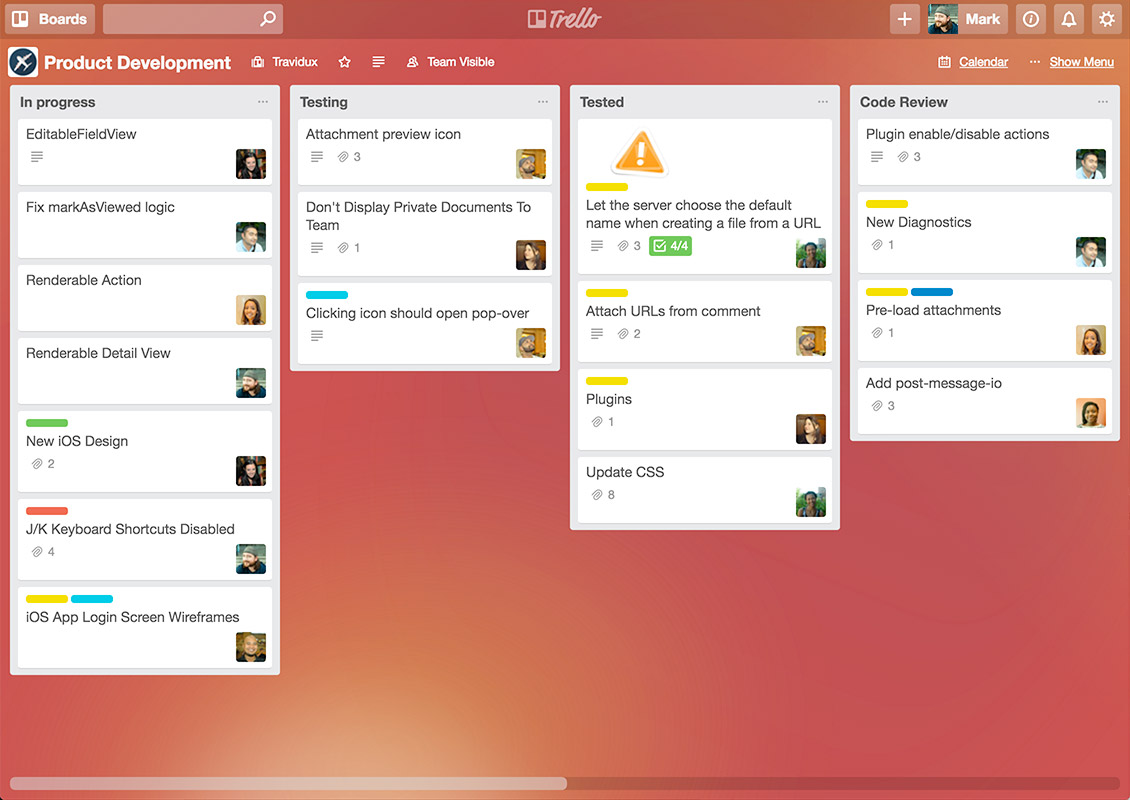 Does your team have trouble identifying goals, parsing them out into manageable tasks, and tracking progress each step of the way? You aren't alone.
That's why Trello, the ultimate project management software available on the web, is trusted by teams everywhere to help them get the job done. Its unique system of project cards allows you to do everything from identifying the importance of a task to gauging progress within a project.
Did we mention it was FREE!
Bonus: Trello integrates with GitHub, Google Drive, and Slack.
4. Asana
Video calls, project tracking, handy integrations such as reminders, to-do lists, and direct requests—Asana is another heavy hitter in the team collaboration tool division.
Watch your communication and organizational woes melt away in Asana's colourful board or list format and behold your productivity soaring through the roof.
5. Google Keep
Part of Google's ever-expanding dominance of all things "the Internet", Google Keep is their note-taking rival to Evernote and OneNote, and it has quickly become one of the best tools online.
Quickly take and save notes, photos, voice memos, and checklists, and share them with your team. With integration into Google's suite of services, it's impossible to beat the flexibility and convenience.
6. GoToMeeting
Robust, affordable, and replete with features such as messaging, group chat, recording, and integration with helpful tools, GoToMeeting is one of the premier online collaboration tools for business and is your answer for seamless business meetings in just a single click.
It's the ideal solution for international teams that can't get enough of seeing each other's faces in HD. It even supports screen sharing to help lessen the learning curve!
7. Yammer
The business social network, Yammer, is a veteran of the online collab scene:
Like each other's statuses

Create your own ingroup with company emails

Chat privately or in the open

And share documents with ease
It's all as easy as logging in and saying hello!
Yammer is the most widely used of all team collaboration tools, and it's one of the best ways to increase employee bonding, collaboration, and morale.
8. ConceptBoard
ConceptBoard is a cloud-based whiteboard project management tool that allows for collaborative design on all things visual. It's basically a one-stop shop tool for designers and creatives.
Create private sessions and upload files for continuous discussion, revision, and feedback. Perfect for marketing campaigns being worked on by teams of remote creatives such as designers, graphic artists, and copywriters!
9. Redbooth
Oh, your team doesn't have Redbooth? It should! It's one of the most comprehensive and in-depth project management tools on the market.
You can create projects, assign colleagues different tasks, track hours worked, and even view fancy Gantt charts and visualize productivity in stunning colours. The chat functions keep everyone on the same page and video and instant messaging allow for fast, effective communication.
10. Blink
What makes Blink special is focusing on a really good mobile app experience. But what is Blink? It's a combination of a chat application, mixed with great storage options.
You can get relevant info to your frontline team, when they need it. Due to its simple design and user focused features, you'll find that an increase to your employee engagement.
If you make it easy to chat and share files, you'll have a very happy team.
11. Google Docs
When it comes to simplicity and affordability, it's hard to beat Google Docs. For one, it's free. Aside from that, it's extremely simple and effective.
Create a document, spreadsheet, or presentation and share it with a coworker. You can even get a shareable link and let anyone who clicks on it have a view.
Multiple people can edit at the same time (in neat colour patterns), leave comments, and make editing suggestions. You also benefit from the functionally unlimited storage that comes with all things Google.
There's nothing more powerful than collaboration for a business. If you want to increase your productivity and profits, try these top 10 online collaboration tools.
If you want to try the best tool there is, head over to Soda PDF and start your free trial today.