Soda PDF Presents: Best Online MP3 Converters
Looking for the fastest, easiest online MP3 converters to convert YouTube, WAV, MP4, FLAC, and other video formats?
Funny you asked…we just happen to have an online MP3 converters guide to share with you today.
We got a little crazy sharing music around the office, and the result is this in-depth Encyclopedia MP3tannica. 
NOTE: The majority of online video and audio converters severely reduce audio quality, or worse, try to infect your computer with malware. Stick to software that we've tested. 
What is an Online MP3 Converter (And Why Should I Use One?)
An online MP3 converter is a tool that converts audio or video files from one format to MP3. 
The most popular conversion partners are WAV, MP4, video, and flac (All covered here!). They are actually pretty simple (But highly effective). 
You paste a link to a video or upload a file into the converter, let the tool work its magic, then download the file. That's seriously it! You now have a fully-functional MP3 file of your favorite music, backing tracks, ambient music, or sound effects.
WOW,  cool Soda PDF!…But why would I want that?
The reason you would want to convert a file from a source to MP3 is MP3 is far smaller than most other audio formats – for example, WAV.
MP3s are about 1/10th the size of WAV or AIFF files (CD-quality audio). That makes them extremely easy to share – for example, via email. It also makes them extremely easy to rip and burn onto CDs.
Remember Napster? And Metallica? And all of that "the music industry is going to end because of burning music" hubbub?
Yup, that was because of MP3s. 
Anyways, having an online MP3 converter saves you from having a converter taking up space on your computer. These tools are all easily accessed via your browser, work in seconds, and are 100% FREE!
The Best Online MP3 Converters for YouTube, Video, WAV, MP4, and FLAC
The Best YouTube to MP3 Converters
Want to rip a soundtrack or some ambient music from YouTube and instantly have it available on your computer to share or covet for eternity?
Both of these options are fast, free, and 100% safe.
#1) YTMP3.CC – The Fastest and Safest
Why we like it
Fast
Safe
Dropbox compatible
MP3 and Mp4
Great design and no intrusive ads
YTMP3.CC is the fastest and best-quality YouTube to MP3 converter online according to our metrics.
Just paste the link of whatever you want to convert, and it converts it into a 100% safe-to-download file in a second flat. You can even directly send it into your Dropbox so you can share it with all of your coworkers. Like so…
Normally, converting files severely reduces the quality. With YTMP3, we barely noticed. And, unlike the majority of conversion services, this one doesn't show any of those intrusive ads or pop ups.
Safe, fast, high-quality, and 100% FREE. Nobody can really argue with that.
NOTE: We had trouble using it with Opera browser. It worked fine on Google Chrome though.
#2) Y2Mate.com – The Best but Some Spammy Pop Ups
Why we like it
Fast (Not as fast at YTMP3)
11 different conversion options
More than MP3
Safe (No malware)
Y2Mate.com is the best all-around YouTube to MP3 converter, at least in terms of choice and power.
It lets you convert to MP3 or MP4 in 11 different file qualities, giving you even more options than YTMP3.CC.
It's really fast, and the audio quality was great. 
The only things keeping it from the #1 spot were speed (It was a tad slow) and the spammy pop ups we encountered. It was only 1 or 2, but we still didn't like it. 
If you need a tool with the ultimate level of flexibility and multiple options, this is it.
The Best WAV to MP3 Converters (Mac and Windows)
We know it hurts to reduce the quality of your files, but sometimes it must be done. 
When that day comes, these WAV to MP3 online converters are the only ones that passed our quality testing.
#1) Wondershare – The Best WAV to MP3 Converter for Windows 
Why we like it
High quality video to audio conversion
Tons of extra features
Extremely safe
No other tool on this list even comes close to rivaling Wondershare as a video/audio conversion tool.
You know how bad it hurts to hear your WAV as an MP3? We barely felt that way with Wondershare. And if you're looking for even more features, you can convert CDs, DVDs, and videos to MP3, MP4, and a ton of other formats.
Just click the "Add Files" button:
Then choose MP3 as the output format:
That's it, you're done. We tried 5 different WAV converters for Windows and none of the others even produced a quality file, let alone a high-quality one. Definitely stick with Wondershare.
#2) iTunes- The Best WAV to MP3 Converter for Mac
Why we like it
Free
It's iTunes so you know it's safe and high-quality
Did you know that you can convert files from WAV to MP3 directly in iTunes? It's fast and free, and the quality is awesome.
The only issue is that it's a bit complicated to actually do it. 
But all of the online converters we tried were spammy, including one that wanted us to download some program with a name we couldn't even pronounce.
Anything that was actually professional cost money. iTunes is FREE and already built into your Mac!
Here's what to do:
Go to preferences
Then choose Import Settings
Now select MP3 Encoder from the drop down menu
From there, go back to your iTunes library, choose the WAV files you want to convert, and click "create new MP3 version".
That's a bit of legwork, but it's 100% worth it. It only takes about 5 minutes, and it's totally free and completely safe.
Best MP4 to MP3 Converter
MP4 and MP3 are the same thing, right?
WRONG.
MP3 is a relatively tiny audio file that's easily shareable. MP4 is a file format that's used more for video, as it's great for storing audio plus still images and subtitles.
We do not recommend using a standard converter for MP4. Instead, use one that specializes in MP4 to MP3 conversion.
The best one from our trial is:
Online UniConverter (Media.io)
Why we like it
Near instant uploading and downloading files
Convert 2-in-1
Lossless quality
Wondershare makes another appearance as Online UniConverter (Formerly Media.io).
This is the only MP4 to MP3 converter with fast speeds AND lossless quality, meaning you get great audio quality without waiting around for files to upload and download. 
Everything happens in seconds.
And it works on both Windows and Mac, so no need to worry about needing multiple softwares for the office or home.
What we love most about Wondershare are all the awesome added extras. We had a ton of fun creating and sharing YouTube playlists and even recording our own videos.
Just add MP4 files to the converter..
Then choose MP3 as the output.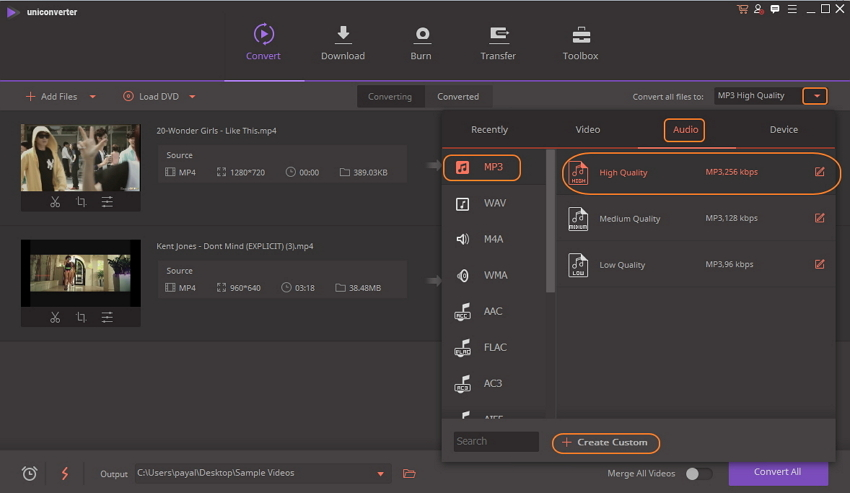 See that purple button that says Convert All?
We think you can handle it from here.
The Best Flac to MP3 Converter
What's better than playing Free Lossless Audio Codec (FLAC) on a portable MP3 player or sharing it with friends?
Nothing.
We put several programs up to the challenge and only one stood out above the rest: FlacSquisher (Windows).
FlacSquisher: The Best Flac to MP3 Converter 
Why we love it
Multicore processors for ultra fast speeds
Converts entire libraries without compromising structure
Extremely user friendly
FlacSquisher is a near perfect FLAC to MP3 converter. 
It converts entire libraries of FLAC files to MP3, Opus, or Ogg Vorbis format so you can maintain your FLAC files for home use and still have portable MP3s for where space is tight.
The main reason FlacSquisher is our favorite online FLAC converter is it converts entire libraries WITHOUT compromising structure. So instead of a random mishmash of songs, your entire library (Genre -> Artist -> Song) stays intact.
Its biggest advantages over competitors are:
Speed: This is the only program that uses multicore processors effectively, resulting in faster speeds!
Simplicity: FlacSquisher is so simple and intuitive that even we could use it. That's saying something.
Check out how simple the interface is:
Just click change and you're all set.
Those are by far the best online MP3 converters according to our tests. 
In the end, if you only need freeware that's fast, simple, and intuitive, you can't go wrong with any of these converters. If you're looking for something with more power, maybe try an online video converter instead!
Frequently Asked Questions
Q: How can I download YouTube songs?
A: You can use a YouTube to MP3 converter. Just paste the link into the converter, convert the file, then download it. It will then be available for sharing, editing, and listening.
Q: What is the best online YouTube to MP3 converter?
A: YTMP3.CC is our choice for best online YouTube to MP3 converter. It's fast, safe, and high-quality.
Q: How can I convert M4a to MP3?
A: You can use iTunes. Follow the steps above.
Q: How do I convert a CD to MP3?
A: You can convert a CD to an MP3 by ripping the audio from a CD using a tool such as Windows Media Player. Then changing the rip settings to MP3.
Q: How can I convert WAV to MP3?
A: You can convert WAV to MP3 using Wondershare for Windows or iTunes for Mac.
And The Best Non-Music File Converter Is…
Just like converting huge files to MP3 makes for greater portability and flexibility, converting physical files or digital documents to PDF also makes documents shareable, flexible, optimal, and far more secure. 
The best tool for that? Why, Soda PDF desktop application, of course!
With Soda PDF, you can take up to 300 + file types and:
Edit
Convert
Split
Merge
Annotate
Secure
Share
& much, much more!
Start your FREE trial today!