Best Online Video Converters (Free, Paid, MP3, HD, YouTube)
Welcome to our review of the best online video converters of 2019 for all purposes!
If you aren't techy (like us writers tend not to be), all the video conversion jargon and features can get real confusing. We created this guide so you don't wind up ruining your entire video collection and wasting a whole day on the wrong converter like I did.
Read carefully and find the right one for your format. Also check out our list of the best video editing software to keep working on your new files. 
Quick Intro: What is an Online Video Converter and Why Use One?
A video converter is just a piece of software that converts videos from one format to another so they can be reduced in size, stored on a different device, or be easily shared. An online video converter does this in your web browser. 
Why would you do that?
Well, you've probably got a ton of different devices: iPod, iPhone, tablet, laptop, Batarang. It's 2019, come on.
Sadly, not all video formats are universal across all devices. Some are proprietary (brands only allow their own format on their device), some are too large to be played on a different device, and others are just weird and need to be changed to improve quality.
You might even just want to take a video and change it to audio (If that's LEGAL based on copyright LAW!).
Whatever the reason, an online video converter saves you the trouble of needing a built-in video converter on your computer. You can even access most of these converters right from your browser. No need to download anything (except your converted video file).
Anyways, let's get to it!
The Best Video Converters of 2019
#1: OnlineVideoConverter.com – The Best Free Online Video Converter
OnlineVideoConverter (OVC) is the best video converter online and it's 100% free!
It's super easy and offers fast conversions, and the quality is remarkable for a free tool. You literally just paste the link or upload the video file, set the quality, and hit START.
It's the Wayne Gretzky, Tom Brady, and Babe Ruth of online video conversion all rolled into one slap-shooting, hail-Mary-throwing, home-run-smacking video conversion superstar.
OVC gets the #1 spot because of how easy, fast, and professional it is. We literally didn't know the first thing about video conversion and we were able to change a YouTube video to MP4 in minutes (legally!).
This is the tool you need if you've recorded a video on a camcorder or camera and need to change the files to AVI to watch on a Microsoft device.
Around the office, we use it to convert links from YouTube, Dailymotion, and Vimeo and video files to various video/audio formats including MP4, AVI, MKV, MP3, and AAC.
We really have nothing to complain about as far as free converters go. It's not the most advanced tool out there, but since you're probably looking for something free and easy, it gets the top spot.
#2: Any Video Converter – More Advanced But Harder
Any Video Converter can convert…ANY VIDEO!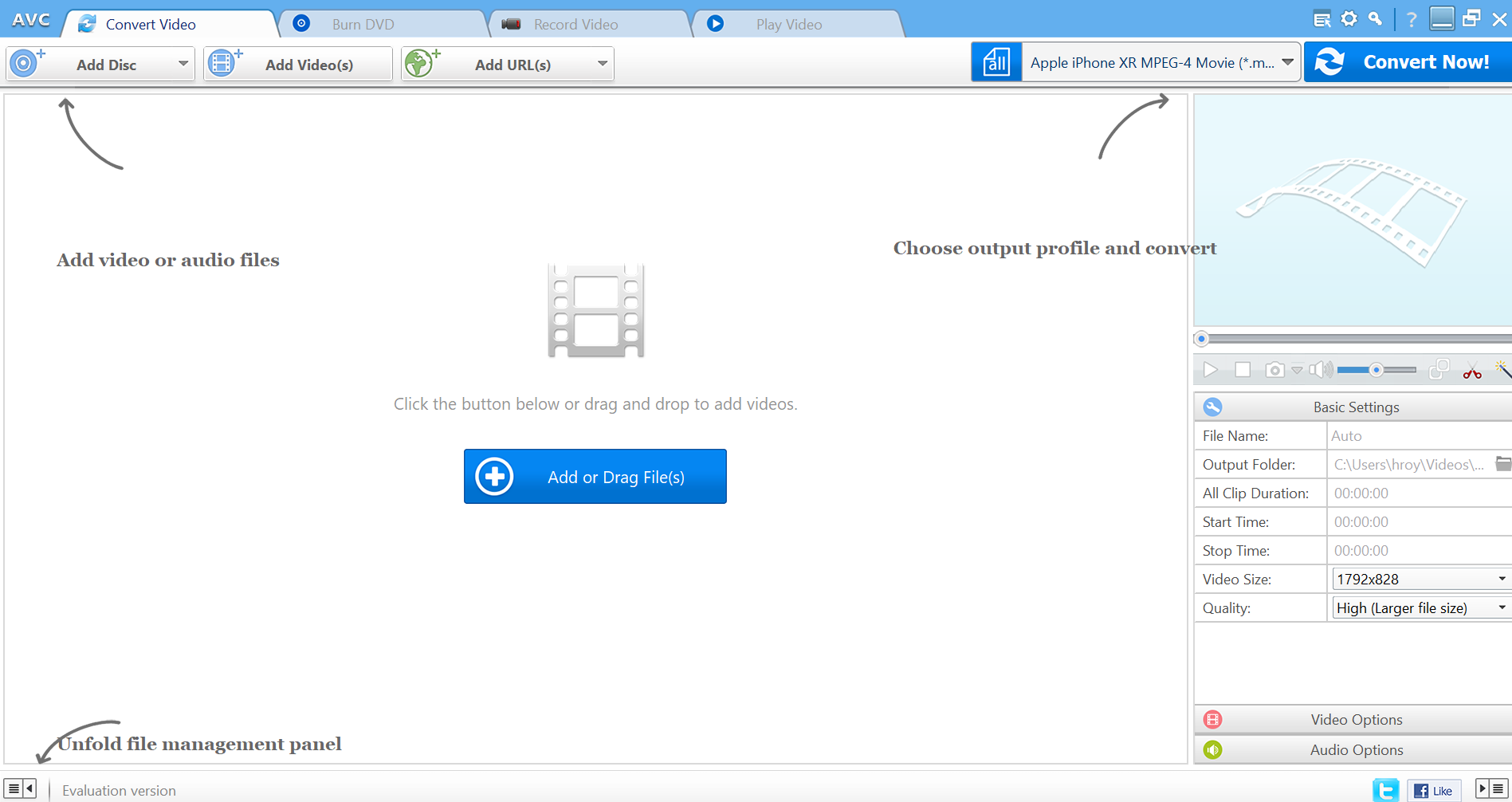 Seriously, there's nothing this bad boy can't convert, and it even comes with cool extra options like:
Supporting Facebook videos

Ready-made profiles for different devices
Ripping audio from CDs or DVDs
What really makes it stick out is that it actually retains 100% of the video quality. We tested it time and again and the video quality remained 100% unchanged. That's ridiculous.

The cool thing is, it's more than just a video converter. It's a fully functional video-editing tool too. You can trim, crop, add subtitles, and even add effects.
The premium version—Any Video Converter Ultimate—even lets you burn videos onto discs (DON'T BREAK THE LAW!).
Why isn't this our #1 choice for best online video converter?
Because it's a bit tough to get the hang of. OVC is literally just copy/paste/download. Then, you're free to do whatever you want with your life. Any Video Converter requires a bit of tinkering and experience. Not much though.
#3: Freemake Video Converter
Freemake Video Converter converts movies and video between 500+ formats including MP4, MP3, AVI, WMV, DVD, iPhone, and Android. Not too shabby. With over 90 million users, it's been one of the best YouTube and other video converting platforms 9 years running.
Our favorite thing about Freemake is it automatically uploads to iTunes and iOS after conversion, saving you the agonizing step of doing that on your own (life is tough).
This is a complete, all-in-one conversion tool. It lets you:
Modify or edit clips (Trim, cut, join, add subtitles, etc.)

Convert to and from DVD (Including burning)
Make photo slide shows
Embed videos to websites
One cool feature you don't get with the other converters is that the account saves your information for use later. So, if you frequently upload videos to YouTube after conversion, you can do it automatically through Freemake.
The only downside is you have to wait 3 days after creating your account to unlock some of the best features. That's why it isn't ranked any higher.
#4: Online-Convert.com – The Ultimate Conversion Tool
Online-Convert isn't the best video converter, but it's the only one that's also a converter for:
Audio

eBooks
Documents
Images
Archives
And, it's got a handy Google Chrome extension that makes converting videos to MP4, AVI, WMV, or most other supported formats as easy as opening your browser and clicking an icon.
If you've got a ton of different conversion needs, definitely check out Online-Convert.com. There are even preselected device profiles to make it easier to convert to iPad, iPhone, PS4, Blackberry, Android, etc.
The drawbacks are that it's not totally free (to convert videos over 100M, you must pay), and it doesn't support as many file formats as competing programs.
All in all, it's still a very solid tool.
#5: Free Video Converter – Fast, Easy Batch Conversion But Annoying Watermark
Free Video Converter is light on features but super easy to use, and it has a fancy batch conversion to make converting your entire library at once easy and stress-free.
It's super limited though. Only AVI, MPEG, DVD, and iOS are included.
Just select the file you want to convert and choose the quality, and boom—you're done. It's even easier than OVC. Just don't expect that much.
Also, it's not really "free." It's almost like a free trial. They annoy you with offers to upgrade to premium and anything you convert for free has an annoying watermark on it.
It's good for fast batch conversion or saving audio as MP3, but that's about it. And only if you're a total rookie.
That's it for our best online video converters for 2019.   Nope! We've got a special BONUS for you readers!
5 More Free Video Converters (Extra Features)
Here's an additional five FREE video converters if ever you need to play audio or video on your smartphone, tablet, or Batman-inspired weapons! Here they are:

#6) Prism – The Best Video Converter for Mac
Prism is a killer video converter, DVD converter, and video editing software rolled in one.
It's fast, intuitive, and supports all of the major formats, so you can pretty much do anything from converting MP4 to turning your favorite YouTube videos into a DVD with 0 tech experience.
Just add the DVD, select a format, and click convert.
Common conversion formats include:
AVI -> MP4
VOB -> MP4
VOB -> AVI
AVI – > MOV
It only took about 15 minutes to convert 1 TB of .Vod files. Anyone who's into video knows how insane that is.
Check out some of the other awesome features:
Intuitive editing: Unlike most converters, Prism uses a simple drag-n-drop system. Perfect for beginners.
Video editing: One-click editing features like watermark, text overlay, and video rotation.
Effects: Adjust brightness, contrast, or filters directly within the software.
Video trimming: It's a lot easier to trim video in Prism than any other software besides OnlineVideoConverter.com.
Bonus: Prism has unrivaled audio options in the converter space. It's not even close. Check out how much control you get over the audio output.
The downsides to Prism are the price and interface. Personally, we aren't a fan of the way it looks, despite how intuitive it is. And at $35, it is a bit "steep".
#7) Wondershare – Epic, 30x Faster Conversion Speed (But expensive)
Wondershare is the Usain Bolt of this list, capable of converting videos up to 30x faster than average with almost 0 quality loss.
Imagine taking a home video video of your kids playing, then adding fun effects, text, and sounds. Fun, right?
Now imagine doing that in a matter of minutes and with almost 0 quality loss. Oh, and did we mention it has the best interface of any product we tested?
Conversion is as easy as adding your video, choosing an output format, and clicking convert. Wondershare takes care of the rest.
One awesome feature is the library of DVD home menu templates for your home footage.
For example, if you want to turn your New Years bash into a family video, you can have a custom Happy New Year menu for your movie. Check this out:
Some online video converters come with features. But Wondershare comes with FEATURES!
CD Burner: Burn music to a CD like it's 2001 again.
GIF Maker: Turn your home movies into hilarious GIFs to share on Facebook.
Video Compressor: Compress any video without quality loss.
Screenshare: Record your screen for tutorials and share with anyone online.
Image Converter: Convert and edit JPG and PNG.
The downside again is the price. At about $70 for a lifetime subscription, it's definitely steep. Worth every penny, but steep.
#8) VideoProc – The Best Video Converter for Windows 10  
Behold the power of GPU acceleration!
The extra graphics processing unit (GPU) inside the software allows for up to 47x processing speeds for intense 4k videos. We couldn't measure that specifically, but it's definitely on par with Wondershare (Which also has a GPU).
4K video processing is off the charts with VideoProc:
47x video processing speed (Not proven)
Optimize file size
Maintains quality at high processing speed
Lowers CPU usage up to 40%
If you've got intense footage, we highly recommend only using software with a GPU.
Don't worry if you're not tech savvy. Editing a video is as easy as clicking the +Video button and selecting a function.
Attention Windows Users: VideoProc is also the best online video converter out there for Windows. Some of us in the office have resisted going Mac, and VideoProc performed best on their dinosaurs…oops, we mean "laptops". Just kidding, we love Windows.
VideoProc's video adjustments are great, too. It's one of the only tools that helps turn poor video/audio into high-quality stuff, not vice versa.
It has all of the standard features like cut, merge, crop, and rotate. But it also comes with two of our favorites: De-noise and deshake. When you've got hands like ours, deshake comes in "handy" (wink wink).
We don't have many bad things to say about VideoProc, but it definitely isn't the most beginner friendly software out there. Setting the video accelerator up was a bit tough (We enlisted help).
It's definitely 100% worth it for the benefits, though.
#9) Convert2mp3.tv – Easy Online YouTube Video Converter
Convert2MP3.tv is the fastest, easiest YouTube video converter online. Just paste your video's URL into the converter, choose a format, and convert to MP3 or MP4.
Notice that you can also search directly from the homepage too! We tried "smooth work jazz" (Hey, it's Monday!). Here's what we got:
It takes about 30 seconds for your video to convert to MP3 format. Once that's finished, you can share with your friends on Whatsapp, Facebook, and Telegram.
#10) Converto.io – Another Awesome Youtube Converter
Converto is just like Convert2MP3, just with a few key differences.
For one, the quality in our tests didn't come out quite as good as Convert2MP3. And since that's what matters most in the end, it has to bring up the rear here.
However, it does have some cool features that Convert2MP3 does not. For one, the interface is way nicer looking and easier to use.
Next, it automatically adds the YouTube thumbnail as cover art. SWEET! And lastly, you get a super easy video editor before you download.
TIP: Scroll down and you can edit the ID3 tags and file name too.
As far as downside, it has to be simplicity. You can only convert to MP3 or MP4. But that's really the only reason you should be using this tool anyways.
Frequently Asked Questions
Q: What is the best free online video converter?
A: OnlineVideoConverter.com. But for Youtube it's Convert2MP3.tv or Converto.io.
Q: What is the best MP4 converter?
A: Wondershare is the best MP4 converter online, because of the speed, quality, and simplicity.
Q: How do I convert MOV to MP4 free?
A: Wondershare has a free MOV to MP4 converter, but there is a size limit. You have to purchase the full product to get unlimited file size.
Q: How do I convert AVI to MP4?
A: Onlinevideoconverter.com scored best in our AVI to MP4 testing.
What's the best software for editing PDFs?
We're glad you inquired! While not one of these aforementioned video converters, your documents deserve to learn about how easy-to-use Soda PDF Anywhere is.
Soda PDF allows users to edit, create, convert, split, merge and annotate any PDF or up to about 300+ file types. Download a FREE trial today and see for yourself how Soda PDF can really help you make the most of your documents.