Our Review of the Best Online Video Converters (Free, Paid, MP3, HD, YouTube)
Welcome to our review of the best online video converters of 2019 for all purposes!
If you aren't techy (like us writers tend not to be), all the video conversion jargon and features can get real confusing. We created this guide so you don't wind up ruining your entire video collection and wasting a whole day on the wrong converter like I did.
Read carefully and find the right one for your format. Also check out our list of the best video editing software to keep working on your new files. 
Quick Intro: What is an Online Video Converter and Why Use One?
A video converter is just a piece of software that converts videos from one format to another so they can be reduced in size, stored on a different device, or be easily shared. An online video converter does this in your web browser. 
Why would you do that?
Well, you've probably got a ton of different devices: iPod, iPhone, tablet, laptop, Batarang. It's 2019, come on.
Sadly, not all video formats are universal across all devices. Some are proprietary (brands only allow their own format on their device), some are too large to be played on a different device, and others are just weird and need to be changed to improve quality.
You might even just want to take a video and change it to audio (If that's LEGAL based on copyright LAW!).
Whatever the reason, an online video converter saves you the trouble of needing a built-in video converter on your computer. You can even access most of these converters right from your browser. No need to download anything (except your converted video file).
Anyways, let's get to it!
The Best Video Converters of 2019
#1: OnlineVideoConverter.com – The Best Free Online Video Converter
OnlineVideoConverter (OVC) is the best video converter online and it's 100% free!
It's super easy and offers fast conversions, and the quality is remarkable for a free tool. You literally just paste the link or upload the video file, set the quality, and hit START.
It's the Wayne Gretzky, Tom Brady, and Babe Ruth of online video conversion all rolled into one slap-shooting, hail-Mary-throwing, home-run-smacking video conversion superstar.
OVC gets the #1 spot because of how easy, fast, and professional it is. We literally didn't know the first thing about video conversion and we were able to change a YouTube video to MP4 in minutes (legally!).
This is the tool you need if you've recorded a video on a camcorder or camera and need to change the files to AVI to watch on a Microsoft device.
Around the office, we use it to convert links from YouTube, Dailymotion, and Vimeo and video files to various video/audio formats including MP4, AVI, MKV, MP3, and AAC.
We really have nothing to complain about as far as free converters go. It's not the most advanced tool out there, but since you're probably looking for something free and easy, it gets the top spot.
#2: Any Video Converter – More Advanced But Harder
Any Video Converter can convert…ANY VIDEO!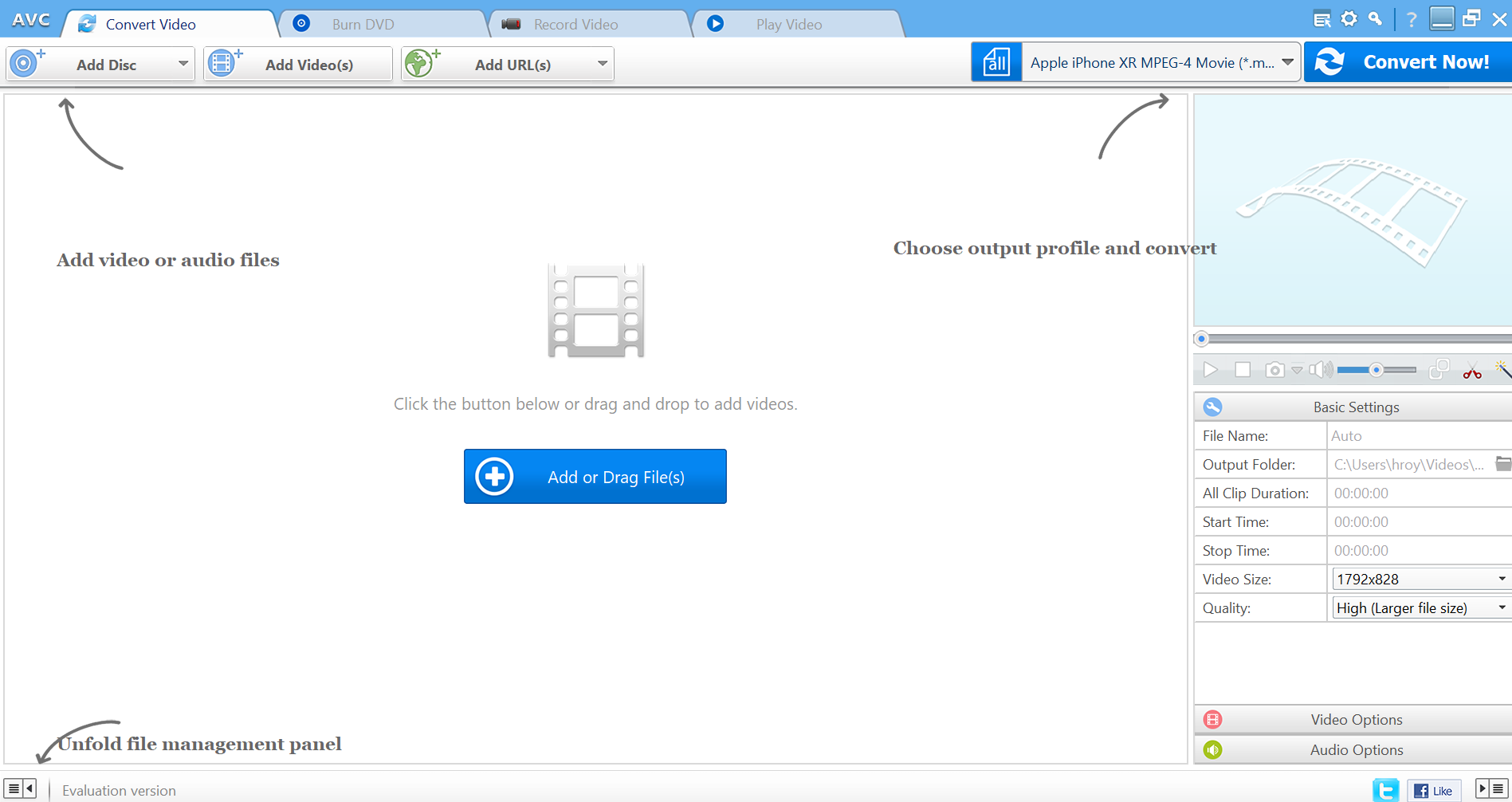 Seriously, there's nothing this bad boy can't convert, and it even comes with cool extra options like:
Supporting Facebook videos

Ready-made profiles for different devices
Ripping audio from CDs or DVDs
What really makes it stick out is that it actually retains 100% of the video quality. We tested it time and again and the video quality remained 100% unchanged. That's ridiculous.

The cool thing is, it's more than just a video converter. It's a fully functional video-editing tool too. You can trim, crop, add subtitles, and even add effects.
The premium version—Any Video Converter Ultimate—even lets you burn videos onto discs (DON'T BREAK THE LAW!).
Why isn't this our #1 choice for best online video converter?
Because it's a bit tough to get the hang of. OVC is literally just copy/paste/download. Then, you're free to do whatever you want with your life. Any Video Converter requires a bit of tinkering and experience. Not much though.
#3: Freemake Video Converter
Freemake Video Converter converts movies and video between 500+ formats including MP4, MP3, AVI, WMV, DVD, iPhone, and Android. Not too shabby. With over 90 million users, it's been one of the best YouTube and other video converting platforms 9 years running.
Our favorite thing about Freemake is it automatically uploads to iTunes and iOS after conversion, saving you the agonizing step of doing that on your own (life is tough).
This is a complete, all-in-one conversion tool. It lets you:
Modify or edit clips (Trim, cut, join, add subtitles, etc.)

Convert to and from DVD (Including burning)
Make photo slide shows
Embed videos to websites
One cool feature you don't get with the other converters is that the account saves your information for use later. So, if you frequently upload videos to YouTube after conversion, you can do it automatically through Freemake.
The only downside is you have to wait 3 days after creating your account to unlock some of the best features. That's why it isn't ranked any higher.
#4: Online-Convert.com – The Ultimate Conversion Tool
Online-Convert isn't the best video converter, but it's the only one that's also a converter for:
Audio

eBooks
Documents
Images
Archives
And, it's got a handy Google Chrome extension that makes converting videos to MP4, AVI, WMV, or most other supported formats as easy as opening your browser and clicking an icon.
If you've got a ton of different conversion needs, definitely check out Online-Convert.com. There are even preselected device profiles to make it easier to convert to iPad, iPhone, PS4, Blackberry, Android, etc.
The drawbacks are that it's not totally free (to convert videos over 100M, you must pay), and it doesn't support as many file formats as competing programs.
All in all, it's still a very solid tool.
#5: Free Video Converter – Fast, Easy Batch Conversion But Annoying Watermark
Free Video Converter is light on features but super easy to use, and it has a fancy batch conversion to make converting your entire library at once easy and stress-free.
It's super limited though. Only AVI, MPEG, DVD, and iOS are included.
Just select the file you want to convert and choose the quality, and boom—you're done. It's even easier than OVC. Just don't expect that much.
Also, it's not really "free." It's almost like a free trial. They annoy you with offers to upgrade to premium and anything you convert for free has an annoying watermark on it.
It's good for fast batch conversion or saving audio as MP3, but that's about it. And only if you're a total rookie.
That's it for our best online video converters for 2019. Most of them all do the exact same things, so no reason to bombard you with 50 video converters at once. You only need one of these five, and it's most likely the #1 or #2 slot. They'll take care of all your conversion needs. Whether you need to play audio or video on your smartphone, tablet, or Batman-inspired weapons, they've got you covered.