Search Results for:
how to merge pdf
It's important to know how to merge PDF files. Combining multiple files into a single PDF is crucial for complicated projects. The permanency of the PDF format makes it ideal for securely delivering that final piece of work.
Any file format that can be printed can be combined into a single PDF. This expands the potential beyond the professional world, translating perfectly for your personal projects. From photo collages to creating a master volume of your favorite author's complete works, the possibilities are endless.

This article is all about how to convert scanned PDF to Word online. We'll show you how to use Soda PDF's free online tool to get the job done quickly and easily.
Generally speaking, converting PDF to Word is straightforward. If it's a regular text-based PDF file, the process is simple to revert it back to a Word file (.docx) – this can be done in Microsoft Word. If you're dealing with scanned PDFs (image files), read on for the process outlined after that.

In this article, we show you some of the easiest methods to insert a PDF into Word.
With these quick and easy tips, you'll be inserting PDF into Word either as an image or in an editable format, online or offline.
You can easily do this with Soda PDF, which offers a free online tool for this conversion (and many others!).
How to convert from PDF to Word using Soda PDF
Go the Soda PDF site.

Select the Online Tools menu from the home page. Click on View More. You will be automatically scrolled down the page.

Select

PDF to Word

from the array of icons.

Drag and drop the PDF document file you want to convert. It will automatically start to convert it to a Word file.

Download your converted document when ready. You can then open the Word document in Microsoft Word.
This way, you'll be able to first edit the content of your PDF document before you insert that PDF into your Word document.
What is Soda PDF and why should I use it to insert/convert PDF into Word?
Soda PDF is a PDF management app. It's designed to solve all your PDF editing, converting needs and more.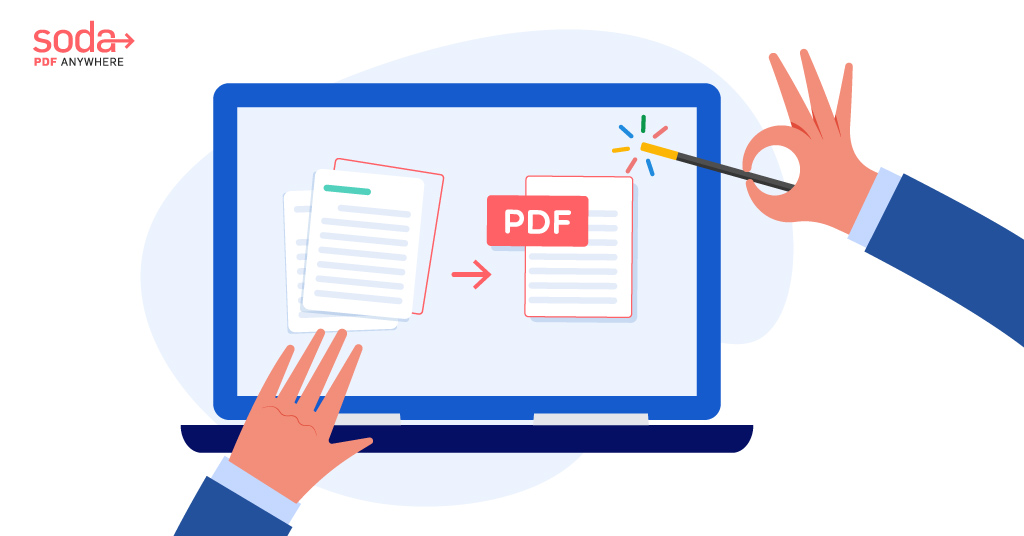 Looking for a guide on how to convert a Word document to PDF? We've got you covered!
In this article, we'll show you how to convert from Word to PDF in a flash with Soda PDF.
Why convert a Word document to PDF?
Converting a Microsoft Word document (.doc or .docx) to a PDF file is a growing necessity as more and more people share documents on the web.
A Word document is normally created with Microsoft Word, part of the Microsoft Office suite of programs.
However, many people also use PDF as a document format – especially Mac users.