Search Results for:
jpg to pdf

People are increasingly concerned about data privacy these days. Many people who convert and share PDFs online are wondering: are online PDF converters safe? Read on to find out everything you need to know about converting documents and learn more about how safe & secure Soda PDF's online PDF converter tool is.
There is currently a huge demand for easy-to-use PDF management tools such as a PDF converter and PDF editor.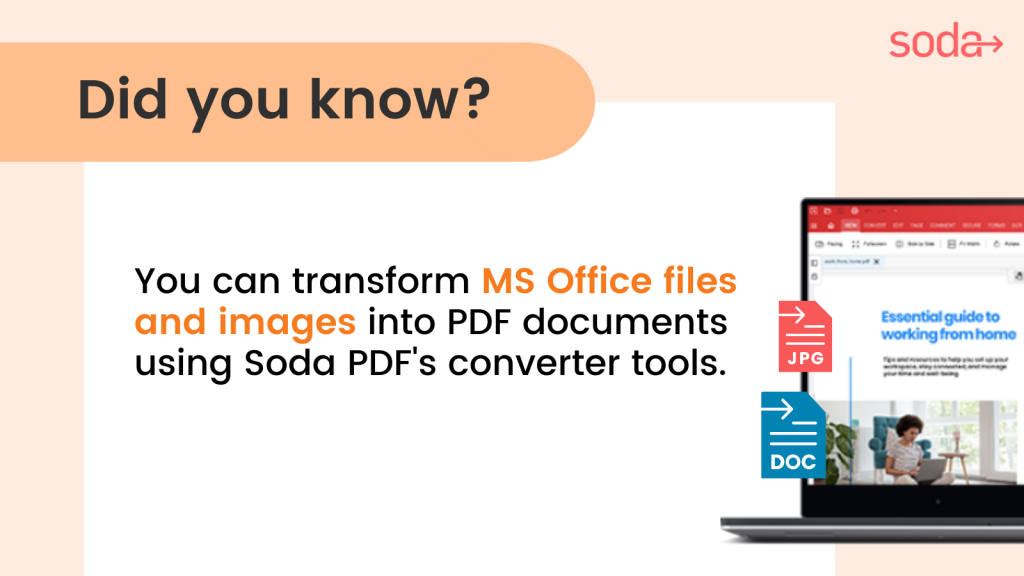 To maximize convenience, many people opt to use online PDF converters. These are usually web-based applications that handle a variety of PDF file management tasks, such as generating PDF files from other formats, adding security features such as password protection or restricting file permissions, compressing the file size, and more.
Looking to convert files into PDF (Portable Document Format)? Read on. We'll show you how to convert many different types of files to PDF format in a flash with Soda PDF's online PDF convert tools. They are fast, user-friendly, and best of all: they are completely free to use.
PDF has become the go-to file format for sharing documents online. It's been steadily gaining popularity because it makes documents easy to read and easy to share. It's also not associated with a particular program, as is the case with Microsoft Office and Microsoft Word files (.docx).
In this article, we'll answer the most popular questions about PNG files (Portable Network Graphics) – including how to open, edit, and convert PNG files.
So what is a PNG file, anyway?
PNG (pronounced PING) is a file extension (like .JPG). PNG stands for Portable Network Graphics. PNGs are image files.
PNG is a high-quality graphics format – generally higher in quality than JPEGs, which are compressed to save space. The PNG format uses lossless compression and is generally considered a replacement to the Graphics Interchange Format (GIF format).
When it comes to images on the web, format matters. We'll outline the basics of JPG vs. PNG in this article so you can be informed when choosing the right image file format for your needs.
Choosing PNG vs. JPG will be especially important when it comes to image files for a website. With a bit of guidance, you'll know when to choose which file format for the job.
What is a JPG (a.k.a. JPEG)?
JPEG (pronounced Jay-peg) is an image file format. It stands for 'Joint Photographic Experts Group', which is the organization that created it.