The Many Ways To Save PDFs
Saving files: It's a simple as the clicking of the floppy disk icon, or the use of the CTRL + S hotkey. Then, your worries disappear as you're certain that whatever you've changed or modified will appear exactly as you intended.
Yet something as simple as saving a document can sometimes get taken for granted. As you've surely discovered by now, the portable document format (PDF) isn't as simple to save as say being able to modify the content of the file.
But with the right software and easy-to-use modification tools, editing and especially saving PDFs has never been easier thanks to Soda PDF!
Save Yourself Some Trouble & Download Soda PDF
Save yourself time, money and paper this 2020 by using Soda PDF.
Even if data is saved on your computer, your precious files can still be compromised or lost from computer disk clean-ups or physical damage to your device's hardware. If you've recently been the victim of data loss, don't worry because we have some hard drive recovery solutions to suggest.
By now, you've surely asked yourself why working with Soda PDF will save you time and money. Well, you can use our online tools for FREE (subject to daily limitations) or even get a FREE download of our desktop application. You'll also want to create your own Soda PDF account to get access to a free trial.
Plus, since you're saving documents on your computer and as a PDF file, you're practically saving paper and precious trees from being cut down. Learn more about the benefits the portable document format provides.
Now that most people are constantly on their mobile devices, accessing and viewing a PDF, which maintains the format and layout of your document as if you had printed the file, makes the need to print seem like a distant memory.
To start saving, you'll need to have your trusty PDF modifier on hand. We suggest using our simple and easy-to-use editing software called Soda PDF, which is perfect for changing just about anything PDF-related.
Once you've gotten a taste of our powerful software, you'll see how we provide solutions to your document needs, including how to save PDFs.
And with that, the hardest part of your journey towards saving your PDF file just got easier!
How To Save PDFs Using Soda PDF Desktop
Once you've downloaded Soda PDF desktop application, open the app. You'll see the Home screen like so:
From the right hand side, click on one of the following options:
Open PDF
Create PDF from blank
Create PDF from File
Create PDF from Clipboard
Whichever you choose, the application will then open your file and turn it into a PDF (if it isn't one already).
Next, start making all your modifications to this PDF file with our easy-to-use editing tools.
Once you've made the revisions or changes, or even created your PDF file to your satisfaction, the next step is to save your work.
Saving your PDF with Soda PDF desktop application is easy. Click on File at the top left hand side of the app.
Once you're in File, click on Save As on the right hand side. You'll see the following options appear:
Save the PDF to your Computer or choose to Add a Place (more on that below). Some of your preferred or Local Folders will appear.
If you want to save your file to one of these, simply click on the folder. Otherwise, select the Browse icon to open a window in which you'd then select the path to the folder you wish to save your PDF to.
And that's it! Pretty simple, but effective. Click on Add a Place to add Sharepoint, Box, Dropbox or Google Drive cloud storage services for extra security and to make your PDF easily accessible for others.
Save Your PDF With Soda PDF Online
If you're using Soda PDF's online application, the process for saving is quite similar since we've made the interface identical to our desktop application: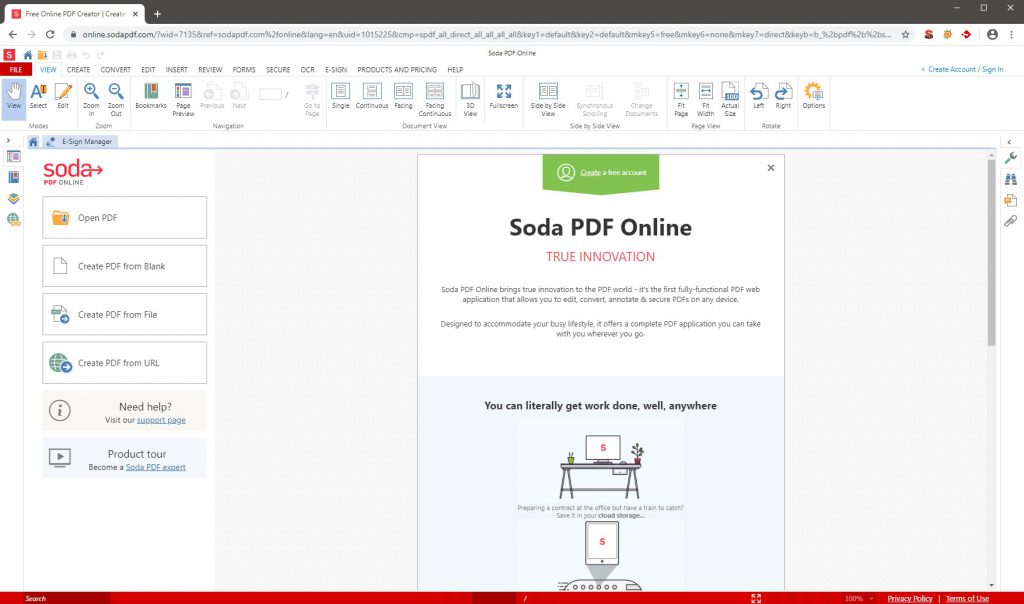 Basically, it's as if you had the desktop application, only this time Soda PDF is open in your web browser. We recommend this process if you're say at a computer that prevents applications from being downloaded, for example a library or printing service shop.
Choose Computer or select Add a Place (if you want to save your file to a cloud storage service. Again, more on that below):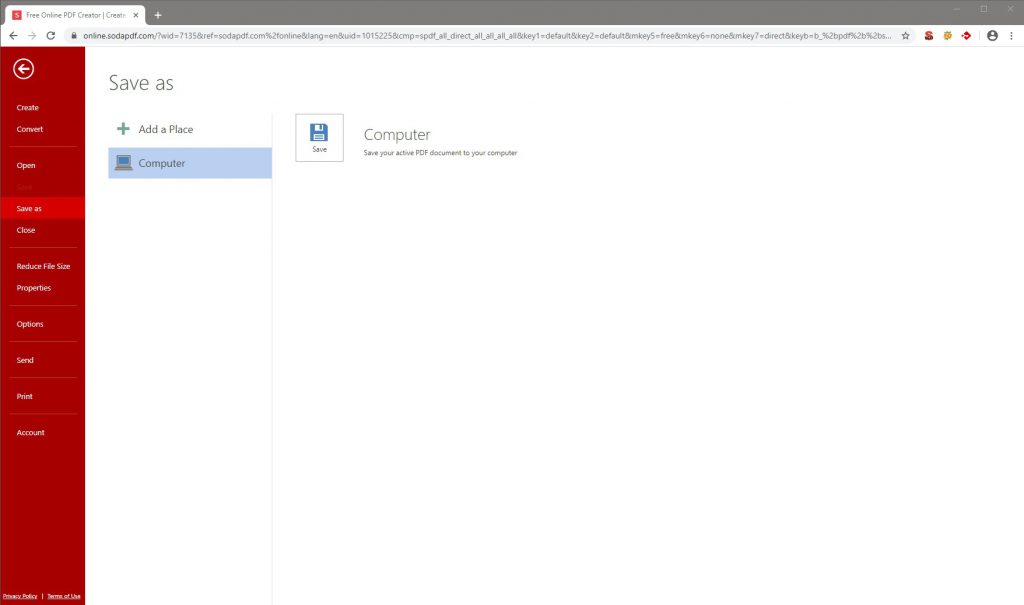 After you select Computer, click on the Browse icon to start navigating to the folder path in which you want to save your file to:
Then click Save and within seconds your newly modified PDF has been added to your folder path AND has even been downloaded too:
So as you can see, the saving mechanics for Soda PDF desktop and online are quite similar, but the download will only happen through your web browser.
Now that we've covered how to save PDFs to your computer online or via desktop, its time to talk about the importance of backing up your files to prevent the unfortunate circumstance of potential data loss.
How To Save PDFs To The Cloud
No matter if you're using Soda PDF online or through our desktop app, our software supports various cloud storage providers to help users back-up, and more importantly, save their modified PDFs.
Soda PDF gives users plenty of options for saving their PDFs to whichever cloud storage service they prefer, be it Google Drive, Box, OneDrive or even a Sharepoint link.
The biggest benefit to saving your files to the cloud? The fact that you'll be able to access these important documents from any computer or device, of course!
The fact that you can save files to the cloud with Soda PDF and access them from anywhere is perfect for those who need to carry their documents with them wherever they go.
Plus, having a valid Soda PDF account will give these types of users the ability to modify files from Soda PDF's desktop or online application, and even gain access to our online tools to make quick work of their PDF needs.
Here's what types of cloud storage providers are already linked to Soda PDF: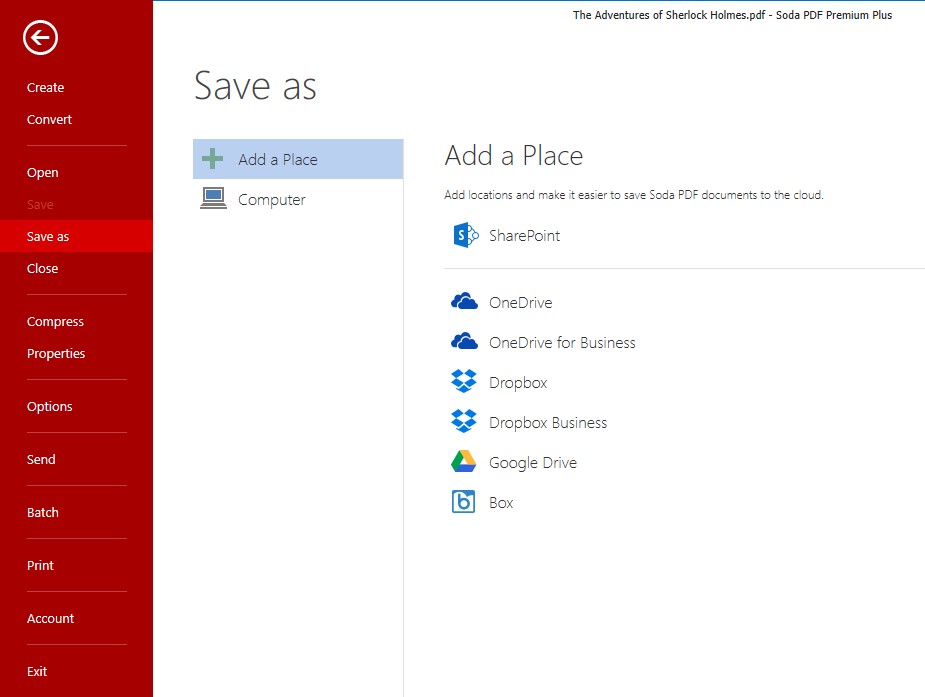 In order to add one or many save locations, you'll need to grant permission to the Soda PDF application by logging into your Google or Microsoft account (depending on your cloud storage provider, that is).
OneDrive & OneDrive Business
Under Save As, choose Add a place. Then select either OneDrive or OneDrive Business, depending on what you already have in place with your Microsoft account.
Selecting either cloud storage will bring up the following window:
Once you've logged into your Microsoft email account, the following window will appear:
Be sure to read over the permissions, then click on Accept to proceed.
Congrats! You've successfully added OneDrive to your save options and can now save your PDF to this location, further acting as a back-up in case anything should happen to your hard drive.
Google Drive
Much like OneDrive, selecting Google Drive from the list of Places will open the following window:
Follow the same procedure as with OneDrive. Log in and then accept the permission request.
Et voila! You've added Google Drive to Soda PDF and can now save your files to this cloud storage service.
Dropbox & Dropbox Business
Dropbox is one of the most popular cloud storage services and is used by many businesses as a means of transferring files as a (no pun intended) share point.
Again, you'll need to sign in to your Dropbox account in order to link to your Soda PDF application:
As you can see, you can manually sign-in to your Dropbox account or choose Sign in with Google. The choice is yours, but you'll once again need to grant Soda PDF permission to be linked to your Dropbox account.
Box
Box is yet another cloud storage service that, depending on your personal or business needs, can be used in place of one of the other aforementioned cloud storage services.
Logging into your Box account can be done in two steps. First, you can choose to sign in using your Box account credentials like so:
Or, by clicking on Use Single Sign On (SSO), you can simply select authenticate and within seconds you'll have your Box account integrated with Soda PDF.
What If I Don't Have Any Cloud Storage Services?
Not to worry. If you're not interested in the benefits of the cloud, simply save your PDFs to your computer in the file or location of your choice.
If you are interested in one (or all) of these cloud storage services, you can easily sign-up for an account upon selecting one of them from the Places menu.
Each log in window that appears will give you the opportunity to create an account, which allows just about anyone, or any business looking to move their files online to a more shareable location, the ability to do so without having to close the Soda PDF application.
And there you have it folks: those are all the many ways you can save your PDFs with ease thanks to Soda PDF!
How Else Can Soda PDF Help Me Save?
Soda PDF isn't just a great application to save files to the cloud. In fact, our application has many features to help you make the most of your documents.
Whether you're looking to edit, create, convert or merge PDF files, extract text or images, split pages, highlight or comment within the document, Soda PDF can do all of this and more!
Get a taste for our software with a FREE download of our desktop app, or try one of our many online tools to see first hand how Soda PDF can save you time and paper!