How to Make Spooky Cutouts with Canva and Soda PDF
Halloween is right around the corner, so what better way to get ready to celebrate a night full of trick-or-treating than with spooky cutouts?
If you're a parent looking for a last minute solution for your Halloween decorations, then you'll LOVE the fact that Soda PDF and Canva go eerily together like candy corn and October 31st!
Without further ado, let's get to making those spooky cutouts because Halloween is only days away!
Why Canva is the best for cutouts

Canva is a fantastic site for making your own custom design for just about anything. Whether it be party invitations, Save the Date reminders, flyers, website banners, designing your own t-shirt or creating spooky Halloween cutouts, Canva has you covered!
Signing up is FREE and there's a number of license free images and templates that you don't have to pay for. Don't be surprised if some images or templates come at a cost, but there are free images that you can use for making these last-minute Halloween decorations.
Canva is by far the best tool for finding spooky Halloween images that you can easily cutout and turn into decorations. Once you've created your account, and logged into Canva, here's how to make those spooky cutouts:
Canva: Choose Your Design or Choose A Template

Log into Canva and click Create A Design at the top left of the page. You'll then need to select your design, and don't worry if you need some guidance: Canva has a ton of options making it easier for users to select what they want. From posters, to book covers, yearbooks to resumes, you can find the dimensions for your design or create your own!
You can also use the search bar to sort by theme, like we did for Halloween:
Once you've decided on your design or chosen a template to use as a base for these Halloween decorations, the fun really begins!
After choosing your template, you can right click on the template to copy or paste or remove any elements. Use the tools in the top right corner to customize the template: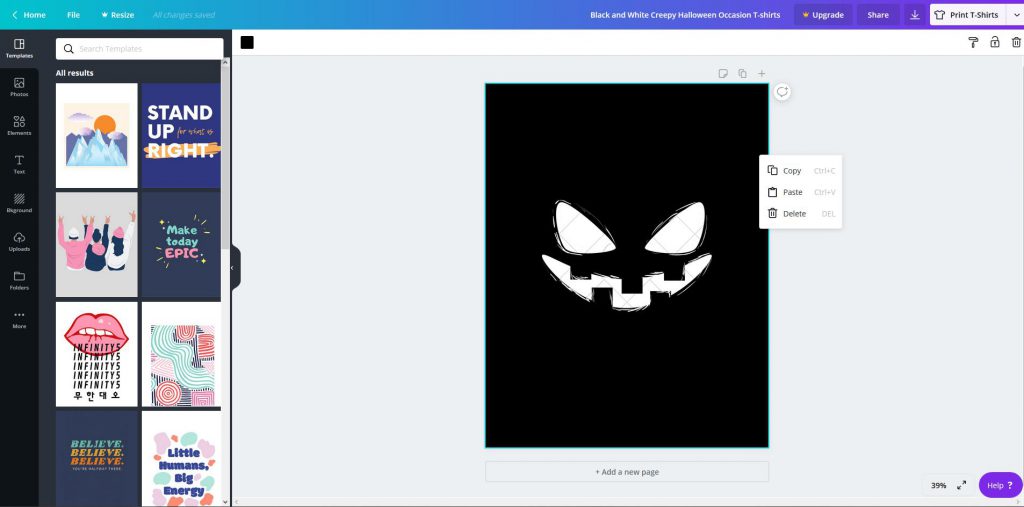 Or, you can even start with a blank canvas and choose the background color of your choice:
PRO TIP: In this case, once I realized that the template I chose was blocked by a paywall, I deleted the template and removed the black background and soon I had the freedom to create my spooky cutouts as I saw fit.
I removed the template, changed my background to the Halloween orange, and then clicked on Elements on the toolbar at the left-hand side of the page.
Searching "Halloween" gave me a ton of options for images and I began to pick and choose (OK, I only looked for the FREE ones) elements that looked the spookiest or best fit for my Halloween decorations.
I started to drag-and-drop them on my orange background and soon I filled up my page with some theme appropriate images: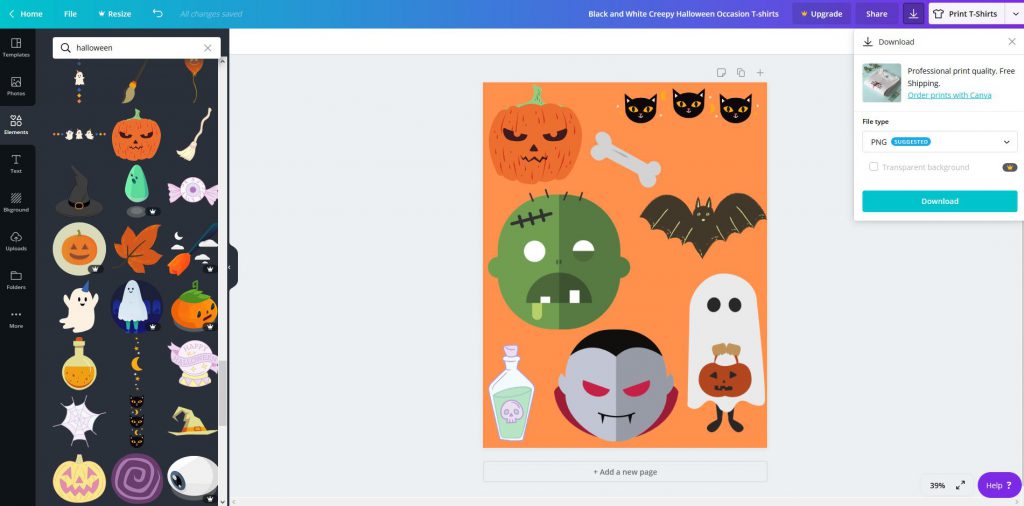 Once I was satisfied with my spooky selections, I clicked on the download button at the top right corner and saved my file as a PDF print. In seconds, my Halloween decorations were saved to my computer and I was half-way there!
Why Soda PDF Is Best For Printing Cutouts

Canva and Soda PDF go together like peanut butter and jam, or Halloween and spooky decorations.
In order to print out your decorations, we recommend downloading Soda PDF Anywhere (download link available at the bottom of the page). You'll be able to open the file that you downloaded from Canva (which is a tricky PDF, remember?) and maintain its quality while preparing to print out these cutouts.
Soda PDF allows you to upload a PDF file, create one from blank or even convert your PDF to an image file! While some of these features require a subscription account, our free demo version will allow you to open your cutout file from Canva and print them out without any hassle!
How To Print Your Cutouts With Soda PDF
Once you've downloaded Soda PDF, open the program and let's get to printing your Halloween cutouts!
Click on Open PDF on the right hand side, then find and select your Canva file.
Click on File, then Print near the bottom. Soda PDF's Print menu will appear, allowing the user to customize whether to print in black and white, color, change the print range or fit of the image, etc.
Once you've set up your file for print in the way you see fit, click the Print button at the top. Last but not least, go to your printer and get those cutouts!
And there you have it folks! Your last-minute, spooky Halloween decorations are ready to be cutout! Those trick-or-treaters will be flocking to your door looking for candy with decorations like these!
Just don't forget the power of Canva and Soda PDF for when you need to make a poster or are perhaps preparing to send out invitations in the mail or email. These two programs are here to help; Canva for stylizing your message and Soda PDF is perfect for editing, converting, merging and creating any and all of your documentation needs!
Download a FREE demo today and print those spooky cutouts with Soda PDF and without having to worry about losing the quality of your images!