Plan Ahead for Tax Season Using Soda PDF
Tax season is upon us. Well, at least in North America it is. And actually, the tax season was launched back in February.
If you still haven't filed your taxes in the United States of America, the last day to file your tax returns is April 15th, 2021.
So while that might still be a couple of weeks away, and you may think you still have time, it might be beneficial to file early this year. Especially when the IRS is working hard to speed up the tax return process to better serve its citizens during this unprecedented pandemic.
In short, if you file early, you'll be able to recoup your taxes sooner rather than later. With that, here's how to plan ahead for tax season using the #1 PDF software solution today: Soda PDF!
Download your forms & read the instructions
The first step would be to get the form you need to fill out. The Internal Revenue Service (IRS) provides forms for each type of tax return you need to fill. Learn about each form and which ones you'll need to fill out for your specific tax returns here.
If you're just looking to fill your own personal income tax, then most likely you'll need to fill out the 1040 form.
Once you've downloaded the form, the next step is to read up on all the changes for this tax year, especially those brought forward due to the pandemic. You can read all about the instructions for what is required when filling out the 1040 form here.
Now that we have the forms we need and we've read over the instructions for how to fill out each form, all we need to do is to download Soda PDF Desktop.
Best of all, if you're new to Soda PDF, you can get started in just a few clicks and you'll have access to our entire suite of powerful PDF tools, too! Once you've created your new account, your FREE 7-day trial to Soda PDF begins. Oh, did we forget to mention our easy-to-use Form feature has all the tools you need to fill in your 1040 form?
We've got our forms, we've got the instructions and now we have the PDF software we need to start filing our taxes. We're making progress towards getting a head start on our taxes!
Fill your 1040 form using Soda PDF's Form tools
Opening and filling forms in Soda PDF is so easy, you'll forget all about the fact that filing tax returns as a difficult task! Our simple, easy-to-use PDF software has everything you need to fill in your 1040 form with ease.
Here's how it works:
Open Soda PDF and click Open PDF
You've downloaded and installed our Desktop software, you've created an account and now you're signed in and ready to go!
Click on Open PDF from the main Soda PDF menu:
Windows Explorer will open up. Go to the file folder that has your 1040 form (most likely to be found in the Downloads folder):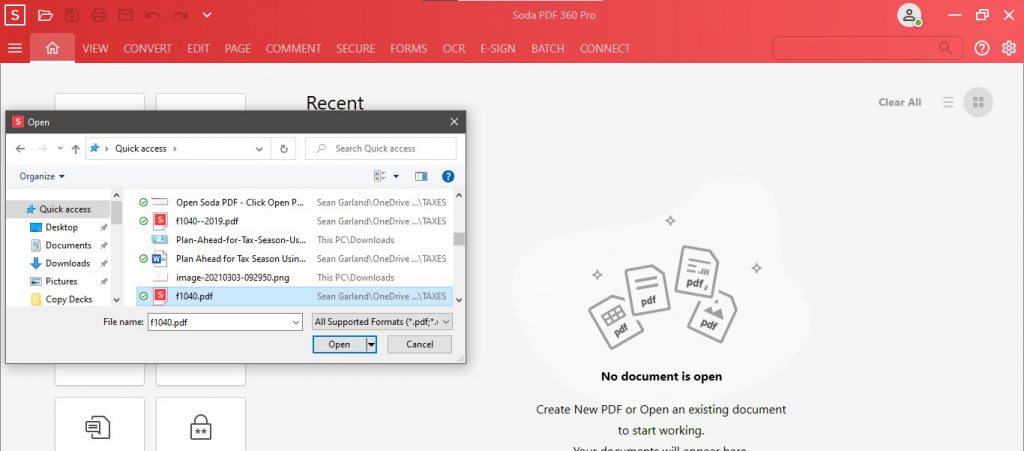 Select the form you want to fill, then click Open.
In seconds, your 1040 form will open in Soda PDF and all of the fillable form fields will appear highlighted in yellow:
You can interact with any of these fields. Please note that the mini-tool bar above your form appears to show View mode. This mode will be used to identify the form fields that need to be filled:
Simply clicking on any of the Filing Status options will select that option for you. Yes, it's really that simple and easy-to-use!
Furthermore, clicking on a longer text form field allows you to fill in your information. In the image above, by simply clicking on the text form field I need to add my first name and middle initial I can type this information directly into the box.
Now then, what happens to the fields if we need to type text and they're not highlighted? Great question!
Toggle between Edit & View modes to fill any part of your form
From the mini-toolbar that appears just above your form, you can toggle between View and Edit modes:
View Mode selected:
Edit Mode selected:
What's the difference? View mode shows you the fillable form fields. Use this mode to fill in all of the form fields contained within your 1040 tax return.
Edit mode allows you to fill in the areas of your PDF that aren't highlighted or marked as a fillable form. For example, at the end of the 1040 form, you'll need to sign and date your tax return. However, this won't be a form field so you won't be able to use the View mode.
Click on the Edit feature to Type Text
Edit mode is one thing, but our Edit feature is another!
The EDIT feature (located on the top toolbar at the top of the application) contains all of the editing tools within Soda PDF Desktop:
You can Type Text (this is what we'll need to click on), insert images or links, add or remove page marks, and more.
Click on Type Text from the EDIT feature:
Once you've selected the Type Text tool, simply click on the area of your PDF form in which you'd like to add your text. In this case, I chose to add the date of when I signed and filed my tax return:
As you can see, the mini-toolbar has disappeared and has been replaced by the new Type Text toolbar. You can change the font size of the date and then move the text element you've just added so that it fits within the dimensions of the form.
Now that we've filled out each required form field and have added the date, it's time to add our electronic signature!
NOTE: You may feel free to e-sign first and then add the date, however, once your e-signature has been applied, you will not be able to modify your document further. More on that below.
E-

Sign your 1040 Tax Return
Ready to (electronically) sign this tax return before filing? Let's get to it!
Click on the E-SIGN feature at the top of the application:
Next, select the Sign your Document tool.
The following screen will appear just above your form:
In this case, I've already set up how my electronic signature will appear. To learn more about how to set up your own e-signature appearance, click here.
Simply drag the Signature icon from the Sign your document tool pop-up to the area of the form you wish for your e-signature to be added:
Then click on FINISH. You'll see a blue ribbon appear at the bottom of the application that lets you know that the e-signature is in the process of being added to your form.
After a few seconds, your e-signature will appear like so:
You'll notice a new message appear at the bottom of the application. This is to let you know that you've not only successfully added your legally-binding electronic signature, but that Soda PDF validates this form with a security certificate.
Anyone who opens or receives your tax return will not be able to make any further modifications to your form without first removing your electronic signature, which means that your form is being delivered as a certified document with a certified electronic signature.
Once e-signed, your PDF cannot be further modified
Did you forget to fill out an area of your form AFTER you've electronically signed your document?
If so, don't worry. You can easily remove your electronic signature and re-add it later. However, if you try to make any futher modifications to this form, the following message will appear:
You can choose to remove your signature and complete the missing form fields. What this message provides is the validity and security of your form. By adding your e-signature, you've ensured that whomever is receiving this file is getting the most up-to-date and authentic version of the document–and one that hasn't been futher edited or modified.
This is highly important as Soda PDF essentially has provided you with an authentic electronic signature that provides the IRS with an unmodified tax return upon submission. Pretty cool, right?
E-Signatures are valid and authenticated with security settings
You may notice once you've e-signed your PDF tax form that a Soda PDF icon appears at the bottom of the form. This is an authenticated certificate that adds the validity you need to ensure your tax form was legally signed.
Clicking on the certificate, you will see the above message shown. This signifes that your document has not further been modified, meaning that you're providing the IRS with an undoctored tax form that has your legal signature applied and validated by Soda PDF's security settings.
Now that we've signed and filled out our tax form, all we need to do is submit our taxes and we're all set!
Have more tax requirements? Follow the steps above to fill out any tax form with ease and in just a few clicks using Soda PDF's Form feature.
Once we've submitted our taxes, Soda PDF provides other solutions for if and when the IRS should contact you for an audit.
Use Soda PDF to manage documents with ease
Now that your taxes have been filled, why not tackle your other document issues with the #1 PDF software solution?
Soda PDF provides Online and Desktop applications that are packed with all the powerful PDF tools you need to accomplish your goals in just a few clicks!
Whether you're looking to merge, edit, convert, create, compress, split, e-sign or create fillable PDF forms, Soda PDF has all the powerful tools you need to accomplish these document goals and more!
Be sure to try our Desktop application to fill out your tax forms or try our Online solution directly from your web browser. Create an account and get started with a FREE 7-day trial to our entire suite of PDF tools and services!
Review
Blog Name
Plan Ahead for Tax Season Using Soda PDF
Description
Plan ahead for tax season by using Soda PDF's easy-to-use PDF form filling software. Learn how to fill in and electronically sign tax forms using Soda PDF!
Author
Publisher Name
Publisher Logo