Ten Pieces of Tech that will Die in 2019
With 2019 upon us, it's time to look towards the future. We recently posted our list of 10 technologies that died in 2018. While looking into that list we realized there are another ten pieces of tech that will die in 2019.
Each of these was announced somewhere over the course of last year. We figured that we'd offer this friendly reminder since some of these dates are right around the corner. Allow us all to say farewell to these ideas living on borrowed time.
Anyhow, let's take a look at ten pieces of tech that will die in 2019.
1- Google+
This is not the only time we'll mention Google on this list, but let's start with the most surprising one. Google+ was positioned as a competitor to Facebook, launching in 2011.
It turned out to be a way of grouping people together under the Google banner, so they could easily use other Google features (like Hangouts) while fulfilling the desire to share and stalk photos.
Facebook legitimately felt Google+ would be a threat and morphed itself into the monster it is today in response. Either way, it's surprising Google+ is still around. Outside of a few cases, will anyone even notice in April when it's gone?
2- PlayStation Vita
While Nintendo has really shaken up the game with the release of the Nintendo Switch, many forget the power that came with the PlayStation Vita. This console is beloved by many who wanted an alternative to the various Game Boy's circulating around.
In 2012 it graced the market and while it didn't perform to Sony's expectations, it did find a home in a very dedicated niche market. They continued to support it, including features that let it tap into your PS4 for remote play. That's right, you could, in theory, play brand new PS4 games on this little handheld (if your PS4 was nearby).
PlayStation Vita enthusiasts were delivered a shocking blow when they found out Sony will discontinue the production of both Vita consoles and physical games.
3- iTunes Connect
Once upon a time, Apple wanted to create some kind of hybrid between Twitter and Soundcloud. Artists would be able to upload and manage their music directly (kind of like Soundcloud). Artists would also be able to post updates and share information (kind of like Twitter).
This was all bundled together into Apple Music's launch, and just lke that, iTunes Connect was born. Unfortunately, it didn't necessarily achieve the grandeur of its ambition.
Apple decided to close iTunes Connect and rebrand it as App Store Connect. Only now it's an IOS app and is targeted at app developers. While the core tech lives on, iTunes Connects joins our list of ten pieces of tech that will die in 2019.
4- Google URL Shortener
In an era where URLs (website links) can end up quite lengthy, full of all sorts of tracking variables, there is a need for shortened and subtler methods. In 2009, Google's solution was the URL shortener.
You could copy and paste your link into a box. Then click a button and Google would generate a shortened, Google-branded, version of that URL. When someone clicks it, they are brought to your web page, but they see never see that ugly long web address.
The real benefit is that as long as you were logged into your Google account, it remembered all your shortened URLs and gave you stats. While they've stopped accepting new users as of April 2018, the entire service will meet its end March 30th, 2019.
5- Google Inbox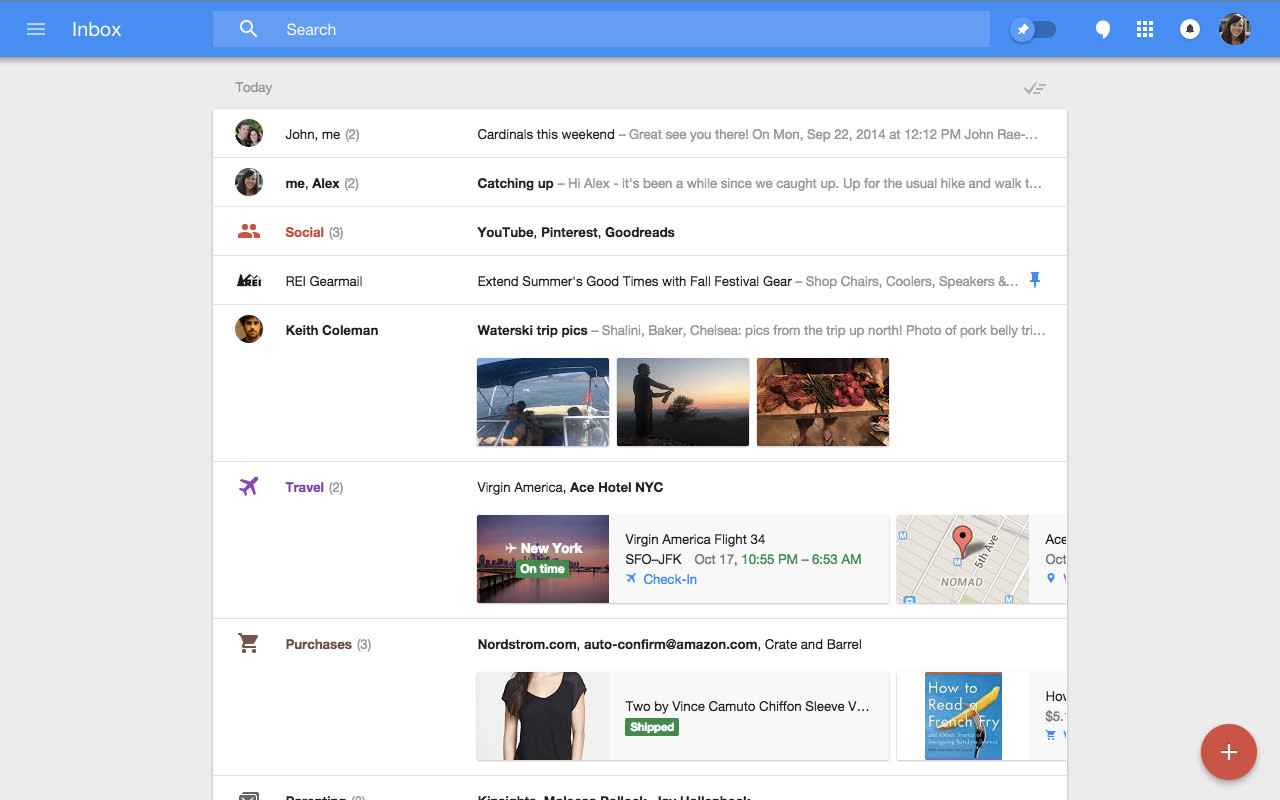 We're almost done with our Google entries (yes, 2019 brings us one more!). Google Inbox is an alternative to Gmail both on the web and in app form. The idea was to simplify the email experience with features like bundles, which grouped together similarly themed emails.
Google treated it like a testing ground and proceeded to try out different things, always focusing on a streamlined, minimalist email experience. Over time, Google cherry-picked the best features and integrated them into the main Gmail apps.
Now, with an improved Gmail service, Google no longer feels the need to maintain two separate email systems. Google Inbox will meet its maker this March and earned its spot on our list of ten pieces of tech that will die in 2019.
6- YouTube Gaming
Live streaming your video game experience has proven to be quite profitable for many people. Sites like Twitch have optimized that experience and in 2015 were really proving the legitimacy of this medium. This brought forth Google's vision of YouTube Gaming.
This app was a separate entity where gamers could find live feeds and gaming videos. This created a small rift in regular YouTube and YouTube Gaming. As time went on, and live streams became a regular part of YouTube culture, it became confusing that you needed two separate apps depending on the kind of content you wanted to consume.
In 2018 it was announced that YouTube Gaming would be merged into a new "Gaming" section in the main YouTube ecosystem. In March 2019, we'll see the end of short-lived YouTube Gaming app.
7- One Note 2016
One Note is a revolutionary app that eliminates the need for conventional notebooks. While there is a version of One Note included in Office 365, One Note 2016 is the version you want to use. But One Note 2016 is on our list of ten pieces of tech that will die in 2019. 
Granted, this entire entry is simply this authors preference, it must be said One Note 2016 has a fantastic interface and makes organizing your life simple. While the traditional One Note is good, it just feels clunkier to use.
One Note isn't going away, but One Note 2016 is. This year Microsoft will release Office 2019, and with this, it will force change. One Note 2019 will replace the existing One Note 2016 and we can only hope the experience is up to par.
8- Yahoo! GeoCities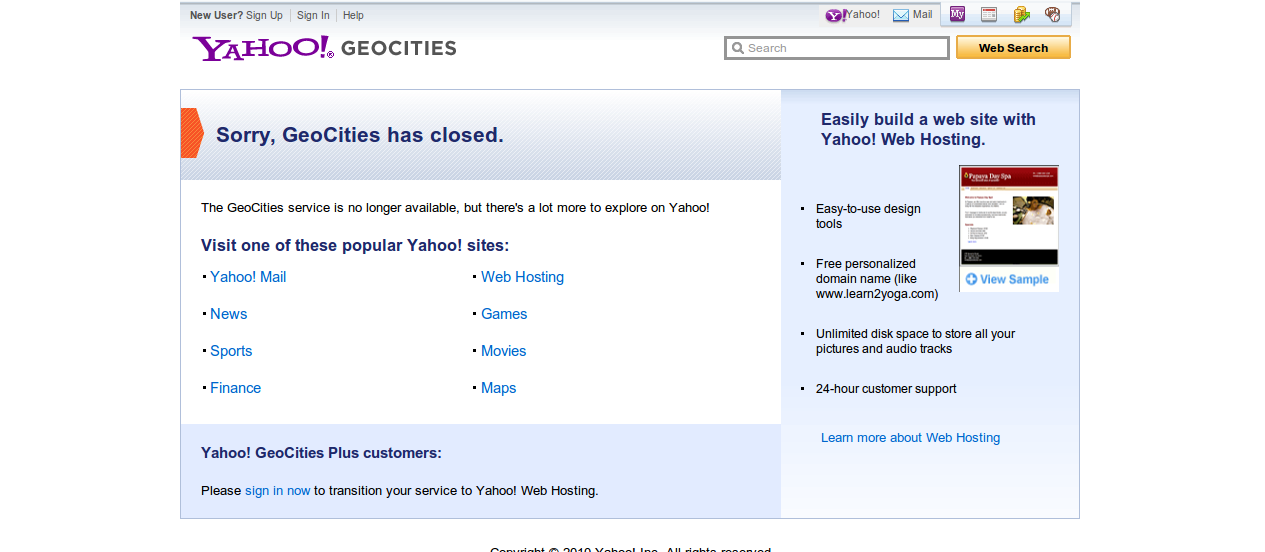 You did read that one correctly. GeoCities was a web hosting service that let users create pages. These pages were originally used for literal cities and locations to create relevance. As an example, computer-related information would go under "SiliconValley" or movie related news under "Hollywood".
Yahoo! Inevitably buys them and migrates them over to a username driven system. The American version of the site lasted until October 26, 2009, where at least 38 million pages instantly ceased to exist. You may now be wondering why it's on this list.
The technology did not die in 2009. GeoCities Japan remained strong and held firm. It managed to squeeze out another 10 years of life, meaning the Yahoo! GeoCities technology will actually end in March of this very year.
9- Google Allo
Ok, last Google product but it's not our fault they've optimized to a point where they needed five entries on our ten pieces of tech that will die in 2019. Google Allo was the big G's response to What's App and iMessage.
The power of circumventing the telecommunications industry with Internet-based communication is not something people missed out on. Communication around the world was greatly simplified with these systems. Only Google Allo didn't really create any waves.
Google Allo entered the game late in 2016 and will see its last update in March 2019 where support will end. It will bring one new feature; "Export all Allo Chats".
10- Volkswagen Beetle
Cars are in fact technology. The Volkswagen Beetle is an iconic two-door car that kind of looks like a beetle. Volkswagen decided that this two-door piece of technology no longer fits into their greater vision as a company.
They realized that their vision was to provide families with great and affordable cars. Volkswagen Beetles don't really jive well with standard family living.
This year we'll see the release of the 2019 Volkswagen Beetle – Final Edition. There's something so heavy and permanent to how that sounds.
That was our list of ten pieces of tech that will die in 2019. If you were using any of these services and have some fond memories, please be sure to share in the comments.
Oh, and we also produce our own tech over here. Feel free to try out Soda PDF for your document editing needs.