The Best Streaming Software of 2020 (Stream FREE!)
Today we're going to cover the live best streaming software for new streamers. 
Take it from us – don't jump into live streaming without reading up first. You'll waste money AND get something that makes you look like your streaming out of the Stone Age.
There's a lot of noise out there, so this article will cover all your bases: Price, UX, functionality, and more. So you can make the best decision.
Are we live yet?…
The Best Streaming Software
Here's our picks for the best streaming software of 2020. Get ready to go LIVE with these must-use applications!
The Best Free Live Streaming Software for Beginners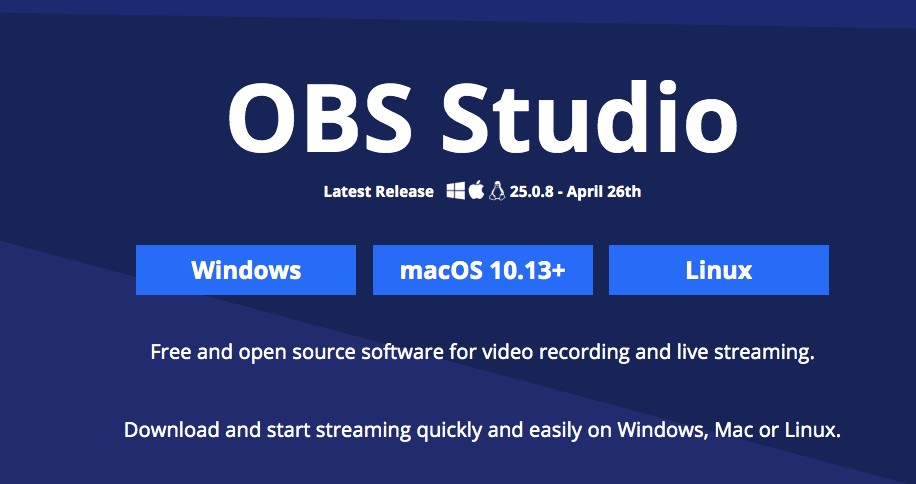 Open Broadcast Software (OBS) is the live streaming software that EVERYONE starts out with. 
Let's put it the easy way: It's the official streaming service of Twitch and Facebook – and it's 100% FREE (Though they accept donations!). This was the first-ever streaming software and to this day remains the most popular one on the market.
Here's why:
Multi-platform: It works on any computer, so no need to worry. Windows, Mac, Linux, an old-fashioned abacus_your bases are covered.
Intuitive settings: Beginners have 0 clue about audio/video settings, which is why OBS is awesome for new streamers. The settings are already about as perfect as humanly possible, and the audio/video capture is just as good. In fact, OBS probably has the best audio/video quality and it's all FREE.
Price: Did we mention YOU DON'T HAVE TO PAY?
Easy to learn: It's super easy to get the hang of and start producing high-quality streams. And once you master it, all of those skills translate to other, higher-quality (But paid) software.
Now for the downside.
OBS isn't as good at all of the other things (We'll cover those below) that other "pro" level streaming services do. Plus it doesn't have any of the nice templates of some of the other options. Still, we highly recommend you start here.
Pros
Pros
Great quality
FREE
Perfect for beginners
Very intuitive
Cons
Cons
OBS recently added plugin support so it's possible to compensate for the lack of advanced features. An example of this is that you can sync it with your digital audio workstation (DAW) but requires other (likely Premium or paid) tools.
The Best Free Web-Based Live Streaming Software – Streamyard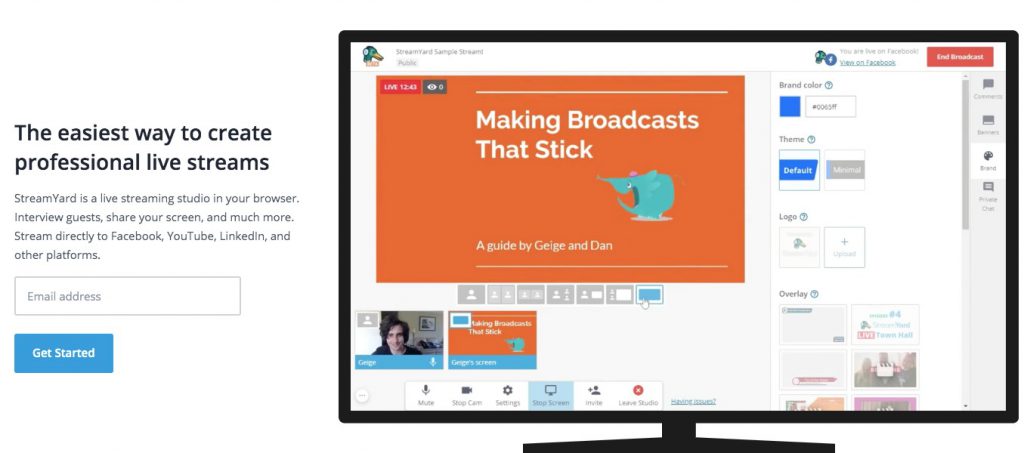 Streamyard is for streamers who want to log in, click, and start streaming instantly – no downloads, no annoying pricing, no cumbersome software to worry about. Just clean, fast streaming directly from the browser.
It works directly out of Chrome or Firefox, so you can use it on any device – phone, tablet, laptop, desktop – anywhere at any time. It's great for people who don't have good laptops, because it doesn't matter which kind of computer you have – it just works out of Chrome.
Streamyard is by far the easiest way to create professional-looking live streams FAST and for free. And you can stream directly to Facebook, YouTube, Linkedin, etc.
The FREE plan is plenty for every new streamer, but if you want to upgrade it starts at about $20. 
The drawbacks are it's not as powerful as the paid software below, or as high-quality as OBS studios. But it's by far the easiest.
BONUS: Streamyards lets you add calls to action directly into your stream. Just type it in and it pops up (Click here to subscribe!).
Pros
Pros
No download
Runs right from the browser
Free plan
Cons
Cons
The Best Live Streaming Software for Twitch (And Other Pro Streamers) – Streamlabs OBS
Streamlabs OBS is just like OBS Studios if OBS Studios hit the gym 6 months and used HGH. Hence, it's hands down the only option for Twitch pro streaming.
It gives you everything that OBS Studios gives you plus tons of other features you can't find anywhere else. This one service contains EVERYTHING a pro streamer needs from themes and backup to a custom site AND merchandise for when you're making millions.
This is the professional streaming service for professional content creators. If you're looking to start a YouTube channel or start Facebook Live-ing to earn money, this is the service for you.
There are a ton of great products and widgets, but we have to start with our favorite feature: THEMES.
Themes add instant personality and credibility to your brand, and they make streams way more fun and engaging, helping you build a dedicated following fast. Here's one of our favorites:
Aside from themes, Streamlabs OBS Prime (the paid version) gives you access to a personalized website, merch, apps, fast cloud backup, and the mobile app.
Can't beat it!
NOTE: This is the best streaming service for Mac.
Pros
Pros
Paid version comes with a website AND merch options
Excellent quality
Themes
Cons
Cons
High learning curve
Price
The Best Live Streaming Service Overall – Wirecast
Wirecast is the ultimate tool to grow your business and expand your audience. We're talking TV-level, insanely good audio and video. And the crazy thing is just how easy it is to get going.
This software lets you capture, produce, and stream all from one interface. Here are just a few of the insane amount of features you get:
Stream guests
3D graphics
Animated 3D titles
Multi-platform streaming
Live scoreboarding
Virtual sets
High-res ISO recording
Like we said before, it's basically a television production studio inside of the software.
Of course, this comes at a price. Wirecast Studio is $599 and the Pro version is a staggering $799. But hey, it's basically Warner Bros. inside your home. Can't beat it.
Pros
Pros
TV-level production
The most advanced features of any program
Cons
Cons
The Best Live Streaming Service for Windows – vMix
vMix is just as good as OBS Studios, plus it comes with some more "pro" level features that make it great for business. And it won't break the bank like Wirecast.
Streamlabs might come with more features, but that could actually be a disadvantage because of the learning curve.
vMix is perfect for guest interviews or podcasting. Having a guest? Just send them a link, and as soon as they click it, they are instantly pulled into your stream. And having a guest on doesn't compromise the quality of the audio or video (With most other services it does).
There's one main reason vMix is great for businesses: Graphics.
Most other services come with graphics that are more for "content creators", meaning they look more cartoonish or "web content"-y.
vMix's graphics are very professional-looking and give off more of an air sophistication. Perfect for established businesses that don't want to look like "gamer" companies.
Frequently Asked Questions
Q: What is the best program for live streaming?
A: That totally depends on your needs and budget, but we recommend starting with OBS Studios.
Q: What is the best free streaming software?
A: OBS Studios is the best free streaming software.
Q: What is live streaming software?
A: Live streaming software is computer software that captures your audio and video and broadcasts it live to an audience on multiple different kinds of platforms. For example, Facebook, YouTube, Twitch, etc.
Streamline Your Workflows With Soda PDF
Is your desk cluttered with paper documents? Are you feeling disorganized, even as you're sorting through sheets of paper and notes? Are you finding yourself coming to the realization that you and your documents need a smarter solution for working more efficiently?
Soda PDF, the best software solution for any and all of your document needs, is built to help you increase your productivity and go paperless. Our PDF tools are easy-to-use and will help you power through your document goals faster than ever before.
Edit PDFs, or create them from blank, from another file format or directly from your scanner. Plus, with Soda PDF, you can easily annotate, split, merge, convert, and compress your PDFs with ease. We even allow you to add your electronic signature or secure your PDFs using our advanced tools.
Streamline your workflows and make how you handle documents easier on everyone. Get a taste for Soda PDF today with a FREE download of our desktop application, or use one of our many online tools directly within your web browser!