How to Practice Time Management Using PDF as Your Tool
Many of us are Googling how to practice time management in a way that brings results. I don't often mention myself in these blogs, but time management has been a huge focus of mine over the last while. Another huge passion of mine is how PDFs can be used as a tool to help make our lives simpler. 
It was a natural evolution for me to start considering how PDFs can be used to manage my time. Let's start with how you should think about PDFs in this process.
The Benefits of PDF
There are many reasons to use PDF as we touch on in this infographic. PDFs are fantastic at the following:
Retaining formatting (so you can access your time management file on any device and alway see the same thing).
Excellent Archiving (PDFs are searchable, you can compress them, you can even secure/redact them if necessary).
Forms. They are great tools for capturing and organizing information.
Great for Final Presentations (You can combine files from any format into a PDF, create a table of contents, and when you hit print, the paper has no surprises.)
PDFs are also great for quick fixes, letting you modify text or rearrange where everything is on a page. Since they are dynamic files, you can use the features in out of the box ways.
A text form field can be seen as a field where a person answers a question. But in reality this is a field that you can set up to be as big or as small as you want. You can change it's color or how it behaves.
Text form fields do let you collect text form data. They also let you type into text boxes using any PDF reader. They can also be used to add items to a storyboard.
Templates – Your Friend in Time Management
One of the main things when thinking of how to practice time management, is staying organized. Using PDFs you can definitely stay up to date, mostly by creating a well structured file.
Whether you are creating checklists, or managing what work you will do this week, everything can be done in the same file. By combining the right series of templates you can build out the project file for your life.
There are many things that are quick and easy in a PDF, but creating a template from scratch isn't worth your time. You can find a ton of templates that are already designed online. A template will give you the boundaries you need to make your PDF plug and play (plus it comes pre-formatted).
Don't worry about if the template is already a PDF. You can easily create PDFs from any file type. In Soda PDF it's a couple of clicks.
Then you browse your computer and watch the file open in Soda PDF. As a PDF, ready for you to fill it out.
Constructing your File
Ok, so you've got your first template open. You have several others you would like to add, what now?
You can open the Preview Pane and start inserting new templates directly into this PDF.
In the preview pane you can rearrange the order of the pages in your PDF.
Once your template is in place, you can add text (or other elements) to fill out the templates. As an example, in the To-Do I just added, I put some checkboxes next to each task. I also added some due dates.
There are likely going to be multiple checklists, and projects to keep track of in your life.
Once you've configured a page, you can easily copy and paste it so you don't have to start over each time. When you Insert a new page, you can choose to Duplicate an existing page.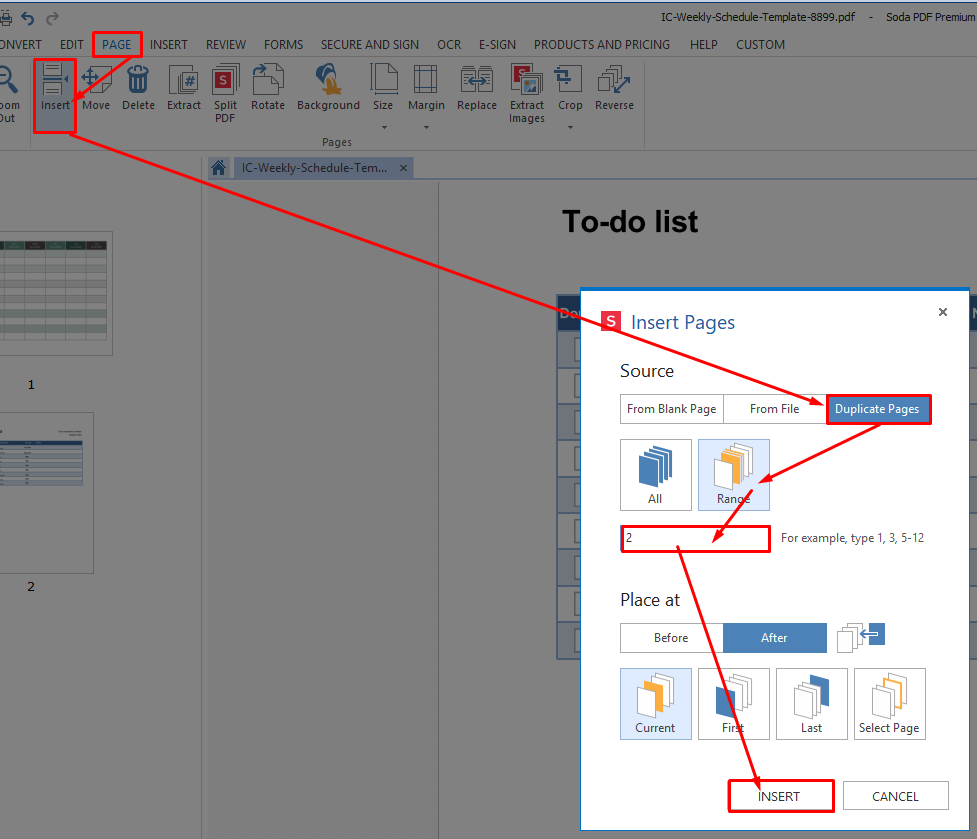 We encourage you to play around with Soda PDF's features to create your own personalized experience. For more help with any of Soda PDF's functinality you can check the knowledge base.
Managing Time in Your PDF
PDFs can definitely help you manage the templates you'll need to practice time management on an ongoing basis. So let's take a look at what you need to think about when building your document.
Goals
There are a lot of ways you can manage your time. For me it's important to start with focusing on my goals. So I start my PDF off with some images to remind myself what those goals are.
You can use text, or whatever you want really. Since each page of a PDF is like a slide in PowerPoint, you can basically create a collage. Since this is your own file, make it as visual or text driven as you want.
The most important thing is to remember that your productive time should support the goals you actually want to achieve.
Roles
After my silly goals page, I get serious with my roles page. It's a simple table with two columns. In the first I list the different hats I wear in life. In the other I provide myself a description of what that role entails.
Doing this makes it simpler to color code your life by role. When you look at a calendar full of the roles you play, you imemdiately see how your time is actually spent.
Understanding the roles in your life also helps you remember that being a person is more than just being an employee. Your life has social and family obligations as well, these are absolutely roles you should keep track of.
Projects
Within each of your roles, you will likely have projects you are working on to achieve your goals. To move these projects along, you'll have a bunch of tasks to complete.
There are many ways to stay on top of your tasks. I choose to simplify things with two columns. What I need to do this week and what I need to do in the future.
In Soda PDF, managing a list in a text box is quite simple. Each week when I organize myself, I start here. I update what I will do this week, and then I further develop my future plans.
I used the Line tool on a blank page to create my sections and then just added text.
Calendar
Once you know what you want to do this week, you need to decide when you will do it. A great way to do that is to use a calendar. We already created a blog describing how you can create a printable calendar in your PDF.
You can use a PDF for this purpose, personally I don't. I prefer to use an application like Google Calendar. Unfortunately Soda PDF cannot send ping notifications to my phone reminding myself what I have to do.
However once I add my tasks to the Calendar I screenshot each week and paste that into a PDF page. I see my PDF as my master file, and want to be able to watch the progression of my calendar over time.
But for real, use an application that pings you, it's a lifesaver.
Managing Projects Over Time
I have been using KanbanFlow for awhile. It is really easy to use and helps you organize stuff at a quick glance. But I realized, that it became a bit challenging to quickly see my progress over time.
By using PDFs to store my progress over time, I have all of my work, tracked in a convenient location. I rely heavily on Soda PDF's bookmark tool to quickly jump around my file. You can create an entry for each page. I structure it by section, then by relevant dates.
Time Management on the Go
You may be wondering why you can't just do all this in pen and paper. Or why use the PDF format in the first place. A big reason I chose to go with PDF is because of the convenience of Soda PDF Online.
I keep my Time management PDF in my Dropbox account. This means at any time, I can load up Soda PDF in my phone's browser and access my Dropbox to get the file.
It's extremely important that you can access this file wherever you are. You will use this help govern the decisions you make in a day. And if inspiration strikes, you don't want to be forced to remember it until you get home.
It's too easy to lose your notebook, or neglect to leave your house with it. Instead, a digitally stored file that you can access anywhere, covers all of your bases.
Now that you've seen how PDF and time management can work together, why not download Soda PDF and try it out.