The 5 Best Video Conferencing Apps for Virtual Meetings
The verdict is in: video conferencing is a powerhouse. Not only does it help workers maintain a better work-life balance, but it is also a boon to productivity—and that should be music to your ears. Using some great video conferencing apps helps workers keep this balance.
Productivity issues cost companies an estimated $1.8 trillion dollars per year. But not just any video conference app will do. You need one that's powerful enough to handle your calls but smooth enough to not make the whole team dread using it.
With remote work becoming more common, companies need to find a way to maintain face-to-face contact so work can be done (and people can maintain their social skills!). What better way than group meeting apps? Here are just a few of the benefits:
Team members are less likely to multitask on video
Seeing a real face makes a genuine connection
It's easier to get your point across on video
It makes it easier to complete tasks
But all those benefits go out the window when you start experiencing lag, dropped calls, and choppy video.
So to make sure you get the best quality possible, we've searched far and wide to bring you the best video conferencing apps for virtual meetings.
But first, webcams! 
If your computer isn't already equipped with a webcam, or you'd like one with superior quality, check out our list of the best webcams and choose the right one for you!
Now, back to video conferencing apps…
1. Zoom
Zoom bills itself as the app that makes video conferencing frictionless. Aside from the flawless HD video conferencing, other perks include mobile or desktop screen sharing, integrated audio, content sharing, and a nifty scheduling display. They even let you choose from different views.
Best features: Zoom's unique "Zoom Rooms" win here. Huddle rooms, executive offices, training rooms, and conference rooms sporting whiteboards and collaborative touch screens push zoom over the top and onto our list.
Pricing: $0-$49
2. GoToMeeting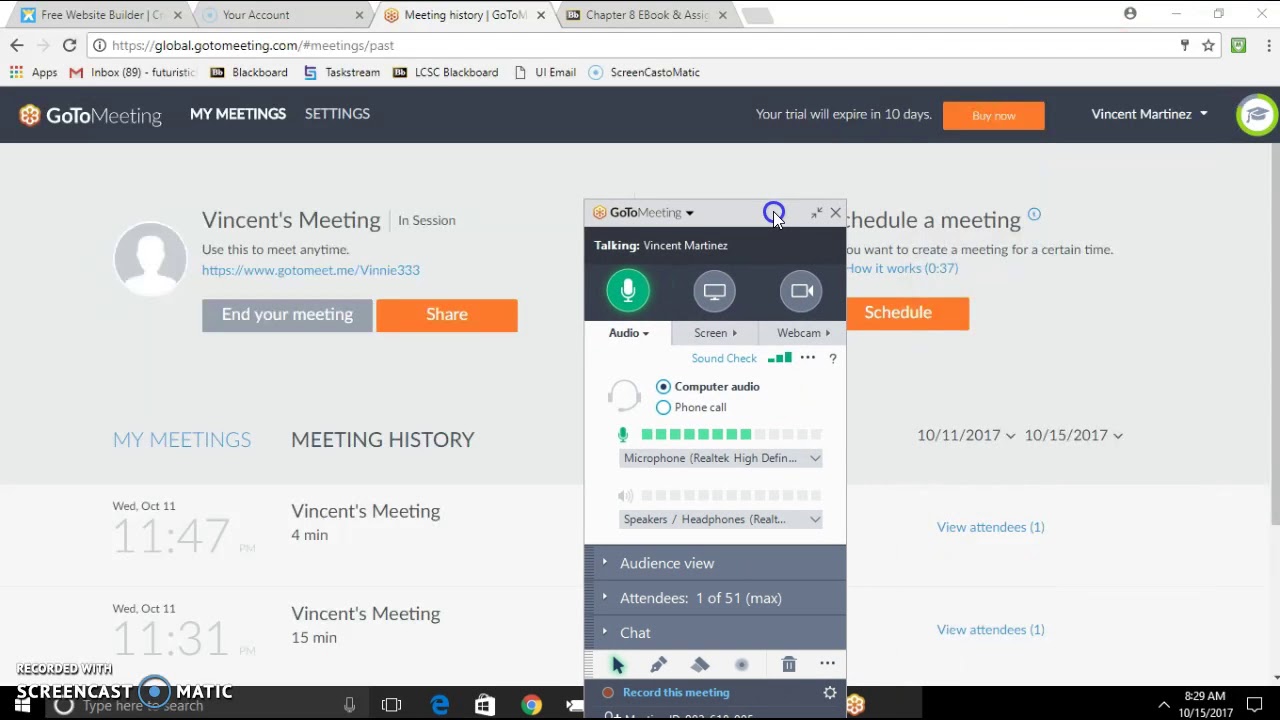 For easy online meetings, millions of businesses choose GoToMeeting—and for good reason. It is specially designed with business in mind, allowing your teams to benefit from HD quality, screen sharing, and personalized meeting URLs.
There's also a whiteboard feature and a feature that allows you to highlight the presenter's screen. You can even send out recordings to those who weren't able to attend.
Best features: The free mobile app. Start a meeting from any Apple, Android, or Windows device and even present content from an iPad. It makes meetings on the go a breeze.
Pricing: $19-$49
3. FaceTime
It's so common that you rarely think about, but FaceTime is actually an app that allows for quick one-on-one calls. For face-to-face phone calls that feel as simple as a quick audio call, you can't go wrong. It's free, and you don't need to download anything fancy if your team has Apple products.
Chances are that it'll sound great, too, even if you're in a crowded airport and the WIFI is being hogged by thousands of people. It's perfect for small teams. Not bad for free video conferencing!
Best feature: Easy. Fast. Built into your phone.
Pricing: FREE!
4. Slack
Known as one of the best and most feature-rich software for team communication, Slack has added video conferencing from its desktop version. Slack really makes its mark in the convenience department—just one click starts up a video call.
You aren't able to share screens, but that's made up for by the fact that you get all of slack's awesome features. It's without a doubt one of the best conference call apps, too.
Best features: Slack's emojis are great for showing your reactions during the video call and keeping everyone involved!
Pricing: From $8 per month
5. ReadyTalk
ReadyTalk's suite of video conferencing and webinar tools inspire collaboration for teams across the world. It's perhaps the most unique app on the list.
You can have audio, web, and video meetings; put on large online presentations (webinars); stream a webcast, and even move your business's entire phone system into the application. ReadyTalk lets work happen anytime and anywhere.
Best features: Webinars and hosted voice systems.
Pricing: Meeting plans range from $24-$59
Time to jump on the video conferencing wagon
Your remote teams can't function without a great video conferencing app. They foster collaboration, improve productivity, and help your company function more smoothly. These 5 best video conferencing apps for virtual meetings will do all you need them to and more.
Have a remote team and need a way for them to create, share, and store documents with ease? Check out Soda PDF!