The Best Video Cameras for Vlogging on YouTube
If you're serious about success on Youtube, you need a serious vlogging camera for your videos. That iPhone won't cut it. If your videos are low quality, viewers are going to click away and go to a competitor filming in 4k. 
We've chosen the 5 best cameras for vlogging on YouTube based on price, quality, and usability.
Here are our 5 top picks
Note: If you're in a rush, go with our top pick the Sony A6400. It's not cheap by any means, but the quality is unbeatable at the price. It was so easy to use, that even we shot incredible YouTube videos just by following the prompts when opening it up.
The Top 5 Youtube Vlogging Cameras
Every aspiring Youtube star's biggest concern is the price tag, so we've arranged our picks by budget. But if there's one piece of advice we can give based on talking to dozens of Tubers, it would be…
Go with the best camera you can afford and stretch your budget as far as possible.
The better your quality the better chance you have at success. Think of it like a road race: Sure, you can finish the race on a bike, but wouldn't you rather do it in a race car?
Got your budget in mind? Take your pick….
#1 – The Best Vlogging Camera for YouTube – The Sony A6400
There's only one word we can use to sum up the Sony A6400: BRILLIANT.
The front facing camera shoots in 4k quality, which makes it PERFECT for vlogging. Get your Casey Neistat on by talking directly to the camera and looking like a BOSS when you do.
The auto-focus makes it our top choice for "point and shoot" cameras too. Unlike every other camera on the list, it has "real-time-tracking" technology designed for vlogging.
If you want to follow a subject, the camera itself actually has to follow them instead of just the videographer. The A6400 does exactly that.
The only downside to us is the price. It's about $900 to start plus lenses. Totally worth it in our opinion, though.
BONUS: What puts it over the top of the following entries on this list is its simplicity. It's so easy to set up that even troglodytes like us had no problem filming.
The Best of the Rest
The rest are grouped by price, and not necessarily "in order" of quality. Remember our tip from above: Get the best camera you can afford. It's ALWAYS WORTH IT.
#2 – The Best Budget YouTube Camera – YI 4K Action Camera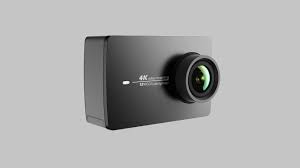 It doesn't look like much, but if you're just starting out on YouTube, this bad boy is the noisy cricket (MIB reference?!) of vlogging cams.
Here's why the YI 4K Action Camera is a great place to start if you're on a budget:
Battery: It lasts up to 2 hours of filming.
Quality: It somehow shoots 4k/30fps for under $200. Don't ask us by which devilry this is accomplished. We need not know.
Price: Cheaper than dirt (from a boutique dirt retailer).
App: It comes with an app that makes it easy to edit videos.
Obviously there are shortcomings. It's under $200 for a reason. You can't really do much settings wise. You're stuck shooting as the camera is and that's it. That means there's a HUGE lack of flexibility, but is that really what you need when you're a budget? You should be more concerned about churning out high quality content right now.
We honestly still don't know how this costs less than $200. Don't ask. Just buy.
#3 – The Best YouTube Camera Under $500 – Sony A5100
Let's get this out of the way first: Yes, this is an "older model", but it's not too old in 2019, and definitely not this price range.
Fast shooting, baby's-bottom smooth video, compact design, and built-in camera tutorials for dummies make it an excellent entry-level camera and a big step up from the budget models. We found 5100s kicking around online for about $400, and that's a steal if you ask us.
This thing slips right in your coat pocket or any purse, making it perfect for vloggers on the go.
What makes it great for vlogging though, especially when on a tighter budget, is you get the same focus as higher models like the a6000, just for hundreds less (NOTE: You have to enable Face Detection mode first – check the tutorials or Google).
The biggest drawback is the lack of 4k video. It's the only entry on the list that tops out at 1080p/ 60fps.
So if the benefits – smooth quality, compact design, great auto-focus, and extremely sharp detail – outweigh the lack of 4k, then this isn't a bad camera to start with.
Up to you!
#4 – The Best YouTube Vlogging Camera Under $1,000 – Sony RX100 Mark V
It's not cheap either, but the Mark V delivers jaw-droppingly spectaclicious 4k videos and 20-megapixel stills.
If that doesn't mean anything to you, then just know that is some KILLER VIDEO QUALITY.
Incredibly fast burst, high ISO, compact design, stunning video quality_the RX100 is an awesome vlogging camera.
The only problem is the price. Our field test went smooth as butter, though. 24 full-res FPS from a compact camera is unheard of, and it showed in some crazy awesome footage of….well, we aren't going to tell you where we are.
A big downside is the lack of a touch screen, though. Not a deal breaker for us. Might be for you.
Soda PDF Opinion: Overall, this is an awesome camera for YouTube due to the video quality, but paying about $1,000 is a real stretch for this quality. If you've got money to burn, you really should take the next step up.
#5 – The Best YouTube Vlogging Camera for Moguls – Sony a7R II
Sony doesn't make the a7R II. The a7R II makes Sony.
Japan has a "made in a7R II" on its back.
A tourist in New York City dropped the a7R II. It didn't break….it broke 7th Ave.
Even its black and white photos come out in color.
This is….the most interesting YouTube vlogging camera in the world.
If you've got money to burn and want to get your Dan Lok on, the a7R II is it.
Check these specs out:
The world's first Full-frame 5-axis in-body image stabilization optimized for 42.4MP full-frame
4K movie recording with full pixel readout and no pixel binning
4-million dot XGA OLED Tru-Finder w/ZEISS T* coating
Fast focal plane phase-detection
The hybrid auto-focus is what really puts it over the top and into the "I can't believe what I'm seeing" stratosphere. All of the big Tubers out there are using this camera or one that pretends to be it.
Yes it's a few years old, but even in 2019 it's a BEAST. And it's not as expensive as it used to be.
All in all:
High-res
Stunning Videos
Fast and accurate auto-focus
Sleek design
High-end video features giving you complete control over your viewer's YouTube experience
Can't really beat it. If you've got the funds, this is a killer camera.
You can't go wrong with any of these cameras. Pick the one that matches your budget, and have at it! We'll let Dan Lok and Casey Neistat know you're coming for their thrones!