30-Day Money-Back Guarantee
FREE Customer Support
Get the most out of your money
Highest Security on the Market

Top Adobe Acrobat Alternative Software of 2019

Performance

Compatible with Windows 7, 8, and 10

Create & Convert PDF Tools

PDF creation and conversion

Secure & Sign PDF Files

Digital signature creator

Real time tracking of e-sign packages

Optical Character Recognition

Conversion of scanned docs into editable PDFs

Automatic text recognition

Soda PDF PREMIUM

ADOBE ACROBAT DC PRO

$238.00

Nuance Power PDF Advanced 2.0

$198.45

Nuance Power PDF Advanced 2.0

Nuance Power PDF Advanced 2.0

Nuance Power PDF Advanced 2.0

Nuance Power PDF Advanced 2.0

Nuance Power PDF Advanced 2.0

Nitro Pro 11

$199.99

Foxit Phantom PDF Business

$183.90

Foxit Phantom PDF Business

Foxit Phantom PDF Business

Foxit Phantom PDF Business

Foxit Phantom PDF Business

Foxit Phantom PDF Business
Top Adobe Acrobat Alternative Software of 2019

Soda PDF PREMIUM

ADOBE ACROBAT DC PRO

$238.00

Nuance Power PDF Advanced 2.0

$198.45

Nitro Pro 11

$199.99

Foxit Phantom PDF Business

$183.90
Top Adobe Acrobat Alternative Software of 2019
Performance
Compatible with Windows 7, 8, and 10
Nuance Power PDF Advanced 2.0
Foxit Phantom PDF Business
Nuance Power PDF Advanced 2.0
Foxit Phantom PDF Business
Create & Convert PDF Tools
PDF viewing
Nuance Power PDF Advanced 2.0
Foxit Phantom PDF Business
Create & Convert PDF Tools
PDF creation and conversion
Nuance Power PDF Advanced 2.0
Foxit Phantom PDF Business
Create & Convert PDF Tools
Conversion to PDF/A
Nuance Power PDF Advanced 2.0
Foxit Phantom PDF Business
Create & Convert PDF Tools
Batch conversion
Nuance Power PDF Advanced 2.0
Foxit Phantom PDF Business
Create & Convert PDF Tools
3D viewing technology
Nuance Power PDF Advanced 2.0
Foxit Phantom PDF Business
Create & Convert PDF Tools
Side-by-side view
Nuance Power PDF Advanced 2.0
Foxit Phantom PDF Business
Create & Convert PDF Tools
Cloud connectivity
Nuance Power PDF Advanced 2.0
Foxit Phantom PDF Business
Edit PDF & Review
Text & image editor
Nuance Power PDF Advanced 2.0
Foxit Phantom PDF Business
Edit PDF & Review
PDF splitter
Nuance Power PDF Advanced 2.0
Foxit Phantom PDF Business
Edit PDF & Review
Document comparison
Nuance Power PDF Advanced 2.0
Foxit Phantom PDF Business
Edit PDF & Review
Annotation tools
Nuance Power PDF Advanced 2.0
Foxit Phantom PDF Business
Edit PDF & Review
Bates numbering
Nuance Power PDF Advanced 2.0
Foxit Phantom PDF Business
Secure & Sign PDF Files
Digital signature creator
Nuance Power PDF Advanced 2.0
Foxit Phantom PDF Business
Secure & Sign PDF Files
Co-signing support
Nuance Power PDF Advanced 2.0
Foxit Phantom PDF Business
Secure & Sign PDF Files
Redaction
Nuance Power PDF Advanced 2.0
Foxit Phantom PDF Business
Secure & Sign PDF Files
Advanced security
Nuance Power PDF Advanced 2.0
Foxit Phantom PDF Business
Secure & Sign PDF Files
E-signature
Nuance Power PDF Advanced 2.0
Foxit Phantom PDF Business
Secure & Sign PDF Files
Real time tracking of e-sign packages
Nuance Power PDF Advanced 2.0
Foxit Phantom PDF Business
Optical Character Recognition
Conversion of scanned docs into editable PDFs
Nuance Power PDF Advanced 2.0
Foxit Phantom PDF Business
Optical Character Recognition
Automatic text recognition
Nuance Power PDF Advanced 2.0
Foxit Phantom PDF Business
Help & Support
YouTube tutorials
Nuance Power PDF Advanced 2.0
Foxit Phantom PDF Business
Nuance Power PDF Advanced 2.0
Foxit Phantom PDF Business
Help & Support
Direct email
Nuance Power PDF Advanced 2.0
Foxit Phantom PDF Business
Join the millions of users who trust SODA PDF
The All-in-One Adobe Acrobat Alternative
view

View

Open & view any PDF file, navigate & zoom, search for keywords, rotate and bookmark it.

create

Create

Create PDF files easily from Word, Excel, PowerPoint and 300+ file formats.

convert

Convert

Convert PDF documents accurately to Word, Excel, HTML, png, jpeg or gif.

edit

Edit

Edit text and images like a word processor. Change font type, size and style and move or delete pages.

insert

Insert

Insert new pages into your document, add page numbers and links and insert, clip or crop images.

review

Review

Insert comments, sticker notes, shapes, as well as stamps and highlight your documents with markup tools.

forms

Forms

Create custom forms, integrate e-mail, submission, and print features, as well as import and export data.

secure

Secure and Sign

Secure your files with 256-bit passwords, sign documents digitally, and manage your digital sigantures.

soda-online

Soda PDF Online

Create & convert PDF files online, on any device, anytime.

e-sign

E-Sign

Prepare, send and track documents for e-signature.

cloud-connectivity

Cloud connectivity

Save your files directly to your Dropbox, OneDrive, Google Drive, or Box accounts.

free-upgrades

Free Upgrades

Get free upgrades with a purchase of a plan.

premium-support

Premium 24/7 support

Contact our team of skilled multi-language support specialists 24/7 by email or phone.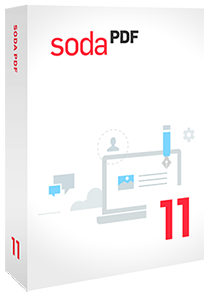 Soda PDF makes working with PDF files a breeze. You can create PDFs from 300+ file types, convert your PDF to Word, Excel, PPT, and more, and you can even edit text just like a word processor. More advanced features allow you to create custom forms, annotate your pages, secure and sign your PDF files, and use OCR to convert scanned docs into editable PDFs.
30-Day

Money-Back Guarantee

FREE

Customer Support

Instant

License Activation
Buy Now