How to Crop PDF Pages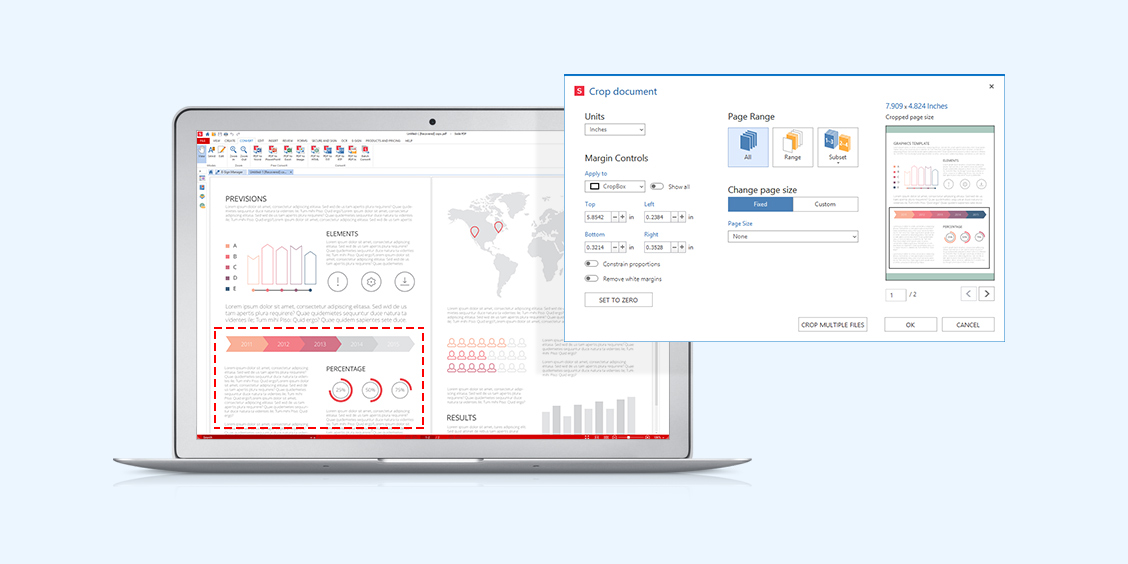 An amazing benefit of the PDF format is that there are no limits to page size, nor to the amount of content you can see on each page. When you "crop" a page, you trim off the content around the edges. Knowing how to crop pdf pages will let you quickly isolate pieces of your PDF.
A page crop tool is especially handy when dealing with irregular page sizes. When cropping pages in a PDF, you can optimize the settings to make sure your page can be printed. This level of control ensures no content will be lost.
A good PDF editor, like Soda PDF, will provide you with a complete page crop tool. You'll be able to set up each crop box and then choose to crop one or more pages in your document.
How to Crop PDF Pages – Set Crop Area
You can crop any part of your PDF page. The selected portion will be kept and the rest of the page will be hidden. You can recover it later if you need access to it.
Open the Edit Tab.
Click Crop.
Choose Set Crop.
The mouse icon will change and you will now select the part of the page you want to keep.
Hold down the left mouse button.

Drag your mouse cursor to highlight an area of your page.

Release the mouse button.
The Crop Document window will open. Here you can fine tune your settings. The black box in the preview section is the current area you'd like to keep. Its dimensions are listed above.
You can set the unit of measurement you'd like to use for setting up the crop area.
Click the dropdown menu under Units.

Choose one.
You can set each layer of page box you want to configure. Click here for more information on each type of box.
You can set unique crop settings for each box.
Click the dropdown menu under Apply To:

Choose the box you want to work with.
Click Show All to see all layers on the preview.
Change the dimensions for each box. Any updates will appear in the preview.
Toggle the switch next to Constrain properties to lock the dimensions as you make changes.
You can remove white margins from your document.
Toggle the switch next to Remove white margins.
You can reset all proportions for each box.
Click SET TO ZERO to reset each dimension. 
Click REVERT TO SELECTION to undo the reset.
How to Crop PDF Pages – Page Range & Page Size
It's time to decide which pages in your PDF you want to crop.
Choose the option that best applies under Page Range.

All – Each page in the document will be cropped according to your settings.
Range – You can decide the specific pages in your document that will be cropped.

Using a dash (-) tells Soda PDF to crop all pages between those page numbers, inclusively. To apply to pages between page 2 and page 5 you would type "2-5".

Using a comma (,) you can add multiple groups of pages. As an example, to crop all pages from 2 to 5, then page 8, page 10 and page 11, you would type it out as follows "2-5,8,10-11".

Subset – You can choose between all Even and all Odd numbered pages.
Under Change Page Size you can choose to make all pages in your PDF the same size.
Choose Fixed if you'd like to use standard page sizes.
Pick the Page Size you need. 
If the page size isn't there, click on Custom to set dimensions.
Set the Height and Width by typing the dimensions into their respective box.
Click OK to apply your crop settings.
The tool will then crop each page. 
If you want to crop multiple documents at once, you can open our batch crop tool.
Click CROP MULTIPLE FILES to access the batch setup tool.
In the batch tool, you'll have the same settings that are available here. The main difference is that you will apply your crop job to multiple files at once. Click here to learn more.
How to Crop PDF Pages – Reversing the Crop
You can undo the document crop, revealing the full contents of the document.
Open the Edit Tab.
Click Crop.
Choose Reverse Crop.
Any cropped pages in your document will no longer remain cropped.
Download Soda PDF below and try out the page crop tool for yourself.