Create a Printable Calendar for PDF
Planning out your days using calendars is one of the most efficient ways of staying organized. For many people, being able to see their goals and tasks written out in front of them not only reminds them of what has to be done, but also encourages them to actually do those tasks. The printable PDF calendar is a tool that can further improve organization and productivity.
The world is changing, as are the ways that people are using calendars and planners. Many forms of text, such as books, legal documents, journal articles, and so on, have made the transition into the digital realm – and calendars are no exception. It is now easier than ever to keep track of your days while on the go, using printable calendars and your favorite portable document format – the almighty PDF. You can create, edit, save and share digital PDF calendars, using PDF software such as Soda PDF.
One of the easiest ways to create a printable calendar is by using a template! There are a variety of websites that offer customizable templates to create your own printable calendar, which you can then download in PDF format, and edit using your PDF software. These websites give you the structure for your calendar to simplify the process for you. Where can you find these templates? And which ones are actually good? We've done the research, and found some options for you!
The Benefits of a PDF Printable Calendar.
Firstly, there are many benefits to using digital calendars, as opposed to the traditional paper versions. Not convinced? Well here are some points in their favor:
You can save and access your PDF printable calendar anytime, anywhere, from many different devices. Use Soda PDF online to view your calendar file from your web browser, or download Soda PDF Desktop to edit your calendar offline, from your computer.

Save your calendar to cloud storage services like Google Drive or Dropbox, or send it via email to share with others. This way, you can send your calendar to colleagues when they ask you, "Are you busy?" The question is yes, Debby, I'm always busy.

Customize your calendar using different colors, images, fonts, icons, etc.

Create a layout that best suits your lifestyle.

In PDF, you can easily create, change, and erase events or tasks digitally, without being required to use white-out, like you would on paper.

Save paper by working virtually. The trees will thank you.

You can always print out your calendar, if need be. Format the layout and page size to print out your completed calendar and hang it by your desk so that it can be admired!
The list goes on and on!
Free Printable Calendar Templates
Now that you've seen how useful virtual calendars are, it's time to make one yourself! We've compiled a list of some of the websites offering templates for printable PDF calendars. Some websites are quite simple, while others offer more customization capabilities. Keep on reading to find one that works for you.
1.Timeanddate.com
When you search Google for a free printable calendar template, timeanddate.com is one of the first results that pops up on your page. While the website offers many other features, their Create Printable Calendar (PDF) page offers a customizable template for a PDF calendar. This calendar template is made directly on the website itself. You are given a template, and you can then customize to:
Format the language of the calendar, the font size of the text, and calendar orientation

Add a title to your calendar

Add personal events, holidays, along with moon phases and astronomical events

Change the country, in order to display the right holidays
You can then download the calendar info PDF format. When downloaded and opened in Soda PDF, the calendar appears exactly the way it was formatted.  You can customize the calendar in Soda PDF, but the template itself is quite simple. The downside to this template is that you don't have space to add event descriptions or tasks for each day.
2. Calendar Labs
Another website is Calendar Labs, which allows you to create a PDF printable calendar using a standard template on the website. You can then make changes to the template.
You can choose:

Year

Start month & the number of months in your calendar

Country
Then further customize by:

Adding Your Own Events

Format options like start week on Monday, include week numbers, exclude country holidays etc.

Change calendar colors

Add religious days
Once you have finished customizing, click Create PDF Calendar to download, and then open your calendar in your PDF software. Once opened with Soda PDF, you can customize all elements in your calendar. You can add new elements, such as events, icons, pictures, links etc., and even edit any elements you added from the website (i.e. you can change the font of the holidays added from the website).
3. PDFCalendar.com
PDFCalendar.com is one of the simpler websites. The website platform is a little dull and old-fashioned, to be honest, but it gets the job done. It just isn't as easy to understand, or as pleasant to look at. Like the other websites, you are given a template, which you can customize.
You can:
Give your calendar a title

Change the starting date of your calendar, and select first day of the week (Monday or Sunday)

Change calendar font, alignment and color – The downside is that is, when you change the color, you need to actually insert the HTML color name rather than just select a color from a color wheel.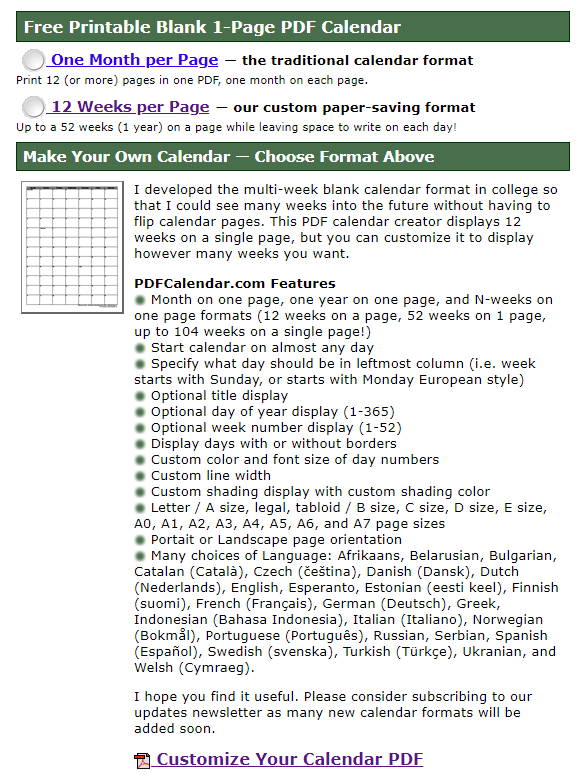 When you download the calendar in PDF format, and open it in your PDF software, all the months from the calendar come meshed together in one calendar. Unlike the other calendars, individual months are not given separate PDF pages. This may tend to look a little confusing.
4. Canva
We definitely saved the best for last! Canva is essentially a free online graphic-design tool that offers a variety of templates, photographs, graphics, and fonts for a variety of design tasks. It is highly customizable, easy to use, and also very pleasant to play around with!
Of course, Canva offers a variety of methods for making your own printable calendar. First, you need to make an account in order to use the website, but the account is free and we can guarantee you that once you try the website, you'll want to go back. Once you've created your account, you can begin designing. Just search calendar templates to get started. You can choose a pre-made calendar and then edit colors, background images, font, layout, text, and so much more. You can even create a calendar from scratch! Choose a layout and customize, or drag-and-drop elements around to create your own template. You can then add:
Photos

Grids

Frames

Shapes

Lines

Illustrations

Icons

Charts
Once you're done, you can download your new calendar in PDF format, and open it in Soda PDF to further customize, save, and share!  
There are so many printable calendar templates out there, but these are just a few to get you started. Another important factor when creating a printable calendar, is having a good PDF software that allows you to edit, save, and share your calendar. Download Soda PDF to make the most out of your new virtual planner!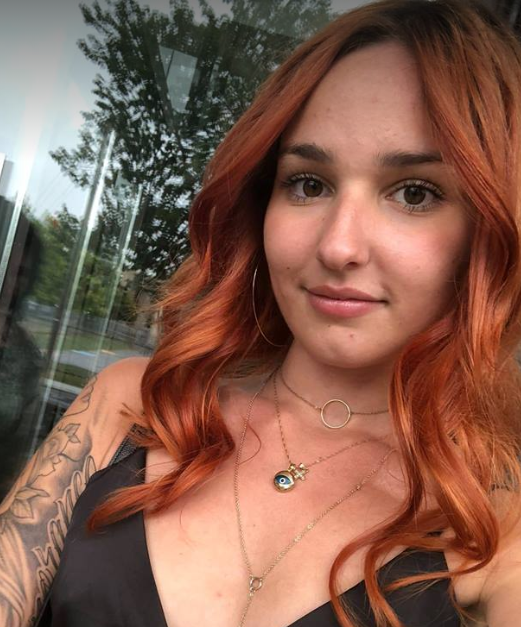 Alyssa is an English Literature graduate and the current copywriter and social media content creator for Soda PDF.