Are PDF Converters Safe to Use?

People are increasingly concerned about data privacy these days. Many people who convert and share PDFs online are wondering: are online PDF converters safe? Read on to find out everything you need to know about converting documents and learn more about how safe & secure Soda PDF's online PDF converter tool is.
There is currently a huge demand for easy-to-use PDF management tools such as a PDF converter and PDF editor.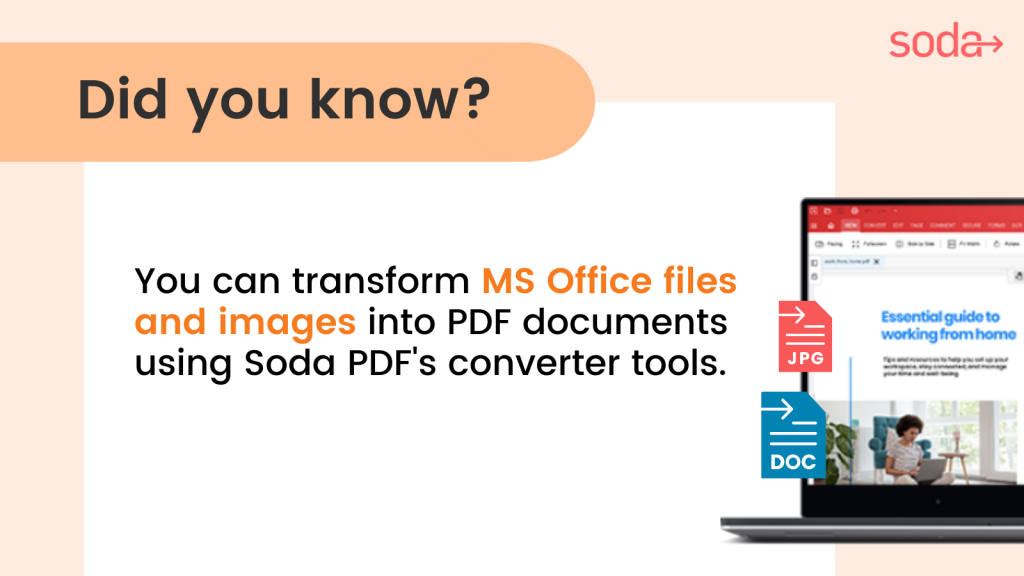 To maximize convenience, many people opt to use online PDF converters. These are usually web-based applications that handle a variety of PDF file management tasks, such as generating PDF files from other formats, adding security features such as password protection or restricting file permissions, compressing the file size, and more.
If you're concerned about online safety – and most people are – you might have some questions about online PDF converters and how they work to manage your PDF documents.
The first thing you need to know about apps that convert PDF files is that they come in more than just online versions. In addition to web-based applications, you can also download and install desktop versions of these programs. One popular example of this would be Adobe Acrobat.
Another great example would be Soda PDF.
What is Soda PDF and why should I use it as my PDF converter?
Soda PDF is a comprehensive document management app that is available for most operating systems. It's designed to solve all your PDF editing, converting needs, and more. You can convert to PDF or convert from PDF and even modify your PDF document just like you would with a Word processor!
That's right, Soda PDF isn't just a PDF converter or just an online service provider.
You can actually use Soda PDF in 3 different ways, two of which are entirely accessible online from any device with an internet connection:
Soda PDF free one-off web-based tools – works on all platforms (Windows, Mac, etc.)
Soda PDF Online (full suite) – ideal for Mac users
Soda PDF Desktop (full suite) – Windows only
What is the difference between these Soda PDF versions?
Soda PDF website-based tools are just one-off solutions designed to help people searching for quick and free PDF document management. They are limited to processing one file at a time.
The full suite of Soda PDF tools comes in two forms: Soda PDF Online and Desktop versions. These are full-featured programs and can convert multiple files at the same time.
If you're looking for more power and functionality, check out Soda PDF's full online version if you're on a Mac or PC, or download and install the Soda PDF desktop app if you're using Windows.
These versions require account registration, but also feature a 7-day free trial. The web-based one-off tools are always free (though may be subject to daily, hourly, or other usage limitations) and don't require any sign-up.
Are there any other limitations to Soda PDF's free web-based functions?
With the free solutions on the Soda PDF website, you can only work with a single PDF (or Microsoft Word doc) at a time, but there's also a limit to the size of file you can work with.
These PDF editors just an easy way to do one-off tasks, like convert your PDF files into a Microsoft Word document (so you can insert PDF into Word and have it be editable text).
Note that there's also a daily limit for using them.
They are designed for people who just need a quick, free and easy way to manage their document or image, such as doing a quick PDF to Word document conversion task.
So which type of PDF editor is better, desktop or online?
It depends on the following questions:
What types of documents are you working with?

How much power do you need (like how many files you want to convert at the same time)?

Do you want to be able to edit PDFs offline?

How concerned with security and privacy are you?
Offline (desktop) PDF apps: More power, more security.
Overall, desktop PDF editors tend to be much more powerful because they can utilize the full potential of your computer's operating system. They also tend to be more secure since they don't require an internet connection.

Soda PDF Desktop can handle most image and document file formats, including the popular Microsoft Word formats and PowerPoint files.
Online PDF tools: More convenience
Online PDF editors are more convenient and flexible – you can run them on any device provided you have an internet connection. Their capabilities are usually more limited than desktop versions.
They also raise more security concerns as their work is done outside of your computer (usually on the software provider's remote server).
Are online PDF editors safe?
The truth is, not all online apps designed for PDF editing are created equal. In all cases, when you upload your PDF (or other file formats) to any online converter, you give it access to your document – albeit temporarily.
In some cases, a free online PDF tool could be just a ruse to collect your data. This could even happen with paid online versions.
This is potentially a big issue, depending on the sensitivity of the information in your file. If you're concerned with the security of your data or working with confidential documents, it's best to use offline PDF software to be sure.
Note that some people are concerned that free online tools which convert PDFs might infect their computer with malware. This is uncommon, and only a risk with the sketchiest online converter sites.
Generally speaking when it comes to confidential docs, professionals prefer to play it safe and use desktop PDF management software. This practice is most common among lawyers, accountants, doctors and government workers.
But the rest of us might be interested in the convenience of an online converter to manage our documents that are in PDF file format.
Knowing that some online PDF format converters are security-compromised, that leaves the issue of determining if a given PDF format converter is safe or not.
How do I know if an online PDF converter is safe?
No matter what types of files your working with, it's always good to be safe. Here's what you need to know before you upload and convert your files to PDF format using an online service.
Ask these questions:
Do they delete your PDF files (or any other file format) after you're done converting? If so, how long does it take?

Do they use your data in any way? If they do, how exactly? Do they share it with third parties, and for what purpose? Check to see if your country has laws regulating this practice, such as the GDPR (General Data Protection Regulation) in Europe.

What do they do to protect your privacy? Do they have security in place to prevent others from stealing your data?
It's best to read their privacy policies carefully to find all this out (i.e. "the small print"). Don't settle for just reading the web copy on their site.
Is Soda PDF online safe to use?
In a word, yes. Soda PDF's web-based tools and full suite are used by millions of people every month, and they are 100% secure.
When you use any Soda PDF converter tool, you can convert and edit PDFs without worrying about the security of your information being compromized during the PDF conversion.
We use SSL encryption to ensure that your data are not compromised, and remove all files after processing, including Microsoft Word files.
Remember, if you prefer to work offline to convert your documents, you can always download the Soda PDF Desktop version for Windows. It allows you to do all your work offline, from converting PDF to Microsoft Word documents to merging and compressing PDF documents and more.
Use Soda PDF to complete all your document tasks fast & with ease
Free PDF converters and editors are great for convenient PDF document management but can come with security risks. Trust Soda PDF online tools to provide you with convenient service while respecting your safety and the privacy of your personal data.
If you need to ensure maximum security and peace of mind when dealing with confidential documents, opt for the Soda PDF Desktop version. It's more than just a PDF conversion tool. It's a powerful, easy-to-use software that doesn't require an internet connection.
To get started, download and install the Soda PDF desktop app (Windows platforms only). Follow the simple steps to install the software and you'll be up and running, converting PDF files in just a few seconds!
Review
Blog Name
Are PDF Converters Safe to Use?
Description
Are PDF converters safe to use? They are, that is, if you're using Soda PDF's easy-to-use PDF converter tools! Learn more about our secure PDF conversion tools.
Author
Publisher Name
Publisher Logo