What Is A PDF: The Portable Document Format Explained
PDF: what is this file type, and what purpose does it serve in the wonderful world of documents?
No matter how much of a computer whiz you are, you've surely come across this three-letter file type that you can't edit or modify in any way. No, I'm not talking about those common .docx file or MP3's, or even .ppt's, .xml's or HTML's.
The file type that you have surely come across by now in your academic, personal, or professional career, is what's commonly referred to as the PDF. But what exactly is this file type anyways, how did they come about, and why should we use PDFs when they're (seemingly) impossible to manipulate?
Why does it seem like this file type is the one that everyone, from students to professors, businessmen to governing bodies, seem to be using? And what does the PDF stand for anyways and how is it any different from all the other file types out there?
Well, Soda PDF (yes, we really are experts on this matter–you've come to the right place!) is here to help users understand the power a PDF can provide.
Here's why people should always use this type of document type as their final file version.
The Portable Document Format (PDF) At A Glance
So, what does PDF stand for?
P = Portable
D = Document
F = Format.
What does Portable Document Format mean exactly?
Well, a PDF is basically a file that cannot be modified (though we respectfully disagree, more on that later) and its main purpose is to be a file type that can be shared and printed.
But how did this file format come to be born? For that, we need to look at the beginnings of Adobe, the true breeders of the PDF file, and go all the way back to 1991.
The Camelot Project
Back in the spring of 1991, a gentleman by the name of John Warnock came up with a project titled "Camelot" in which he set out to solve an issue facing many businesses at that time.
The problem that Mr. Warnock was trying to solve? The fact that there was no universal format for viewing printed data electronically.
Thus, Warnock's "Camelot" project was born to provide just what businesses needed: a file format that would maintain the printed format and layout while also optimized for being shared electronically.
In short, Warnock set out to establish one format for everyone to use to share and print information that wasn't going to be compromised or affected by the limitations of a FAX machine or various printing services.
Soon after, Warnock was a highly-sought after man–and for good reason. He had found an issue and had created a project that set out to make businesses run more efficiently without any information getting lost in transfer.
The Camelot project soon turned into what we now commonly refer to as the PDF, in which written works could be kept and preserved digitally, similar to an electronic library. Thus Warnock's Adobe company, which was founded in 1982, soon found its true calling: the Portable Document Format.
Adobe Acrobat: The PDF MASTER
Portable Document Format files can normally only be read by a software that contains a PDF reader, in which this file type is easily opened and keeps the file's formatting in tact.
Traditionally, this PDF-reader was Adobe Acrobat. Users needed to download this software in order to open the PDF in its original format and layout. Otherwise, the file would look like chicken scratch on the page if you attempted to open the file with Word or Notepad, for example.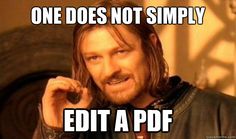 Thus, the PDF-reader was limited to just that: reading. Editing a PDF, especially after it had been published, proved to be tricky business–that is, unless you purchased one of Adobe's products.
Adobe soon had a stronghold on the Portable Document Format since businesses were now using this file type to share information with clients or employees, and in order for anyone to view the document, a download of Adobe Reader was required.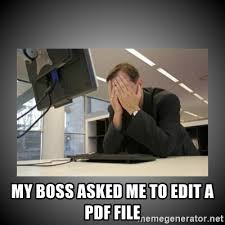 Soon, a lot of software competitors saw an opportunity that Adobe, or the "Camelot" project for that matter, realized back in 1991.
Adobe competitors were all too aware of the fact that published PDFs were seemingly edit proof. Soon, they sought to help businesses with their modern problems: managing a high volume of documents and projects simultaneously.
As businesses and corporations grew at a more rapid rate, so does their need to edit, share, compress and modify PDFs. Adobe was conscious of the fact that they seemed to be the only solution for these businesses, but their monopoly was not going to last forever.
Main benefits of the PDF format
PDFs have found their home across multiple industries. People rely on the fact that no matter what device that file loads on, the content will always display the same.
This makes it easy to send information across the plethora of different devices someone may be using.
PDFs have become a staple for forms. They provide end users with a clean interactive way to gather information while insuring the integrity of the initial file.
PDFs are like open templates. Over the last 27 years the format has evolved way beyond it's original vision.
One of the main changes over time is that in 2008 the PDF format was standardized. With its new ISO, new developers could appear on the scene.
As you can imagine, we are quite fond of one in particular…
Meet Soda PDF: The Portable Document Format Modifier
Ahem, remember when we mentioned how Soda PDF is somewhat experts in this domain? Well, maybe its about time we told you why!
Soda PDF is indeed one of those competitors to Adobe, and our goal is to provide affordable PDF solutions for individuals or businesses looking to make quick and efficient changes to and from PDF files.
For example, converting a PDF to a Word file used to be a difficult. People often found themselves struggling to deal with this challenge or task from their boss.
Sure, exporting your Word file to a PDF was simple, but what if you needed to make changes to that PDF file? Do you convert that document back into a Word file? And how would you even go about it? Most people, it seems, had this kind of thinking: I've been at this all day its so frustrating!
Stop us if you're not one of these users. That's right, we thought so.
But Soda PDF makes the entire process look easy. With our Word to PDF online converter tool, individuals and businesses alike have been flocking to our service page for a quick and painless solution to their PDF frustrations.
Converting file types with Soda PDF isn't just limited to Word files. Soda PDF enables conversion from over 300+ file types, both to and from the PDF format.
Furthermore, Soda PDF is available not only online, but on desktop as well. Plus, users can easily switch between our desktop and online programs and access our product on their favorite device.
Available whenever and wherever you may be, Soda PDF is happy to provide document solutions to any and all PDF problems.
How Can I Get A Taste of Soda PDF?
Curious to learn more about Soda PDF, or even try out our online tools and desktop app?
Well, lucky for you, we're happy to offer you a FREE download of our desktop app! Edit convert, merge and create PDFs to your heart's content–and even save them to a cloud or export as a different file type!
Soda PDF is not only a PDF reader, its a PDF modifier. So be sure to try out our product and get with the times as there's no such thing as published PDF problems with Soda by your side!