How to Convert Pinterest to PDF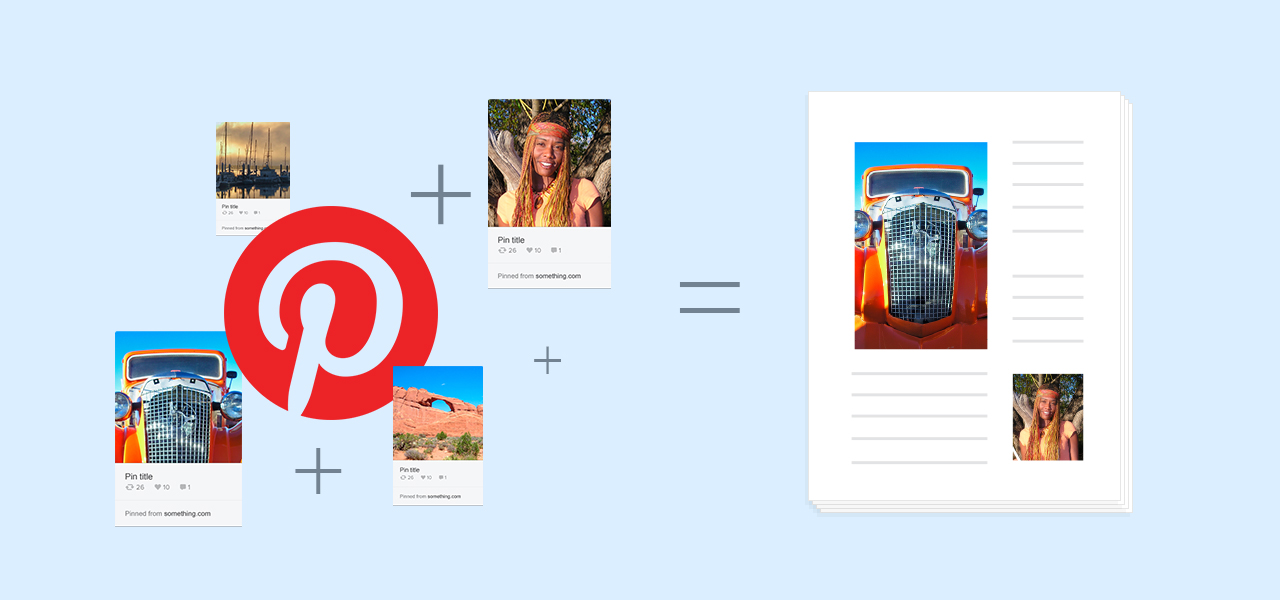 Pinterest is one the internet's favorite websites for cooking, fashion, design inspiration, and much more. You can search through millions of Pinterest "pins" for anything your heart desires, and pin them to your Pinterest board, which acts as an online inspiration board. But what if you have no internet? What if you want to markup your inspiration board like you would a physical one? Converting Pinterest to PDF will solve those issues.
Pinterest offers millions upon millions of images, lists, recipes and animations, and more are added every day. While Pinterest allows you to create separate Pinterest boards with their own names and your curated choice of Pins, it's not exactly like an actual inspiration board. For one, your Pinterest in only accessible if you have internet access. Secondly, you can't add comments, make connections between pins, or markup like you would on a real inspiration board. For the most part, your Pinterest board is just a collection of images.
Luckily there's a way to make your pins for accessible and interactive! Converting your Pinterest to PDF allows you to easily share and edit them like you would with any PDF document. You can even add them to existing documents, as you would with any image, or create your own PDF Pinterest board! There's a whole list of advantages when you Convert from Pinterest to PDF.
How to Convert Pinterest to PDF
There are two methods for converting Pinterest to PDF, and both are equally as simple! One uses the Soda PDF Virtual Printer, while the other uses the Soda PDF online JPG to PDF Converter. Find the method that works best for you – let's get started!
Virtual Printer Method
1. The first step when converting from Pinterest to PDF is choosing an image or Pinterest pin. Search through your Pinterest board for the perfect cute cat picture or healthy gluten free recipe – it's up to you! Once you choose your pin, just open it.
We chose a pin from the summer drink Pinterest board because warm weather is approaching and we're excited.
2. Open your image, then select print (Ctrl + Atl + P). Don't worry, we won't be wasting any paper here! On the print menu, change your printer to the Soda PDF Virtual Printer and click
The Soda PDF Virtual Printer turns any file into a PDF copy. When you download Soda PDF, the virtual printer will install as a printer from the print menu. The Virtual Printer virtually prints a page by turning it into a PDF document and opening it in Soda PDF.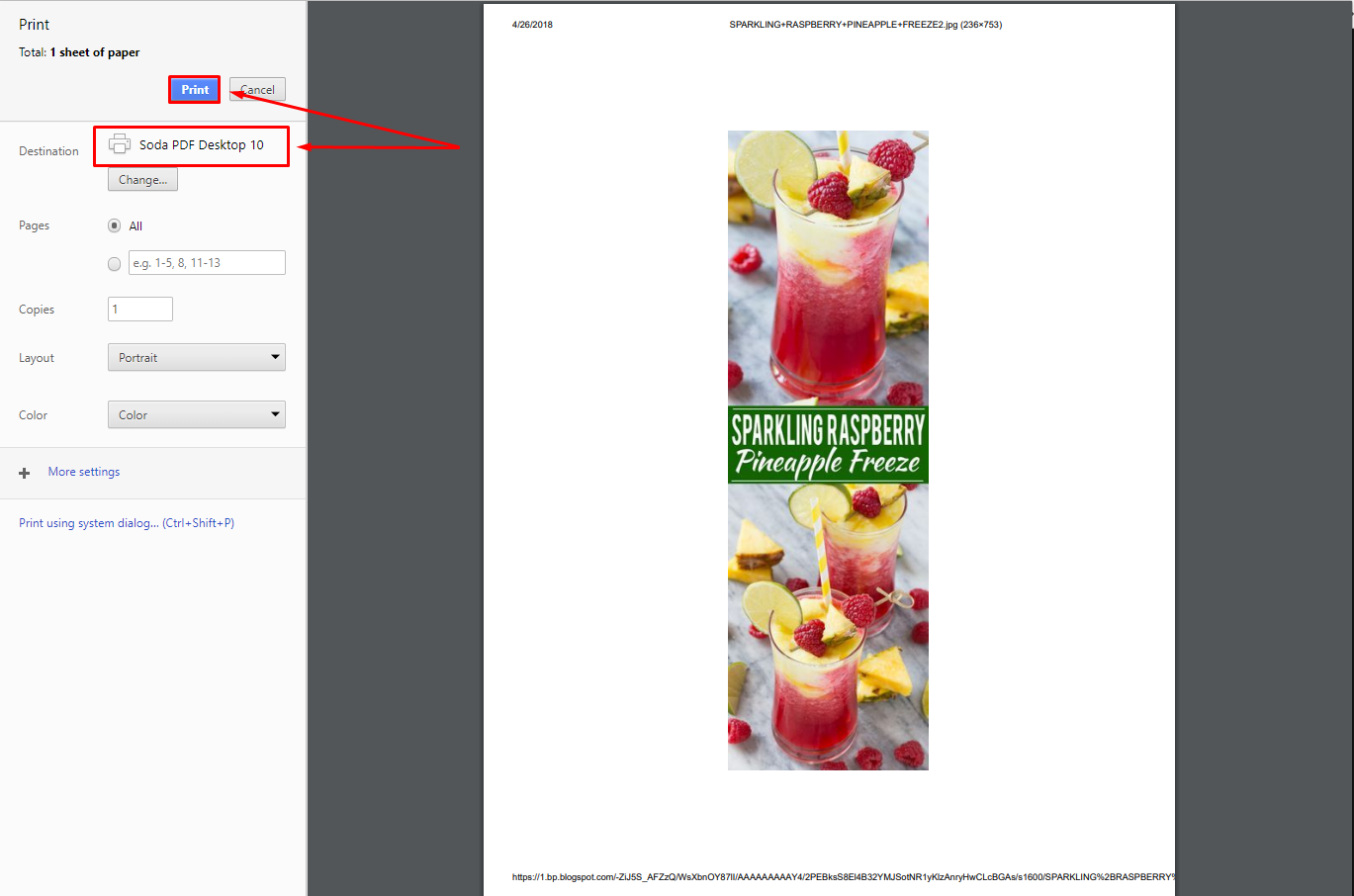 3. When you select Print, a dialogue box will appear, urging you to save the file to your computer. You will be able to see that, in the file type, it will say Portable Document Format (PDF). Choose where you want to save the image, then click Save.
4. Once you save the file, the Soda PDF Virtual Printer will automatically turn the image into a PDF file. The photo will open in Soda PDF and can be edited like any other PDF.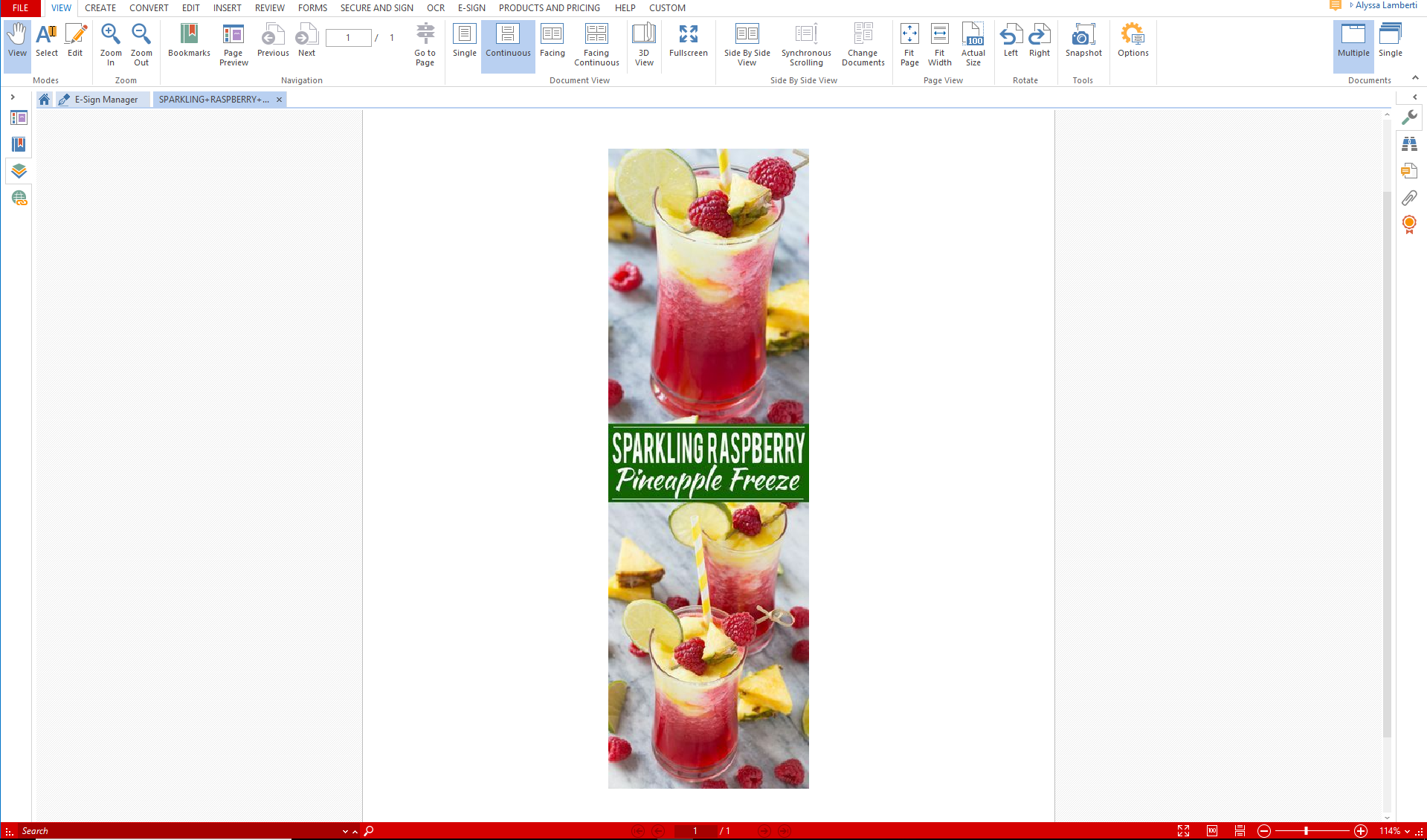 5. The image will open in Soda PDF as it would on printed paper – with the white background around. In order to use the image separately, or attach it into a different document, you can extract it from the document. To extract your image, go to the Select tab, choose the image, then Right-Click and select Extract Image from the drop-down menu.
6. The extracted image with then open in a new tab in Soda. You'll be able to see that the image will now be separated from its white background. This makes it easier to add the image to new documents & even make your own PDF Pinterest board!
Convert to PDF Method
The second method involves saving the image in JPG format and converting it to PDF after.
1. Step one is the same as from the last method – open Pinterest, choose a pin, and open the image.
2. Once you have your image opened, Right-Click and select Save Image as…
3. A dialogue box will open, and you'll be prompted to save the image to your computer. Save the image to a destination of your choice, just make sure you remember where you put it! When you save the image, you'll notice it'll save as a JPEG format.
4. Now it's time to convert to PDF! Soda PDF offers a free online JPEG to PDF converter tool. It takes literally two easy steps to convert. Access the site here.
To use the tool, choose a JPG file from your computer or a cloud storage service such as Google Drive or Dropbox, or simply drag-and-drop it into the appropriate box if you have it handy.
5. The tool with automatically convert your file to PDF. To access it, all you need to do is download the file to your computer and view it in your browser. You can also let us email you a link to your file, which will be valid for 24 hours.
6. Voila! You'll now have a Pinterest pin saved in PDF format.
Create a PDF Pinterest Board
Now that your Pinterest pins have been converted to PDF, you can play around with them and create your own PDF Pinterest board! Make a collage of images, add text, annotations, links and so much more!
If you need a hand, Canva is an online design website offers a range of inspiration/ mood board templates that can be customized and converted into PDF format!
Now that you know how to convert Pinterest to PDF, you can use Soda PDF to create your own PDF Pinterest board. Get creative and have fun! Download Soda PDF to get the best tools for the job!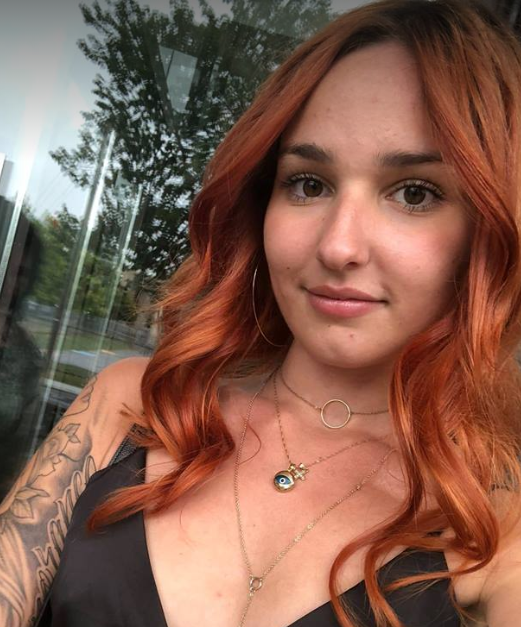 Alyssa is an English Literature graduate and the current copywriter and social media content creator for Soda PDF.