3 Easy Back-to-School Tools for Teachers & Students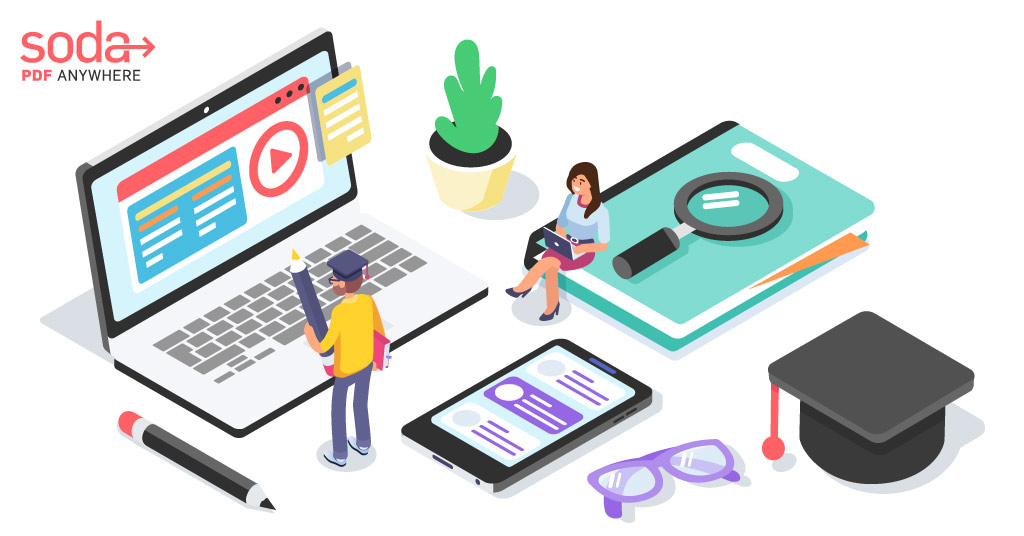 Summer's almost over, which means it's a back-to-school season!
With schools potentially entering a hybrid learning model, the need for keeping a safe distance between people and paper has never been more important. In fact, going paperless will also help not only students and teachers get on the same (digital) page, but can also help the institution reduce their dependency on paper and help save trees too.
Soda PDF is a simple document management software that helps educators and students alike to quickly organize and modify their documents to their needs. Our powerful PDF tools have solutions for smarter study habits for students as well as providing teachers with an easier way to compile and create study guides or syllabuses in just a few clicks!
So if you're a student starting or returning to high school or university, or a professor or teacher looking for easy-to-use paperless solutions for your teaching needs, here are 3 PDF tools you should be using:
Merge PDF – The best tool for organizing documents & compiling various file formats
Not all professors (and students for that matter) are the same. What do we mean by that? Allow us to rephrase: not everyone uses the same universal file format (which really should be PDFs, but OK). Students might submit various files such as PDFs, Word, Excel, or PowerPoint files, or perhaps HTML or image files.
So how can teachers (or students) quickly organize these various file formats into one centralized document? Meet Soda PDF's easy-to-use online tool, PDF Merge
With PDF Merge, anyone can upload a variety of file formats such as Word, Excel, PowerPoint and image files or even a folder full of files and with one click can combine all of these files into a single PDF document.
So if you're a student looking for a simple way to organize your course materials into one document, or a professor looking to compile your student's work throughout the semester to share with your dean or even the student's parents, you'll want to use PDF Merge.
OCR PDF – The best "I'll never have to retype another document again!" tool
ABR? Always be researching? Whether you're a teacher or professor putting together a coursepack with old, printed newspaper articles or passages from bound books, or a student looking to digitize printed readings, our Optical Character Recognition tool can help you quickly transform these files into readable, editable PDF documents.
Our online tool OCR PDF allows you to quickly turn any scanned document or image into a searchable PDF document. Simply scan your file using a scanner or even your smartphone camera, upload the file to our OCR PDF tool, and voila! Soda PDF will automatically convert the file into a PDF document.
Want to not only digitize these documents, but edit them too? No problem! Try our full OCR tool in Soda PDF Desktop or Soda PDF Online. Soda PDF provides users with two tools for digitizing printed files using OCR Search (to recognize text) or OCR Edit (to modify the recognized text). Try it today!
Comment Feature – The best tools for simplifying your study habits
OK, so this last one's not really a tool, but more a feature packed with a ton of easy-to-use tools. You also can only use this tool via our fully-featured PDF software solution (more on that later).
For now, the feature we're speaking about is Soda PDF's COMMENT feature, which includes the tools you need to pencil draw, add sticker notes, highlight, strikethrough or whiteout text and much more!
Here are a few simple ways these Comment tools can help you to increase your study habits in just a few clicks:
Highlight Text
Attention students: Do you ever find yourselves stressing over your thesis paper because you can't recall which page your argument comes from? Are you struggling to find supportive arguments within your assigned reading to ensure your thesis paper is worthy of an A?
Meet Soda PDF's easy-to-use Highlight tool! You can now easily add a highlight annotation to your PDF document, you know, the digital file your professor provided? PDFs by nature can't be edited, unless of course you have a PDF editor handly. Well, Soda PDF is not just a PDF editor; our software as you can see contains all of the PDF tools you need such as edit, create, convert, merge, split & much more!
 By using this Comment tool via Soda PDF Desktop or Soda PDF Online, you can upload your PDF document and search for keywords by using the CTRL + F hotkey to find words within your PDF document. You can then use this Highlight tool to quickly highlight text or paragraphs within this PDF document, allowing you to quickly compile strong supportive arguments and examples for any essay you work on.
Add Sticker Notes
Are you collaborating with other students on a document, or perhaps you want to leave yourself little reminders throughout your reading? Another fun and simple study habit tool to use is the Sticker Note tool within Soda PDF Desktop or Soda PDF Online:
With Sticker Notes, you can easily add your comments to your student paper or to your partner's project to provide feedback. You can also use sticker notes to further provide yourself with context for why you're highlighting that certain passage of text. It's called foreshadowing, my dear Watson!
Plus, the Sticker Note tool is also extremely helpful for teachers, too!
Professors and educators of all kinds now have a means for providing their students with important feedback or criticism, or more importantly, reasoning behind their grading. That's right, no more chicken scratch in the margins!
Pencil Draw on PDF
Of course, we didn't mean anything by chicken scratch, we just know handwriting can be hard to read sometimes. Perhaps we've had some teachers in the past who wrote illegibly and we're still not over it. Anyways, if you're a professor (or student) who still prefers to draw or write by hand notes or to circle certain passages of text with a pen or pencil, we have the tool just for you!
Soda PDF's COMMENT feature also comes with a Pencil Draw tool, meaning with one simple click you can turn your mouse cursor into the tip of a ballpoint pen or an HB2 pencil! Go ahead and scribble anywhere on your document or circle passages and see your document turn into your very own writable printed worksheet without ever having to print!
Try our fully-featured PDF software: Soda PDF Desktop & Online!
Want to learn more about our fully-featured PDF software solution? Or perhaps you're ready to get started using the best document management software today?
Whether you're looking to edit, create, convert, merge, split, comment, review, annotate, secure, OCR or even E-Sign PDF files, Soda PDF has all these tools and more!
Get a taste for our one-click PDF tools directly from your web browser using our FREE online tools. Or, if you're looking to use more than one PDF tool at a time, we highly recommend downloading Soda PDF Desktop if you're a Windows user, or working from Soda PDF Online if you're a MAC user.
Best of all, when you create your Soda PDF account, you'll have access to our entire suite of PDF tools and services with a 7-day trial. Get started today for FREE and see how our document software helps both students and teachers alike simplify remote learning through simple digital document solutions!
Review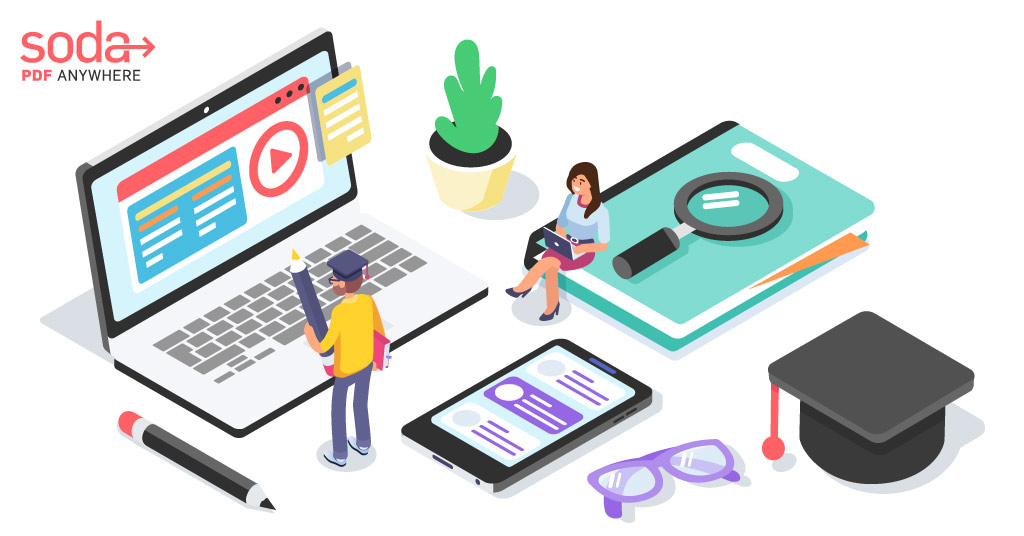 Blog Name
3 Easy Back-to-School Tools for Teachers & Students
Description
3 easy Back-to-School tools for teachers and students: use Soda PDF's powerful document management software! Combine file formats, OCR documents & more!
Author
Publisher Name
Publisher Logo