6 Apps To Help Students Get Organized
Does school really expect you to remember when and where every class is, AND what's due at what time?
Staying organized is harder now than ever, so even if you were a super computer you'd still struggle.
Don't worry, we've got 6 apps that will help even the laziest students stay organized, productive, and, dare we say, ON TIME!
Must Have Time Management Apps – READ THIS FIRST
Before we get into the apps themselves, there are a few time-management apps and productivity hacks all students MUST HAVE. Once we started using these around the office, our productivity skyrocketed.
Trello: This free, card-based project management is awesome for collaboration, time tracking, and communication. You can set projects, add different people, color code, and rearrange based on priority. It's great for personal use or with group projects. School will never be the same.
Pomodoro Timer: Work 25 minutes, rest 5 minutes. The Pomodoro Technique flat out works. It has been proven to boost productivity and prevent burnout. After 4 pomodoros, take a long break to let your brain relax and assimilate new information. Lather, rinse, repeat til' you've crushed the day!
Block Distractions: Facebook, Reddit, Gmail, more Facebook…distractions are EVERYWHERE! You'll never get anything done unless you start blocking distractions. Stay Focused is a highly rated app that blocks out time-draining websites so you can zero in and actually get things done.
Note Taking Apps: These organizational apps for students are great for staying organized and on top of your homework or exams, but what about taking the notes themselves? The best app for recording notes, lectures, videos, or whatever else you need to do is Evernote. It's life changing. Go put it on your phone right now. It lets you record notes in real time, add audio files, upload it instantly to the cloud, and even annotate using PDF (And it even works with Soda PDF Anywhere, too!)
And one special mention…
If you want to take things a step further, Coach.Me is an app that helps coach you to achieve your goals. You'll find support from other students and professionals.
Doesn't matter if you want to get in shape, up your GPA to a 3.8, or just get an A on your next exam, Coach.Me has the support structure so many lazy students need. Not naming names or pointing fingers….
Best Student Organization App –

Planner Pro
Rating: 4.7 out of 5

Best Features:
Grade Tracking

GPA Calculator

Smooth Interface
Planner Pro wins with flying colors. There are features, and then there are FEATURES. We can't suggest this amazing app enough!

This app syncs right into your Google Calendar, and comes with all your typical planning app features like notes, alarms, categories, etc. – but wait, there's more!
You can separate things into daily, weekly, or monthly goals, and even quickly assign different responsibilities to different people for group projects. But it gets better!
The best thing about Planner Pro is the price: All of the in-app purchases are super cheap. Other than that, we love the simplicity, interface, and speed.
Quick Planner Pro Tutorial – Look How Easy This is!
This the smoothest, easiest app out there. Actually, we were surprised at how easy it was for us to create notes/tasks.
Click The Menu in the Top Left
Choose Notes or Tasks
Add it in!
Rating: 4.6 out of 5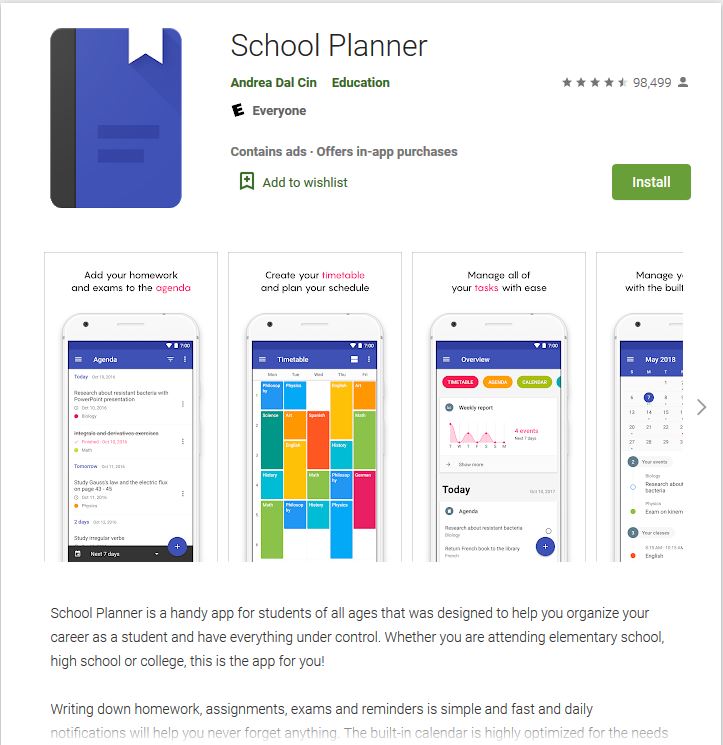 Best Features:
Grade Calculator
Beautiful Layout
Fast Load Times
Contact Info Section
There's no shame in a silver medal, especially when you're up against the greatest team of all time.
School Planner is still awesome, especially if you're organizationally-challenged (LIKE US!), you've come to the right place. We promise we'll keep it anonymous.
The best part of this app is how it intuitively guides you through the organizational process. You know, us lazy folks rarely know how to do that.
School Planner gets you going by asking you to list all of your subjects and tasks. Then, the fun part: you get to drag and drop everything into your calendar, a fun EASY task that will rearrange your schedule in case something fun comes up (Like a date with that girl in chemistry…keep dreaming).
A couple of features that stuck out to us:
It's Easy to Add Homework or Exams to Your Agenda
The Built-In Calendar is Smooth and Simple
For example, you can add a recorded lecture and even combine multiple planners to shave time off your studies. It really helps to know where everything is!
Cool Bonus Features – School Planner app

School Planner has a few next-level features that no other app can compete with. The only reason it's not #1 is that most of these features are behind a paywall. We know, sad….
Grade Average Calculator: The GPA calculator is fast and accurate. BOOM!
Contact Info: Save your teacher's contact info for instant contact in case you aren't showing up to class that day.
Nice Color Schemes: Since you'll be staring at the app all day, it's nice to have one that actually looks good!
FAST: This is the fastest app on the list. Everything loads smoothly and seamlessly. We wish it didn't make you pay for so much.
No more notebooks needed with School Planner!
The Best of the Rest – My Study Life



Rating: 4.5 out of 5

Best Features:
Rotating Timetables
Cross-Platform Sync
Works Offline
"Which classes do I have today?"
"When's that essay due?"
"What do I even need to study for my next test?"
My Study Life was created to answer all of these questions. This is not just another "calendar app". You'll never forget another lecture again.
What's one thing that the masters of organization always talk about? Consolidation.
For those of you who skipped English, this means having everything in one place. My Study Life does that seamlessly with cross-platform AWESOMENESS. You can sync from anywhere with storage in the cloud and even access offline.
My Study Life organizes the mess that is your devices (READ: LIFE) by bringing it all together in one place. The result? COHESIVENESS (FINALLY)! While you may not have been able to get that date from Chem 101 girl, you should be able to keep your notes together in one place.
This app even lets you know when you haven't completed an assignment yet. In case you need a kick in the you know what to get things done.
One cool feature that should help you remember to show up for tests is the exam reminder function. You can even get into grainy details like subject, seat, and room #. If you miss the next test, it's all on you.
The Best of the Rest – iStudiez Pro
Rating: 4.4 out of 5
Best Features:
Mature Design
Great Calendar
GPA Calculator
We can't guarantee that you'll become smarter from using an app that's called iStudiez…
But we can feel good about telling you that it combines your grades, homework, and schedule into one easy-to-use dashboard. And that's basically the same thing!
iStudiez is best for students who have a ton of different notes, assignments, texts, etc. on multiple devices or services because it allows you to consolidate into one area quickly. Talk about organization!
We highly recommend this one for college students. It has a lot of extra features that will come in handy, and it looks more "mature" than some of the other apps (See interface above).
And check out the all too handy assignments tab – you'll never miss a deadline again!
Our Favorite Feature: The Calendar – iStudiez app

iStudiez is so cool that it even works on your laptop. Talk about #convenience.
Our favorite feature has to be the calendar. The maturity really shines through here (Despite the typo in the name). We really felt like we were being good students…even though we were just playing around in the office.
Bonus: iStudiez also comes with a GPA calculator!
The Best of the Rest – MyHomework
Rating: 4.3
Best Features:
Steamy Homework Details
Color Coding!
Apple Watch Compatibility
If we've still got a Type A with us here, this is another app that lets you color code (But again, keep that to yourself). The creatively named "Homework App" is excellent for people who need to do – well – you probably know.
Check out how to add a class color here. We chose light green to reflect how much we hate calculus. The tagline says it all: Get Better Grades.
But this isn't your typical organization app. This one makes doing homework fun by making it a game where you get prizes! You know how your parents used to give you money for good grades as a kid? This is the next best thing.
The Homework App gives out Perk Points for finishing tasks on time. You can exchange these for things like gift cards so that you only have to eat ramen for half the week instead of all day every day.
And unlike most other apps out there, adding a homework assignment is super easy. All you do is click the assignments section on the main page and add in the details. Here's what pops up:
BONUS FOR TYPE A'S!: Type A's usually have an Apple watch, so you'll find its companion app on your wrist, too.
The Best of the Rest – Class Manager
Rating: 4.1 out of 5
Best Features:
OCD-Level Details
Priority Selection
It's common to have a spurt of organization in the first week of school, only to watch this peter off into an unwatchable, undesirable mess.
Afraid to think about the Library of Alexandria worth of notes you've lost? Well, keep on top of things with Class Manager. Enter all of your upcoming assignments and list them in order of priority.
If you've taken Type A to a whole new level and are now OCD (It happens), you can even enter the room number and building where your class is.
Frequently Asked Questions
We get so many of the same questions over and over again. So, here's a FAQ for you!
Q: What the is the best app for homework?
A: Out of all these apps, probably MyHomework app. It is in the name after all…
Q: What are the best apps for college students?
The best apps for college students are Planner Pro, School Planner, Evernote, Trello, Coach.me, and Uber Eats.
Q: Why should I even use these apps?
If you want to keep track of homework, due dates, exams, projects, and GPA, these apps are a no brainer. They're almost guaranteed to improve your grades.
Q: Are these study apps free?
Some are FREE. A few are paid. Others have "freemium plans", where you get free basic features but have to pay to get upgrades.
We understand that being a student these days isn't easy.
In some ways, it's easier than ever, but in most ways, it's way harder and more complex. Don't get down on yourself for being lazy. Just do something about it. As soon as you organize your life with these 6 student organization apps, you'll feel so much better.
One Last App for Disorganized Students…

And for all of your documentation needs, say that essay you still need to write or eventually will begin to write, check out Soda PDF Anywhere! Its by far the best writing and editing app, either desktop or mobile, that we've ever tried and we hope you find it to be just as helpful!