The Best Android Emulators (FREE, Mac, PC & More!)
We've tested and reviewed the best Android emulators, and are bringing you our top picks for 2020. 
Most worked flawlessly, but a few emulators got sneaky and installed programs in the background of our computers without our permission. The last thing you need is something hijacking your browser or stealing your identity. 
Make sure to stick to only what we've tested.
Whether you're a developer or gamer, or just some weirdo that doesn't leave the house and wants their Android phone on a monitor, you'll find exactly what you're looking for.
First, Who Needs an Android Emulator and Why?
Android emulators serve 3 main purposes:
To make mobile games easier to play

To make web apps easier to develop and test

To increase productivity
#3 is extremely rare, so let's just focus on the first two.
Playing games on mobile is addictive, but definitely not as convenient as playing on desktop. And it's definitely not as rich.
Imagine being able to play Mobile Legends through a huge screen with the power of your mouse and keyboard. You'll destroy! A lot of mobile gamers prefer to have the game on the big screen and get more control over the game with their keyboard.
App development is the main business reason behind Android emulators. It makes sense, right? Developing apps on mobile isn't going to happen. But how can you really know what an app feels like on mobile unless you develop and test it on mobile?
Now you see the power of a program that "emulates" a mobile device.
An Android emulator lets you simulate a mobile environment while still giving you full control over your project. It's perfect!
The Best Free Android Emulator: Android Studio Emulator
Are you a developer looking for the most seamless Android experience on your computer so you can test apps as if you were ACTUALLY USING AN ANDROID?
This is the emulator for you. Especially if you're just starting out – the interface is super familiar and seamless.
Android Studio's emulator is as real as it gets for testing apps, and it's not even close. It's recommended by Android itself – hard to argue with that.
The learning curve is steep, but once you get the hang of it, it's functionally limitless for testing apps. With it, you can:
Simulate incoming text and calls

Specify device location

Simulate network speeds

And even access the Google Play Store
Once you install the program, you get what's called an Android Virtual Device or AVD for short. Once you've created your device, just select the device you want to run the app on and click the play button (pictured below).
The Best Android Emulator for Windows: Memu
Memu is a gamer's Android Emulator, and where most others are slow or clunky, this one is better, faster, clearer. You already have an edge when emulating your game on your PC – Memu makes it borderline unfair.
The controls felt familiar and smooth (We tested PubG, Call of Duty, and Mobile Legends). We hardly noticed a difference at all. It's as close to perfectly supporting mobile with a mouse and keyboard as it gets.
Oh, and the speed and graphics are far superior to other entries on the list. Don't believe us? Check out this test:

Here's a real life screenshot of the interface to see if it's something you can handle:
Pretty neat, huh?
The ease of use and granular detail give Memu the top spot of best mobile gaming emulator. But there's another that must be discussed.
BlueStacks (For Windows and Mac)
BlueStacks is probably the biggest, most popular name in the Android mobile game emulating industry.
It's so big that all of the cool kids are starting to move away from it.
It's like if the Yankees or the Patriots were a gaming emulator: It's good. Real good. But it's also cool to hate it.
There's no doubting the numbers, though.
6X faster than playing on mobile

(Source)
1 million + games
1,000's of helpful gaming guides, videos, and roundup articles

The new BlueStacks 4 has smoother than silk gameplay (Pictured below). And it's super easy to take a screenshot so you can show off to your friends.
Plus it comes with these features. And this is just to name a few:
Key Mapping (For seamless gameplay)

The best "Shooting Mode" of any emulator we tested

Real-time translation

Farm-mode to make life easier on your computer when running multiple BlueStacks accounts in-game

High-FPS for faster gameplay
If it's so good, why isn't it in the top spot?
Good question…
Well, in our humble (Very humble) opinion, it actually has TOO MANY features. It's a bit clunky and super heavy on your PC. And the graphics, while totally acceptable, weren't as sharp as Memu.
All of the extra features really weigh it down, and you probably won't use half of them. It's definitely awesome though.
The Best Android Emulator for Multiple Games: Remix OS
Remix OS Player is one of the newest emulators on the market, and the blazing fast speeds and immaculate interface make it excellent as both a gaming emulator and a productivity tool.
So if you're a gamer AND a developer, this is the perfect solution.
It claims to be the most advanced PC emulator on the market, but you wouldn't know it from the installation menu. Check out how clean this looks: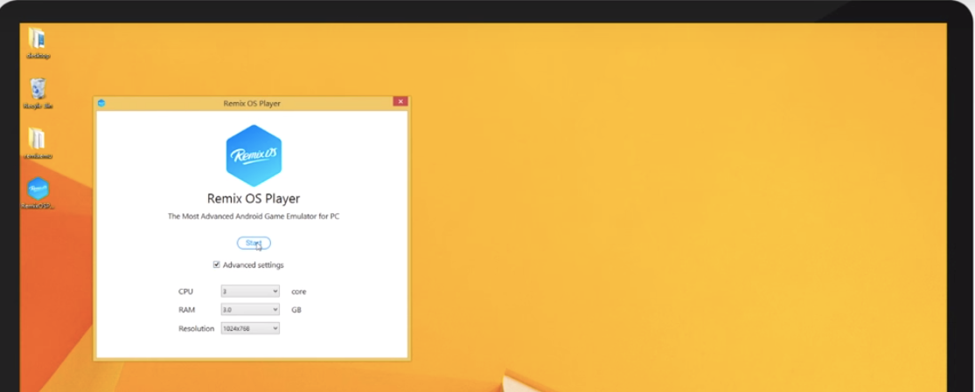 Our favorite feature is its multi-window function. For gamers, that means you can feed your addiction even more by playing multiple games at once. For devs, that lets you easily test your projects across multiple windows, speeding the process up and giving you a more holistic view.
Here's how it looks in real time:
Not too shabby, right?
The Best Android Emulator for Mac: Nox
Nox is the perfect emulator to play PC games on your Mac. Why?
Because it's lightweight, extremely intuitive, and designed with Mac OS in mind. That means it won't hog all of your resources, so you can keep a bunch of other apps open at once.
We had Safari and Chrome running, plus GarageBand open in the background and experienced 0 lag.
The keyboard control is off the charts, allowing for extra control. And it even has multiple-instances support so you can play multiple games at the same time WITHOUT lag.
One cool bonus is that it's GDPR compliant, so you don't have to worry about evil people stealing your data.
Bonus: The newest version of Nox is far more stable and smoother than before. So a lot of the negativity you might find around the web is probably outdated.
The Best Online Android Emulator: ARChon
ARChon is a totally different beast altogether than everything you've seen before.
Instead of the super heavy programs you install on your computer, ARChon is a lightweight Chrome plugin that gives your browser the ability to run Android apps.
Cool, huh?
We don't know about you, but it's pretty awesome to be able to run our favorite apps out of our favorite browser:
There's just one downside: It's really hard to set up. At least compared to what you've seen already.
First, you've got to install the thing for Chrome (According to your device)
Then you'll need to work a little magic with some custom Android Packages (APKs), and you may even need a tool to adjust the APKs to make them compatible. Luckily we have some super geeky people in the office that could do it for us.
Once you're done, it looks smooth though!
Let us know which Android emulator worked for you, and if you developed any awesome apps with it based on our recommendations. We'd love to pat ourselves on the back!
Frequently Asked Questions
Q: Which Android emulator is the fastest?
A: According to supposedly independent testing, it's Memu. They're "tests" show that it comes in faster than competitors like BlueStacks by a good margin. In our experience, something lighter like Nox for Mac OS might be the fastest, however. We're only using the eye test though.
Q: Which Android emulator is best?
A: Best is too subjective to say, but in our opinion it's either Android Studio Emulator or Memu. They are simple, intuitive, powerful, and FREE. BlueStacks is probably the biggest name in the industry, but it's not on the same level as the other two for the majority of users.
Q: What is the best free Android emulator?
A: If we had to choose just one, we'd recommend staying with Android Studio Emulator for beginners, and Memu for gamers.
Q: Which is the best Android emulator for PC?
A: Memu performed best on PC according to our tests.
Q: Which is the best Android emulator for Mac?
A: Nox is definitely the best for Mac. It runs perfectly even with apps running in the background!
Q: Which is the lightest Android emulator?
A: Nox is the lightest by far! It's like a feather!
Q: Are emulators legal?
A: Yes, of course! Why wouldn't they be?
How Can Soda PDF Emulate My Document Needs?
We're glad you asked!
Soda PDF software is essentially PDF editing made easy. Whether using one of our FREE online tools to edit, convert, merge or split your PDF files, or sampling our desktop app with a FREE download, users can expect Soda PDF to help them make the most of their documents.
So whatever you're looking to do with your files, be sure to get a taste of Soda PDF's editing power. We've been PDF experts for the past decade, so try our desktop app or online tools today and get a taste of our software for yourself!