What is the Best Free JPG to PDF Converter?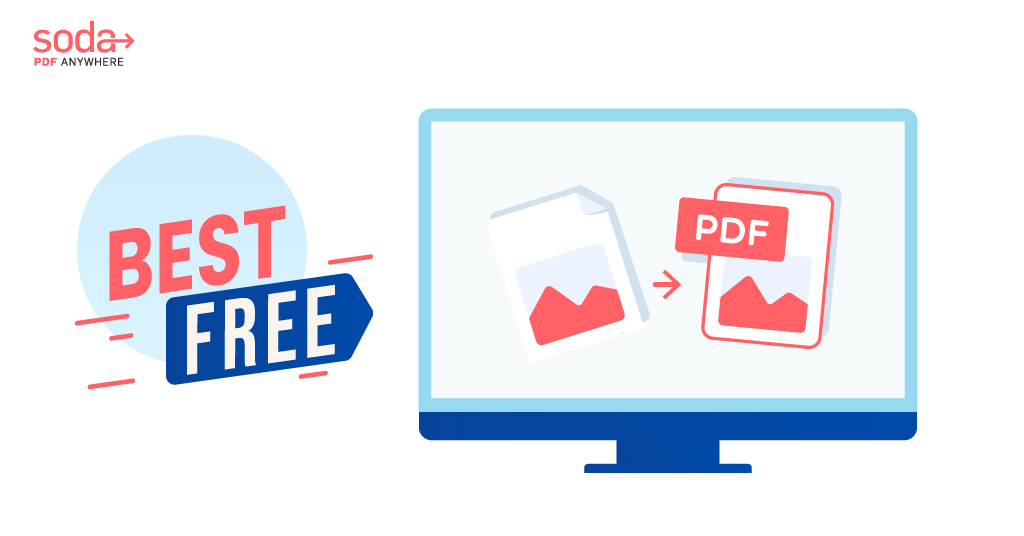 Looking for the best FREE JPG to PDF converter? We've got you covered.
Get FREE access to the best JPG to PDF converter of 2021: Soda PDF!
Looking to convert your JPG files into PDFs? You'll need a JPG to PDF converter. When it comes to a simple task like converting images, in this case a JPG to PDF, most people are looking for a quick, easy solution that's also free to access. So they hop on Google and type in "How do I convert JPG to PDF" or "convert JPG to PDF for free" or even "JPGs convert to PDF file."
If you're looking for a truly free, user-friendly JPG to PDF converter, check out Soda PDF's online JPEG to PDF converter.
Quickly and easily convert JPGs to PDFs and more for free with Soda PDF's range of Online tools
All you need is a browser and an internet connection, and you'll be converting your JPG images to PDF files in no time with Soda PDF's tools. You can also use these tools to do a lot more than convert JPG to PDF files.
On the Soda PDF website, you'll also find other free, simple PDF document management tools like edit, convert, merge, split and more.
What is Soda PDF?
Soda PDF is a suite of PDF management tools that are available in a range of versions. There are one-click online service tools that are simple, free PDF management functions – including tools that will convert your images.
All of Soda PDF's free online, one-click PDF tool services are accessible through Soda PDF's website under Online Tools.
Online version
There is also a fully-featured online version, Soda PDF Online, which is a PDF editing software you can access online through your browser from any device with internet access and is highly recommended for Mac users.
Offline version
Then there's Soda PDF Desktop, the fully-featured offline version of Soda PDF, which is an application you download and install on your computer. Soda PDF Desktop allows you to access and manage PDF files locally.
Soda PDF Desktop is a great option if you'd like to create PDF files, convert images, and more – but would prefer to work offline. This version is only available for Windows users.
Back to JPEG to PDF conversion!
JPG and PDF have commonly used file formats. People exchange millions of these image and document files every day on the internet. Since they are so common, you'll often need to convert between each format. That's when you'll need a JPG image to PDF converter.
If you're looking for a free JPG to PDF converter, the simplest way to do this is to use online tools like the ones found at the Soda PDF website. The covert JPG to PDF tool on the website will allow you to easily convert JPG images to PDF format without any hassle.
How do I easily perform image conversion?
There are probably thousands of online tools that convert images out there (Adobe Acrobat is a popular one), but Soda PDF is easy-to-use and straightforward.
All you need to do is visit the website, select the convert JPG to PDF tool from the menu, and drag and drop your PDF file into the browser. The JPEG to PDF converter will take care of the rest automatically.
After it's done, you can download your converted PDF file and save it to your computer or mobile device.
How to convert a JPEG image to PDF file
If you're like most users, you are looking for a way to convert an image (or images) quickly and easily with no fees and no signups.
To do this, simply follow these instructions:
Head over to the Soda PDF website

Navigate to the Online Tools menu

Select

JPG to PDF

from the array of tools

Drag and drop your file into the browser area to upload it and the tool takes care of the rest!

You can then download and save your new converted file, which will be in PDF format.
Frequently Asked Questions
Here are some of the most popular questions users ask when using our JPG to PDF online converter tool:
Can I convert multiple JPEG to PDF files?
Note that with most online JPG to PDF converter tools, you can only work with a single file – one image or one PDF. You upload one JPG file into the browser, and you'll end up with a single PDF file.
This can be a tedious task if you're dealing with multiple files. If you want to combine multiple documents, we recommend signing up for an account and trying out the full Soda PDF software versions. There's a 7-day free trial for these apps, so you can test it out and find out if it's right for your needs. Both versions have a full range of PDF converter tools, including a JPG image to PDF converter.
Can I do JPG TO PDF image file conversion on a Mac?
As we've said before, Soda PDF Online is recommended for Mac users, while the desktop version is only available for Windows users. You'll still be able to perform image conversion, access, create, edit and save your work locally if you're using the online version.
Why should you use Soda PDF to convert your image files into PDF files?
Here's a breakdown of some quick facts about Soda PDF, your comprehensive PDF management software. You can perform conversion from many image formats (JPEG, PNG, BMP etc.) to a PDF document with these PDF tools.
Both online and offline versions are available

Free trial available for both versions

Converts to and from many image formats (BMP, PNG, etc.)

Can perform OCR on JPGs

Features a full range of PDF editing tools, including PDF Converter
What is the difference between all these versions of Soda PDF?
Soda PDF has both online and desktop versions, but the tools available on the Soda PDF website are separate from these. Each tool on the site is designed for converting one file from JPG to PDF (or whatever else they need). These tools are always free and are not part of the account registration or 7-day trial process.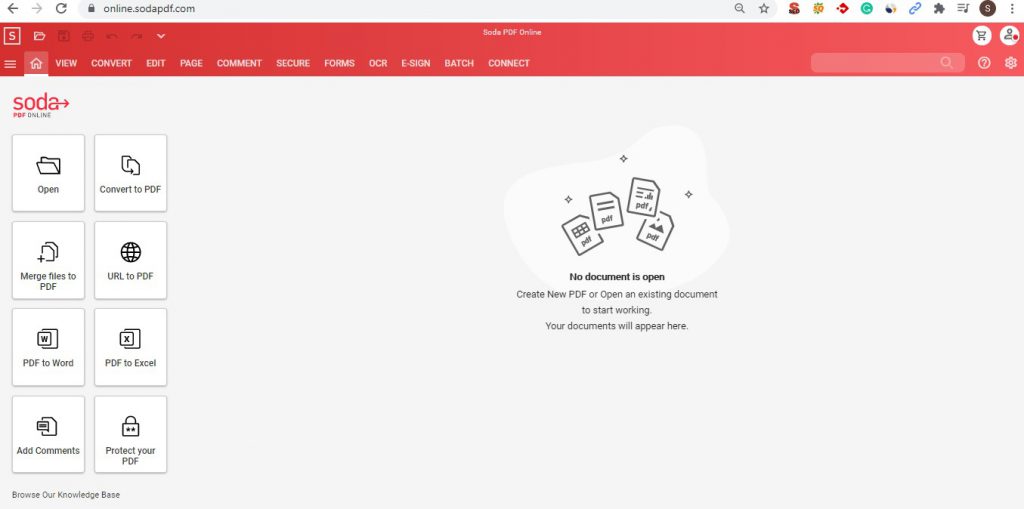 These tools are separate from Soda PDF Online, which is a full-featured application and mirrors the Windows desktop version almost exactly. With these applications, you'll enjoy more features, including the conversion of multiple formats and merging several files into one.
Is Soda PDF really free for PDF conversion?
The online tools are, and they can do more than convert different file formats to PDF. You'll only be working with single PDF files when you use these tools however.
Remember, the desktop and online apps have a free trial as well. You can download and install them quickly and easily and work offline with the desktop version if you need to. These will allow you to work with multiple files, so you can convert batches of documents of various image formats into several converted PDF files.
How long does the trial last?
The trial of these versions will last 7 days, after which point you'll need to switch to a paid subscription to enjoy the full suite of PDF management tools at your disposal.
Check out some of Soda PDF's cost-effective and affordable PDF plans.
Is Soda PDF safe to convert to PDF?
Soda PDF's website is used by millions of people every month, and it is 100% secure. It uses SSL encryption to ensure that your images and documents and data are not compromised and removes all files after processing.
After you upload your file to the site and it's done converting, you can always save it to Google Drive if you'd like to have it easily available for sharing.
If you want to work offline to process your images and PDF files, you can always download the Soda PDF Desktop software for Windows. It allows you to do all your work offline, from image-to-PDF-convert, compressing to merging PDFs and more. As we've said, it features a free trial, and is extremely easy to use.
Download and install Soda PDF from the website.
Use Soda PDF for all your document management needs!
With all these easy-to-use tools at your disposal, there's no reason to be sharing documents in JPG image format or with a large file size anymore. If you want to convert images from JPEG to PDF, use Soda PDFs free website tools, online or offline software to ensure your document sharing is quick, easy and without headaches!
Best of all, whenever you create a new Soda PDF account, you'll get access to a FREE 7-day trial version that gives you full access to our entire suite of PDF tools and services. Try our popular PDF tools such as edit, create, convert, merge, compress, password protect PDF, OCR, E-Sign, and much more!
Download Soda PDF Desktop or try Soda PDF Online directly from your web browser now!
Review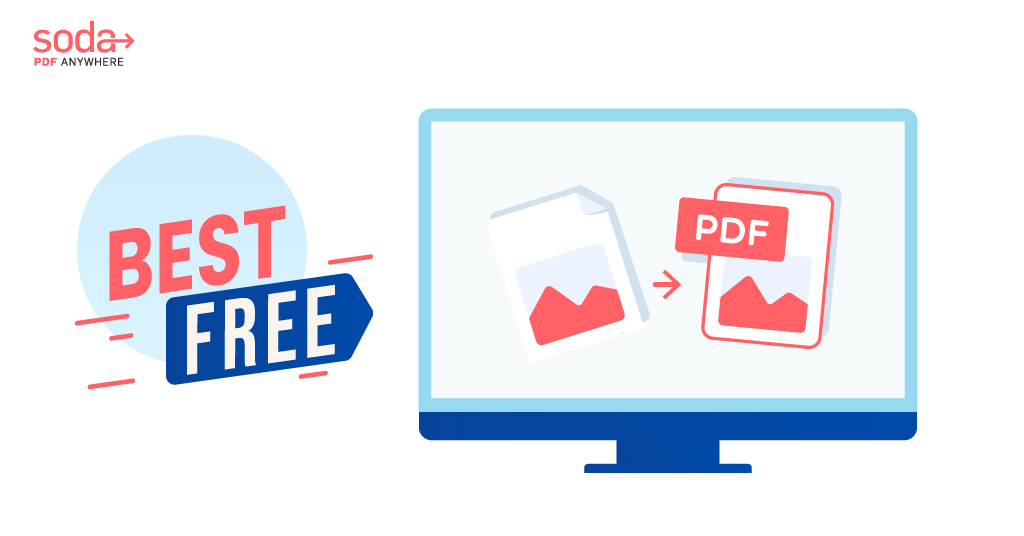 Blog Name
What is the Best Free JPG to PDF Converter?
Description
Best free JPG to PDF converter: try Soda PDF's easy-to-use JPEG to PDF converter online tool. Upload JPG file and convert to PDF for FREE!
Author
Publisher Name
Publisher Logo