Free Form Templates From Soda PDF
Explore our growing library of free form templates to fill, create and easily customize them online. Select templates from industry examples to support your business or personal needs.
Get started on our site by selecting one of our many form template examples below.
Key Features of Fillable Form Templates
Free, fillable, online industry form templates have several convenient features, resources and examples. Fully customizable industry forms and templates integrate and register easily with other resources, giving users the ability to access their information anywhere, quickly and efficiently. Ready made form templates are mobile responsive and are easy to embed on a website or share in industry emails. More templates will be continuously added to Soda PDF to provide this value.
What are Form Templates?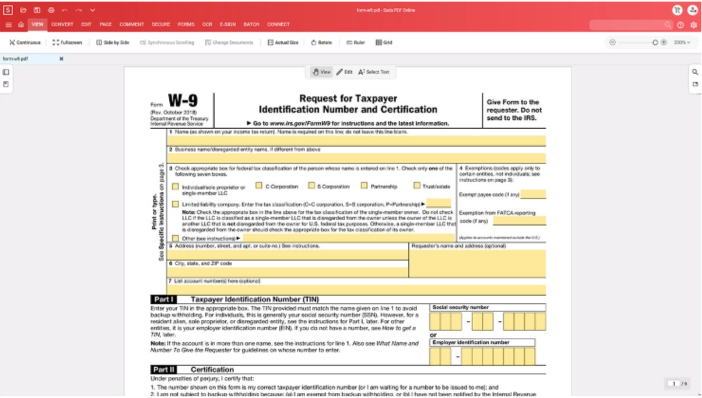 Form templates alone are defined as an online form that is fillable, printable, editable, and require relevant information in order to complete a task; such as paying an employee or requesting information from an individual or company for tax purposes or data collection. Individuals or businesses use forms to process requests and sign off business orders, such as a purchase orders. Free templates are online resources that allow users to fill in their information for any need quickly and efficiently.
How do I create an online form template?
1. Determine its purpose

What will your form template examples be used for? Templates must hold value to be used!

2. Input essential info

Enter all business or personal information to the customers and organizations needed on your website or form templates.

3. Apply suitable format

Customize your online form templates to your needs, such as in order to process employees request, or allow a payment.

4. Readable font and letter style

Forms should be clear and easily able to read details.

5. Be sure to review the details

Once you gather information, be sure to review the form with free resources from Soda PDF.
FAQs
What are the components of a form?
Key components in an HTML form include input fields, select menus, check-boxes, radio buttons, text-areas, submit button, reset button
What are the purposes of forms?
Template forms are used to collect required data in a logical, meaningful fashion for communication to pass on to another entity. When you picture a form, you can see many different types of documents. Template forms are docs with spaces named fields or placeholders, to write in or to select, for a series of documents or pages with similar content. Forms usually have printed parts in common, except, possibly, for a serial number, to keep track of the number of forms filled out.
Forms, when completed, may be a statement, registration, an order, etc. There are also forms for tax purposes; filling them in may be necessary to determine how much tax one owes. The forms may also be appeals for refunds and mortgage interest.
Forms may be filled out in multiples, when required information gathered on the form needs to be distributed to several departments within an organization. For example, this can be done with registration templates.
How can forms simplify audience response?
A well used form template services your business, or can support your industry, audience or customers to find new leads, information, sell products, or ideas. If poorly used, templates can be a frustrating industry experience for everyone, including the people you want to respond to the templates.
What is the difference between templates and forms?
A template, or templates, are the master version of your digital document and every copy filled out are called forms. Templates are the outline of the document, and the form is what you are seeking to fill in.
What are examples of forms?
There are many examples of Forms. Consent Forms, Order Forms, Evaluation Forms and Business Forms are all examples you can find on SodaPDF.