The 7 Best Mechanical Keyboards 2019 Has to Offer
Without a mechanical keyboard, you'll always be at a disadvantage to gamers who invest in gaining every little edge. 
The best mechanical keyboards make you FASTER, BETTER, STRONGER. You'll act fractions of a second faster. You'll feel less fatigue and more comfort. You'll live where you used to perish, succeed where you used to fail, conquer whe… OK, we geeked out a bit there. 
Mechanical keyboards are AWESOME for typing at work too. Fewer typos, less stress on your fingers, and that cool clicky noise that makes it sound like you're working harder than you really are…. A bunch of us made the switch to mechanical and haven't turned back. Here are our favorites.
What, you didn't know PDF companies could have Counter-Strike LAN parties?
#1: SteelSeries Apex Pro – Our Hands-Down Favorite
This thing is a BEAST.
Svelte, strong, and highly customizable, it would easily be #1 even without the custom RGB lighting.
We don't really have anything bad to say about it. If you're looking for the best mechanical keyboards you can buy (meaning budget isn't an issue), you should just stop right here.
And here's why…
The SteelSeries Apex Pro is the only keyboard we found with CUSTOMIZABLE magnetic switches. Yes, YOU choose your own typing style. You know all that frustration you go through when a key is too sensitive (#feelings) or not sensitive enough?
Gone.
No more throwing your laptop in a fit of rage when your stroke doesn't register or fighting with the keys for days trying to get the sensitivity right. You can customize the key actuation exactly to your liking.
For gamers, this is a no brainer. While everyone else suffers from a learning curve, you can customize your gaming experience exactly how you want it. Victory is sweet.
#2: Alienware Pro Gaming Keyboard AW768 – BUDGET MECHANICAL KEYBOARD
Calling this a budget keyboard doesn't do it justice, so let's say it has a great "performance to price ratio."
We're being serious. This bad boy from Alienware has out-of-this-world performance at a fraction of the price of competitors like SteelSeries or even Logitech.
First off, this keyboard is truly a sight to behold. Alienware made its name producing futuristic, aesthetically quirky keyboards that kicked butt on the virtual battleground, but the AW738 meeting those older models would be like Close Encounters of the 3rd Kind.
It's voluptuous, cutting edge, and illuminated brilliantly by RGB lights.
But where it really helps in the office (or wherever your next gaming tournament takes you) are its Cherry MX Brown switches. You will notice BARELY ANY FATIGUE due to the "bump" caused by the interruption fin (MX Brown are well known for causing the least fatigue of all switches).
If you need a good middle ground for the office and gaming (like we do!), this one is a good start.
#3: The Corsair K70 RGB MK.2: The Next Best Gaming Keyboard
A slight step down in price (and performance if you ask us) from the SteelSeries at #1 is the Corsair K70.
It's an awesome all-around keyboard, and one of the best for gaming. It doesn't translate to the office so well for a few reasons, but we'll get to that after.
First, it's got 104 keys, so you can kill your enemy, revive a teammate, and finish that philosophy paper all at the same. By the way, gamers: Plato's Allegory of the cave wasn't meant to be taken literally. Open a window and let some light in (IT BURNS!!!).
The Cherry MX Red switches and their ultra-sensitive keys give you that split-second edge over the enemy you need to stab them before they even notice you're creeping from behind.
That's why we didn't like it for the office too much. Keys that sensitive mean way too many mistakes (and they probably cry themselves to sleep).
#4: The Razer Black Widow Lite: Compact, Silent, and Budget-Friendly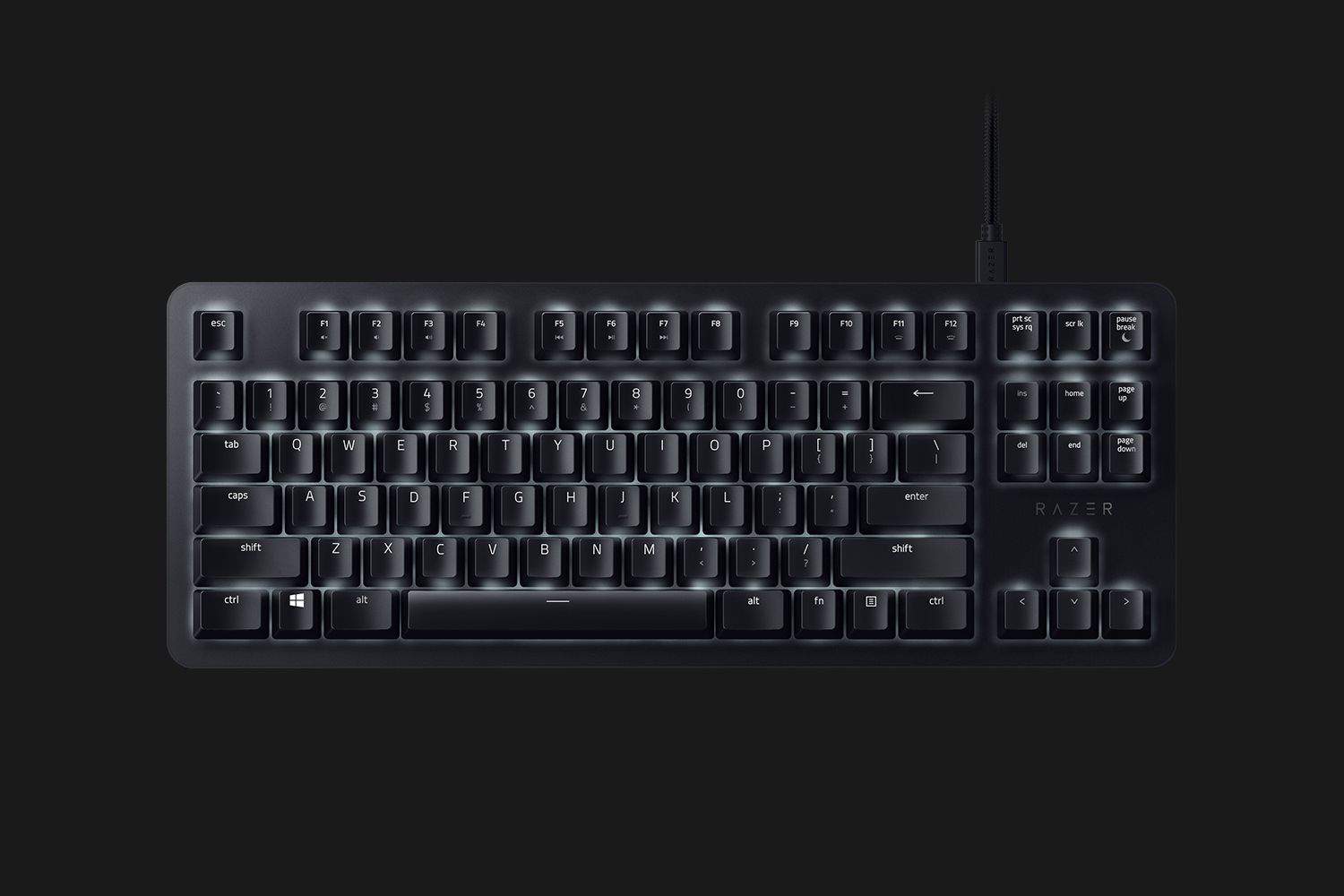 Want to save a few dollars, get a great keyboard for work, AND not bother everyone around you with that clicky noise that's therapeutic for some reason you can't explain?
The Razer Black Widow Lite checks all of those boxes. Unlike the other models here, it comes with Razer's own switches rather than the "MX" group, so they're far quieter. That's great if you're in a busy office.
You won't blow everyone away with a Cirque-Du-Soleil-esque light show, but the white LED lights make sure you can see what you're doing in the dark (not sure why your office doesn't have lights but bear with us).
Did we mention that it's tiny and portable so you won't break your back dragging it to work every day?
All in all, it's a no-frills model that's great for the office and will save you a hundred or more dollars. Can't beat that.
The Best of the Rest
These were our 4 favorites for different reasons, but there are still plenty of good ones for our best mechanical keyboards list…
#5: The DAS Keyboard 4 Professional

If you're a MAC user, you'll definitely like the DAS Keyboard 4.
All of the models here come with the standard Windows keyboard layout. The DAS is the only one with a Mac layout (thank god for the Command key).
At the top are the volume knob, brightness, and other media controls that clearly make Mac a superior brand of computer (no bias whatsoever from our company).
Other than that quirk, it's a pretty standard keyboard at a decent price if the others don't float your boat. This is one of the best mechanical keyboards for MAC.
#6: The Roccat Vulcan 120 Aimo

We didn't include any high-end models up top because we couldn't justify spending up to 3x more on a computer that didn't deliver 3x the value.
On the one hand, this sci-fi keyboard delivers an elevated gaming experience (Roccat also uses its own switches instead of the MX group), and an incredible design that looks like something out of a failed "B" sci-fi flick.
On the other, it's pretty expensive and didn't outperform the other models on the list by much if at all.
The thing we did notice is that the keys returned to their position super fast, so that could be a big advantage in high-intensity games, but probably not much else.
So yeah, if you want a great keyboard and don't mind paying 50% more for it, be our guest. You'll probably love how awesome this keyboard is. You just won't love forking the cash over.
#7: The Logitech G513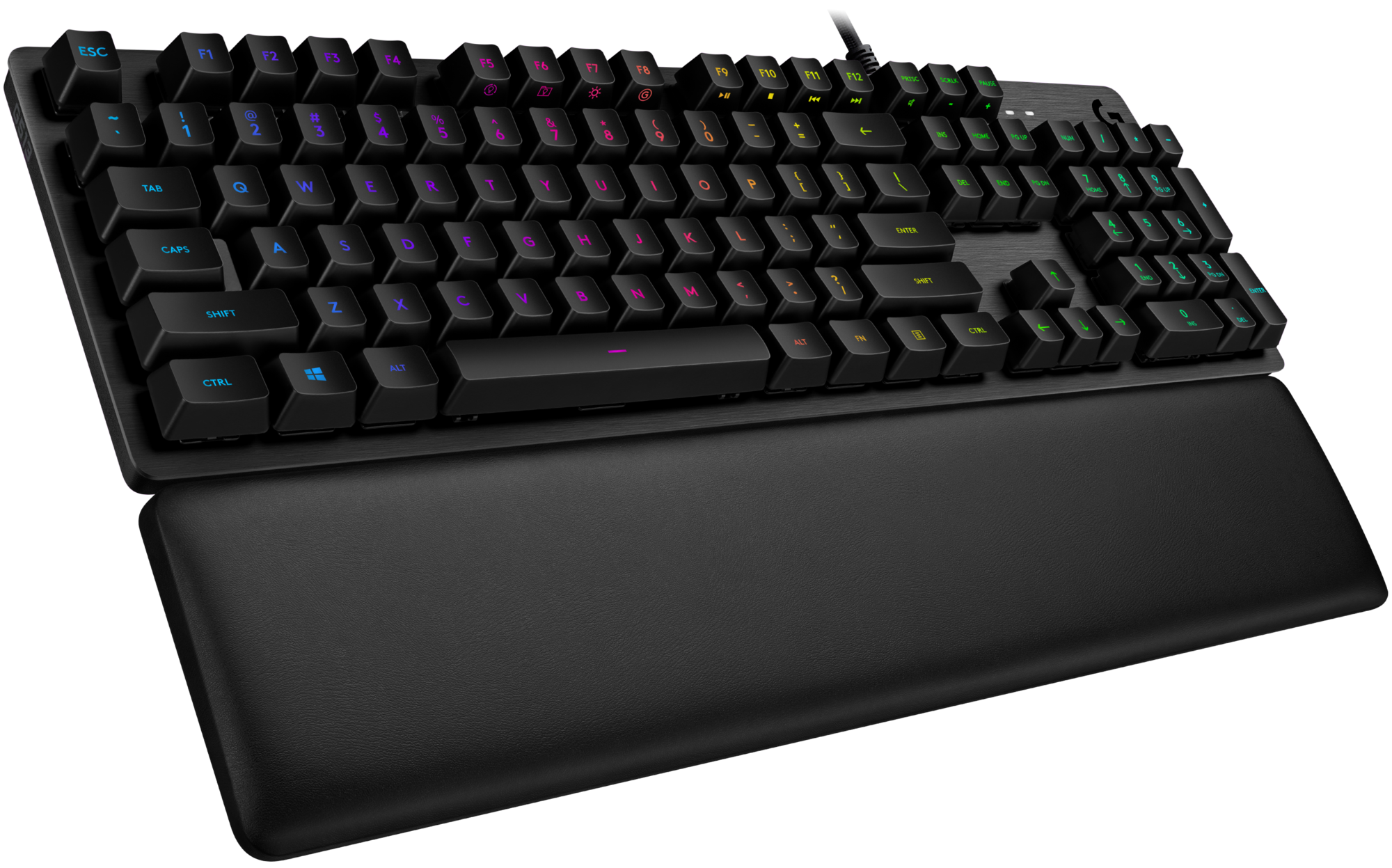 Who could forget the Logitech G413…besides most of us.
Good thing this model is a step up in every way (including price…).
Instead of the budget model route, Logitech has bumped up the price to get into the mid-range tier.
The product delivers on point, which might not be a good thing. Overall, it's pretty average. So, the price is right on point like we said. But that means that it's just…well…average!
The Cherry MX Red Keys are great for gaming but meh for the office. However, it does have an awesome palm rest that we loved for obvious reasons.
The best feature is the brushed metal finish. Wow! It looks like a freshly polished Shelby Cobra. It's practically immune to fingerprints!
If that sleek vibe is what you're after. Have at it!
In Conclusion
At the end of the day (literally in this case), you want to have a keyboard that made your life at the office better. Most of these mechanical keyboards do just that. It really all comes down to what you want. Comfort? Performance? Speed? The envy of your peers?
Decide what's most important to you and choose the best mechanical keyboard for you. Or, just take our advice and go with the top pick. Happy gaming!
By the way, the only thing better than the best mechanical keyboards is using a mechanical keyboard to make flawless PDFs with Soda PDF! Try it FREE for business today!